Ramadan quotes tell people about this sacred tradition. For Muslims, Ramadan is the holiest month of the year. Fasting, prayer, and spiritual reflection are all part of this time. The specific date of Ramadan changes consistently, as it depends on the lunar calendar.
Muslims are required to avoid food and water from dawn to dusk during Ramadan. They are also expected to prevent smoking, arguing, and spreading gossip. By the day's end, they break their fast with a feast called "Iftar."
Ramadan is a time for prayer and spiritual development. Additionally, it is a time when friends and family get together to celebrate their faith. During this holy month, Muslims can look to these Ramadan quotes for inspiration and motivation.
Also Read: Golden Words Quotes
Ramadan Quotes
The ninth month of the Islamic calendar is Ramadan. It is when Muslims all over the planet fast during the hours of daylight. This year, Ramadan is expected to begin on the evening of March 23rd and will last for 29-30 days until the evening of April 22nd.
Additionally, they are expected to refrain from gossip, sexual activity, and swearing. The motivation behind this is to focus on spirituality, great deeds, and self-restraint.
One of Islam's five pillars is the practice of fasting. All able-bodied Muslims who have reached puberty are required to participate. During Ramadan, people fast as an act of worship and to get closer to Allah. We hope these Ramadan Quotes will encourage you to participate in Ramadan.
"Fasting is a shield with which a servant protects himself from the fire." – Prophet Muhammad (peace be upon him)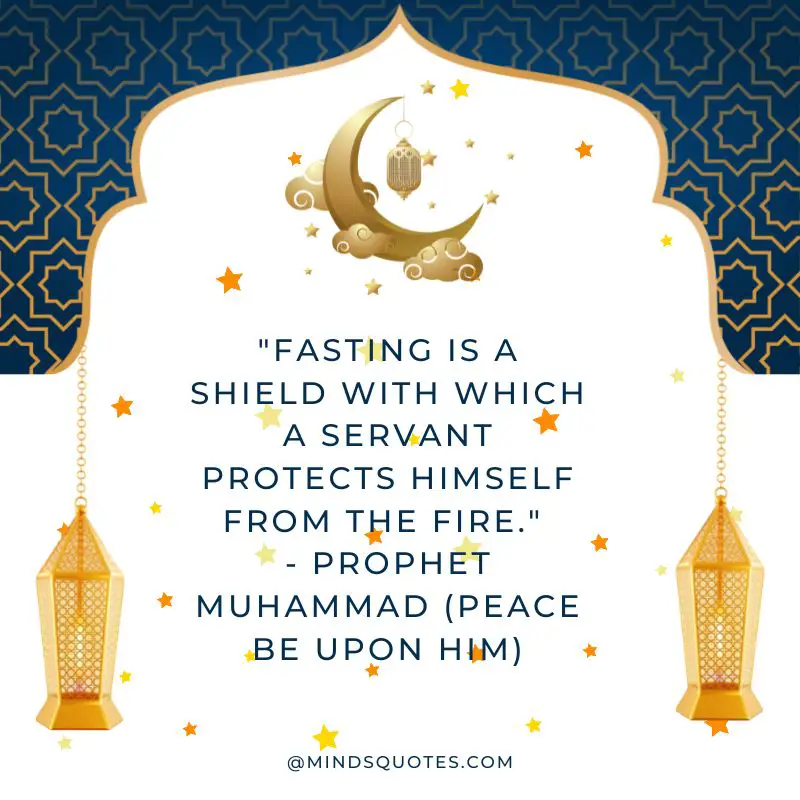 "Ramadan is a time to empty your stomach to feed your soul."
"Ramadan is not just about fasting, it is about discipline and control over our desires and emotions."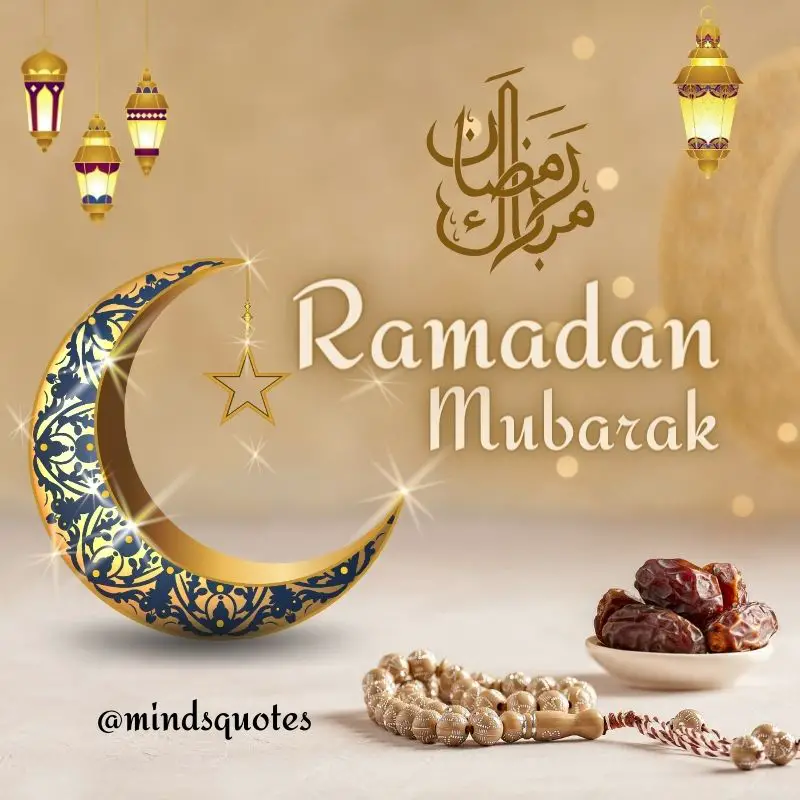 "When the month of Ramadan starts, the gates of heaven are opened and the gates of hell are closed and the devils are chained." – Prophet Muhammad (peace be upon him)
Ramadan Quotes from Quran
For Muslims all over the world, the Holy Quran is the most revered book. It consists of the revelations that Allah gave to the Prophet Muhammad (pbuh). Muslims can find an abundance of instruction and knowledge in the Quran that they can apply to their daily life.
Consideration of the Quran and an attempt to understand its message were two of the most significant things Muslims can accomplish during the month of Ramadan. Muslims can look for inspiration and confidence in the Quran, and we can use it to guide us in staying on the right road throughout the year long as well as during Ramadan.
Reading Ramadan quotes from Quran is one of the best ways to reflect on the Quran among the many other approaches. These sayings might serve as reminders of the things in our lives that are most important to us as well as the difficulties and challenges we could experience throughout Ramadan.
"O you who have believed, decreed upon you is fasting as it was decreed upon those before you that you may become righteous." (Quran 2:183)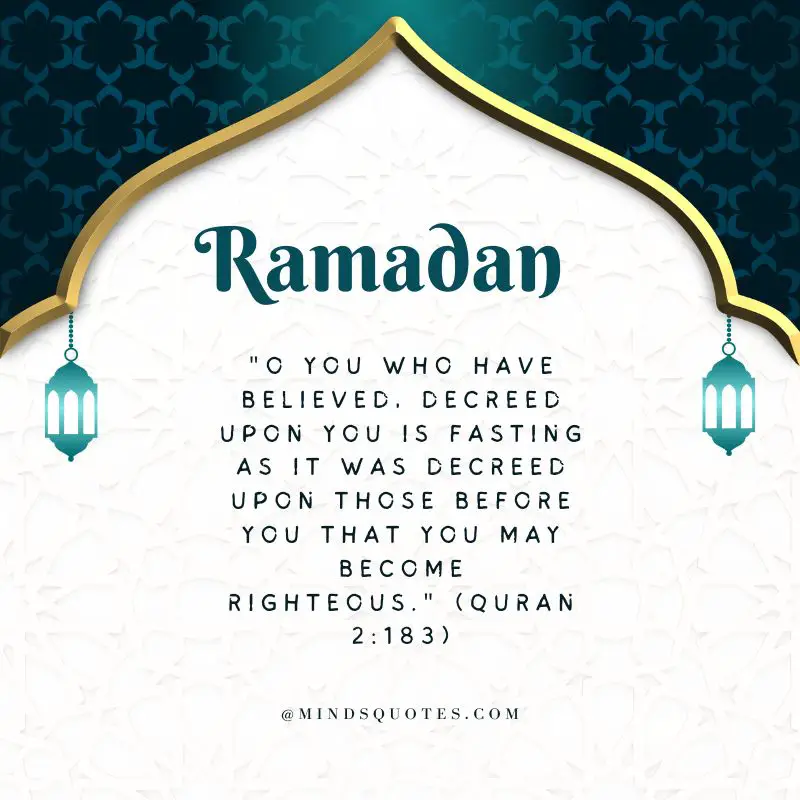 "And seek help through patience and prayer, and indeed, it is difficult except for the humbly submissive [to Allah]" (Quran 2:45)
"Ramadan is the month in which was sent down the Quran, as a guide to mankind, also clear (Signs) for guidance and judgment (between right and wrong)." (Quran 2:185)
"And eat and drink until the white thread of dawn becomes distinct to you from the black thread [of night]. Then complete the fast until the sunset." (Quran 2:187)
"Whoever fasts Ramadan out of faith and seeking reward from Allah, all his previous sins will be forgiven." (Quran 4:146)
"And let not your hand be tied to your neck nor extend it completely, lest you become blameworthy and insolvent." (Quran 17:29)
First Friday of Ramadan Quotes
The First Friday of Ramadan is a very special day for Muslims all over the world. Muslims observe this day by reciting special Quranic verses from the First Friday of Ramadan and offering special prayers.
Eid-al-Fitr, which translates to "the Feast of Breaking the Fast," is another name for the first Friday of Ramadan. Muslims celebrate their faith and rejoice in Allah's blessings on this day, which marks the end of the holy month of Ramadan.
Find out more about the First Friday of Ramadan and what some well-known Muslims have to say about it in the following paragraphs. We will discuss some of the most beautiful and uplifting First Friday of Ramadan Quotes from the Quran in this blog post. During this special month, we hope that these quotes will provide you with direction and strength.
"Verily, Friday is the day in which Allah blessed Adam with repentance and on it, He accepted his repentance." – Prophet Muhammad (peace be upon him)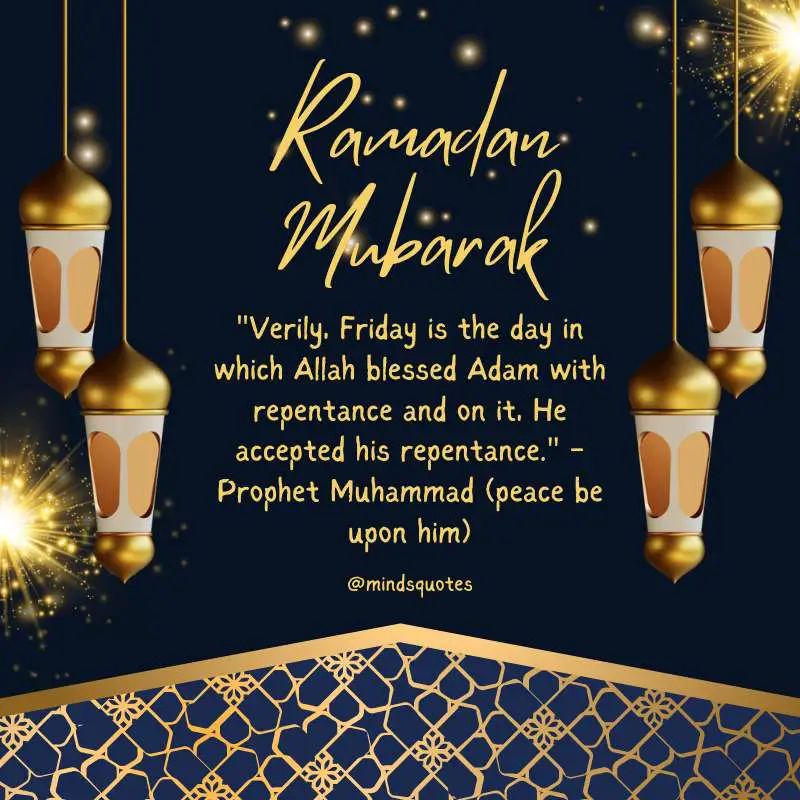 "The best day on which the sun has risen is Friday. On it Adam was created, on it, he was made to enter Paradise, on it he was expelled from it, and the Last Hour will take place on no other day than Friday." – Prophet Muhammad (peace be upon him)
"O you who have believed, when [the adhan] is called for the prayer on the day of Jumu'ah [Friday], then proceed to the remembrance of Allah and leave trade. That is better for you if you only knew." (Quran 62:9)
Ramadan Wishes
"Wishing you a happy and blessed Ramadan filled with love, happiness, and joy."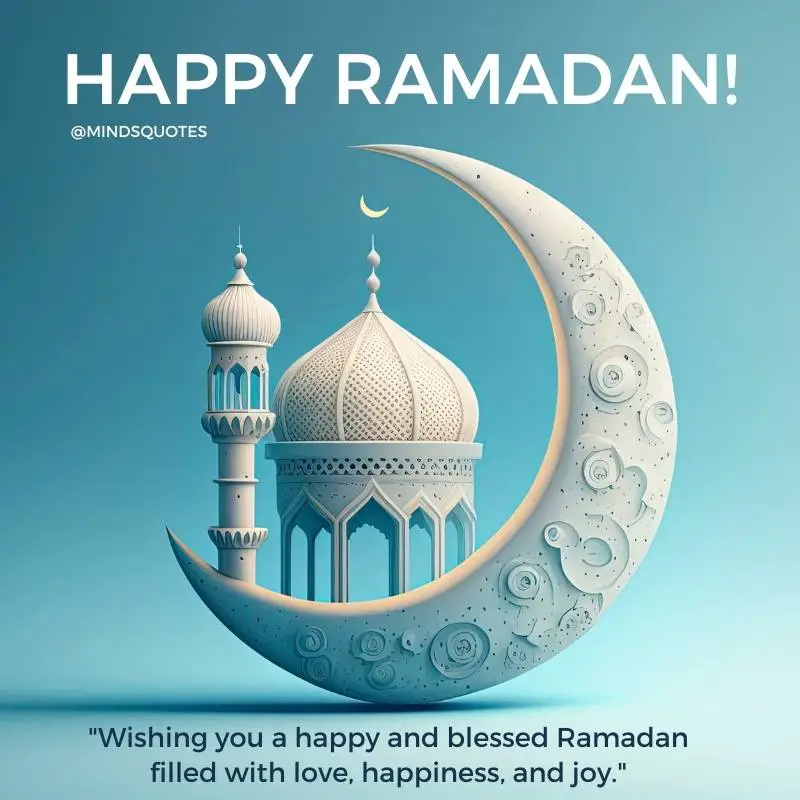 "May this holy month bring an abundance of blessings."
"Ramadan Mubarak!" – which means "Blessed Ramadan!"
"May this Ramadan bring you peace, prosperity, and blessings."
"May your faith be further emboldened this Ramadan."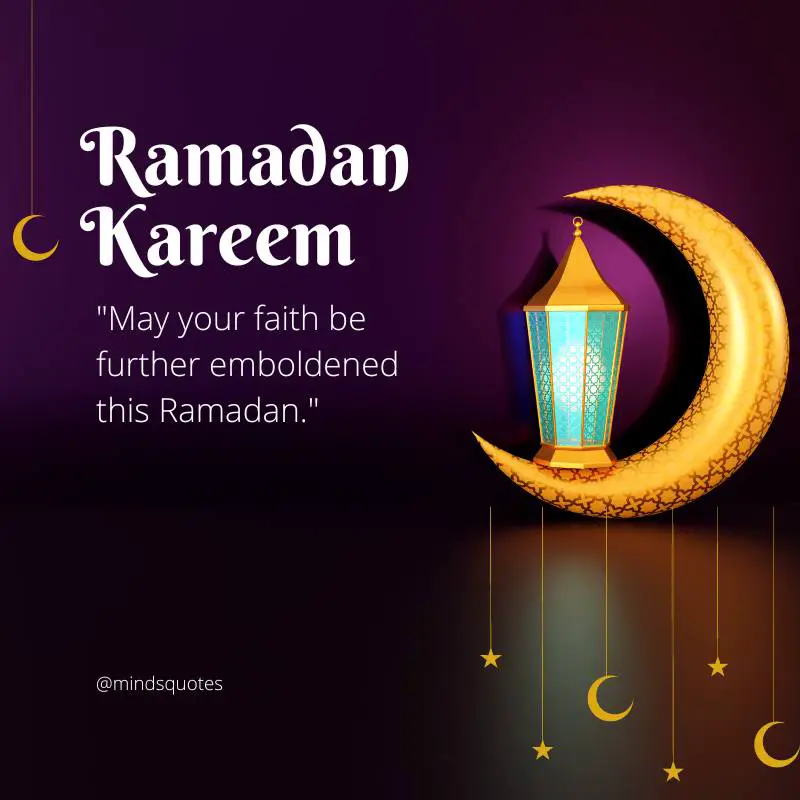 "May this holy month bring you ever closer to enlightenment."
"May Allah bless you and your family during this holy month of Ramadan."
"Sending love to you and your family this Ramadan."
Ramadan Greetings
"Sending you blessings of faith, fortune, and love this Ramadan."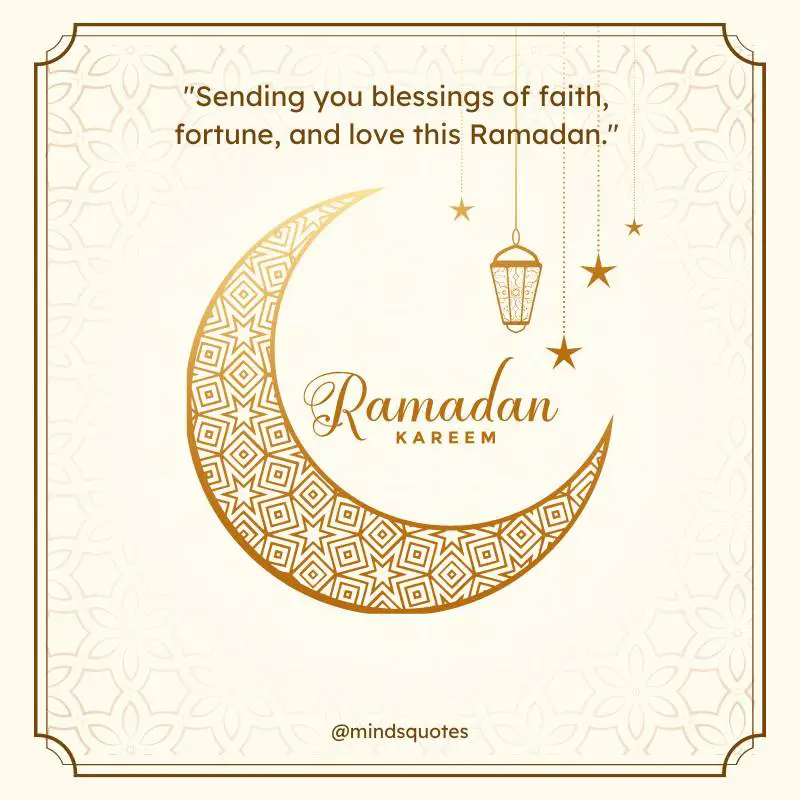 "This holy month, may your fast be meaningful and your feast be abundant."
"May goodness and light keep you feeling full during your fast."
"Ramadan reminds us that faith makes all things possible."
"Wishing you all the joys and blessings Allah has to offer."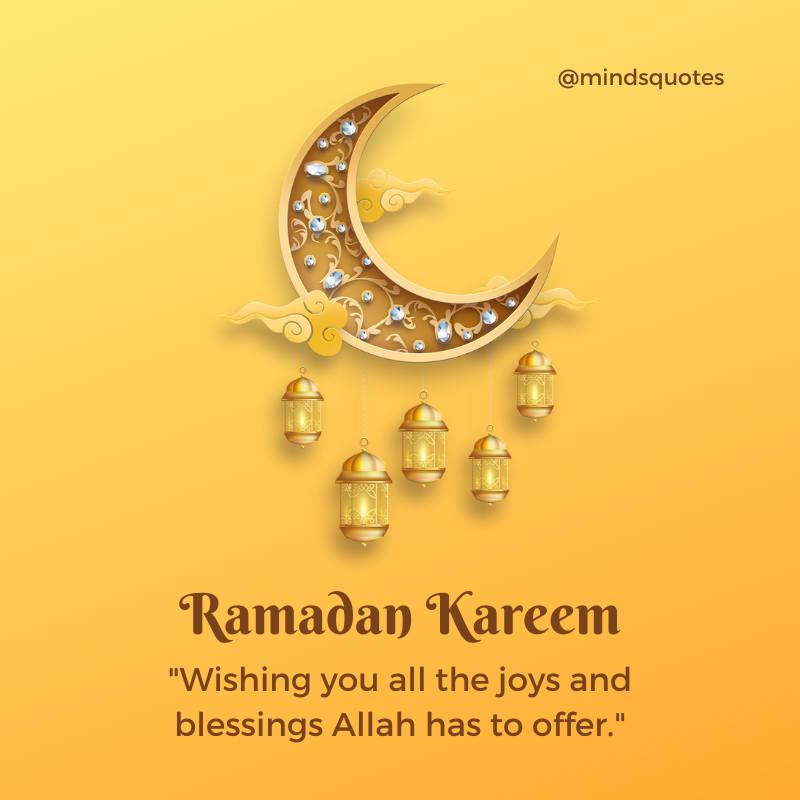 "May the holy month bring you closer to Allah."
"Wishing you love and sending you prayers this holy month."
"This Ramadan, let us always remember that with faith, anything is possible."
What is a Small Quote for Ramadan?
Blessed Ramadan is a way to express well-wishes to fellow Muslims observing the fast."
What is a Nice Quote About Ramadan?
"Ramadan is not just a month of fasting, it is a month of generating goodness, blessings, and mercy in our hearts, minds, and actions."
Conclusion
Worship and contemplation are encouraged during Ramadan. It's an opportunity to give thanks for what we have and assist the less fortunate. The Ramadan quotes in this article shed light on the significance of giving to others and what Ramadan means. LIKE, COMMENT, and SHARE to support the Muslim community during this holy month.