Blue Sky Quotes are optimistic, visionary statements about the future. They can be used to galvanize people around a common goal or simply to make them feel good. There are an infinite number of blue sky quotes and it's hard to define any specific ones because they're so subjective. However, most blue sky quotes share a few common characteristics: They're aspirational, they inspire people to think big, and they focus on the potential benefits of reaching a goal, rather than the risks.
Quotes On Blue Sky And Clouds are often romantic, optimistic, and positive. The blue sky is the widely used term for optimistic thinking and wishful thinking. People use these quotes to make themselves feel better when they're feeling down or to inspire others. While some of these quotes might not be realistic, they can still help boost morale.
Blue Sky Quotes
Blue Sky Quotes don't always have to be about the future. They can also be applied to current situations as a way to reframe them in a more positive light. For example, if you're feeling down, you can tell yourself that "the sun is still shining," even if it's hidden behind clouds. Blue Sky Quotes are used in a variety of business contexts, to inspire or motivate people to think positively.
"A cloudless plain blue sky is like a flowerless garden." – Terri Guillemets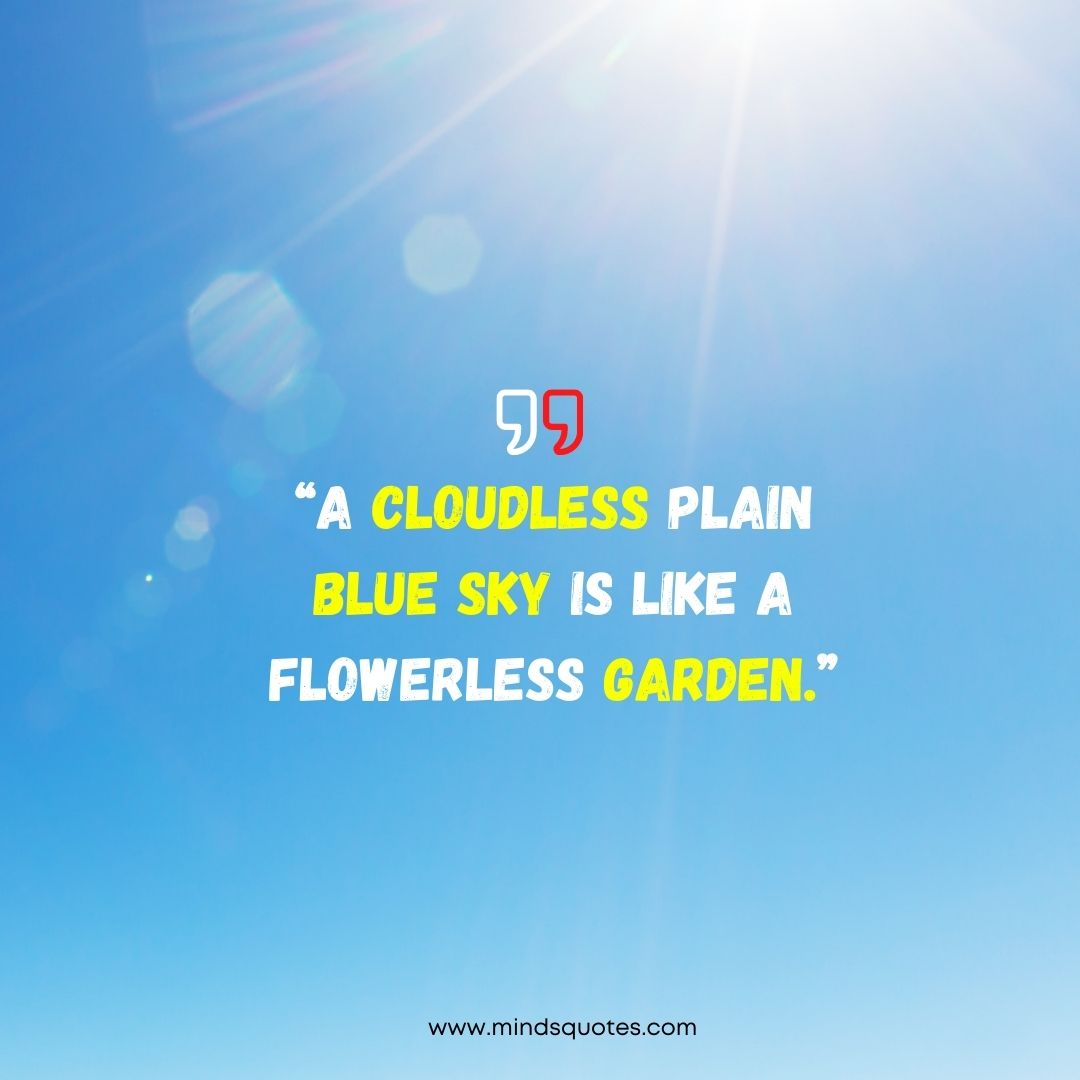 "I never get tired of the blue sky." – Vincent Van Gogh.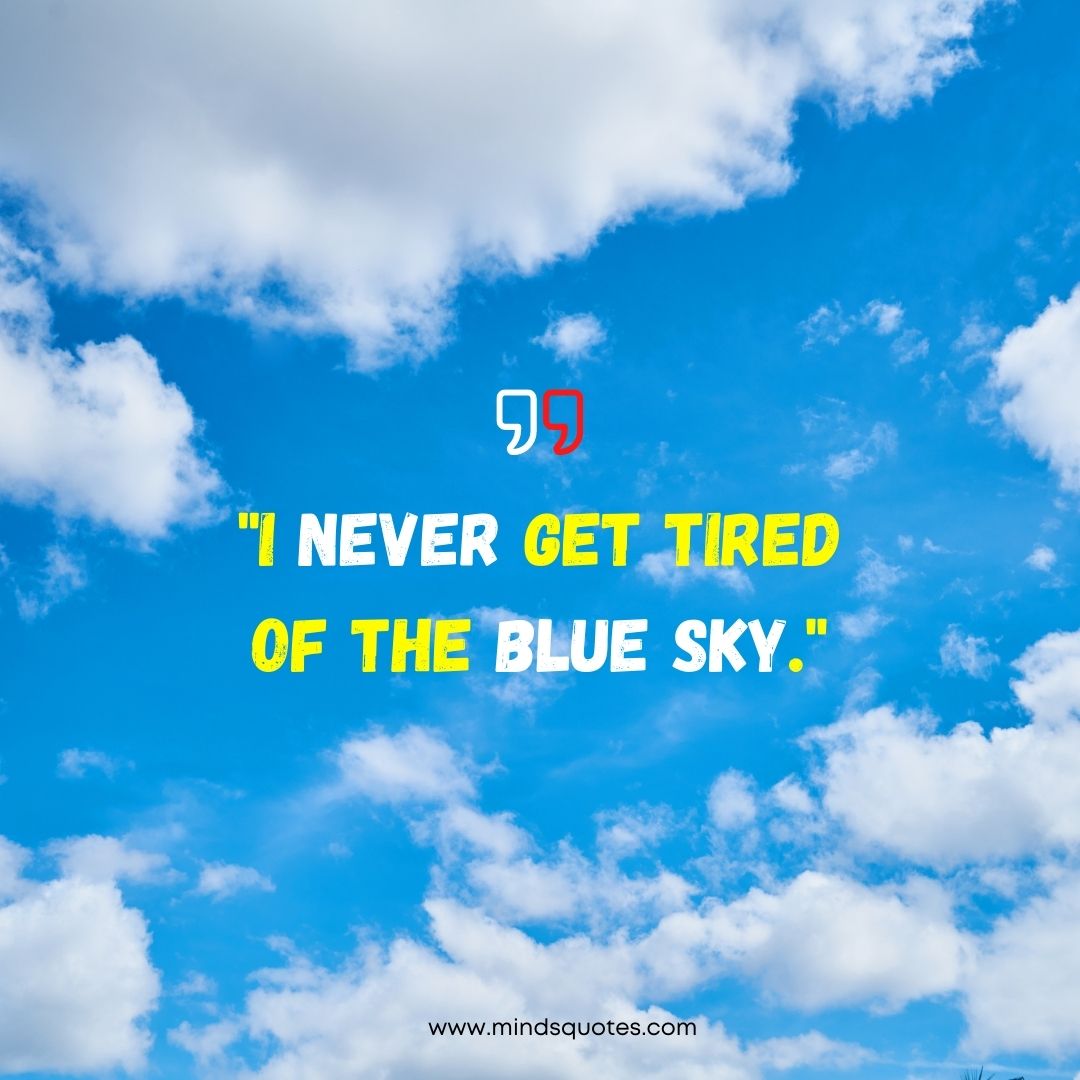 "Did you know, I'm still in love with this blue sky until forever and ever, eternally." – Mika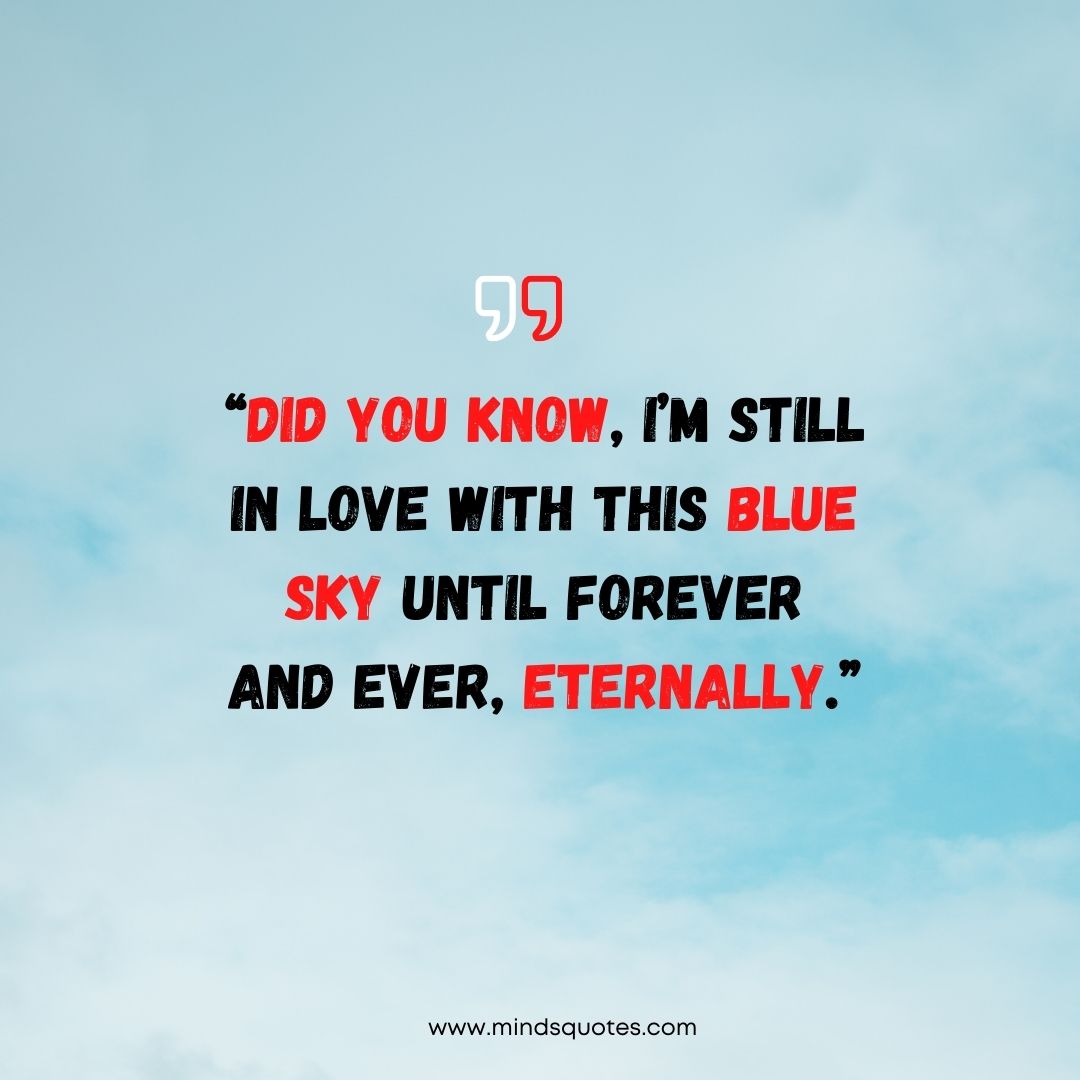 "Let the blue of the sky and ocean take your blue away when you feel blue." – Munia Khan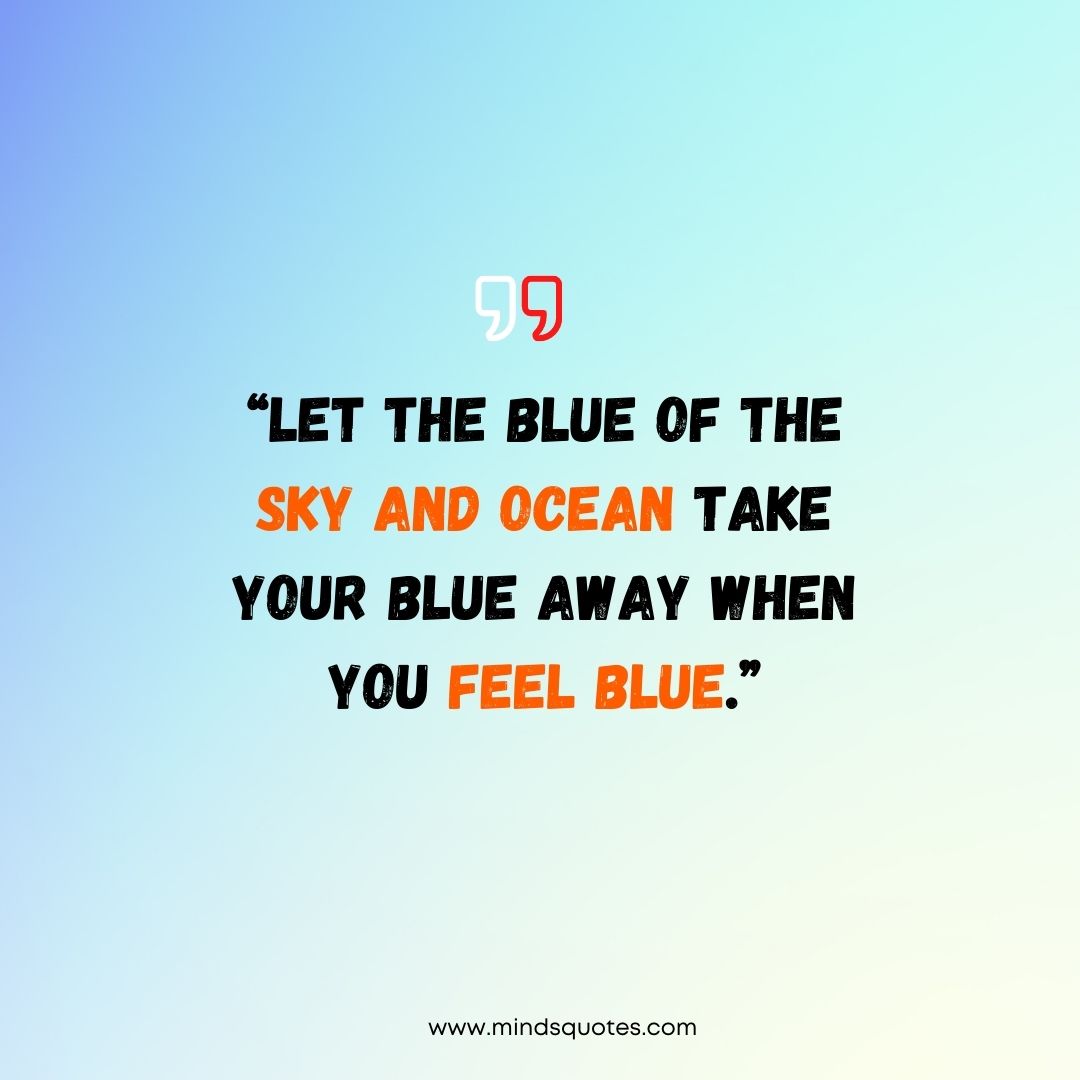 "It feels like how being in love should be. Floating through a dark blue sky." – Richard Curtis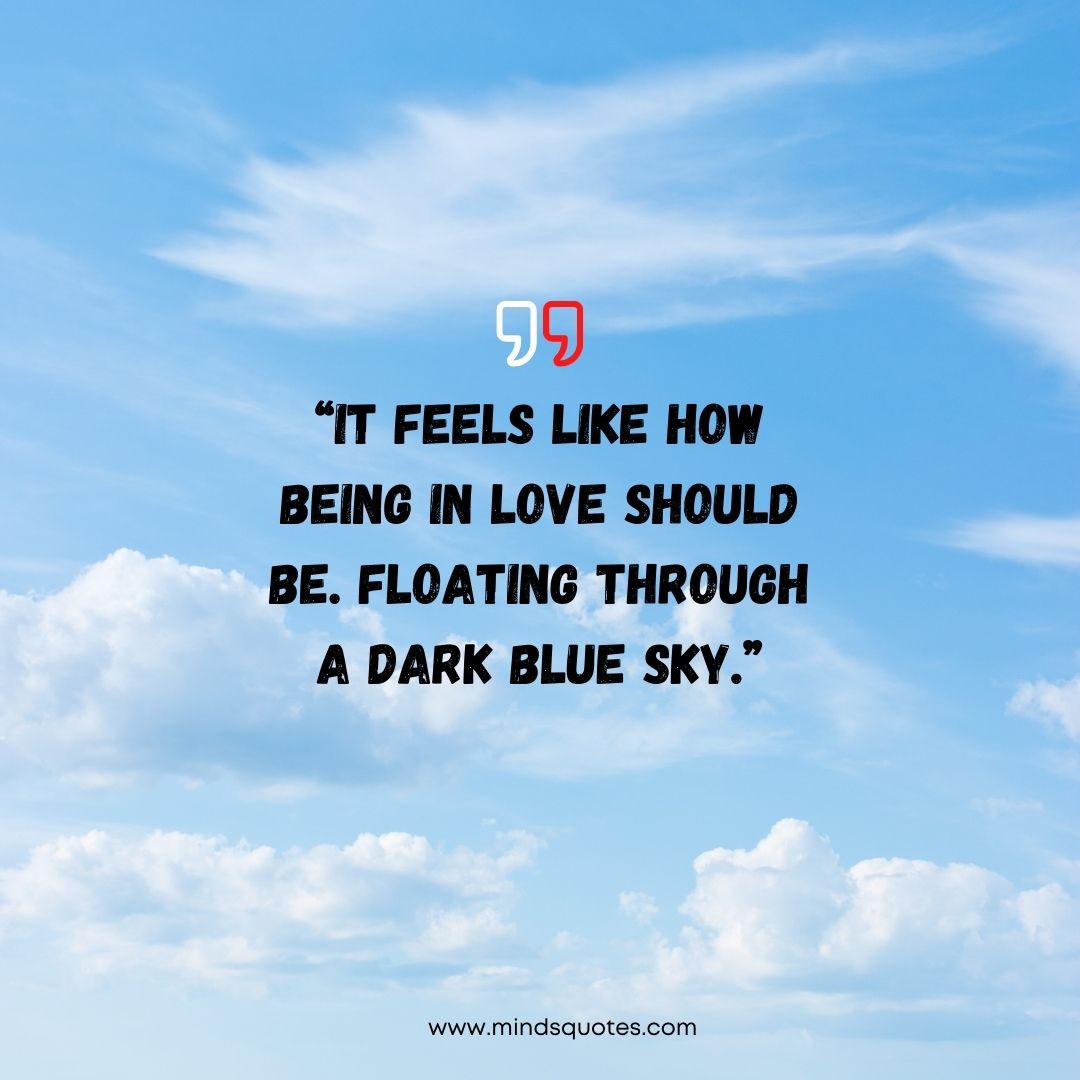 "The soft blue sky did never melt Into his heart; he never felt The witchery of the soft blue sky!" – William Wordsworth
"Because gray clouds hang heavy with misery, blue skies seem bluer." – Richelle E. Goodrich,
"Heavy hearts, like heavy clouds in the sky, are best relieved by the letting of a little water." – Christopher Morley.
"I always believe that the sky is the beginning of the limit." – MC Hammer
"No matter how tough my life was, I was always looking up at the sky and wishing for good things." – Mahira Khan.
"At sunrise, the blue sky paints herself with gold colors and joyfully dances to the music of a morning breeze." – Debasish Mridha
Blue Sky Quotes Instagram
People use Blue Sky Quotes On Instagram to make positive statements and feelings about life. Every person has a different perspective on life, and these quotes reflect that. Some people view the sky as a symbol of hope and possibilities, while others see it as a reminder of how small they are in the grand scheme of things. No matter what someone's personal beliefs about the sky, these Blue Sky Quotes are a great way to brighten up their Instagram feed and bring some positivity into their day.
"Let the blue sky meet the blue sea, and all is blue for a time." – Moncy Barbour.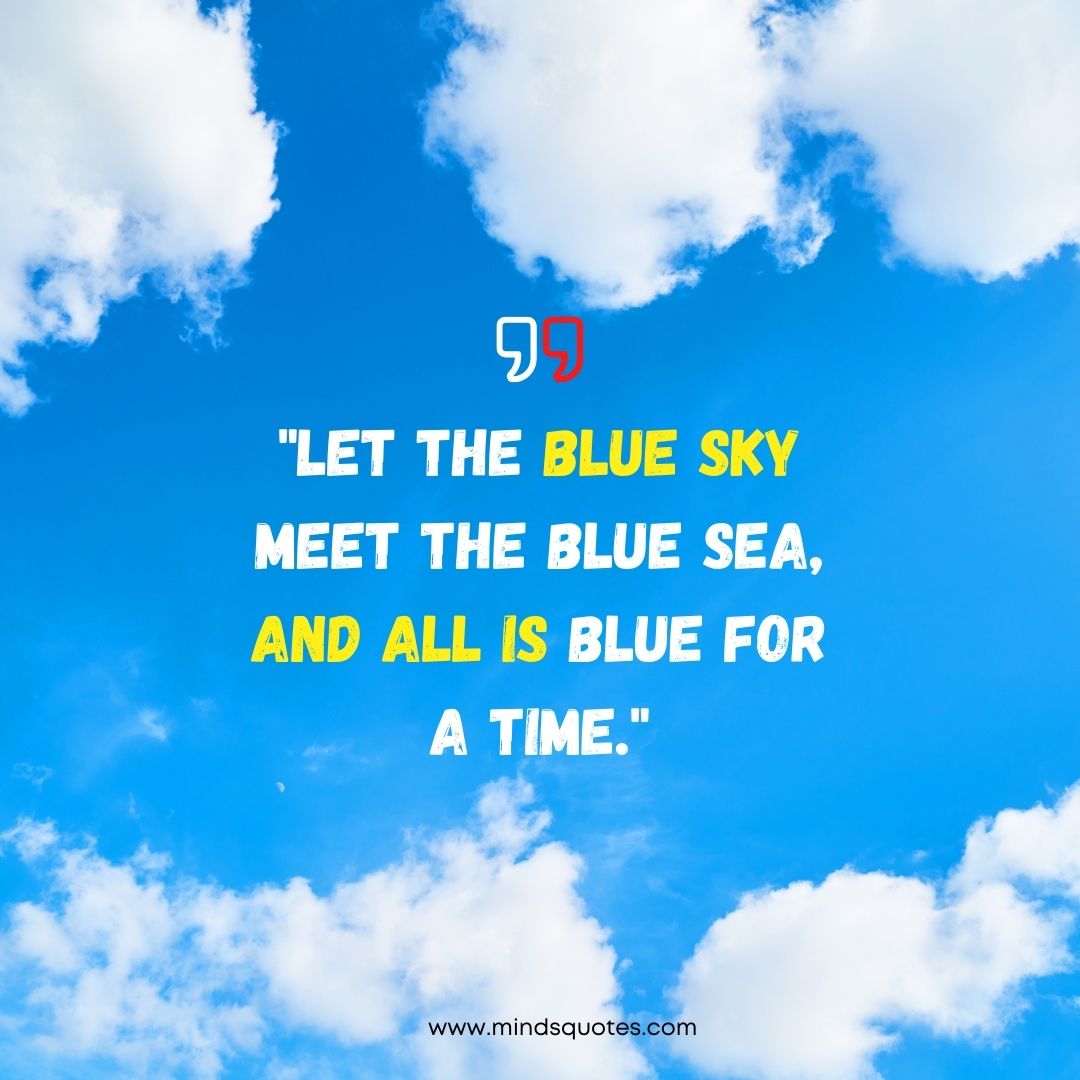 "Mind is the second sky on earth, full of mysteries!" – Mehmet Murat Ildan.
"Darkly, deeply, beautifully blue – the sky." – George Byron Gordon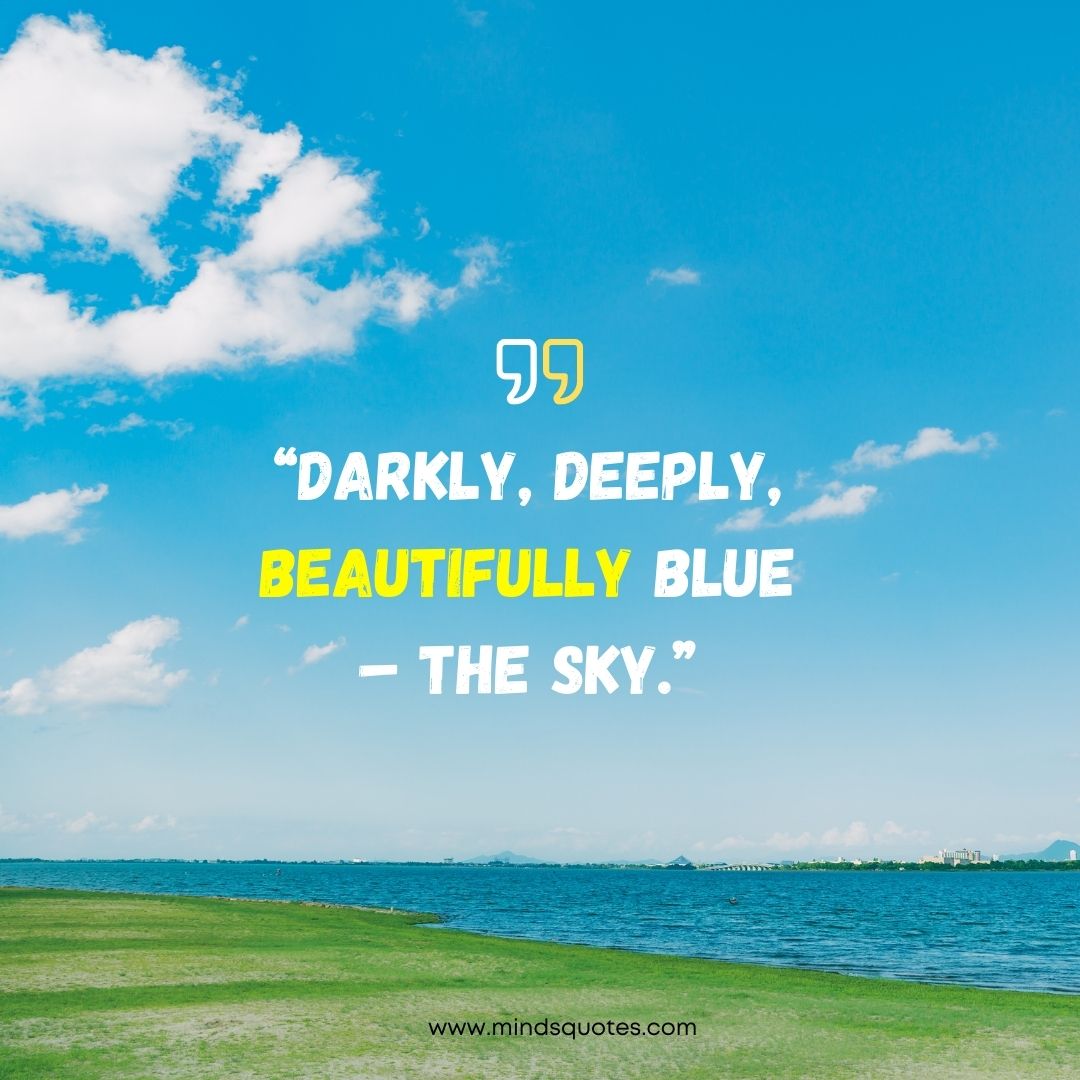 "A Dream is where a boy can swim in the deepest oceans and fly over the highest clouds." – J. K. Rowling.
"Rain is grace; rain is the sky descending to the earth; without rain, there would be no life." – John Updike.
"The sky and the strong wind have moved the spirit inside me till I am carried away trembling with joy." – Uvavnuk
"There was always something new to be seen in the unchanging night sky." – Fritz Leiber, 'The Wanderer'.
"And joy is everywhere; it is in the earth's green covering of grass; in the blue serenity of the sky." – Rabindranath Tagore
"Bursts of gold on lavender melting into saffron. It's the time of day when the sky looks like it has been spray-painted by a graffiti artist." – Mia Kirshner
"You will see the blue sky spreading endlessly above you and smiling down." – Aya Kitô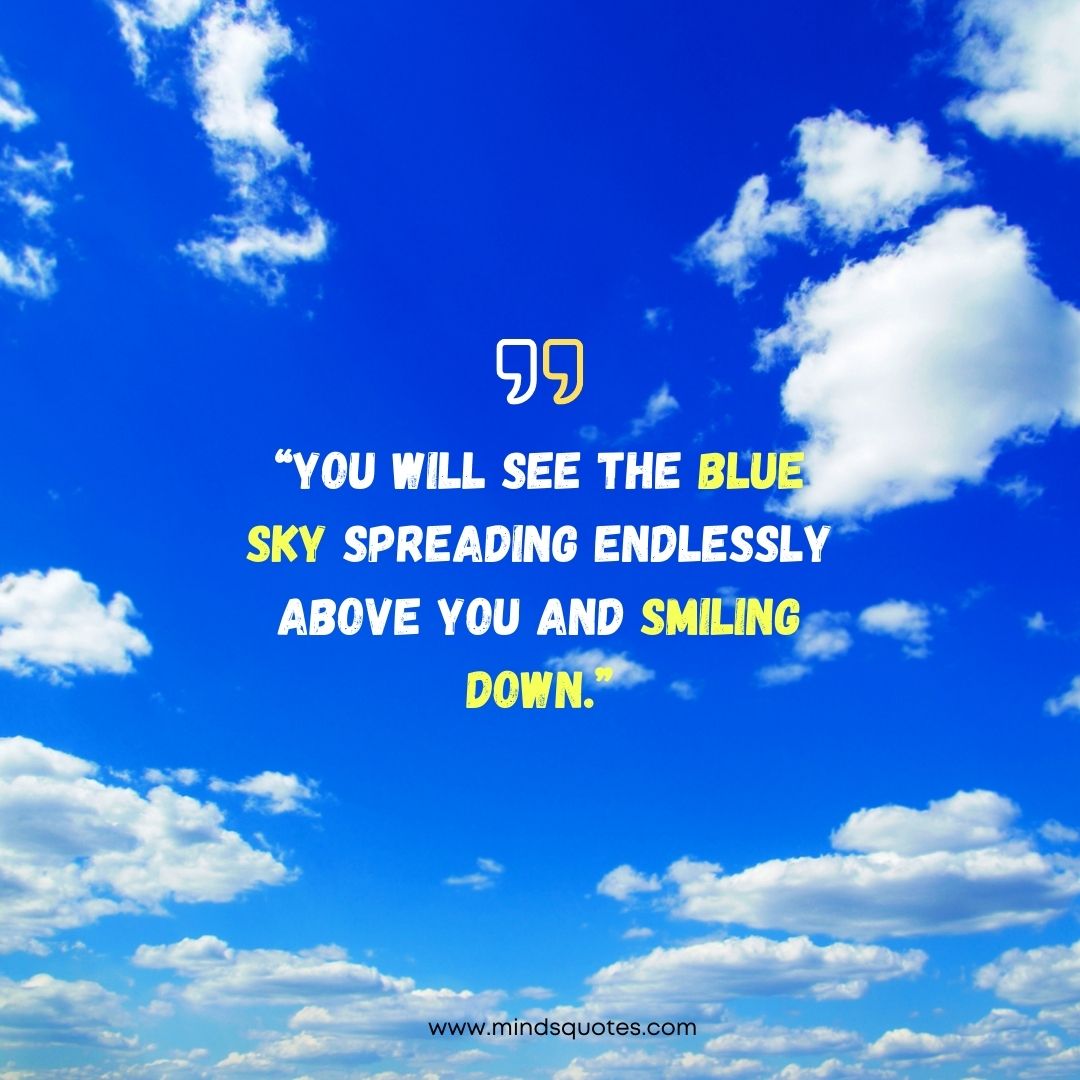 "For my part, I know nothing with any certainty, but the sight of the stars makes me want to dream." – Vincent Van Gogh.
"The sky is an infinite movie to me. I never get tired of looking at what's happening up there." – K. D. Lang.
"Green calm below, blue quietness above." – John Greenleaf Whittier, 'The Pennsylvania Pilgrim'.
"We all live under the same sky, but we don't all have the same horizon." – Konrad Adenauer.
Blue Sky Short Quotes
Blue Sky Short Quotes are a great way to start your day. They can help you focus on the good things in life and put things into perspective. The blue sky is the perfect opportunity to achieve something that you always wanted and never thought possible. This is a chance to make all of your dreams come true without any limitations holding you back. All you have to do is put your heart and soul into everything that you do, and you will be sure to reach your goals in no time. I've selected some of our favorite blue sky quotes for you to enjoy today. We hope they make your day a little bit brighter!
"Smell that fresh morning air! Look at the blue sky above!" – Dennis Hackin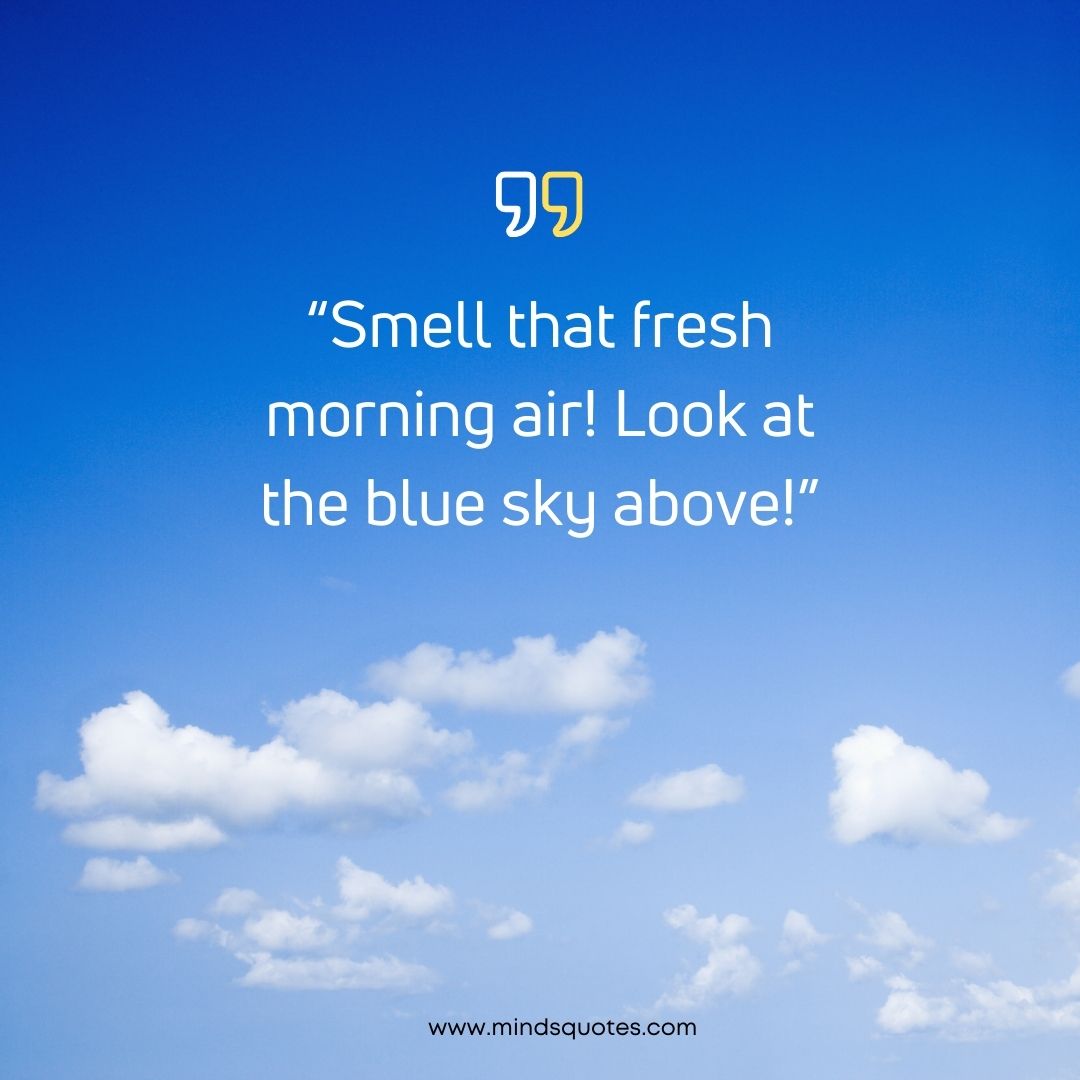 "No one is free; even the birds are chained to the sky." – Bob Dylan.
"Sometimes I feel that our bright blue sky is like a pregnant women's belly." – Santosh Kalwar.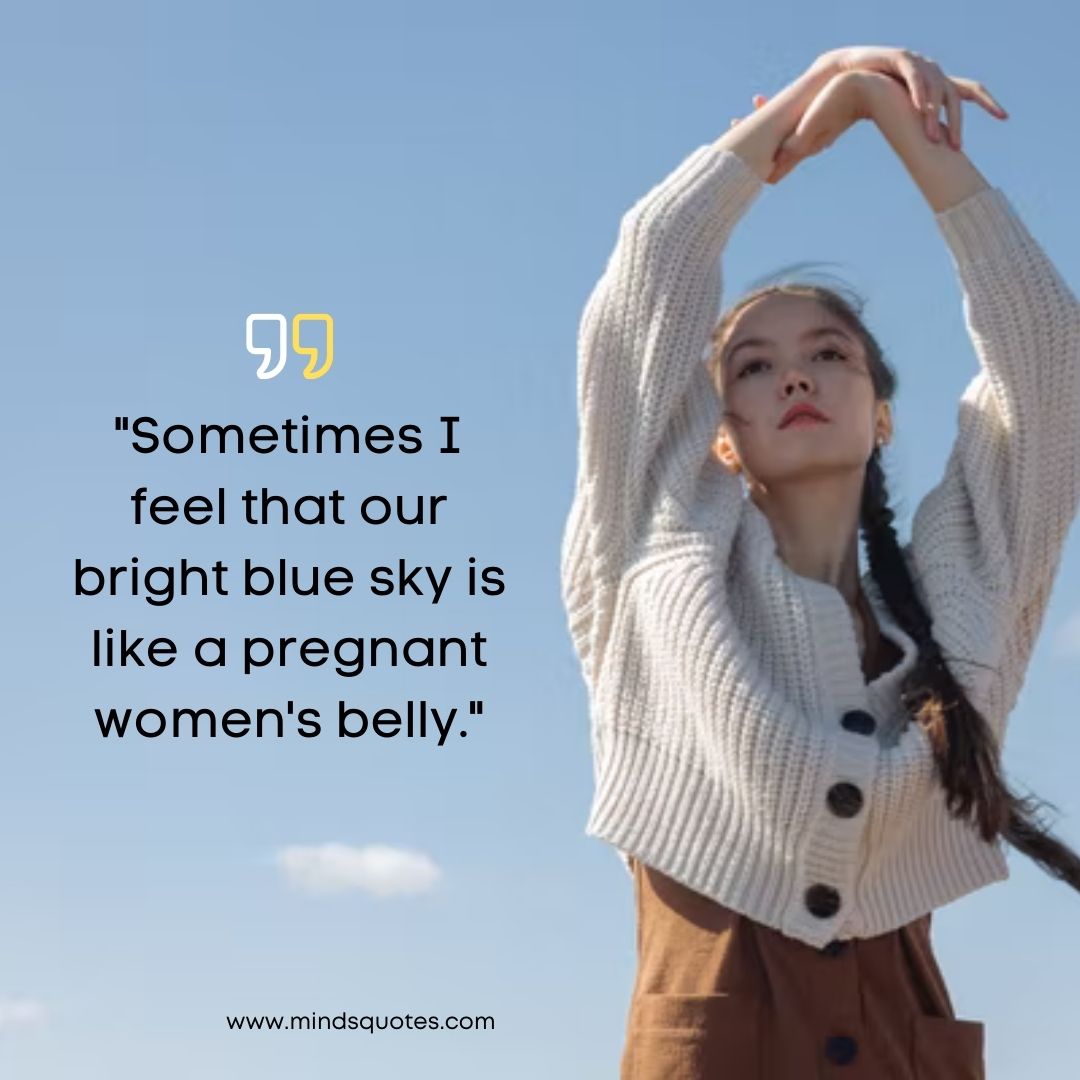 "No sight is more provocative of awe than is the night sky." – Llewelyn Powys
"Once you have tasted the taste of sky, you will forever look up." – Leonardo da Vinci
"The beauty of white clouds: Every morning brings new clouds and sunshine." – Lailah Gifty Akita
"Smell the sea and feel the sky; let your soul and spirit fly." – Van Morrison
"The sky is the limit. You never have the same experience twice." – Frank McCourt
"Moment the sky embraces the earth is called a rainbow." – Corina Abdulahm Negura.
Quotes on Blue Sky and Clouds
Quotes on Blue Sky and Clouds are not only lovely but also insightful. They remind us that, no matter what is happening in our lives at the moment, there's always something beautiful to look at and appreciate. Here are some of the most famous quotes about blue sky and clouds, along with some beautiful sky images.
"Beauty is and always will be blue skies and open highway." – Dave Hickey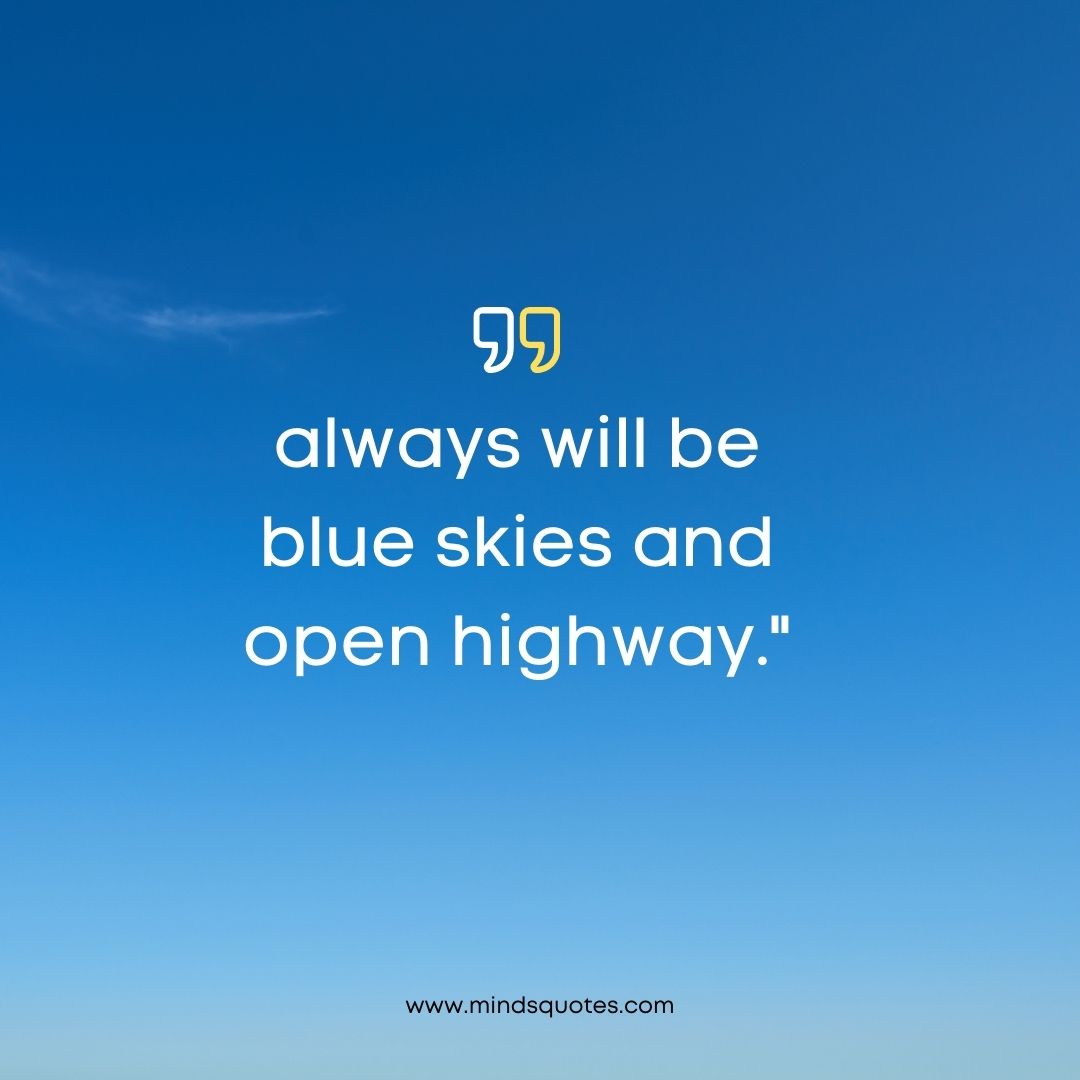 "And then one day she left me. She left me as the pigeon leaves the window to fly in the wide blue sky." – Avijeet Das.
"A sky without clouds is a meadow without flowers." – Henry David Thoreau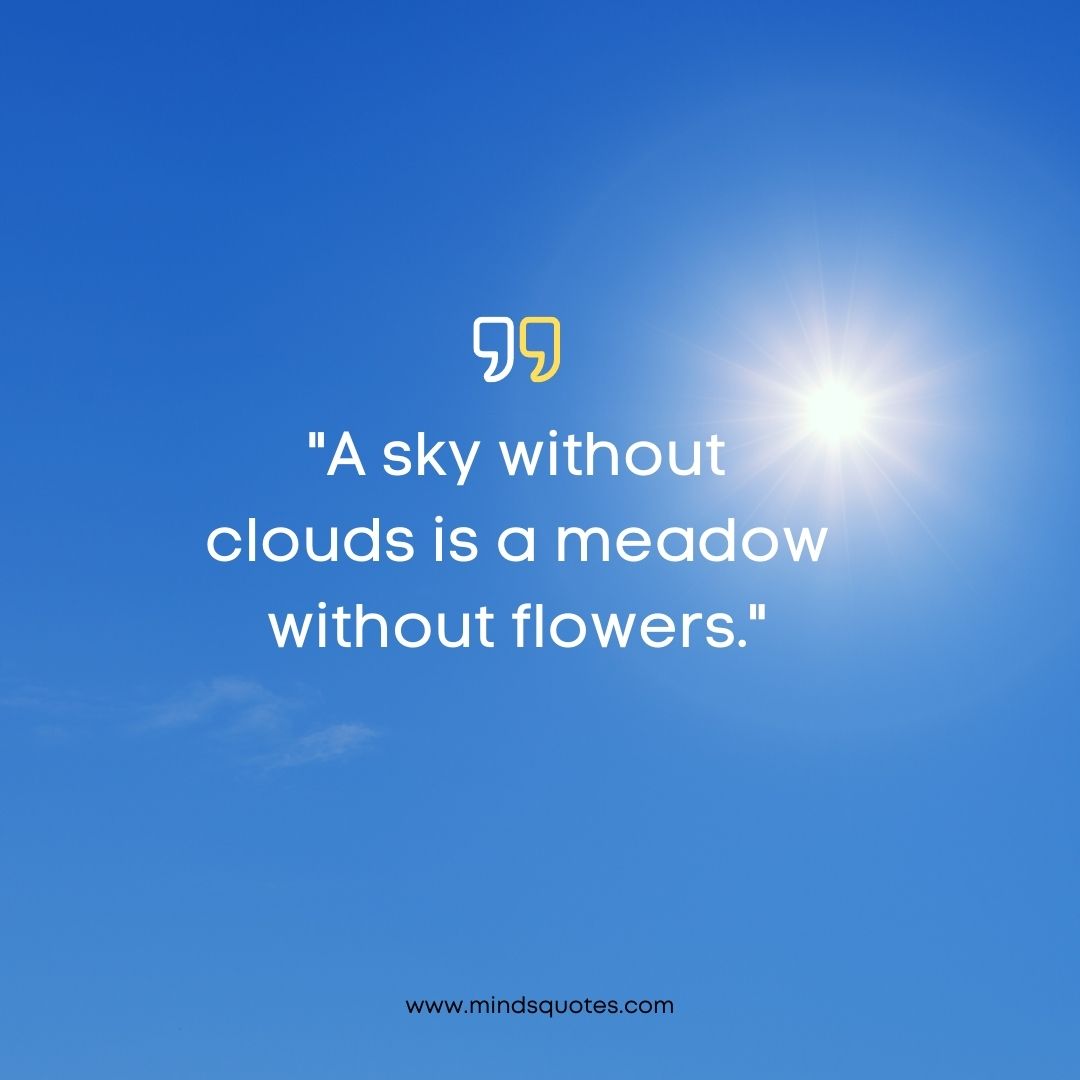 "The soul can split the sky in two and let the face of God shine through." – Edna St. Vincent Millay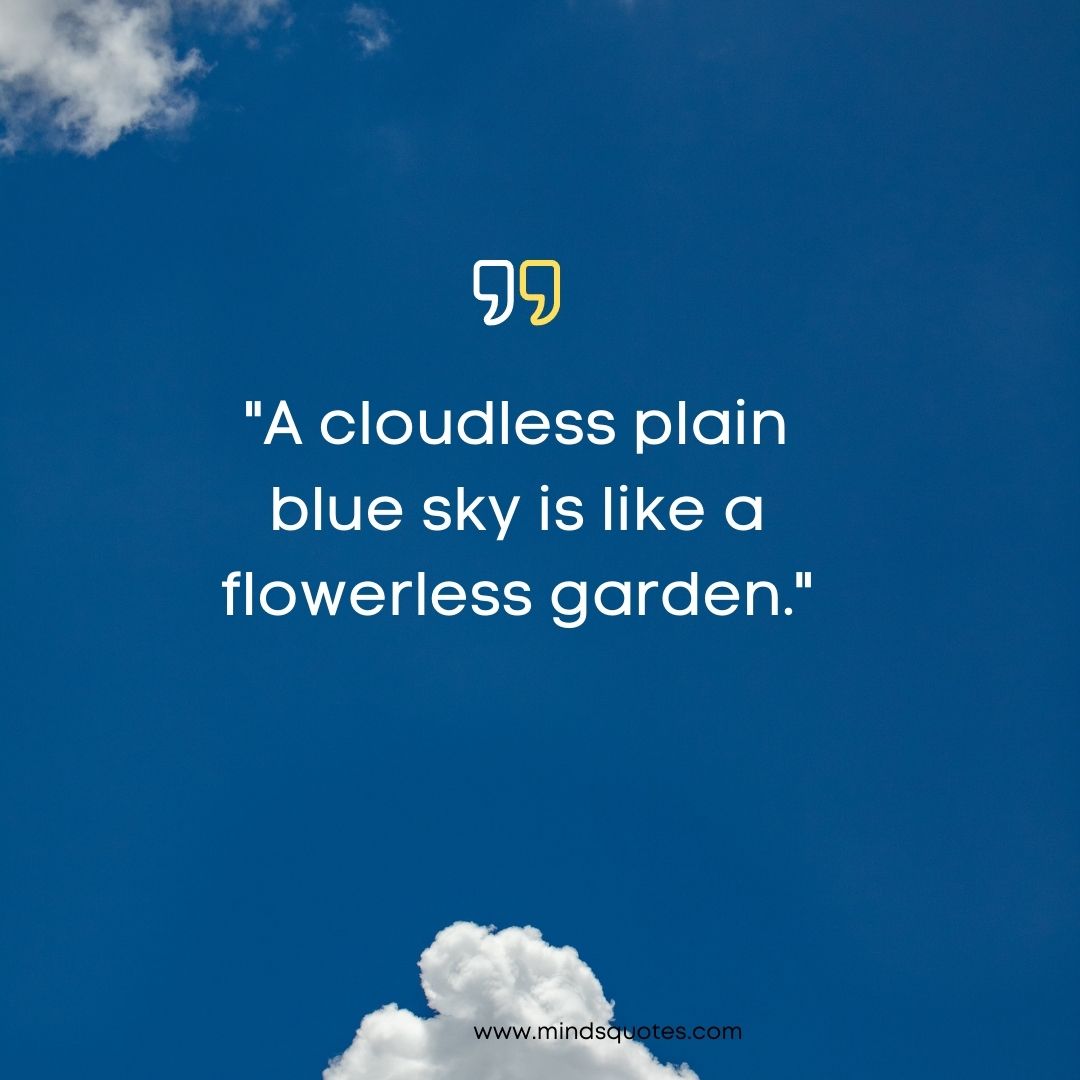 "Life is the night sky, All the dots of stars are happiness." – Richard L. Ratliff.
"The sky was so thick with stars it was as if he could reach out and brush them with his hand." – Justin Cronin
"Even behind prison walls, I can see the heavy clouds and the blue sky over the horizon." – Nelson Mandela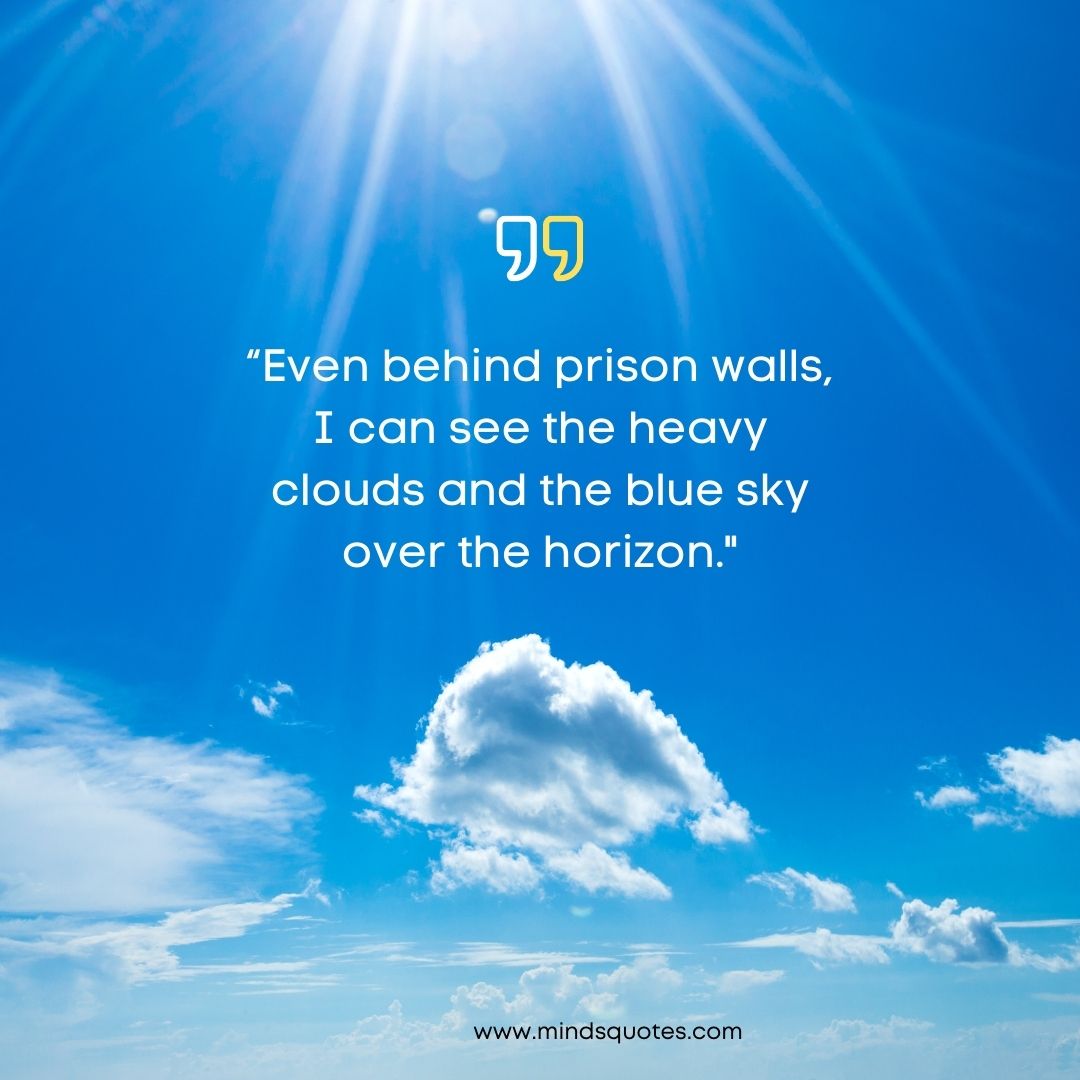 "If clouds are blocking the sun, there will always be a silver lining that reminds me to keep on trying." – Matthew Quick
"Let us keep the dance of rain our fathers kept and tread our dreams beneath the jungle sky." – Arna Bontemps.
"It is written on the arched sky; it looks out from every star. It is the poetry of Nature; it is that which uplifts the spirit within us." – John Ruskin.
Blue Sky Captions for Instagram Short
"Palm tree silhouettes against the blue sky."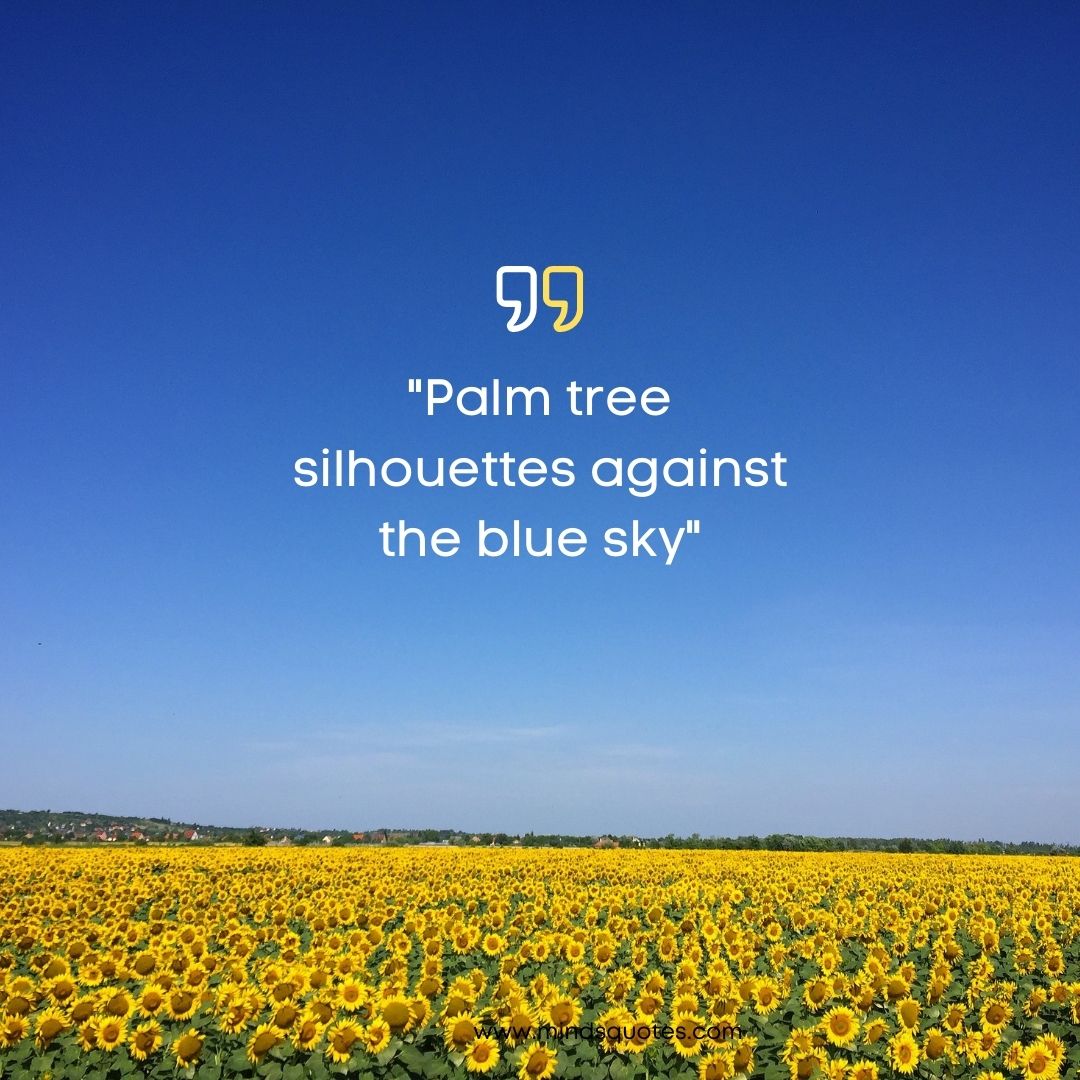 "The sky is an empty blue canvass."
"Sometimes it's good to be blue."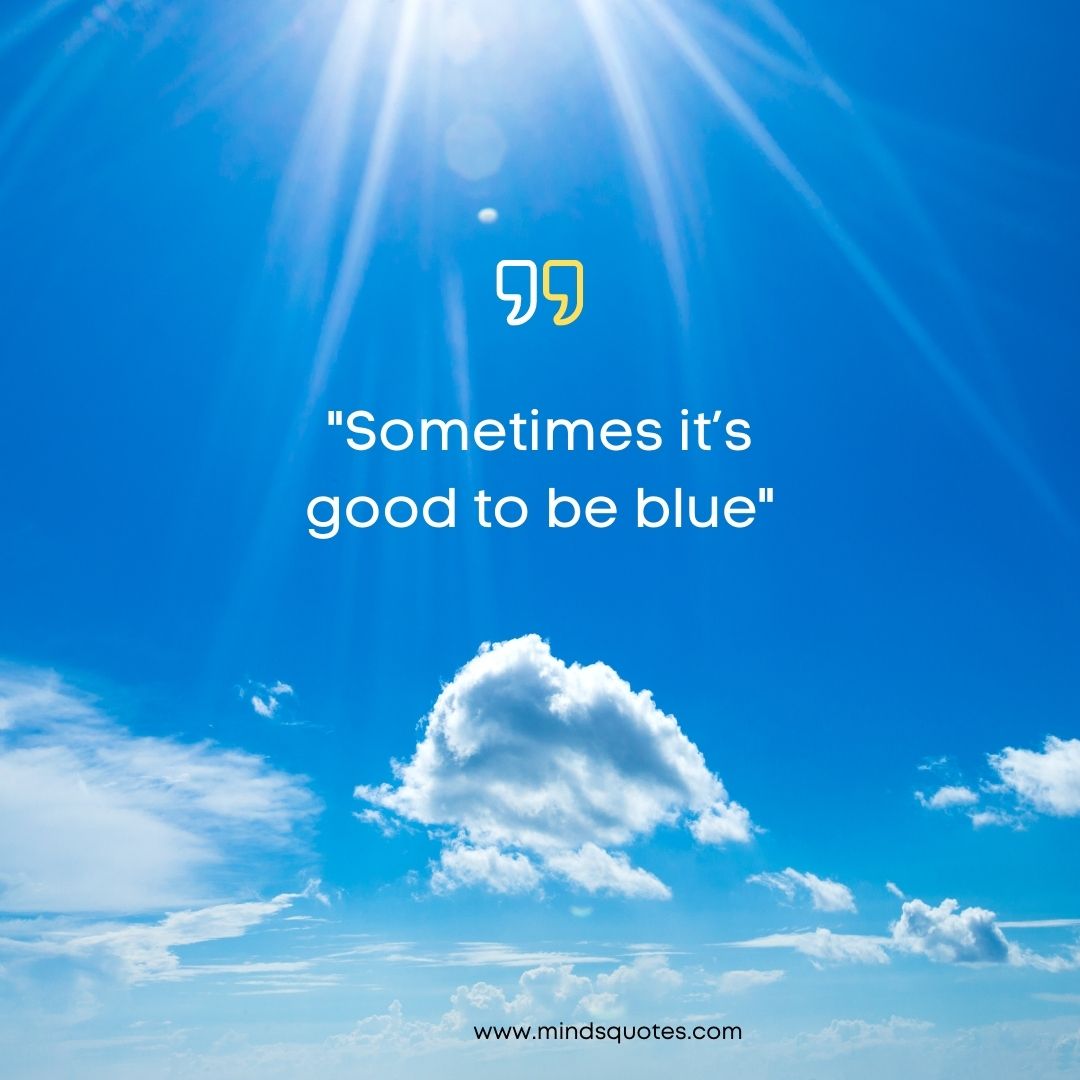 "I'm a 'blue sky thinker' and dream big." – Hilary Knight
"I sell the blue sky and colored air." – James Turrell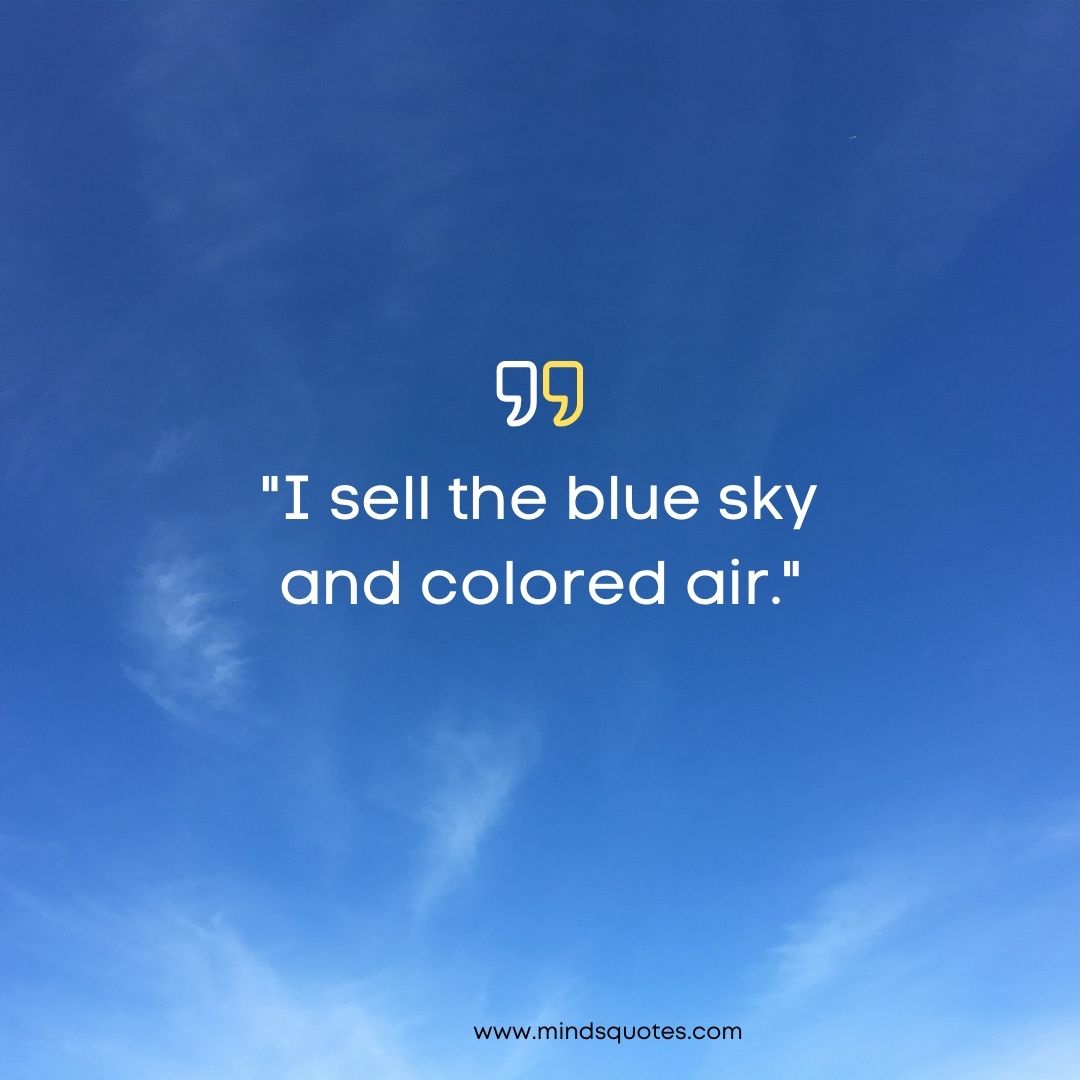 "In the age of consumerism and materialism, I traffic in the blue sky and colored air." – James Turrell
"The sea and sky are matching shades of blue."
"The sky is always there for me." – Yoko Ono
"At least we are under the same sky, you and I." – Ranata Suzuki
"On the other side of the cloud, there is a blue sky."
"Nothing better than a beach day with blue skies."
"No white clouds in my blue sky."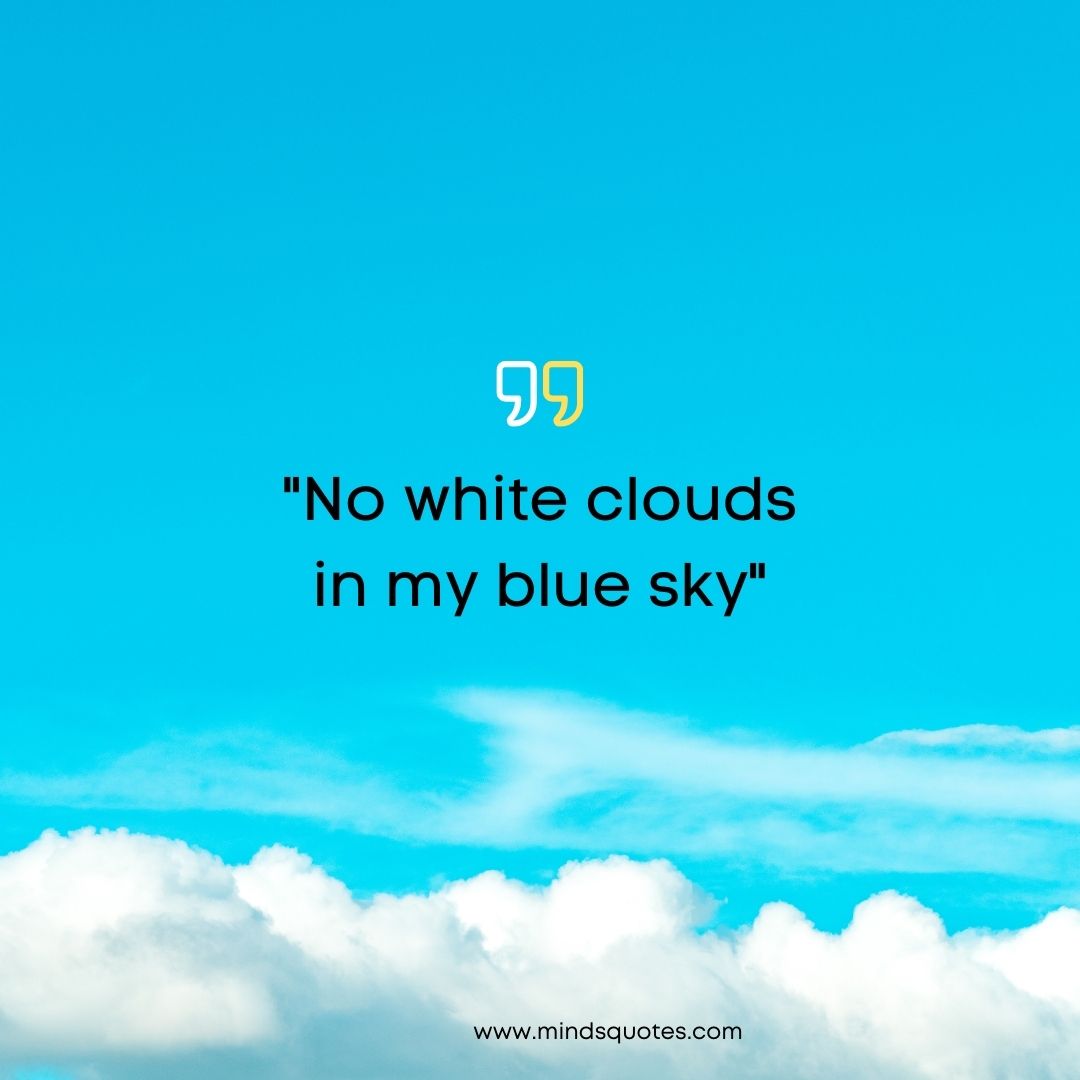 "Sun is shinin' in the sky, there ain't a cloud in sight." – Mr. Blue Sky
"I never get tired of the blue sky." – Vincent Van Gogh
"I dream of the sea and blue skies."
"I never tire of the blue sky."
"The sky is nothing but blue."
"When the sky is blue I can't feel blue."
"How sweet to be a cloud and floating in blue."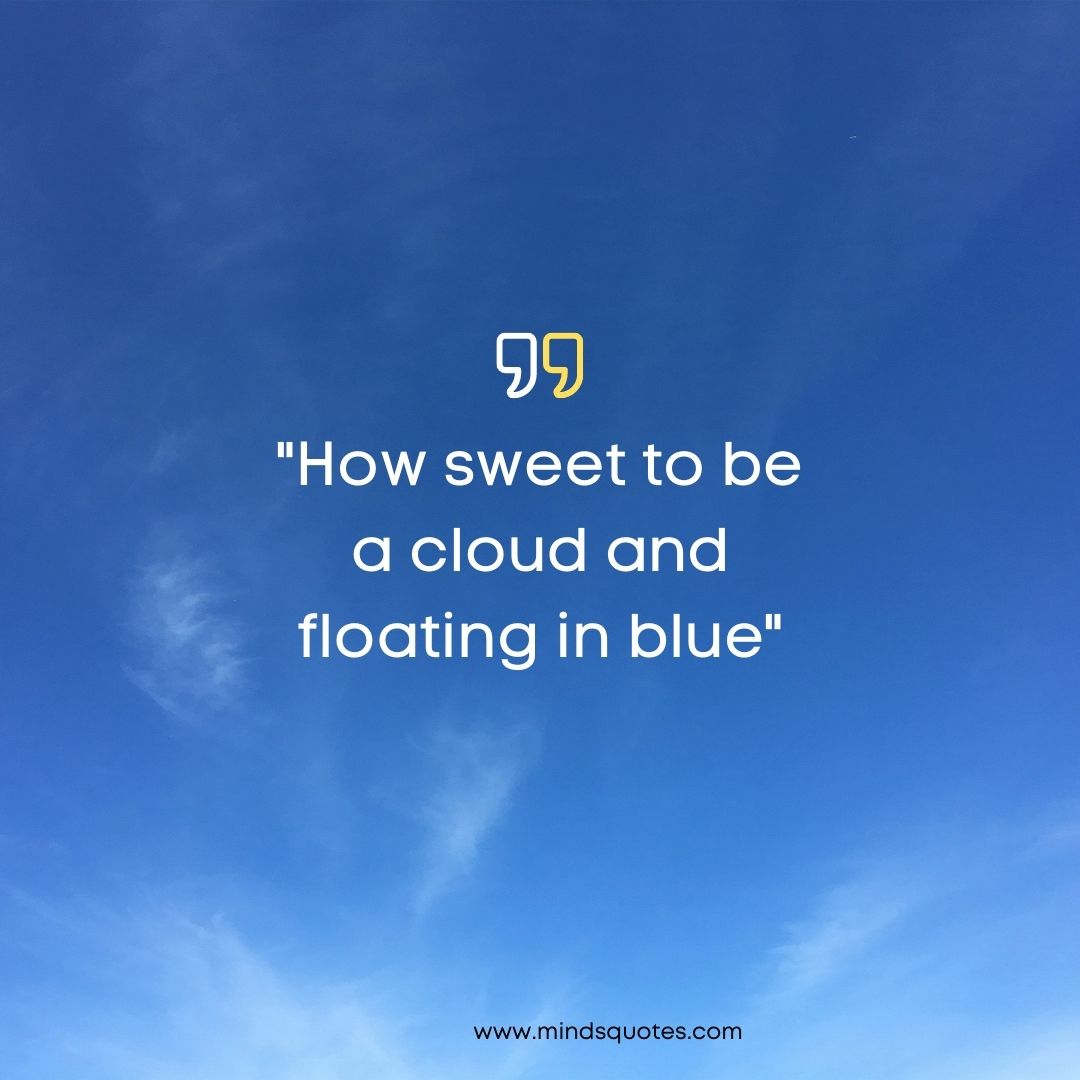 "The clear blue sky of my dreams."
"Sound of waves and blue skies = Perfect day."
"Ocean breeze, blue sky, palm trees, and the sea."
"Blue skies fill me with joy."
"Blue skies, sunshine, and palm trees."
Conclusion
This post is full of blue sky quotes to help you get through boring everyday life. These quotes are meant to inspire and motivate you to reach for the stars. If you like these quotes, please share them with your friends. If you have any comments or suggestions, please leave them in the comments section.