Chocolate Day Quotes is one of the favorite days of valentine's week for every lover. Every year people celebrate the day very joyfully with their beloved. Like every year, this year it is also held on 9th February. It's not the official or traditional day of any religion or country. This is a public make-up day just like other days of valentine's week.
People celebrate Chocolate Day by giving and eating chocolates with their loved ones. It's a very popular day in India and most people don't know about World Chocolate Day. They think it is the official day but International Chocolate Day is on 7th July which is also a public make-up day not a tradition of any religion.
Chocolate Day Quotes
Chocolate Day Quotes are the best way to show your love by giving chocolate to your loved ones. It is celebrated on February 9th every year.
Chocolate Day Quotes can be a great way to show your loved ones how much you care about them. Use these tips to find the perfect Chocolate Day Quote and make this Chocolate Day the best one yet!
There are many Chocolate Day Quotes available, but finding the best one can be a challenge. Here are some tips to help you find the perfect Chocolate Day Quote:
"All you need is love. But a little chocolate now and then doesn't hurt." – Charles M. Schulz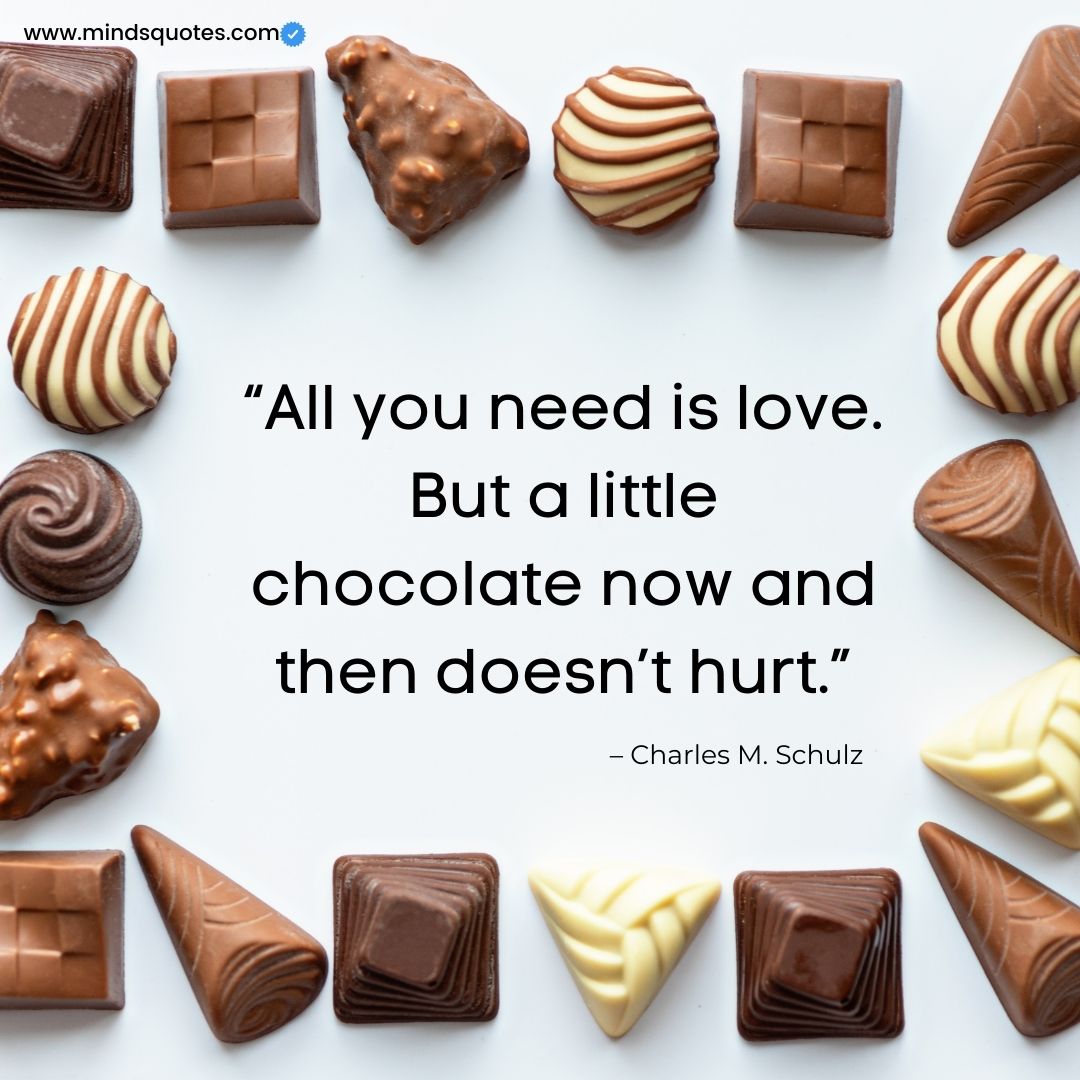 "Nice memories are like chocolate: you can't survive on them alone, as they aren't very filling, but they make life sweeter." – Janine Weger
"Strength is the capacity to break a Hershey bar into four pieces with your bare hands – and then eat just one of the pieces." – Judith Viorst
Chocolate is happiness that you can eat." – Ursula Kohaupt
"Chocolate symbolizes, as does no other food, luxury, comfort, sensuality, gratification, and love." – Karl Petzke
"There is nothing better than a friend, unless it is a friend with chocolate." – Linda Grayson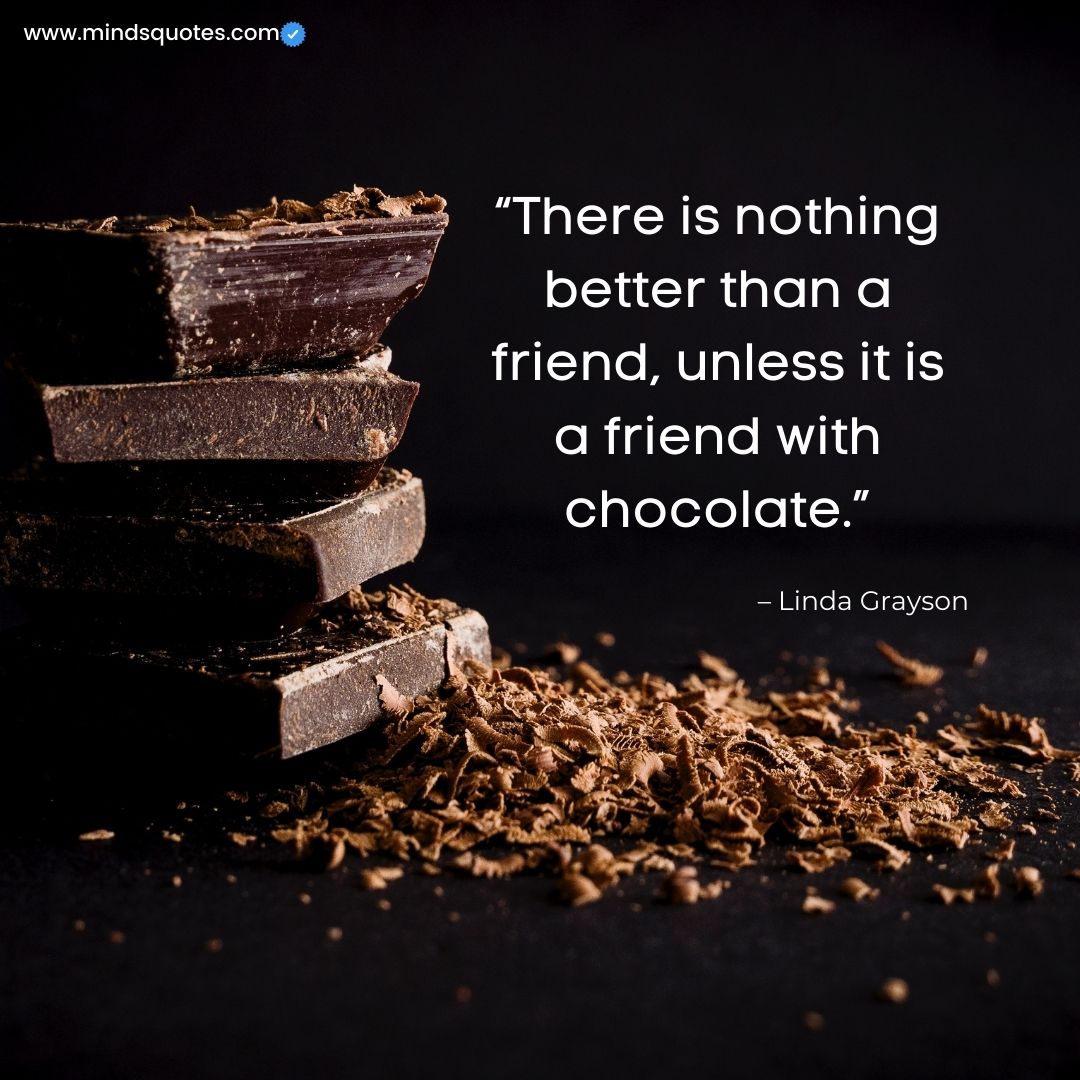 "Life is like chocolate: you should enjoy it piece for piece and let it slowly melt on your tongue." – Nina Sandmann
"Don't think that chocolate is a substitute for love! Love is a substitute for chocolate." – Miranda Ingram
"Don't wreck a sublime chocolate experience by feeling guilty. Chocolate isn't like premarital s*x. It will not make you pregnant. And it always feels good." – Lora Brody
"Happiness. Simple as a glass of chocolate or tortuous as the heart. Bitter. Sweet. Alive." – Joanne Harris
"Chocolate says 'I'm sorry' so much better than words." – Rachel Vincent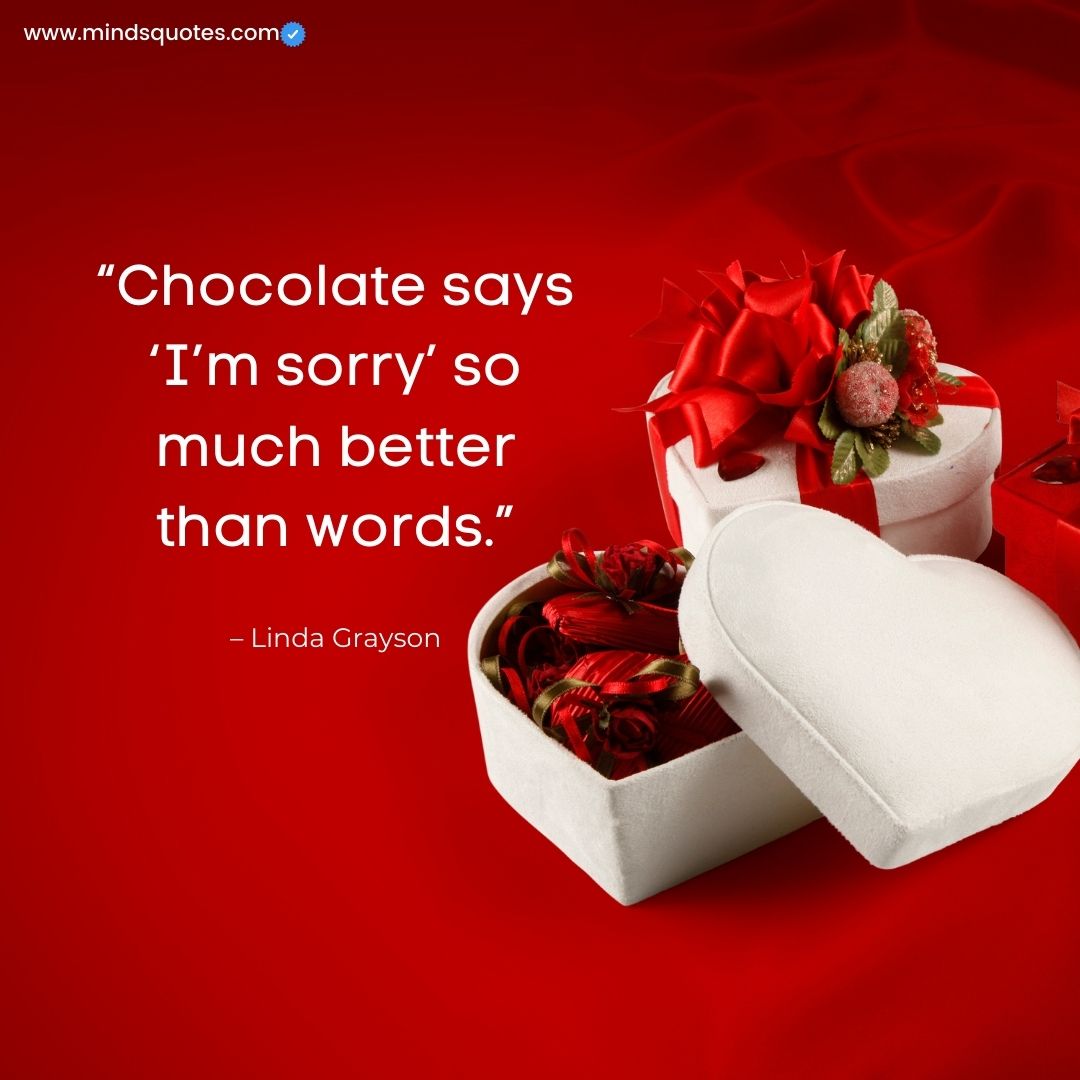 "The greatest tragedies were written by the Greeks and Shakespeare … Neither knew chocolate." – Sandra Boynton
"Look, there's no metaphysics on earth like chocolates." – Fernando Pessoa
Happy Chocolate Day Wishes Quotes
Chocolate Day Wishes Quotes are the best way to show your loved ones how much you care. Chocolate Day is celebrated every year on February 9th, and it is a day to express your love with chocolates. Whether you're single or in a relationship, this day is for everyone who loves chocolate.
Chocolates are a symbol of love and appreciation. They are a perfect gift for any occasion. So if you are looking for the best way to show your loved ones how much you care, make sure to check out this blog for the best Chocolate Day Wishes Quotes!
"I was like a chocolate in a box, looking well behaved and perfect in place, all the while harboring a secret center." – Deb Caletti
"When we don't have the words chocolate can speak volumes." – Joan Bauer
"Chemically speaking, chocolate really is the world's perfect food." – Michael Levine
"Always serve too much hot fudge sauce on hot fudge sundaes. It makes people overjoyed, and puts them in your debt." – Judith Olney
"Sometimes a girl's gotta have some chocolate!" – Carrie Underwood
"My wife said, 'Take me in your arms and whisper something soft and sweet.' I said, 'chocolate fudge.'" – Tommy Cooper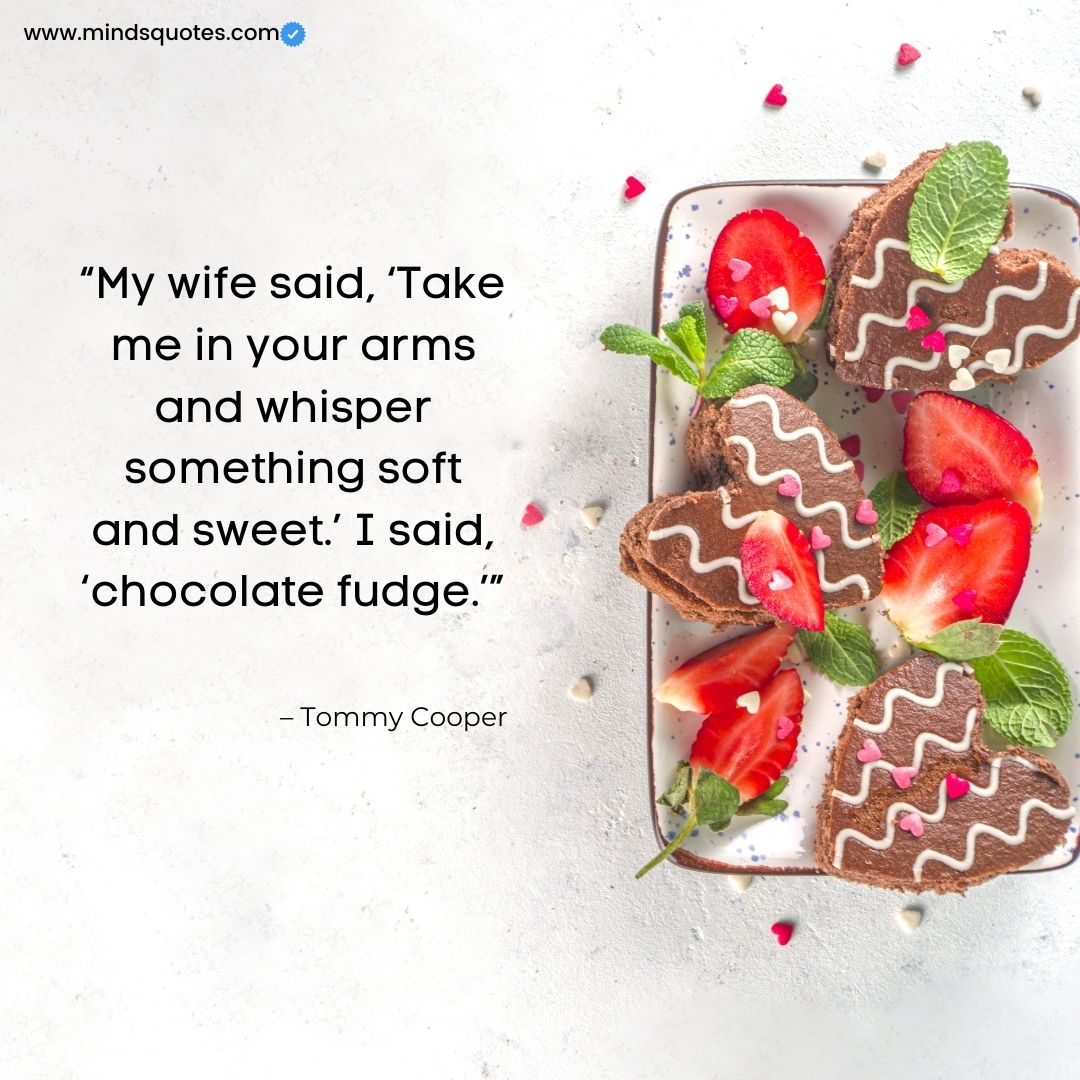 "May your life be filled, as mine has been, with love and laughter; and remember, when things are rough all you need is … Chocolate." – Geraldine Solon
"Even a small amount of dark chocolate can be exquisitely satisfying if you meditate on it." – Dean Ornish
"I never met a chocolate I could not eat." – Danielle Steel
"It was like having a box of chocolates shut in the bedroom drawer. Until the box was empty it occupied the mind too much." – Graham Greene
"Chocolate is like my best friend and the most intense pleasure at the same time, perhaps not the most intense, but the most regular and reliable one." – Chloe Doutre-Roussel
"I'm pretty sure that eating chocolate keeps wrinkles away because I have never seen a 10 year old with a Hershey bar and crows feet." – Amy Neftzger
"A little chocolate a day keeps the doctor at bay." – Marcia Carrington
"If God gives you chocolate, you open your mouth, no?" – Alejandro Jodorowsky
"Chocolate is one of the world's most beloved discoveries, and when we need a quick boost of energy and endorphins, chocolate is the go-to treat." – Marcus Samuelsson
Chocolate Day Messages
There are many ways to celebrate Chocolate Day, but one of the best ways is to give your loved ones a delicious box of chocolates. Of course, a box of chocolates is not complete without a Chocolate Day message. These messages are the perfect way to show your loved ones how much you care. On this day, people exchange chocolates and quotes with their loved ones.
If you are looking for some amazing chocolate Day Messages to share with your loved ones on this special day, then you have come to the right place. In this article, we have compiled a list of the best chocolate day messages and chocolate day wishes for love that you can use to express your love and affection for your loved ones.
"As long as there is chocolate, there will be happiness." – Wayne Gerard Trotman
"Without chocolate, we would have to find something else to do with the fruit and nuts." – Anthony T. Hincks
"Chocolate should be savored, not rushed." – Rick Riordan
"Chocolate is the first luxury. It has so many things wrapped up in it: deliciousness in the moment, childhood memories, and that grin-inducing feeling of getting a reward for being good." – Mariska Hargitay
"Ganache is a mix of chocolate and cream. Warm cream, warm chocolate, they want to get to know each other ― they're happy." – Alex Guarnaschelli
"I've always got a sweet tooth. I have chocolate hidden in places that nobody knows about." – Tony McCoy
"We have chocolate in common ― that's enough." – Rachel Hollis
"What you see before you, my friend, is the result of a lifetime of chocolate." – Katharine Hepburn
"I guess if I'm a product, either you're chocolate, you're vanilla or you're butterscotch. You can't be all three." – Bruno Mars
"Your hand and your mouth agreed many years ago that, as far as chocolate is concerned, there is no need to involve your brain." – Dave Barry
"If there's no chocolate in Heaven, I'm not going." – Jane Seabrook
"Coffee and chocolate ― the inventor of mocha should be sainted." – Cherise Sinclair
"The 12-step chocolate program: NEVER BE MORE THAN 12 STEPS AWAY FROM CHOCOLATE!" – Terry Moore
"Anything is good if it's made of chocolate." – Jo Brand
"Nothing is as alluring as a piece of chocolate you can't have." – Nina Sandmann
"There's a sure shot way to get rid of that frown, when you have some chocolate around." – Manali Manan Desai
"Women have a special relationship with chocolate mostly because our culture tells them to. It goes back to the old claptrap about sweet treats being for 'ladies', while savory tastes for men." – Bee Wilson
"Chocolate is something you take for granted until you don't have any." – Marja McGraw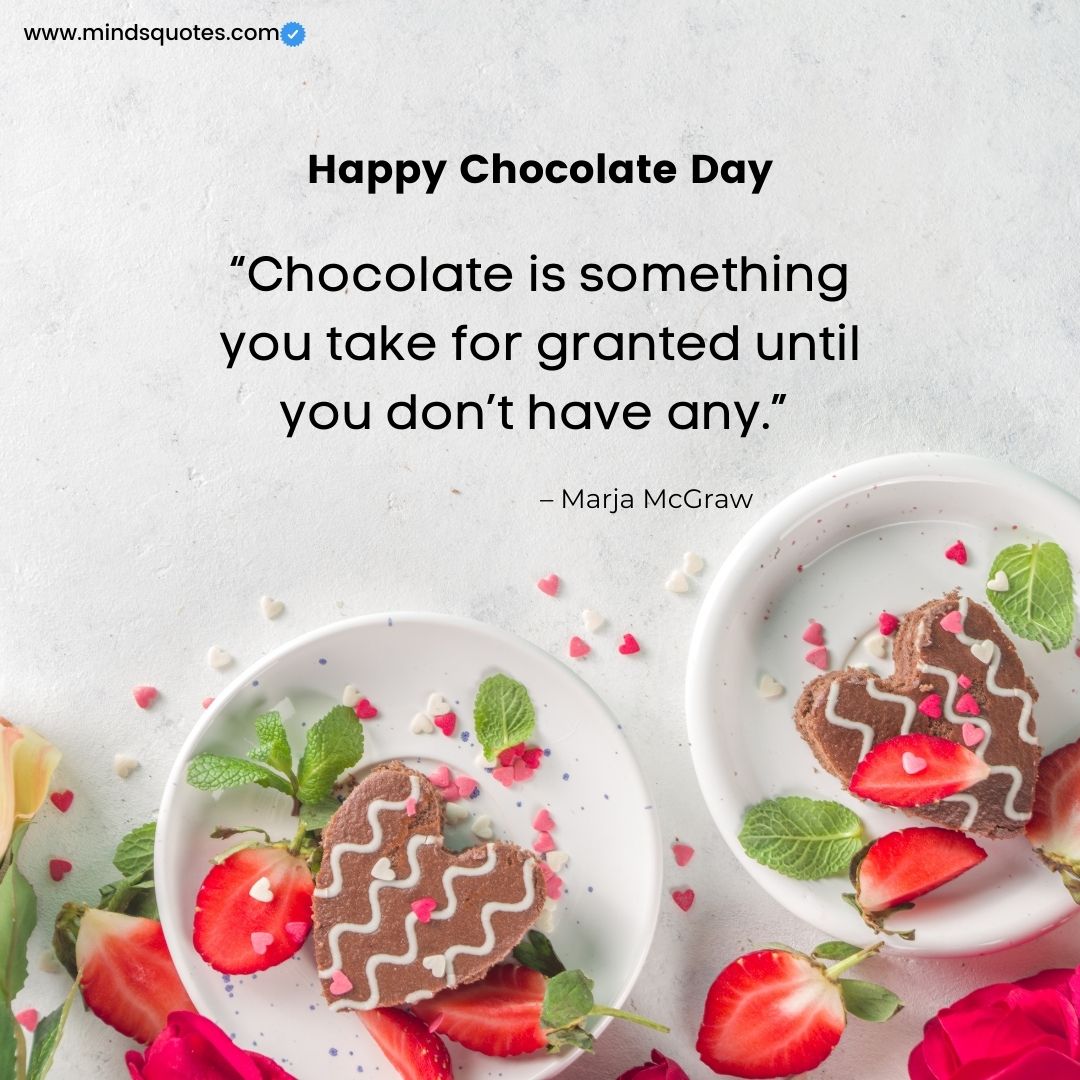 "There's no point in wasting calories on cheap chocolate, always opt for the darkest and richest." – Nanci Rathbun
"Then she thought bitterly that it would be much easier to resist chocolate if her life were less stressful." – J.K.Rowling
"Money can't buy happiness. But, you can buy chocolate, which is pretty much the same thing." – Hanako Ishii
"Love is just the chocolate-coated realization you're going to spend the rest of your life with a person and unfortunately it melts in your mouth." – Josh Stern
Conclusion
Chocolate Day is a day to celebrate love and affection. It is a day to express your feelings for your loved ones. If you are searching for the best Chocolate Day Quotes, look no further. This blog has a wide selection of quotes that are perfect for this special occasion. LIKE, COMMENT, and SHARE this article with your social media platforms.