Crush Quotes are the cutest quotes in the world. Everybody has a special somebody that they just can't get enough of. While there are many different types of love, crushes are one of the purest forms of love. When you have a crush on somebody, you just can't help but think about them all the time. You might find yourself constantly daydreaming about what it would be like to be with them or what cute things they might say to you. Crushing on somebody is one of the most exciting feelings in the world, and these Crush Quotes will help you express your love for them perfectly.
Crush Quotes are enjoyed and loved by many people. They make you feel wanted, loved, and appreciated. They can make your day or even week. It is a great way to start your day or end it. So what is Crush Quote?
A Crush Quotes are short, sweet, romantic, and often funny saying about love and crushes. They are designed to make the person reading it smile, and giggle. They are the best way to get rid of stress. All you need is your favorite quote and a good place to write it down or read it. When you're feeling overwhelmed, just take a few minutes to read your quote and relax.
Crush Quotes
Crush Quotes are cute, short, and memorable. Crushes are one of the most exciting things in life. We all have crushes. Whether it is on a celebrity, friend, or family member, crushes are a natural part of life. Crushes make us feel excited, happy, and alive. They can also be quite confusing and frustrating. If you have a crush, you may be wondering how to act around them or if they like you back. If you are wondering what to do with your crush, here are some best Crush Quotes that can help you.
"That feeling in your stomach when you see your crush."
"I like her because she smiles at me and means it." – Terri Guillemets
"Sometimes I just can't ignore the way I feel when I see you smile."
"I just want to be the girl you like."
"Creating the impossible is easier, but talking to my crush is harder." – Newart
"Everyone can have a crush on anyone, be it on a real person or a celebrity." – Ram Gopal Varma
"Love is the greatest refreshment in life." – Pablo Picasso
"I have a crush on your mind. I fell for your personality. Your looks are just a bonus." – Nicolas Sparks
"When I think about you I end up having a stupid grin on my face."
"There is nothing better than when your crush has a crush on you, too."
"I think about you constantly, whether it's with my mind or my heart." – Terri Guillemets
"That awkward moment when your crush has asked you who your crush is."
"There are fewer things worse than when your crush has feelings for someone who isn't you."
"The sight of you makes my heart flutter."
"I don't know why I'm so afraid to lose you when you're not even mine" – Nurilla Iryani
"When I see you, I admit I start to lose my grip and all of my cool."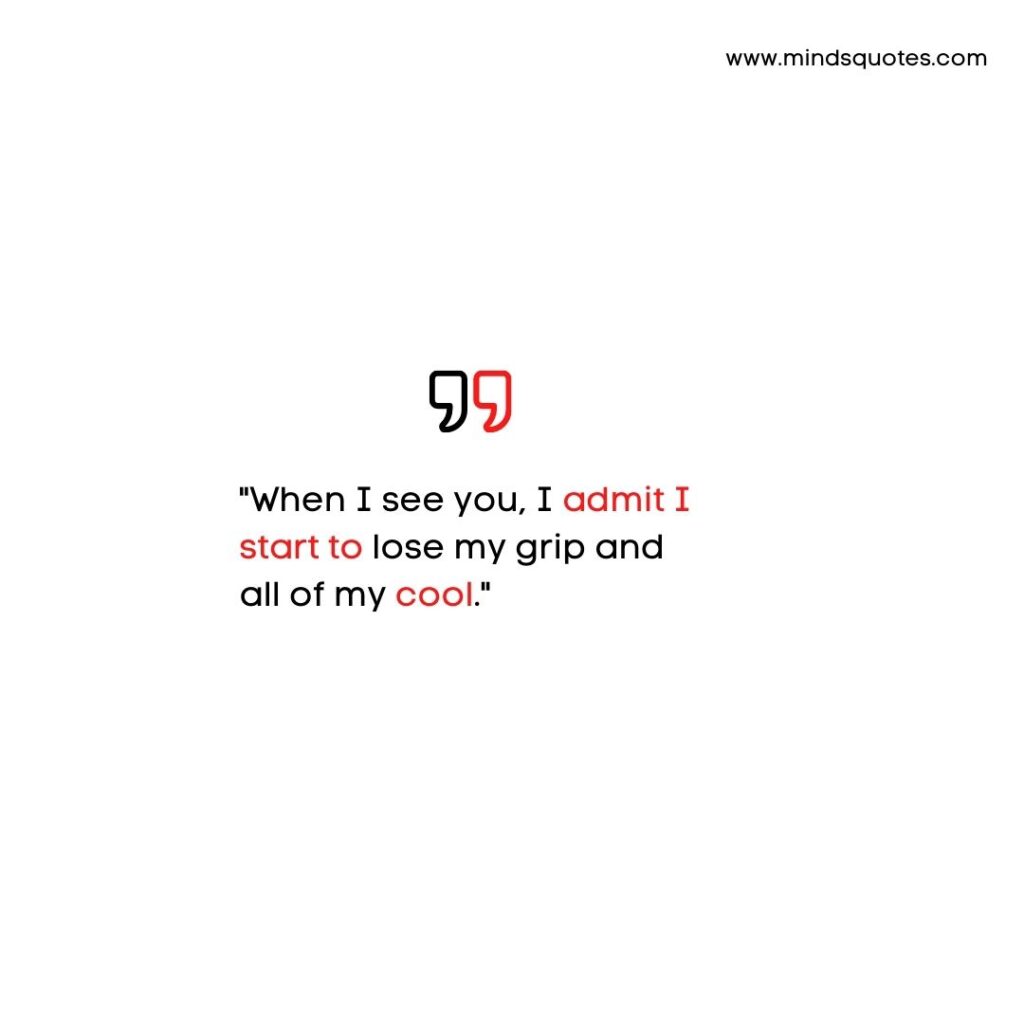 "Creating a nickname for your crush, that only you and your friends know."
"To be your friend was all I ever wanted; to be your lover was all I ever dreamed."
"The mark of a true crush… is that you fall in love first and grope for reasons afterward." – Shana Alexander
"You don't have to be a genius to figure out what's between us."
"When you fall for someone's personality, everything about them becomes beautiful."
"I would love to be the person that could make you laugh and smile every day."
"No more, no less. I'm an idiot. I really need to let this crush go." – Pittacus Lore
"I just had to talk with you. Sweetness is my weakness."
"I'm so into you." – Ariana Grande
"You sat down next to me and I think I forgot how to breathe."
"Love is a friendship set to music." – Joseph Campbell
"Whatever our souls are made out of, his and mine are the same." – Emily Bronte
Love is a smoke made with the fume of sighs." – William Shakespeare
"I'm so glad you are in my life, but I want to be more than friends."
"I know I am but summer to your heart, and not the full four seasons of the year." – Edna St. Vincent Millay
"I can't say hello to you and risk another goodbye." – Taylor Swift
"Cause I'm trying and trying to walk away, but I know this crush ain't goin' away." – David Archuleta
"Just take my hand, let's dance." – Charli XCX
"Because of your smile, you make life more beautiful." – Thich Nhat Hanh
"I am looking at your hands and dreaming that I will be able to hold those close to mine."
Secret Crush Quotes
Secret Crush Quotes are the hidden love messages that people exchange with each other without letting anyone else know about them. They can be romantic, cute, funny, or simply flirty. We all desire the attention of someone we're attracted to and sometimes it feels as if the whole world is conspiring against us. Secret Crush Quotes is here to provide some much-needed understanding, insight, and solace for anyone who's ever experienced love and desire.
Crush Quotes can be sent through SMS, WhatsApp, Facebook, Twitter, or any other social media platform. People usually share these quotes when they feel too shy to express their true feelings in person or when they want to keep their relationship private.
"If I know what love is, it is because of you."
"It's amazing how one little conversation can change things forever."
"I don't want to dream of you anymore. I want you for real."
"When they say make a wish, you're the first thing I think about."
"Love's gift cannot be given. It waits to be accepted." – Rabindranath Tagore
"Every time we touch I get this feeling." – Cascada
"I wasn't used to guys making me blush, and I wasn't sure why he even was making me blush." – Holly Hood
"She is admired from afar. These admirers court her in secret, in the safety of their dreams." – Whitney Otto
"I really liked him and when you really like someone, not everything is simple to understand." – Kyle Labe
"I forgot to breathe for a moment when our eyes met and his lips curved up." – Amy Tintera
"If my love for you is a crime, I want to be the most wanted criminal."
"And when you love someone you don't always see them realistically." – P. C. Cast
"I want you to want me." – Cheap Trick
Crush Quotes for Him
Crush Quotes for Him are one of the most effective ways to show your admiration and love for someone you like. They add a fun and flirty touch to any conversation, letting the other person know that they have captured your interest. They can also be a great way to show appreciation and respect for someone you admire. Crush Quotes is all about love and feelings. It talks about crushes, dating, and relationships in a way that is soulful, introspective, sometimes playful, and oftentimes quite poetic.
"Every word you've ever said is written somewhere in my mind." – Crystal Woods
"I feed my mind with the thought of you." – Enjoyingbeingme
"That feeling: when your crush looks at you."
"He's smiling… I am melting."
"Having a crush on someone is not something intentional, but hard to stop."
"My insides still turn over when he looks at me that certain way." – Judy Blume
"I wonder what I look like in your eyes."
"I still fall for you every day."
"You must allow me to tell you how ardently I admire and love you." – Jane Austen
"When they say to make a wish, you are the first thing that I think about."
"My heart stops when you look at me." – Katy Perry
"You probably never knew, but god damn girl, I had the biggest crush on you." – Shane Koyczan
Crush Quotes for Her
Crush Quotes for Her are the perfect way to let your crush know how you feel about them. They are romantic, cute, and often funny little musings about love and crushes. They can be used to tell someone that you like them, to make them feel special, or just to make them smile. No matter what your reason for using one, a good crush quote is a perfect way to show your affection. If you're looking for the best way to say "I like you," then check out these amazing Crush Quotes for Her.
"She gave me a smile I could feel in my hip pocket." – Raymond Chandler
"Wondering if he gets butterflies when he's around you."
"I don't know how to explain it but I think that we are meant to be together."
"When I see you I admit I start to lose my grip and all of my cool." – Hilary Duff
"Sometimes I just can't ignore the way I feel when I see you smile." – The Ataris
"The one good thing about not seeing you is that I can write you letters." – Svetlana Alliluyeva
"I get nervous when I know I'm going to get to see you."
"Crushing on someone secretly is frustrating and inspiring at the same time."
"I can only see the beauty in the person I am secretly admiring from afar."
"I think about you a little more than I should."
Conclusion
This article provides lots of Crush Quotes with IMAGES. The quotes are thought-provoking and relatable, and the images are beautiful. If you like what you see, LIKE, COMMENT, and SHARE with your friends and CRUSH and make it your Social Media STATUS.