Inspirational Friday Quotes will get you through the week. We all know that feeling when Friday comes around and we just can't wait for the weekend. The work week is finally over and we can relax and enjoy our time off. But sometimes, we need a little bit of inspiration to get us through the week. That's where Friday Quotes come in. They're a great way to motivate yourself and your team to stay focused and productive during the week.
Friday Quotes can get you through a tough Friday. Friday is the best day of the week! It's the day of the week when we can relax and enjoy the end of the work week. It's also a day to kick back and relax with friends and family. And, of course, it's a day to reflect on the week that was. Finding the perfect words to describe how you feel about Friday can be tough. But luckily, there are plenty of people out there who have already done the hard work for you. In this blog post, we'll explore some of the best Friday Quotes to help you make it to the weekend.
Related: Success Motivational Quotes
Friday Quotes
Friday Quotes are the types of motivational quotes that inspire you for your hard work for the week. From funny to inspirational, Friday Quotes will help you start your weekend off on the right foot. We all look forward to the weekend, and Friday is the day that starts it off. Here we have the best collection of Friday Quotes from authors, philosophers, and thinkers around the world. Our objective is to provide you with something to ponder at the end of the week.
"Fridays are the hardest in some ways: you're so close to freedom." — Lauren Oliver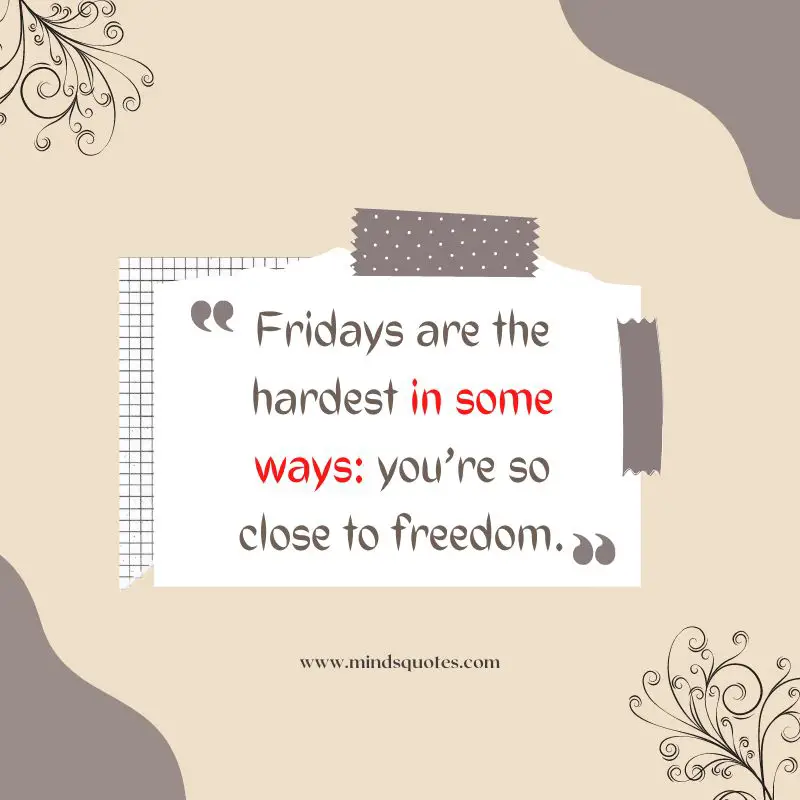 "If you must have motivation, think of your paycheck on Friday." — Noel Coward
"Thursday doesn't even count as a day, it's just the thing blocking Friday."
"Life is good, especially on a Friday."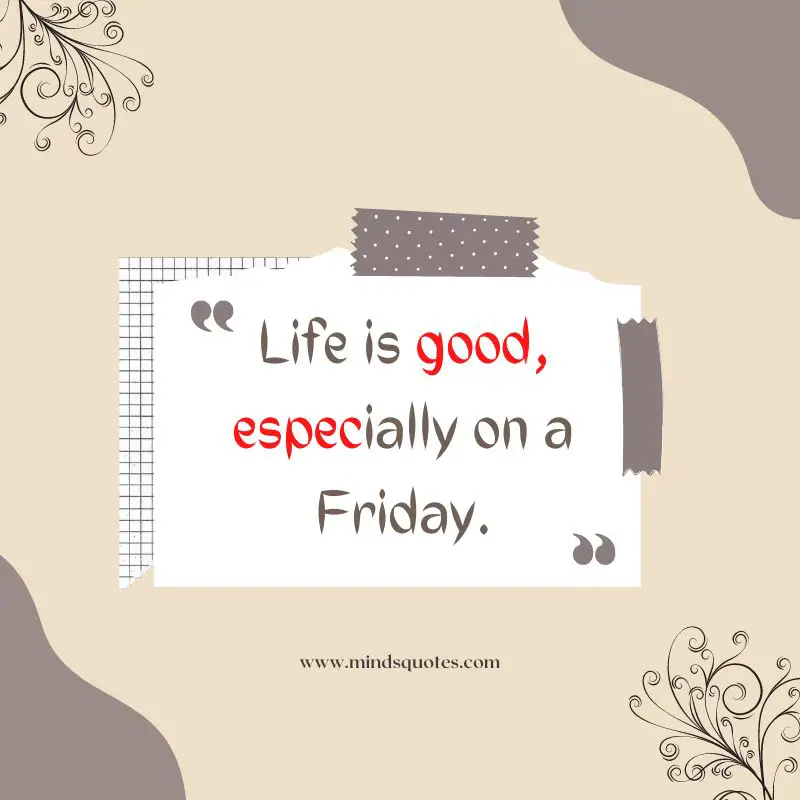 "Friday fills my day with hope & happiness." — Anthony T. Hincks
"It's Friday morning humankind! Good vibe, don't frown and let the monster see you smile!" — Napz Cherub Pellazo
"Friday is my second favorite F word. Food is my first."
"I don't work on Fridays. I make appearances."
"Life is all about having a good time." — Miley Cyrus
"The only reason why we ask other people how their weekend was is so we can tell them about our weekend." — Chuck Palahniuk
"Today was good. Today was fun. Tomorrow is another one." — Dr. Seuss
"Live and work but do not forget to play, to have fun in life and enjoy it." — Eileen Caddy
"Friday sees more smiles than any other day of the workweek!" — Kate Summers
"Employers are at their happiest on Mondays. Employees are at their happiest on Fridays." — Mokokoma Mokhonoana
"Life is like a sewer… what you get out of it depends on what you put into it." — Tom Lehrer
"It's Friday night. Time to be a hero and rescue some wine trapped in a bottle."
"Rise and attack the day with enthusiasm."
"Music always sounds better on Friday." — Lou Brutus
"Also, check out these happy Saturday quotes for an incredible weekend."
"Be positive. Stay happy and don't let the negativity of the world get you down." — Germany Kent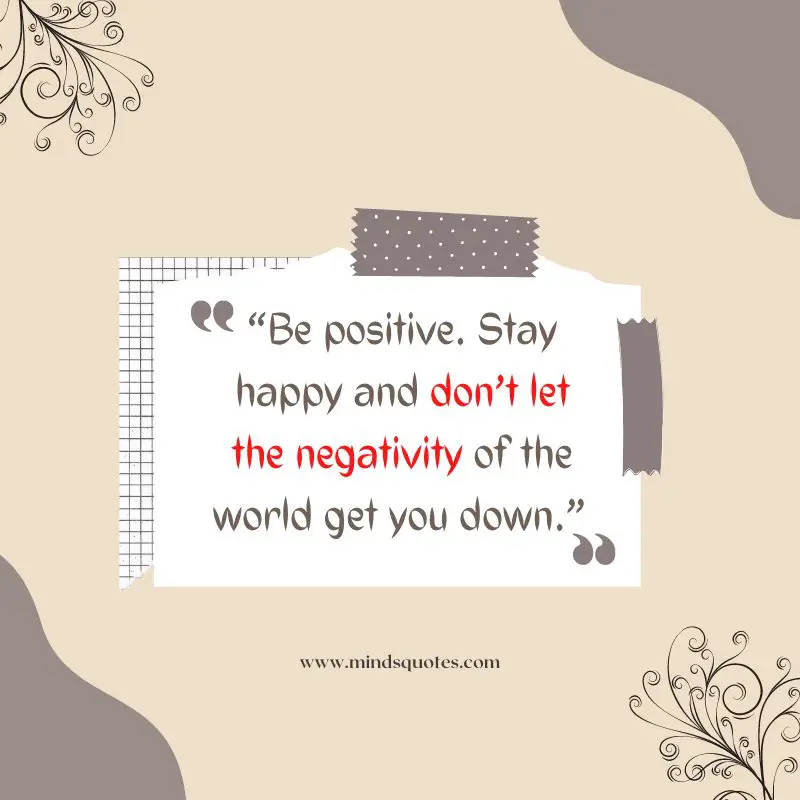 "My mission in life is not merely to survive, but to thrive." — Maya Angelou
Happy Friday Quotes
Happy Friday Quotes can be used as a wishing message to your friends and colleagues. Whether you're looking for some Funny Friday Quotes to share with your friends or Motivational Friday Quotes to get you through the week, we've got you covered. To help you get into the Friday spirit, here are some quotes about Fridays that will make you smile.
"There's just one legitimate synonym for Friday: Boom Shakalaka."
"Today you are you, that is truer than true. There is no one alive who is younger than you." — Dr. Seuss
"Friday afternoon feels like Heaven." — El Fuego
"If my boss knew how unproductive I am on Fridays, he wouldn't want me here either." — James Johnson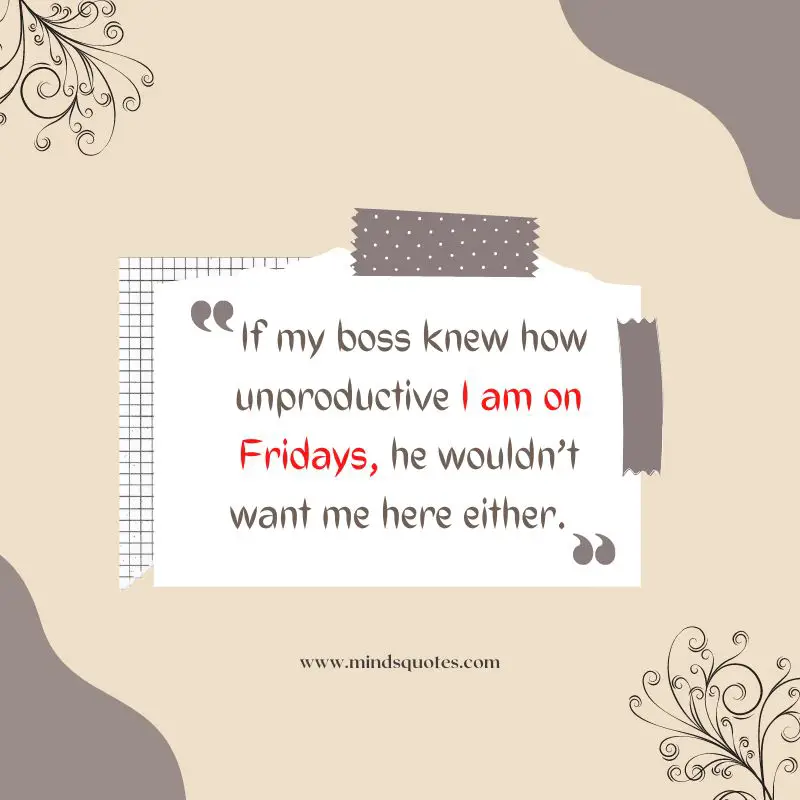 "It's finally Friday, I'm free again. I got my motor running for a wild weekend." — George Jones
"Happy Friday! Here's to all of us who made it through another week of faking adulthood." — Nanea Hoffman
"It's Friday! Time to go make stories for Monday."
"Tuesday just called and wants to know what happened to Friday!!" — Neil Leckman
"I'll just stay home and eat a lot of gelatos and write about how true love is nothing but a myth."
"Find ecstasy in life; the mere sense of living is joy enough." — Emily Dickinson
"Friday is my second favorite F word. Food is my first."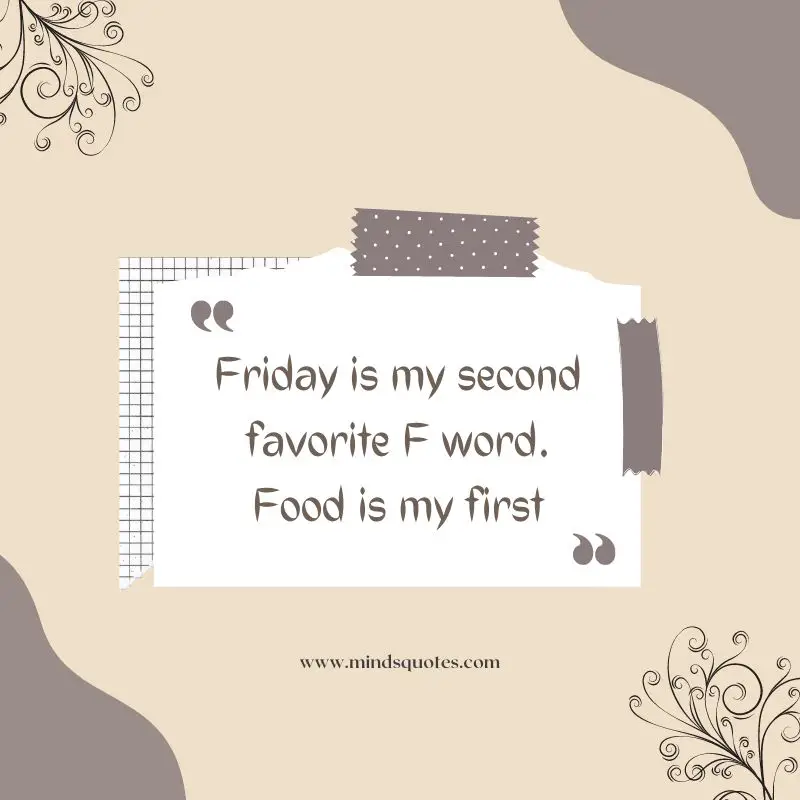 "The best way to pay for a lovely moment is to enjoy it." — Richard Bach
"Happiness is part of who we are. Joy is the feeling." — Tony DeLiso
"Let's sit on a rooftop at 2 am and talk about life."
"These are the things to live for."
Friday Motivational Quotes
Friday Motivational Quotes can be a way to encourage your people for a productive Friday. It motivates people to reflect on what they have achieved and inspires them for the future. Motivation is the capacity to get someone to do something, especially when they know it is in their best interest. It's making people feel better on the last day of the work week.
"Live life to the fullest and focus on the positive." — Matt Cameron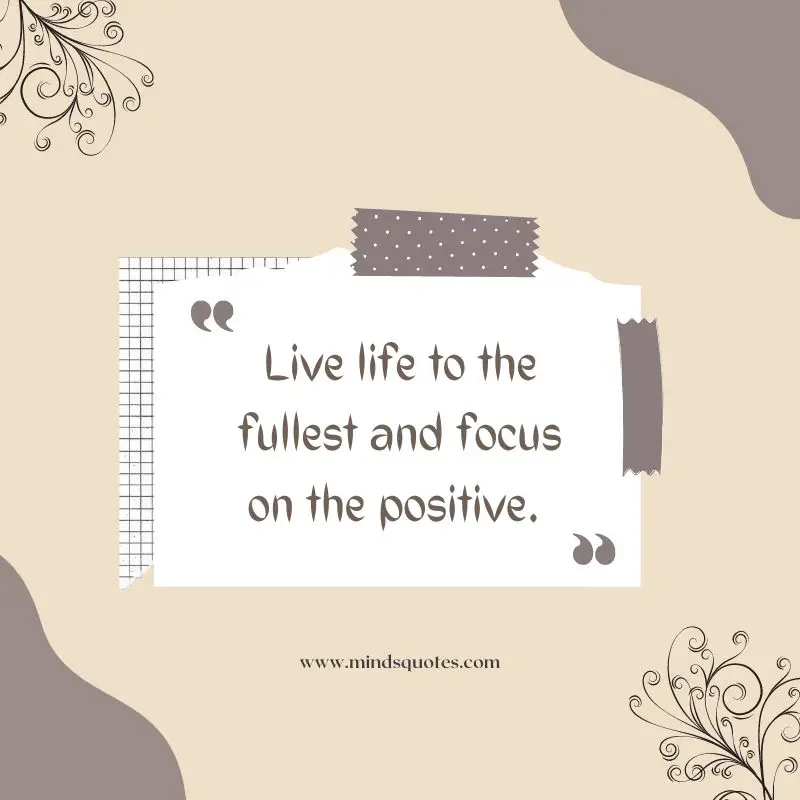 "Friday is about hanging out with friends, having fun." — Rebecca Black
"Success is a bright sun that obscures and makes ridiculously unimportant all the little shadowy flecks of failure." — Harold Helfer
"It's finally Friday, I'm free again. I got my motor running for a wild weekend." — George Jones
"Don't count the days. Make the days count." — Muhammad Ali
"Winning doesn't always mean being first. Winning means you're doing better than you've done before." — Bonnie Blair
"Life is not a problem to be solved, but a reality to be experienced." — Soren Kierkegaard
"Don't worry about letting the dogs out. It's Friday! Let them have a great weekend, too." — Anthony T. Hincks
"You're only given a little spark of madness. You mustn't lose it." — Robin Williams
"People wait all week for Friday, all year for summer, all life for happiness." — Raimonda. B
Friday inspirational Quotes
Friday inspirational Quotes are about the inspiration we feel for the weekend. Fridays mean it's time to start looking forward to the weekend and all of the fun things you have planned. That's why Friday inspires people to give their best for the last day of work. These Friday Quotes will give you some advice that can change your day and keep you inspired for the weekend ahead.
"Associate with people who are likely to improve you." — Seneca
"Weekends welcome warriors for social fun that starts on Friday." — David Chiles
"I know every day is a gift but where are the receipts for Mondays? I want to return it for another Friday."
"There is never enough time to enjoy what you love." — Joyce Rachelle
"There are going to be good times and bad times, but lighten up." — Chris Pine
"When he worked, he worked. But when he played, he PLAYED." — Dr. Seuss
"Friday called. She's on her way and she's bringing the wine."
"Time you enjoy wasting is not wasted time."
"You know what I want to do? Wake up one weekend and not have to go anywhere and do nothing." — Derek Jeter
"I haven't been so excited about Friday since last Friday."
"No one is perfect – that's why pencils have erasers." — Wolfgang Riebe
Friday Quotes for Work
We live in a fast-paced world where people are constantly on the go. Workdays are getting longer and most of us barely have enough time to breathe. But, it doesn't have to be that way! With Friday Quotes for Work, you can get a motivational boost on any given weekday by reading it. It encourages you, inspires you, and makes you laugh at the same time.
"The only time you fail is when you fall and stay down." — Stephen Richards
"If you give up on your dreams, what's left?" – Jim Carrey
"Think positive and positive things will happen." — Unknown
"Pretend like it's the weekend, … We could pretend it all the time." — Jack Johnson
"I work mostly during the week, and on the weekend I get to hang out with friends, so it balances out pretty well." — Jimmy Bennett
"I have to be alone very often. I'd be quite happy if I spent from Saturday night until Monday morning alone in my apartment. That's how I refuel." — Audrey Hepburn
"Go as far as you can see; when you get there you'll see further." — Thomas Carlyle
"Some people want it to happen, some wish it would happen, others make it happen." — Michael Jordan
"Believe you can and you're halfway there." — Theodore Roosevelt
"It is not how much we have, but how much we enjoy, that makes happiness." — Charles Spurgeon
"Hi Friday, I've been looking for you since Monday."
"Keep your face to the sunshine and you cannot see a shadow." — Helen Keller
Friday Positive Quotes
It is said that setting your intention for the day how you want it to go can help you achieve a more positive outlook. So, why not start your day off on a positive note with some motivational and inspirational quotes about Fridays. Friday is the day to wind down from a busy week and enjoy some time for yourself. It's also a day to reflect on the positive things in your life. That's why we've gathered a list of the best Friday Positive Quotes to help you start your weekend.
"Some cause happiness wherever they go; others whenever they go." — Oscar Wilde
"Friday can be a hard day especially if you have not followed through on your commitments." — Byron Pulsifer
"There is no way to happiness – happiness is the way." — Thich Nhat Hanh
"Live every day as if it were going to be your last; for one day you're sure to be right." — Harry Morant
"Positive anything is better than negative nothing." — Elbert Hubbard
"The pleasure which we most rarely experience gives us greatest delight." — Epictetus
"Feed your soul and mind with positivity for it will bear fruit to your life." — Shara
"Coffee in hand, sparkle in my eye, smile on my face yep, it's Friday."
"And in the end, it's not the years in your life that count. It's the life in your years." — Abraham Lincoln
"Happy people plan actions, they don't plan results." — Dennis Waitley
Friday Quotes Funny
We all know that feeling when Friday finally rolls around after a long week of work. It's the best feeling in the world, and it's even better when you have a Funny Friday Quote to share with your friends. But sometimes, Friday can be a little too relaxed. That's why we've compiled a list of the funniest Friday Quotes to help you get through your day.
"On Friday, I like to high-five ourselves for getting through another week on little more than caffeine, willpower, and inappropriate humor." — Nanea Hoffman
"I haven't been so excited about Friday since last Friday."
"Friday is like a superhero that always arrives just in time to stop me from savagely beating one of my coworkers with a keyboard." — Rico
"I know each day is a gift, but where's the receipt for Mondays? I want to exchange it for another Friday."
"It's 4:58 on Friday afternoon. Do you know where your margarita is?" — Amy Neftzger
"Hands up if you're ready to do something you'll regret this weekend. Go forth! You have my blessing." — Florence Welch
"If you've got some news that you don't want to get noticed, put it out Friday afternoon." — David Gergen
"I believe that it is a mandatory Law of the Universe that on Fridays, you have to do something a little fun." — Hanna Rhoades
"If you must have the motivation, think of your paycheck on Friday." — Noel Coward
Conclusion
This post is about Friday Quotes And some thoughts about Friday. Maybe Some of these quotes are related to you. We hope this will motivate you and inspire you for the next working week. If you find something helpful here please LIKE COMMENT and SHARE with your friends and family.