Husband Quotes explore all aspects of a husband—the good, the bad, and the ugly. Husbands are expected to provide for their families and be the primary breadwinner. They are also expected to be protectors and defenders of their loved ones. In many ways, the husband is the cornerstone of the family. These quotes come from men who have been through the ups and downs of marriage and have come out the other side as proud, loving husbands. From the importance of communication to the power of patience, these Husband Quotes capture the essence of what it means to be a good husband.
While the role of the husband has changed over the years, there are still many husbands who take on these traditional responsibilities. Husbands are an important part of any family, and they play a vital role in the overall health and well-being of their families. When you think of the perfect husband, what comes to mind? For many women, the answer is like a man who is strong, loving, and supportive. However, sometimes it can be difficult to find a man who meets all of these criteria. From the highs of being truly in love to the lows of feeling lost and alone, these Husband Quotes capture it all.
Husband Quotes
Husband Quotes are about love and marriage to fatherhood and family. Finding the perfect one for your husband can be challenging. After all, not all husbands are the same. Some husbands are more loving and considerate than others. Some husbands are more spontaneous and fun-loving. And some husbands are simply more difficult to please. But no matter what type of husband you have here are some Proud Husband Quotes that are perfect for him. These quotes can be used to show your husband how much you love and appreciate him. They can also be used to simply make your husband feel good.
"Being a perfect husband like you is something other men in the world should learn."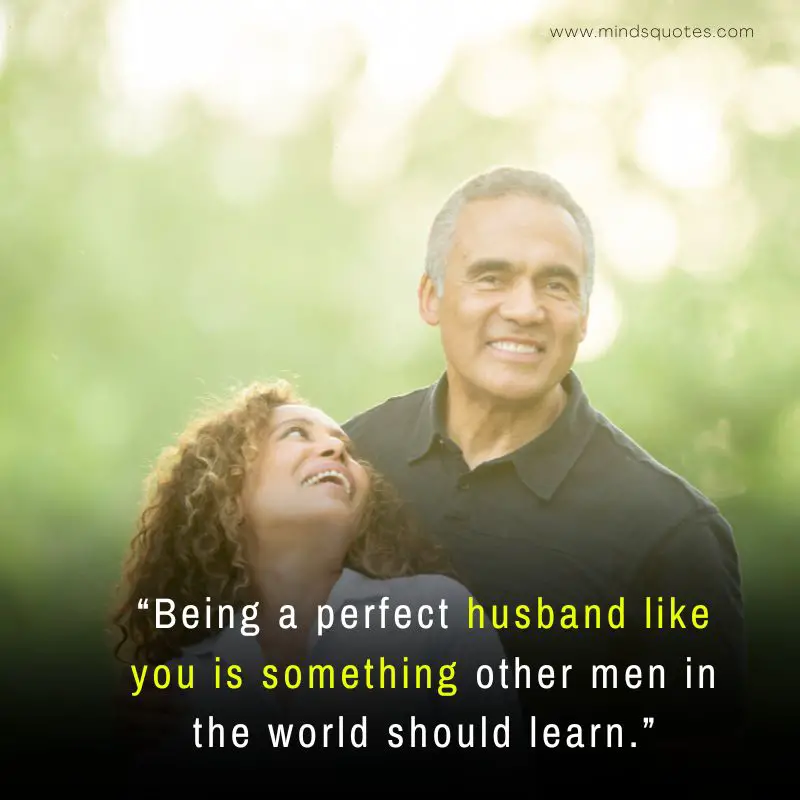 "I always dreamt of meeting a man like you. I'm so glad that dreams do come true."
"Life without love is like a tree without blossoms or fruit." – Khalil Gibran
"Always be you. I love you and the kind of person you are."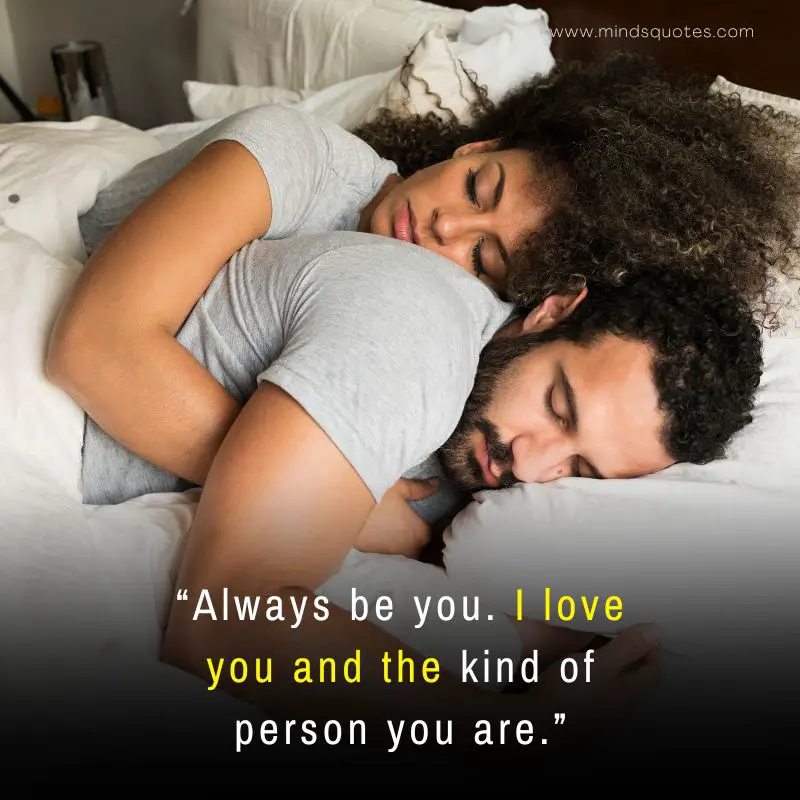 "It's not easy to find the perfect companion. I am so glad I found mine; I love you."
"I know a thing or two about love, and it is only because of you."
"My dream wouldn't be complete without you in it."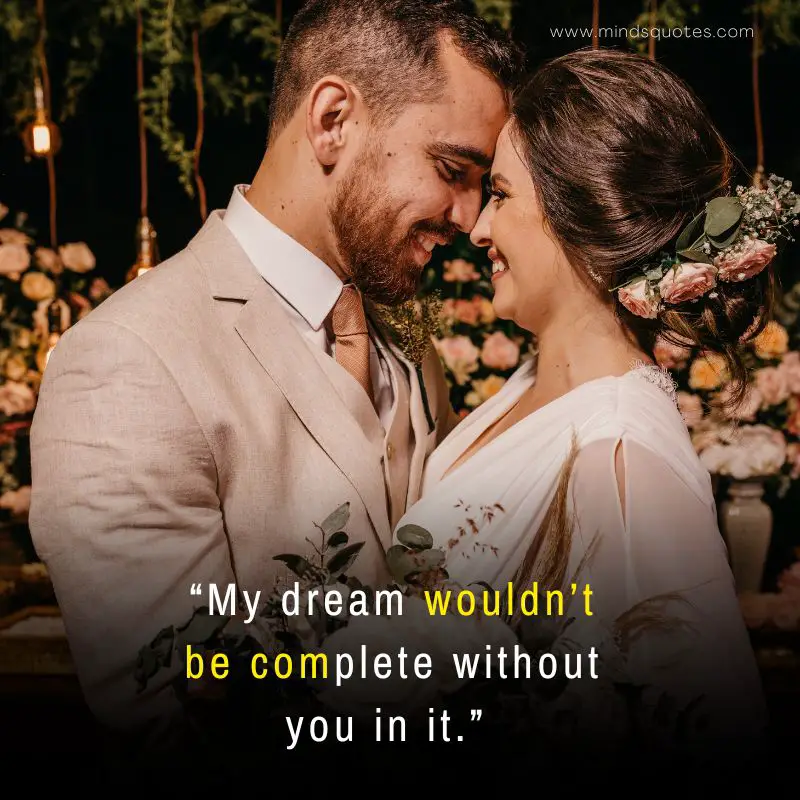 "You are my favorite thing about every day."
"I do not want a husband who honors me as a queen if he does not love me as a woman."
"Being in love with you makes every morning worth getting up for."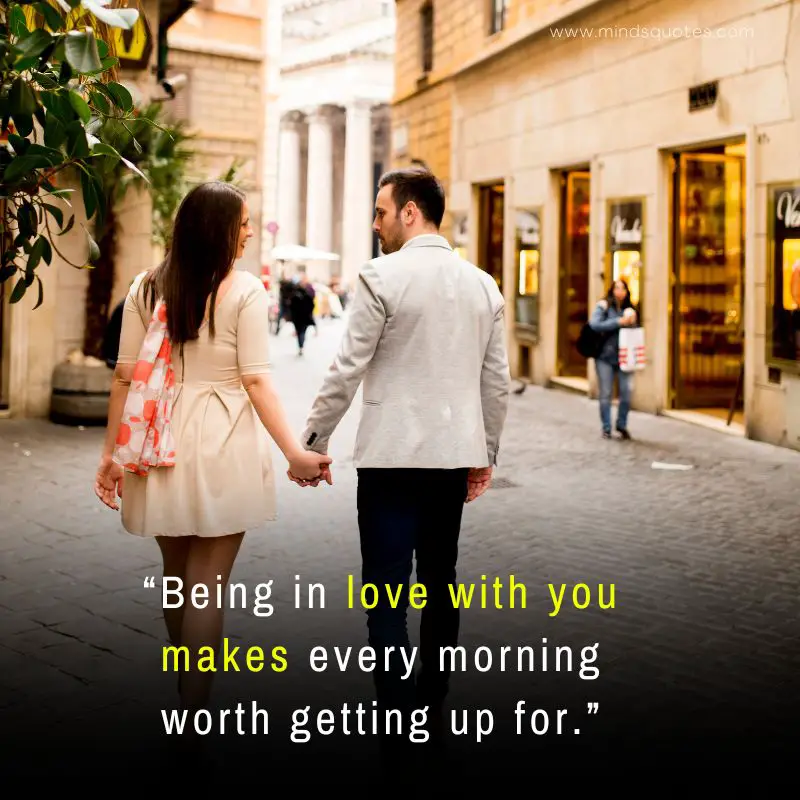 "Morning without you is a dwindled dawn." – Emily Dickinson
"My security is not just loving you, but knowing that you will always be there to love me back."
"I love my hubby. I believe and am proud of all that he has achieved."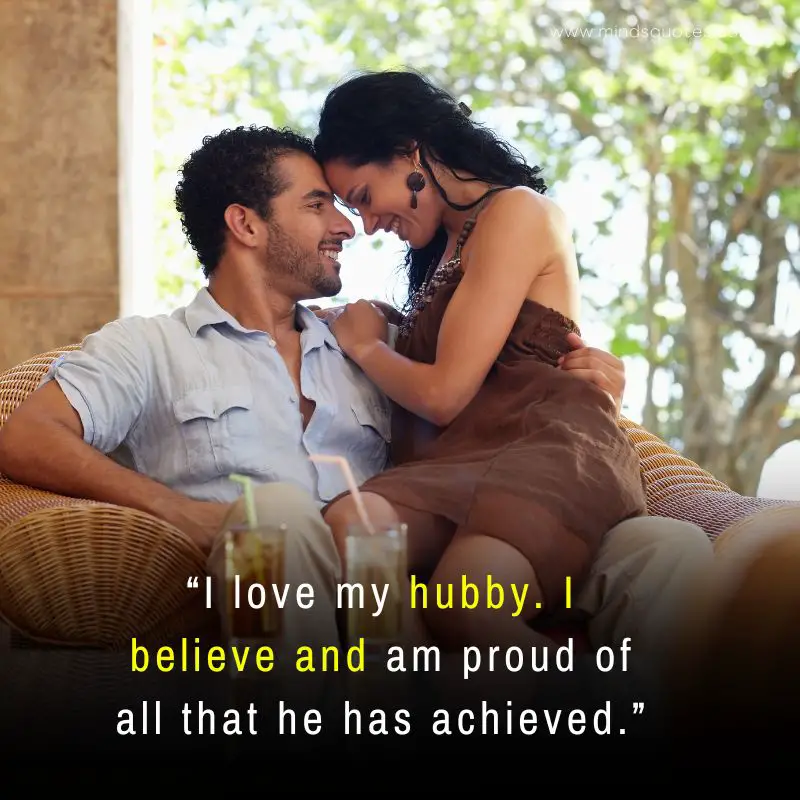 "Just like brick complements mortar to finish a building, you complete me."
"Every day I spend with you becomes a great day."
"Each day I love you more, today more than yesterday and less than tomorrow." – Rosemonde Gerard
"Truly, madly, deeply, in love with you."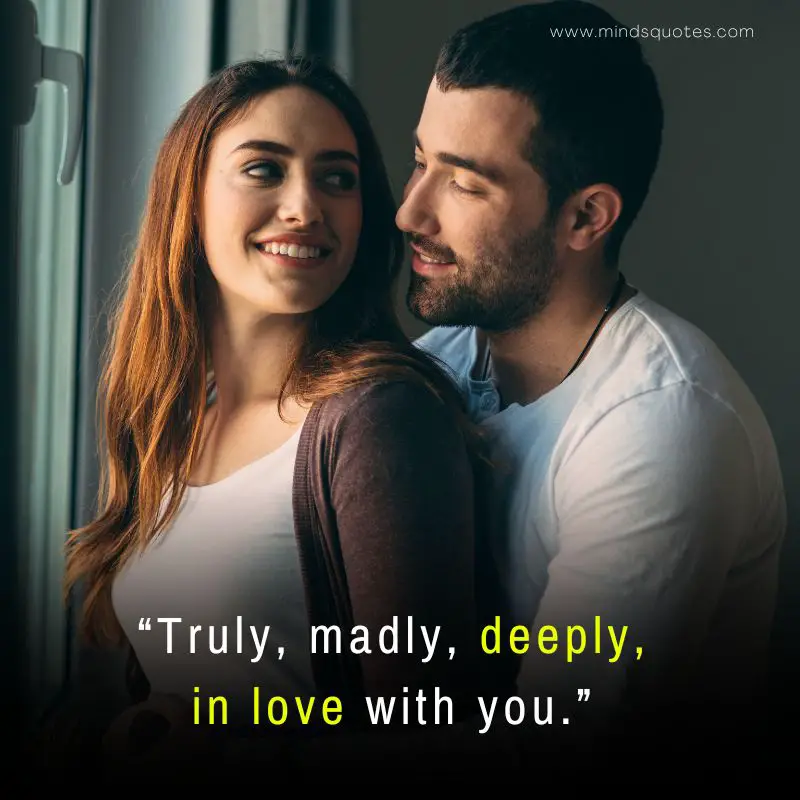 "There is this guy who stole my heart. He calls me his wife."
"Your love shines in my heart as the sun that shines upon the earth." – Eleanor Di Guillo
"I've never loved you more than I do at this moment & I'll never love you any less than right this moment."
"The best husband for me is you, that's why our love is true."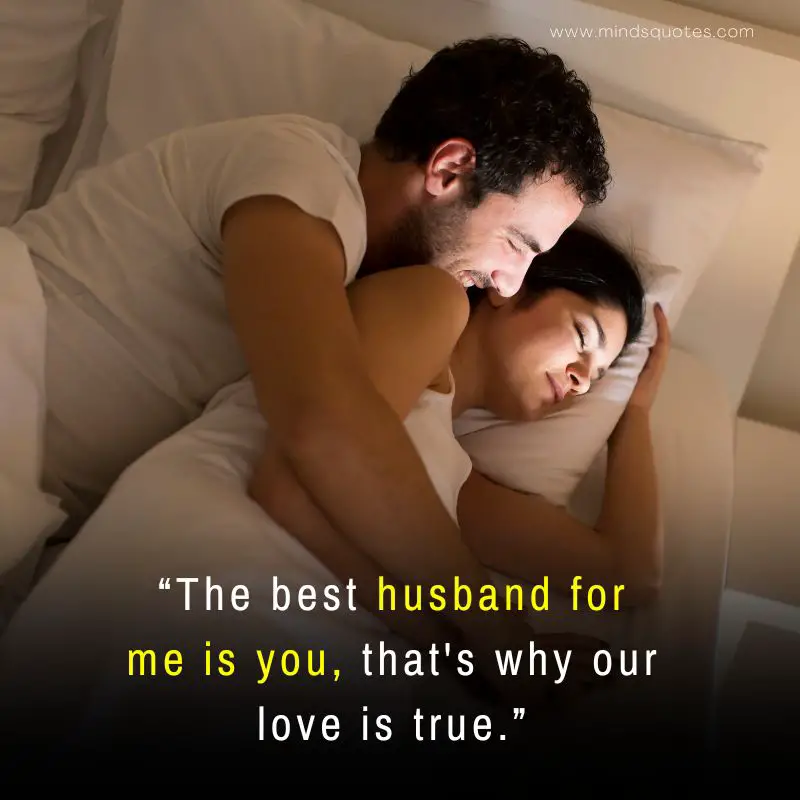 "What I love most about my home is who I share it with." – Tad Carpenter
"Where you are is where I want to be."
"My husband is my rock. My best friend. My soulmate. And he's hot as heck."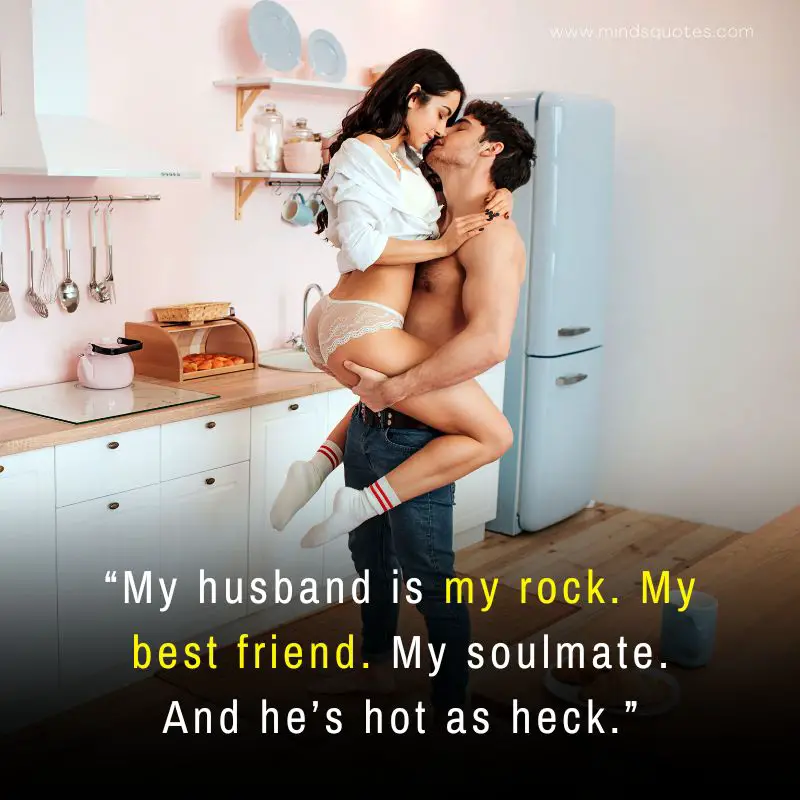 "The best feeling is when you look at him… and he is already staring at you."
"I would rather share one lifetime with you than face all the ages of this world alone."
"You've won the trophy for Best Husband! It's not silver or gold, but it's all the love in my heart!"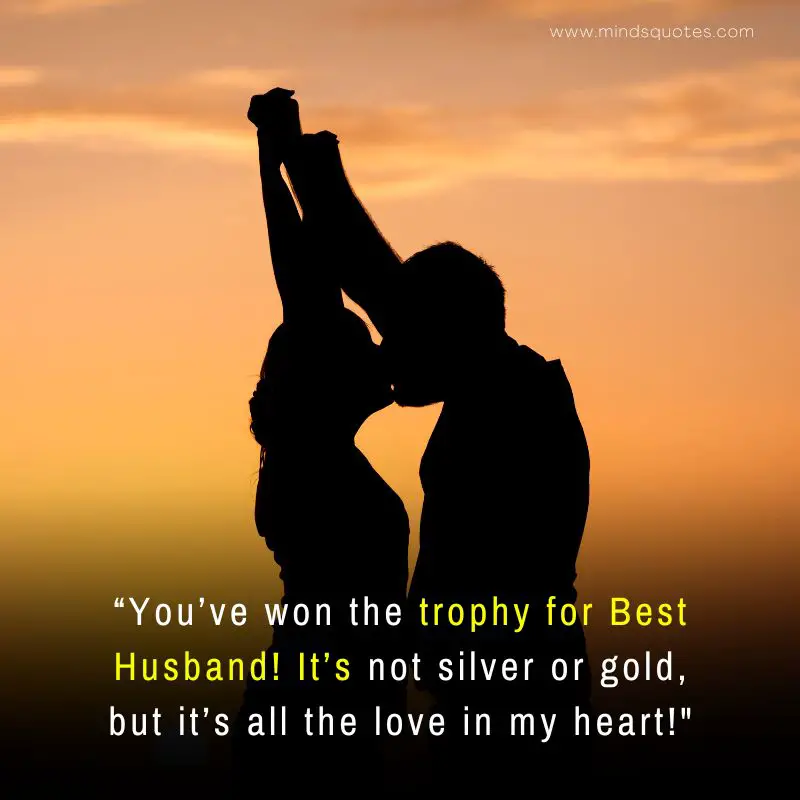 "In all the world, there is no heart for me like yours. In all the world, there is no love for you like mine." – Maya Angelou
"You will be my one and only; my everything. I love you and appreciate you for loving me."
"You are my heart, my life, my entire existence." – Julie Kagawa
Proud Husband Quotes
If you are looking for the perfect Proud Husband Quotes, then look no further. We have compiled a list of the best quotes on love for husbands. These quotes are sure to please even the most difficult husband. The husband is the head of the household and the primary breadwinner. He is responsible for providing for his family and ensuring their safety and well-being. He is also the head of the household and the primary decision-maker. The husband is expected to be a good protector, and provider of love, affection, guidance, and wisdom. If you are a husband these Proud Husband Quotes will make you proud of yourself.
"I love you and that's the beginning and end of everything." – F. Scott Fitzgerald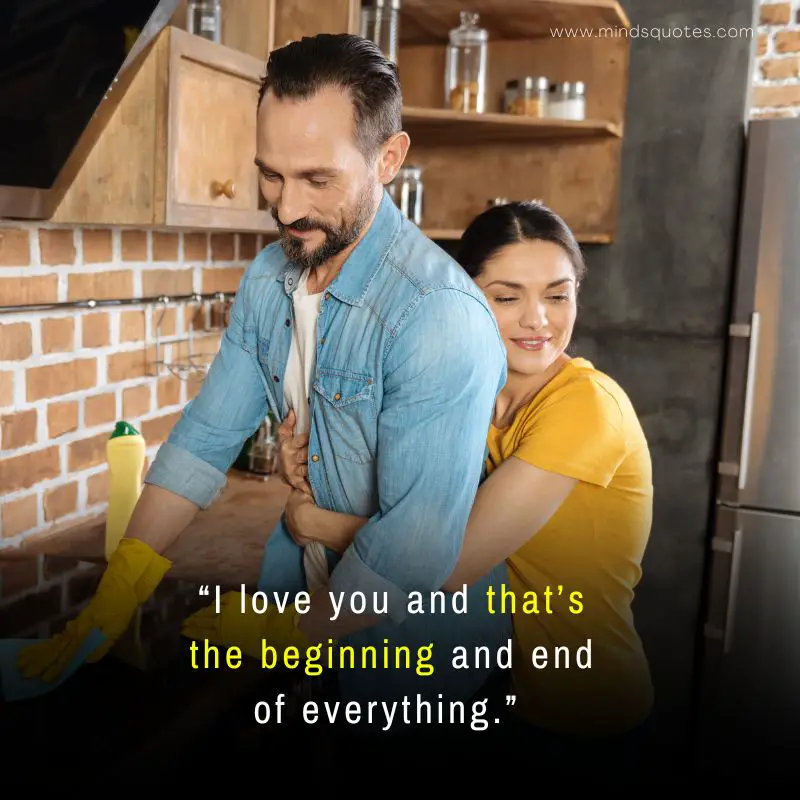 "Sometimes I can't see myself when I'm with you. I can only just see you." – Jodi Lynn Anderson
"You have no idea how my heart races when I see you."
"Everything I needed to feel happy was love. I met you, and now I need nothing."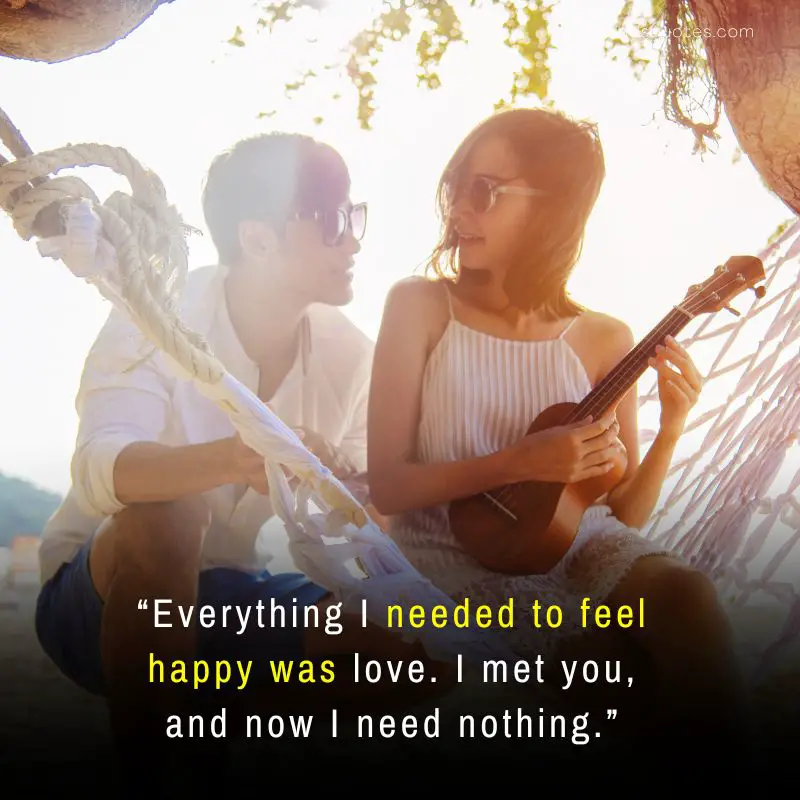 "To be your friend was all I ever wanted; to be your lover was all I ever dreamed." – Valerie Lombardo
"Dreams do come true. I know, because mine came true on the day I met you."
"I just want to thank you for being my reason to look forward to the next day."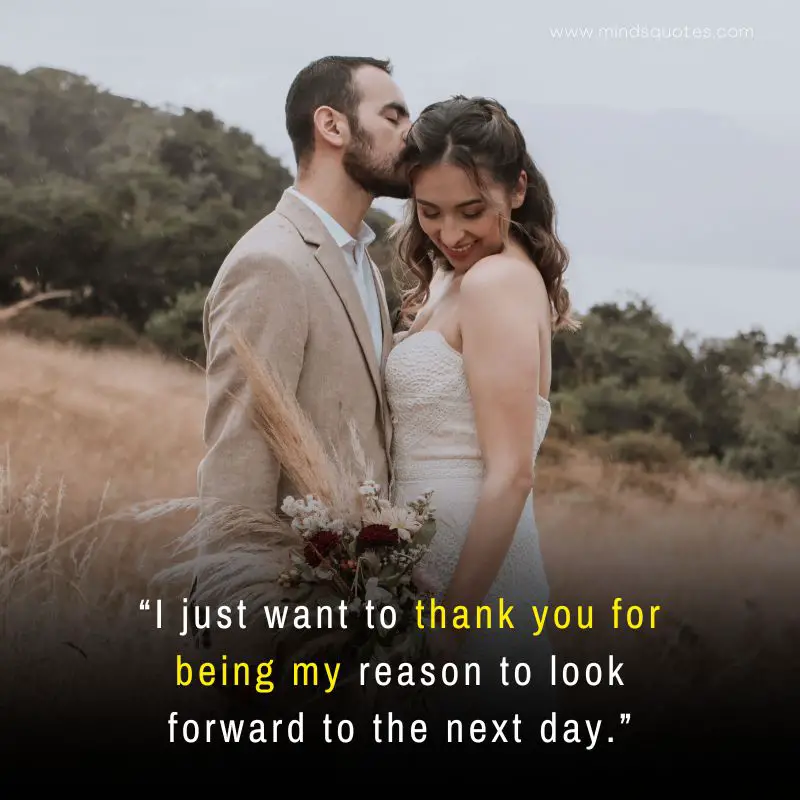 "You are the prince I've dreamt of finding ever since I was a little girl."
"I love you not only for what you are but for what I am when I am with you." – Roy Croft
"If you live to be a hundred, I want to live to be a hundred minus one day so I never have to live without you." – A.A. Milne
Husband Quotes Love
Husband Quotes Love will help every husband to express their feelings for their wife. A Husband can be a great listener and gives good advice. He is a strong and stable force in relationships. Husband is a term of respect and love that is used to show the dedication and commitment that a man has to his wife. A husband is someone strong and reliable, someone, who can be counted on in good times and bad.
He is supportive and loving, someone who wants nothing more than to make his wife happy. A husband is a cherished and greatly appreciated member of any family. Whether you're looking for some sentimental Husband Quotes Love to share with your husband on your anniversary or some special day to make him laugh, you'll find them here.
"I love that you are my man, and I am yours. Whatever hurdle we come to, we will cross together."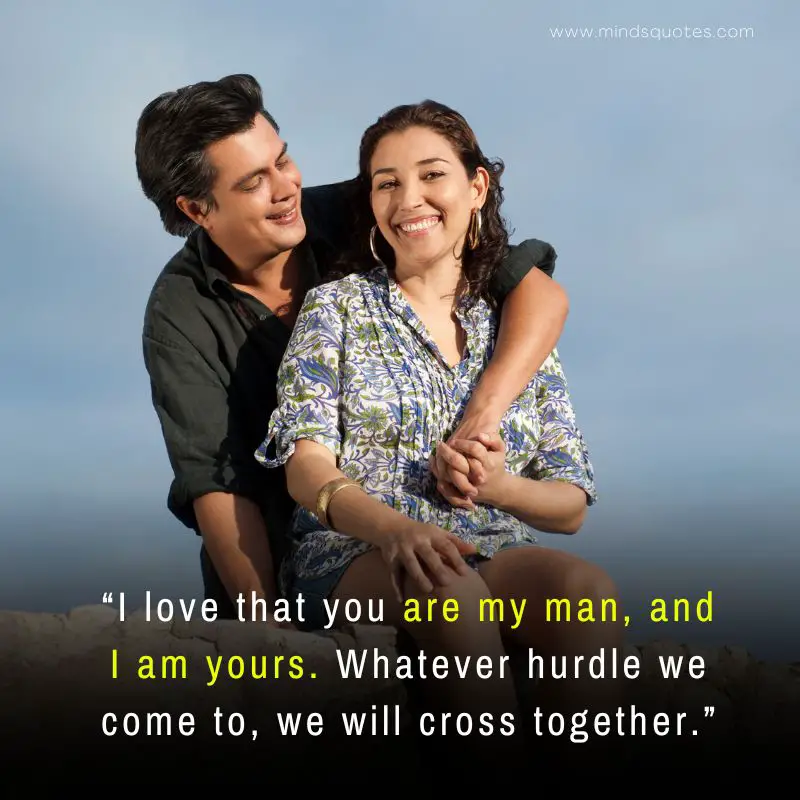 "I feel safe, secure and deeply loved by you."
"I'd love to kiss you in the rain to know what perfection feels like."
"I love you from my heart, and nothing will ever break us apart."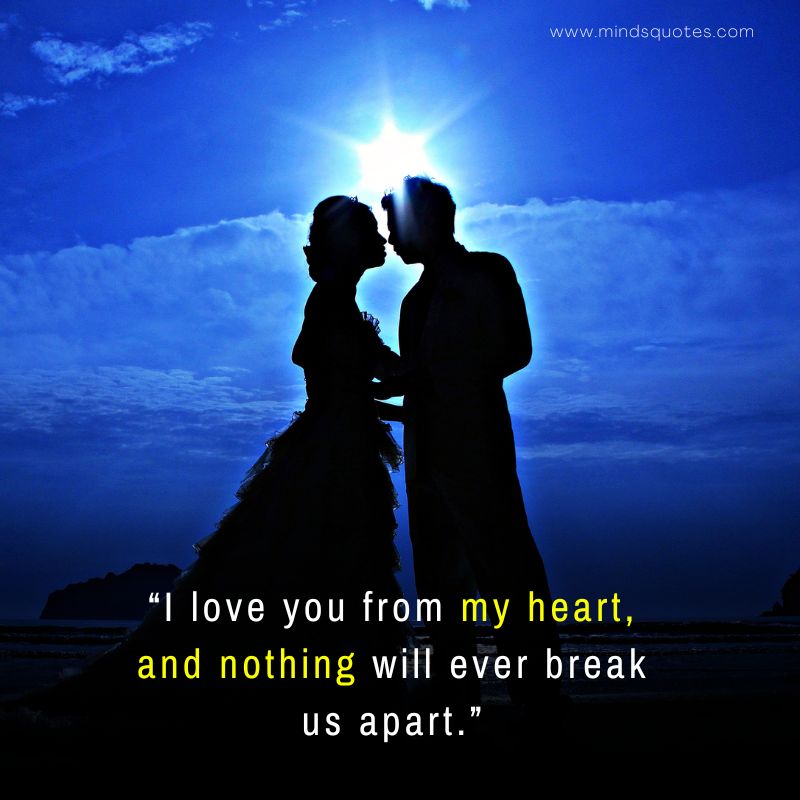 "I fall in love with you every time I see you."
"All the luxuries in the world mean nothing if you are not there with me. You are the most luxurious commodity in my life."
"A love poem wouldn't be enough; I'd have to write an entire epic about your love."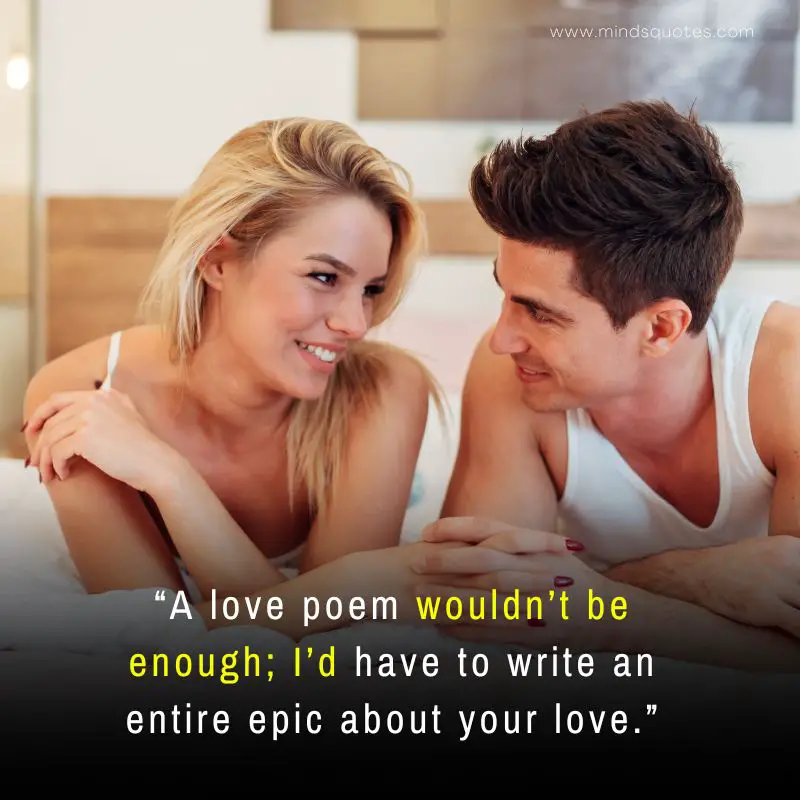 "My favorite thing is when you hug and kiss me like it's the end of the world."
"I feel like I was colorblind before I met you because you make me see every color and make my life vibrant."
"Each day is fantastic because it starts with loving you and ends with the same."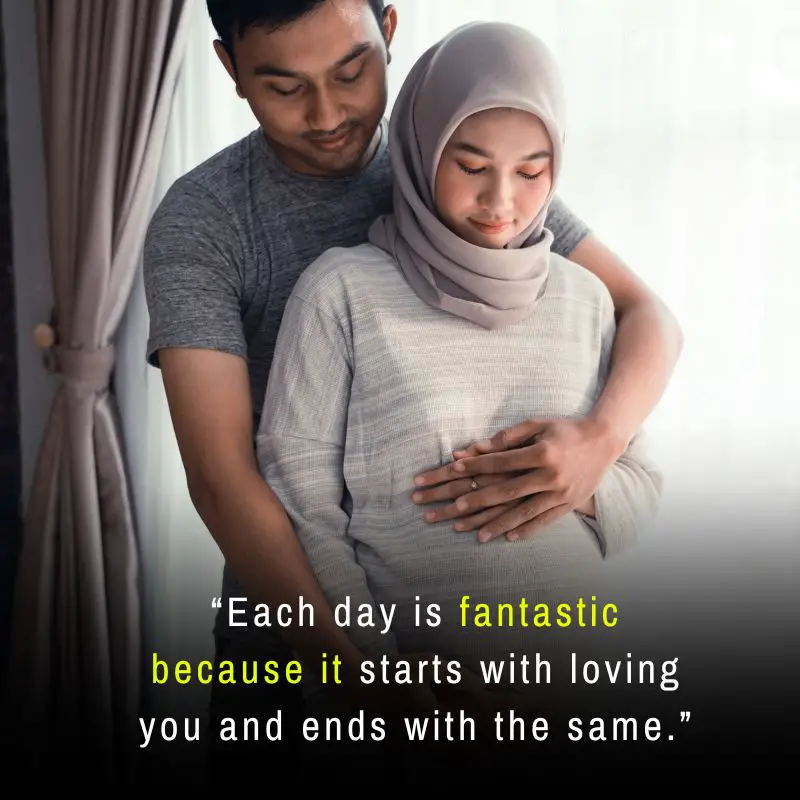 "I came upon real happiness when I chose to become yours. I love you, hubby."
"This text message is spontaneous, but I want to convey to you that I love you, and I acknowledge all that you do for our family and me."
"My life's best achievement is that I get to be with a man like you every day!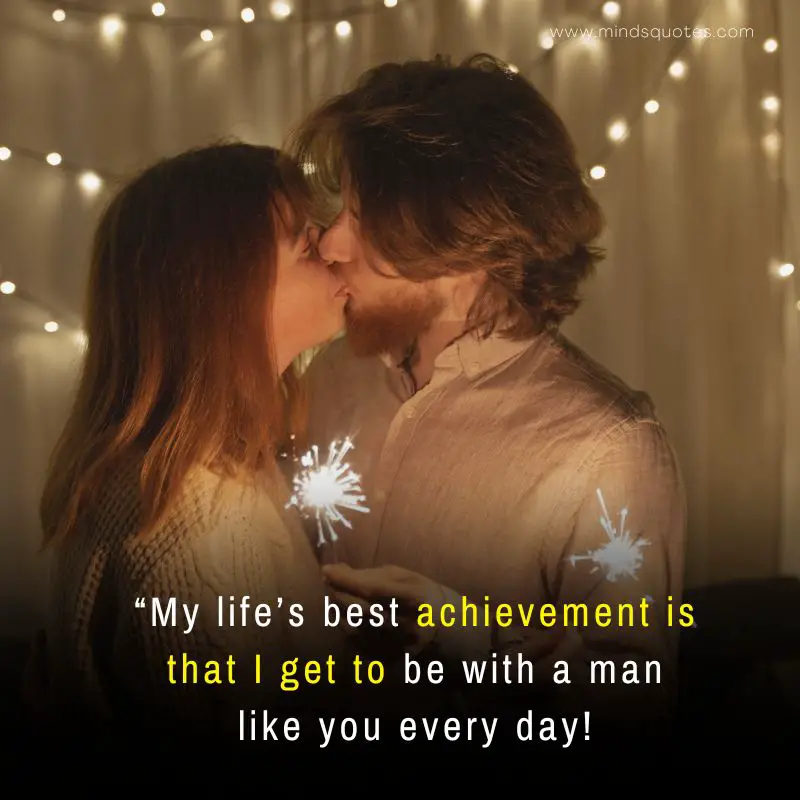 "I fail to find an answer to the question "how did I get to marry my best friend?"
"You are always the reason for my happiness, my world, and the love of my life."
Love My Husband Quotes
When you are married, you become very team-oriented. You are no longer living for just yourself; you have someone else to think about and to take care of. Love My Husband Quotes can be a great way to show your appreciation for your husband and to let him know how much you love and care for him. Whether you are looking for something romantic, funny, or inspirational here we collected some Love My Husband Quotes to improve your relationship.
"I love you every waking moment of my life; I am over the moon to be your wife."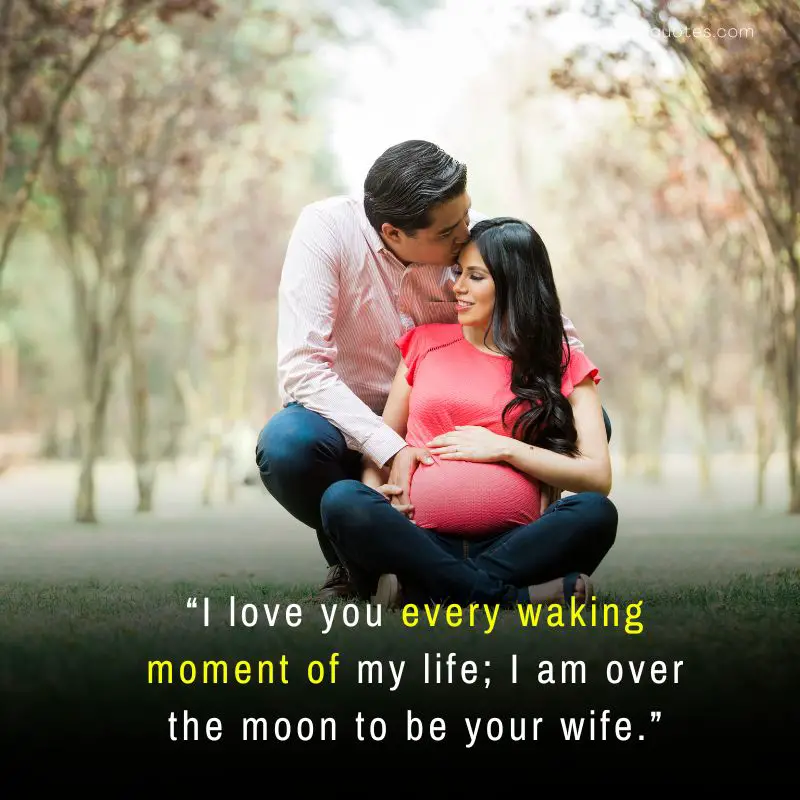 "One important thing I would like to tell you is that.. you are my favorite! I love you."
"I love you with all my butt. I'd say "my heart," but my butt is bigger."
"I promise to love you forever, every single day of forever."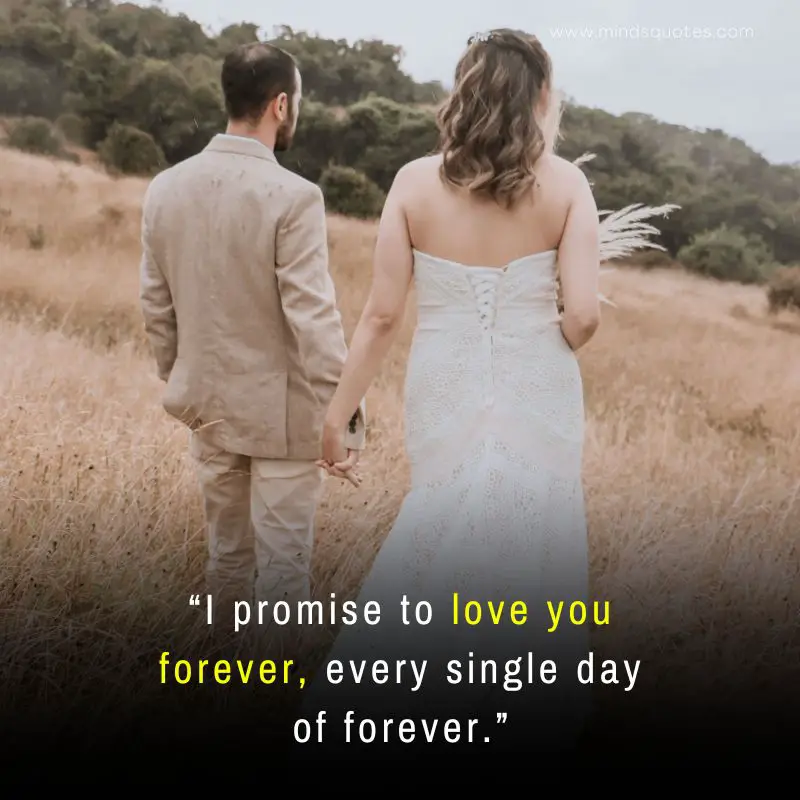 "I like the way you make me feel even when I'm nowhere near."
"My husband deserves all the love in my heart."
"Dear husband, love isn't a big enough word for us."
"To love my husband is the greatest gift I've ever received."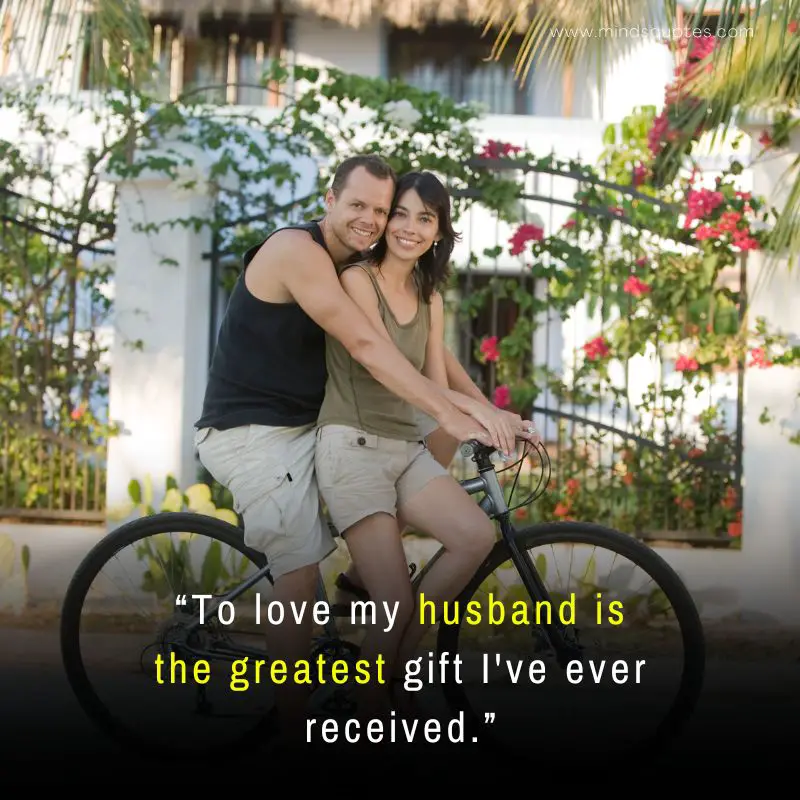 "I love you very much, and my love is divine and knows no bounds."
"Loved you yesterday, love you still, always have, always will." – Elaine Davis
Conclusion
In this blog post, we share some of the best Husband Quotes. Whether you are looking for inspiration for your wedding vows or simply wanting to show your husband how much you appreciate him, these quotes will do the trick. From heartwarming to humorous, there is a quote here for every type of husband. LIKE and SHARE this post with your husband and COMMENT to us about your husband.