Love Quotes for Her is about love from a male perspective. Love is a complicated thing, it's not easy to understand. All those things men do for love are different from women. If you are a man or boy, you know what it's like. You can do anything to see your loved ones. For Her happiness, you do so many mistakes and foolish things without any hesitation. Sometimes because of mistakes and foolishness, she misunderstood you and started to Avoid you. That's one of the reasons why you are a Love Failure.
I Love You Quotes for Her is about how a man feels for their loved ones. Love means sacrifices and boys can sacrifice anything to make her smile. Not for himself, for her men can change the world and make the revolution. For her protection men will be the strongest armor without worrying about their own wounds.
Love Quotes for Her
"I swear I couldn't love you more than I do right now, and yet I know I will tomorrow." – Leo Christopher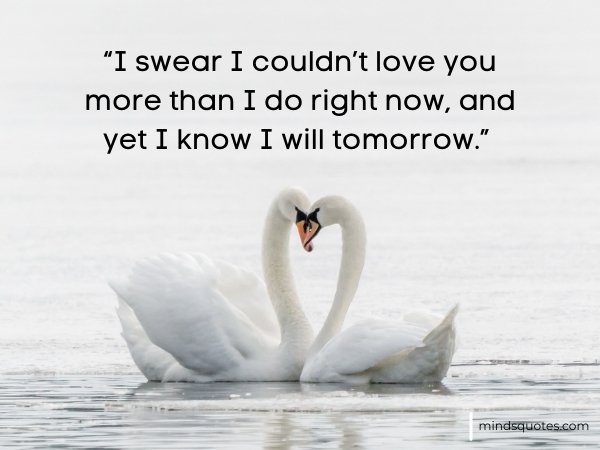 I am tired of life, a day, a night without you. So sad to know that you are this far away from me. I miss you dearly.
Good morning my love, my angel. I bet you had a sweet dream. Just checking on you. Have a great day ahead.
I miss you in every step I take and in every move I make. I miss you a lot, and I wish you would understand.
"If you live to be a hundred, I want to live to be a hundred minus one day so I never have to live without you." – A. A. Milne
"A man is already halfway in love with any woman who listens to him." – Brendan Francis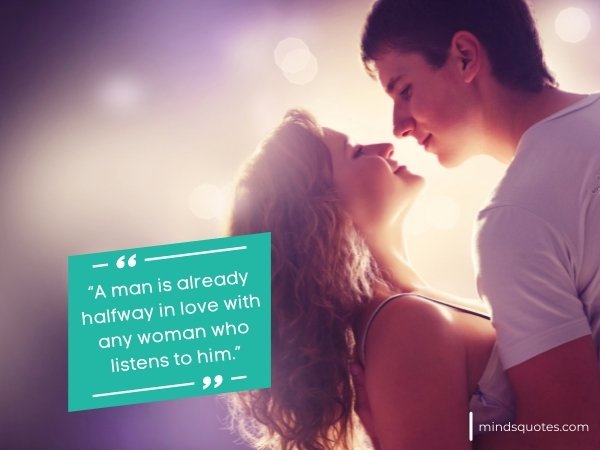 "I love you as certain dark things are to be loved, in secret, between the shadow and the soul." – Pablo Neruda
"Women are meant to be loved, not to be understood." – Oscar Wilde
"You make me want to be a better man." – Melvin Udall
"Thinking of you keeps me awake. Dreaming of you keeps me asleep. Being with you keeps me alive."
I promise to handle your heart with care and treasure it with love.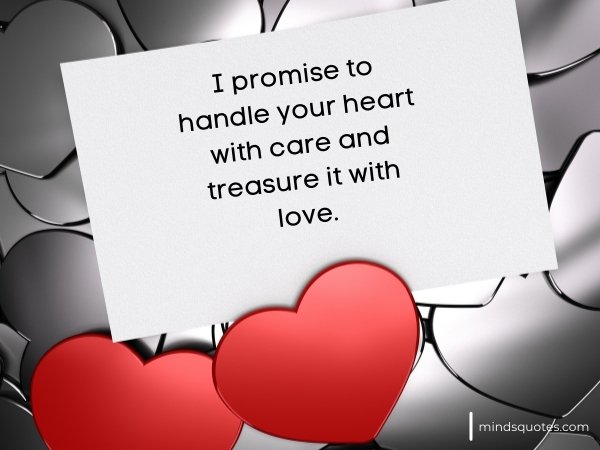 The power of your smile should never be underestimated. It melts my heart and touches my soul.
You are the winner and the sole owner of my heart.
Your smile is intoxicating. It lingers, it captivates my heart.
You're gonna have to stop being so gorgeous because my heart is about to beat completely out of my chest.
Thank you for stealing my eyes from the crowd and stealing my heart from me.
You are the icing on my cake, the A to my Ok and the heart to my soul.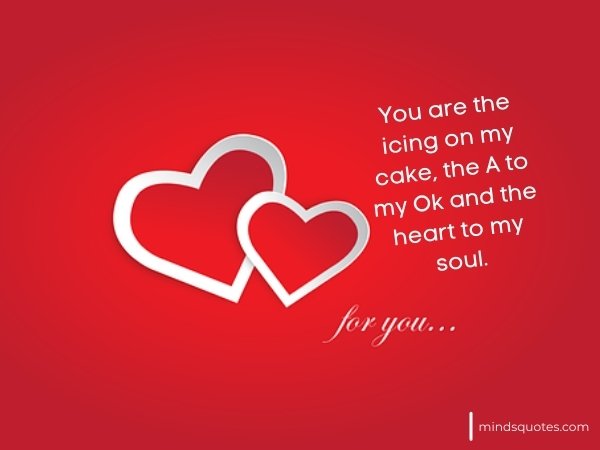 In all the world, there is no heart for me like yours. In all the world, there is no love for you like mine.
You are the rainbow in my sky, you are the sun in my life, you are the half that makes me whole, you are my heart, and you are my soul.
You are the light that guides my life; you are the road that leads me home; you are the keeper of my heart.
You have the key to my heart, and it's eternally yours. My heart belongs solely to you.
I promise to hold you forever in my heart as long as I live, and I promise to love you until my last breath.
You gave your smile to me; you gave your heart to me, you gave me everything that I will ever need.
Home is where my heart is, home is with you.
There is never a time or place for true love. It happens accidentally, in a heartbeat, in a single flashing, throbbing moment.
I just want to let you know that our love is the most precious thing that I hold close to my heart.
If my love for you can be measured by heartbeats, I am telling you it is going to be infinite.
Here is my heart, accept it please because I am so clumsy and I am afraid I just might lose it.
I am glad I listened to my heart when he told me that you are truly the person meant for me.
You should listen to your heart more because where the heart is, the treasure is there too.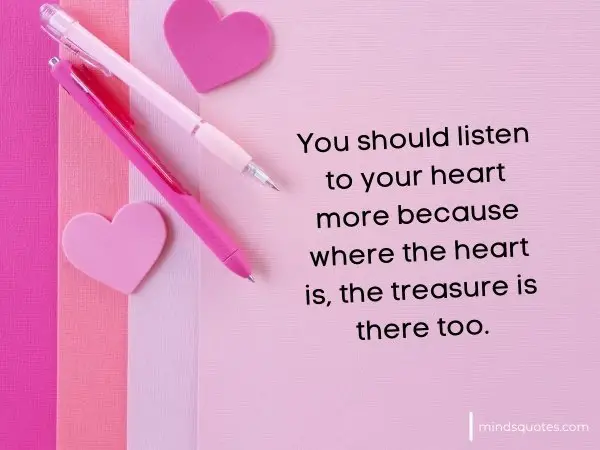 I am giving my heart to you before I lose it or decide to give it away to someone else.
You need not say a word and let us let this silence speak for us from the bottom of our hearts.
You are sorta, kinda, pretty much always, 24/7 in my mind and my heart.
With every beat of my heart, my love for you grows stronger. You're the rhythm that keeps me steady on the march through life.
I crown you the Queen of my heart.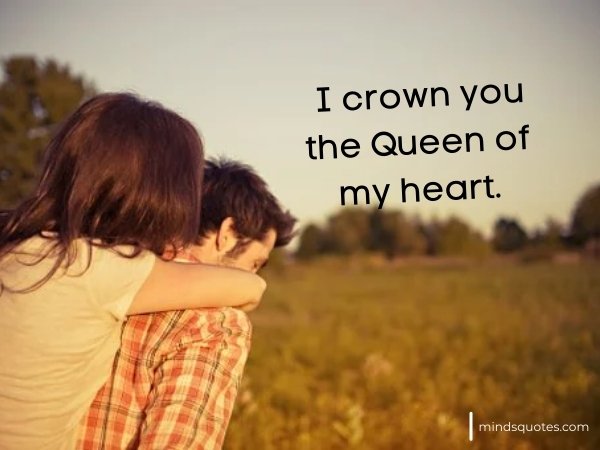 To the love of my life, I wish you the best out of today. Perfection in all you set your heart to do. Stay great and lovely for me, dear. Love you.
I dropped a tear in the ocean, the day that I find it is the day I'll stop loving you.
Sometimes I wonder if love is worth fighting for. Then I look at you. I'm ready for war.
I love you, as I have never loved another or ever will again, I love you with all that I am and all that I will ever be.
I don't think you understand how important it is for me to hear the sound of your voice every day.
Gloomy is the description of my day without you. I am feeling your absence so much, my dear.
The hardest thing I could ever do is to forget about you.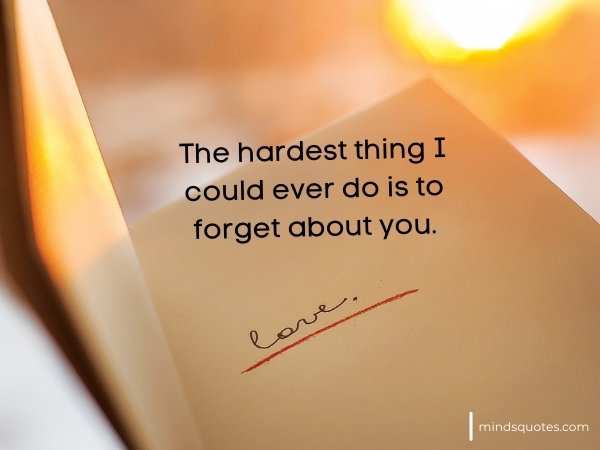 I'd rather spend one moment holding you than a lifetime knowing I never could.
Deep Love Quotes for Her
I plan on being with you until forever ends.
I want to be your favorite hello and your hardest goodbye.
I wish every day is the celebration of love and you will be my valentine.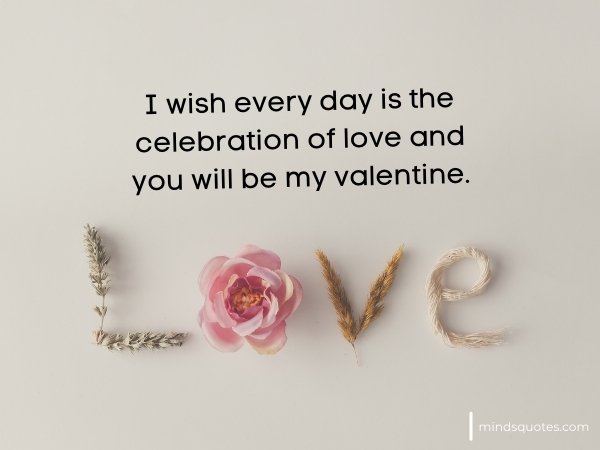 You My love for you keeps increasing every second.
"If I know what love is, it is because of you." – Hermann Hesse
All the little things you do warm my heart. You are a constant source of joy in my life.
I promise to always treat you like a queen because you reign over my heart.
Touch my heart with your fingers, and you will hear the most wonderful heartbeats dedicated only to you.
I waited a lifetime for my heart to tell me, "She's the one," and it was worth the wait.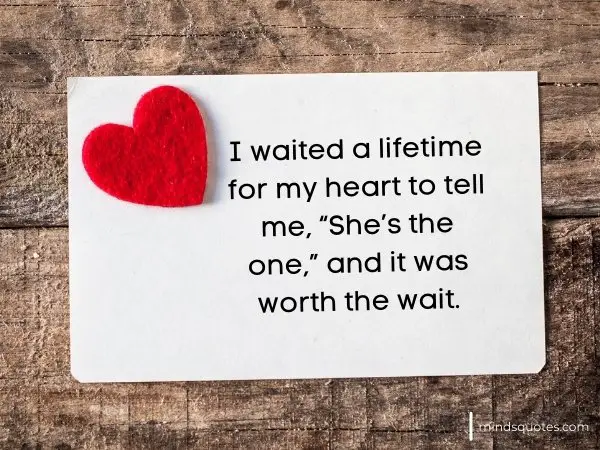 You are so much more than I ever dreamed of. I want you to know that you complete my life and fill my heart.
You are the winner and the sole owner of my heart.
You have captivated my heart and soul forever.
I surrendered my heart to you the day we met.
I'll forever carry you and hold you in my heart.
My heart is guaranteed 100% yours.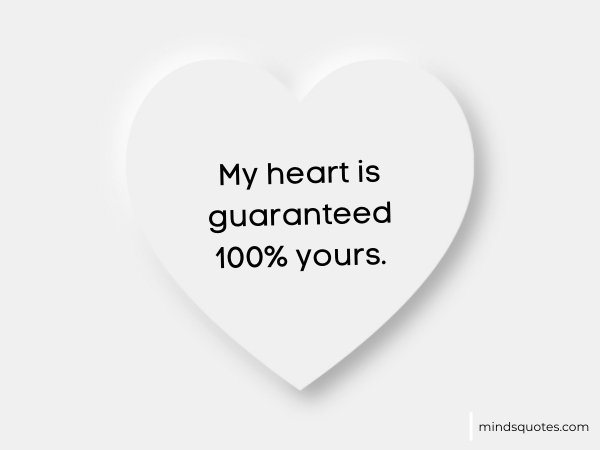 Loving and romancing you is my hobby.
My heart skips and sings whenever you are near.
You may not hold my hand for long, but you hold my heart forever.
If you put a little bit of my love in your heart, every tenderness will have a meaning.
Just like a candle burns its flame, my heart burns its everlasting love for you.
Don't say a word. Let the silence from our hearts speak for us.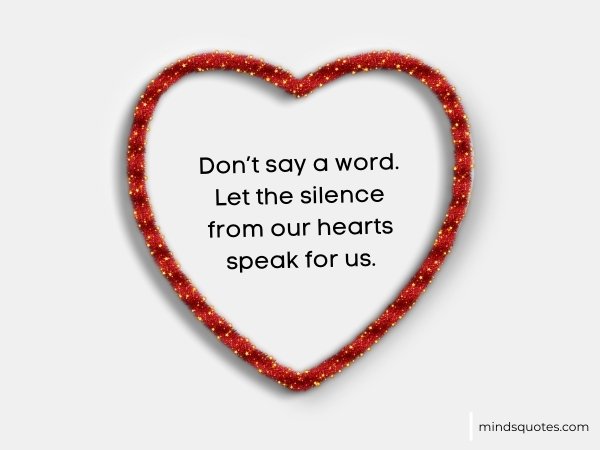 When our eyes lock, my heart melts, this is a feeling I have never felt.
Your name is a golden bell hung in my heart. I would break my body to pieces to call you once by your name.
There is nothing more beautiful than a vulnerable heart in open hands.
You slipped under my skin, invaded my blood, and seized my heart." – Maria V. Snyder
This heart in my chest is beating wildly because of how much love it has for you, my dear.
Whenever you smile in my direction, my heart just skips a beat, and I feel so happy.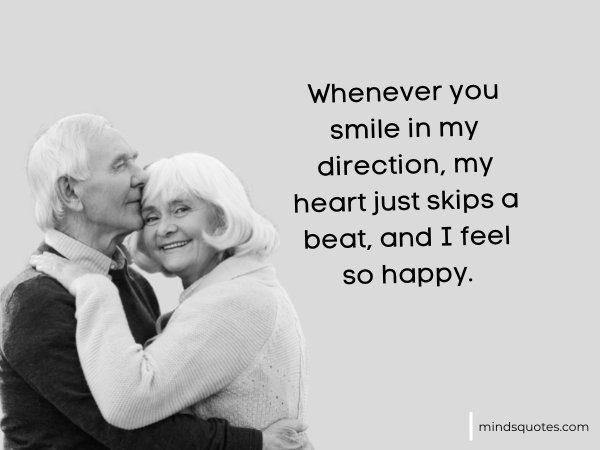 The first time we met, my heart told me that I should never let go of the girl in front of me.
Truly, a certain woman, you, that is the only one that holds the key to open my lonely heart.
I wish I could enclose you in all the love that I have in my heart for you.
If you listen to my heart, then you would know that I will always love you so much.
I may not be with you at all times, but I want you to know that you are never out of my heart. I love you!
You know you're in love when you can't fall asleep because reality is finally better than your dreams. – Dr. Suess
For the two of us, home isn't a place. It is a person, and we are finally home. – Stephanie Perkins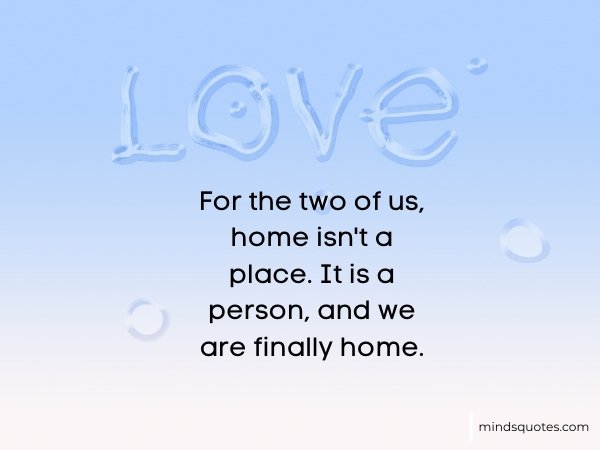 "Love is a promise, love is a souvenir, once given, never forgotten, never let it disappear." – John Lennon
Whatever our souls are made of, his and mine are the same. – Emily Bronte
"To love is to burn, to be on fire." – Jane Austen
"I have found the paradox, that if you love until it hurts, there can be no more hurt, only more love." – Mother Teresa
"Where there is love there is life." – Mahatma Gandhi
I Love You Quotes for Her
"I do know some things. I know I love you. I know you love me."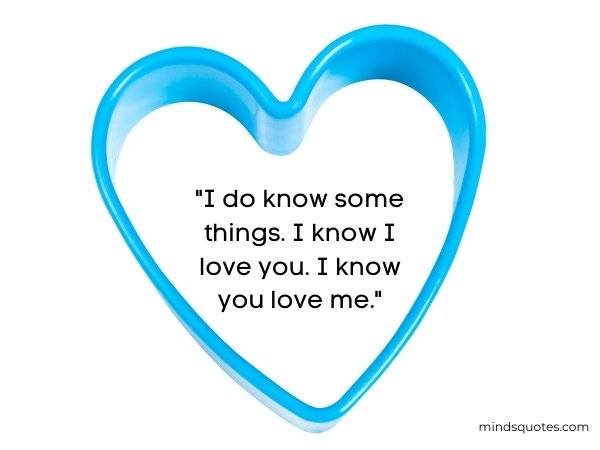 "I love you more than I have ever found a way to say to you." – Ben Folds
I really love you; I love you forever. I still love you; I love you with all my heart. I will always love you.
I love you more than words can define, feelings can express and thought can imagine.
"I love you, not only for what you are, but for what I am when I am with you." – Roy Croft
Your flaws are perfect for the heart that is meant to love you.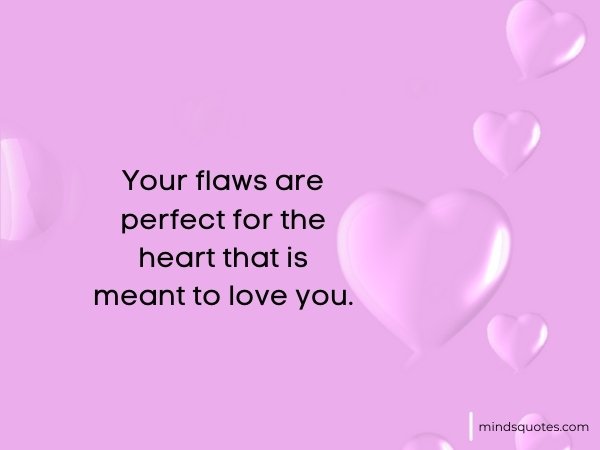 Your smile is the reason why I have a twinkle in my eye and love in my heart.
You rang the bell to my heart, and it echoes "I love you."