National Cheese Day Quotes to celebrate this delicious food and the day. Every year on June 4th National Cheese Day is celebrated in the United States. This is a food holiday and people celebrate the day by eating all the dishes made with chees. There is a chees for everyone to enjoy whether it's hard or soft, stinky or mild that doesn't matter.
To celebrate the day cheese lover share their favorite cheese and dishes on social media and have fun with friends and family. This year the day is held on Sunday and it's a perfect day to enjoy something sweet and delicious to enjoy the holiday. If you're looking for some ideas to express your love for cheese this National Cheese Day Quotes, Wishes, and Messages will help you do that.
You May Also Enjoy Our Article on:
National Cheese Day Quotes
The day is a day to enjoy and appreciates cheese in all forms. The day also promotes the benefits of cheese in our health and the industry. For the day we share the best National Cheese Day Quotes to capture your delicious moment perfectly. These quotes about cheese came from different sources including famous writers, philosophers, and even cartoon characters.
"Give Me a Good Sharp Knife and a Good Sharp Cheese and I'm a Happy Man." – George R.R. Martin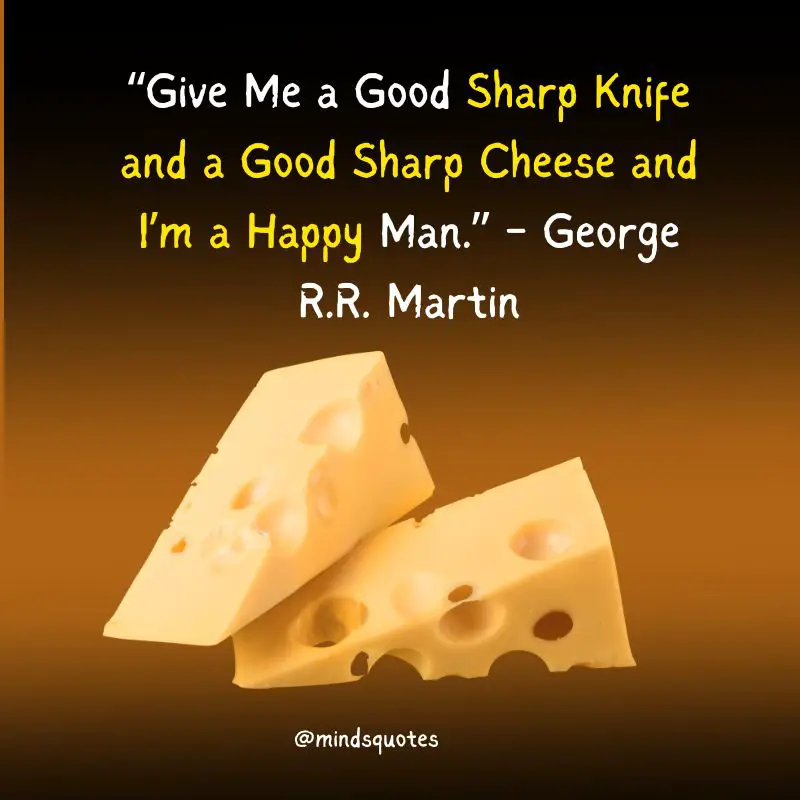 "Life Is Great. Cheese Makes It Better." – Avery Aames
"Dessert Without Cheese Is Like a Beauty With Only One Eye" – Jean Anthelme Brillat-Savarin
"The clever cat eats cheese and breathes down rat holes with bated breath." – W. C. Fields
"The poets have been mysteriously silent on the subject of cheese." – Gilbert K. Chesterton
"A corpse is meat gone bad. Well and what's cheese? The corpse of milk." – James Joyce
"A Hexagonal Piece of Cheese Is a Lot Better Than a Square Piece of Cheese." – Hod Lipson
"Pasta With Melted Cheese Is the One Thing I Could Eat Over and Over Again." – Yotam Ottolenghi
"Fettucini alfredo is macaroni and cheese for adults." – Mitch Hedberg
"Bless this highly nutritious microwavable macaroni and cheese dinner and the people who sold it on sale. Amen." – Kevin McAllister
"In the wintertime, I like macaroni and cheese." – Jami Attenberg
National Cheese Day Wishes
National Cheese Day Wishes have heartwarming words of inspiration to warm up the day with love and kindness. Cheese is very popular in America and people love to eat cheese every day. That is a reason people celebrate the day by eating and sharing cheese and all things made with cheese on the day. The day is also a chance to try all types of cheese from America to Swiss and everything in between.
"We are celebrating National Cheese Lovers Day today! Get more ideas to prepare any cheesy dish."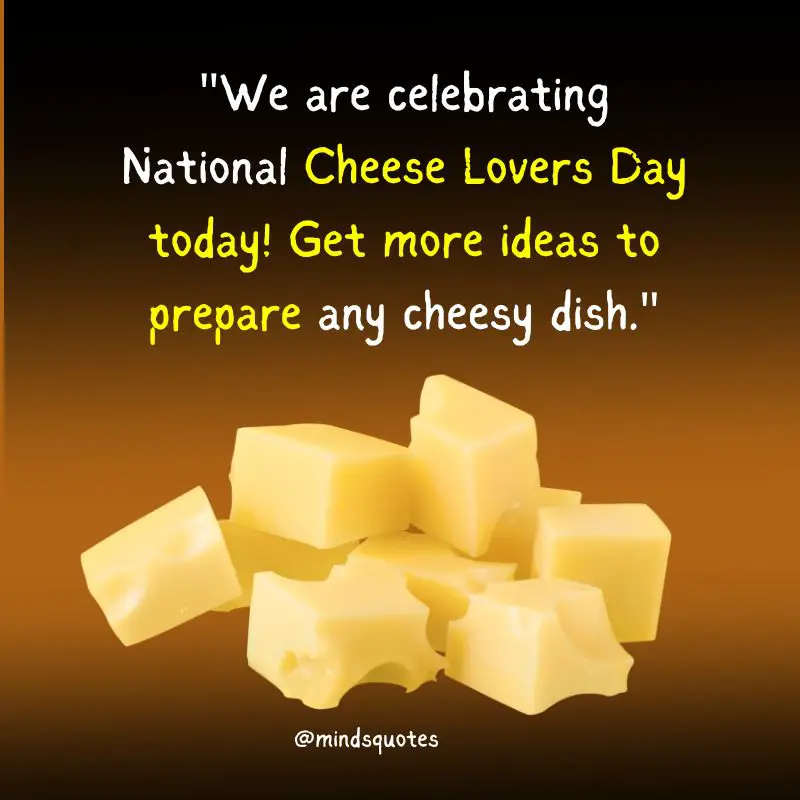 "Wishing National Cheese Day to all those who love cheese, Today is your day and you must make the most of it by eating cheese."
"In honor of National Cheese Lovers Day, list all the best dishes which go well with cheese. Prepare one with loads of cheese and enjoy!"
"I cannot wait to get a piece of cheesecake! Had a great excuse on National Cheese Lovers Day 2023."
"The smile that a bite of cheese brings on a face is truly worthy and precious…. Wishing you a blessed and beautiful National Cheese Day."
National Cheese Day Messages
National Cheese Day Messages to honor all the different types of cheese available in the world. From homemade to farm-made cheese appreciate all of them and all those things it's bring us. If you are wondering how to celebrate the day in the best way then these messages can give you some ideas to enjoy the day. Here we collected the best National Cheese Day Messages to make the day more special.
"Get cheesier as we celebrate Cheese Lovers Day and enjoy a cup of coffee with any cheese item."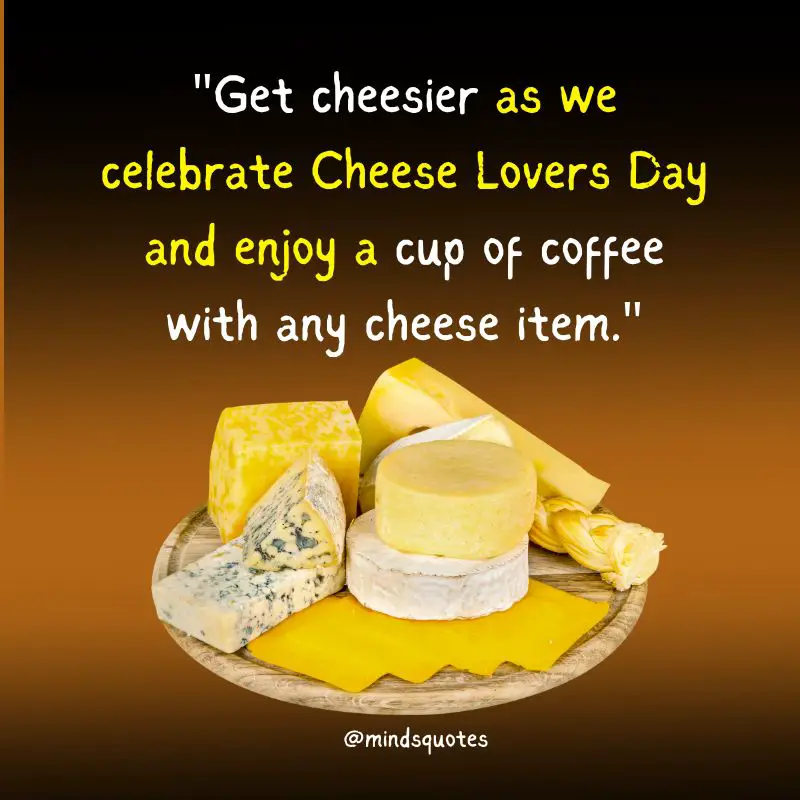 "Cheese can do the trick! Anything can be tastier with cheese. Wishing You a Happy Cheese Lovers Day."
"Make your day ridiculously amazing with Cheese Pizza. It is National Cheese Lovers Day."
"A cheesecake is baked with Love for you. Happy Cheese Lovers Day 2023."
"My mouth is singing and my body is dancing. My soul is thanking this Cheesy day."
National Cheese Day Captions
Celebrating the day and sharing it with other social media play the most significant role today. A photo with perfect captions can make the best of it. We hope these National Cheese Day captions will help you share your cheese day moment with your perfect expression.
"Cheese necessitates good company." #NationalCheeseDay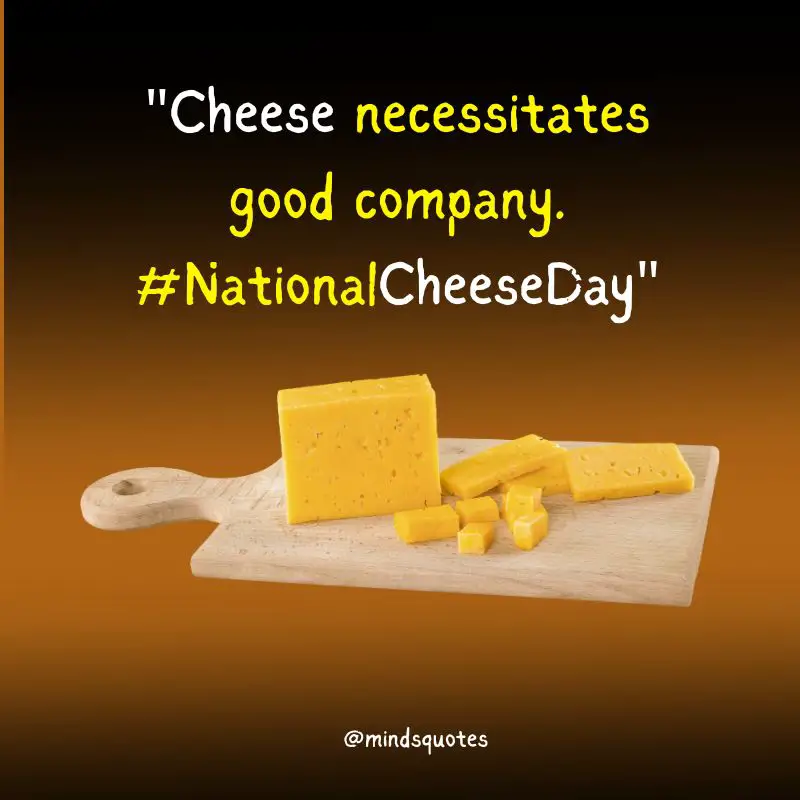 "Life is wonderful; cheese enhances it." #Cheeselover
"Mozzarella is a brilliant invention. It has the ability to mask even the most unappealing flavors." #CheeseDay
"I'm so delighted I discovered you, my mac & cheese."
Conclusion
In honor of the day we share these National Cheese Day Quotes, Wishes, And messages to celebrate and enjoy the day with friends and family. It's a day to show your love for cheese. Like and share this post to enjoy the day with others. Comment us in the comment section below to share your thought about the day.