National Handshake Day Quotes to celebrate the joy of the universal gesture of shaking hands. The day is a day to celebrate the importance of making a handshake to make a good first impression and the power of human connection. Every year on 29 June people celebrate this simple but powerful gesture.
To honor the day, we have collected some of the best National Handshake Day quotes, wishes, and messages to highlight the simple but meaningful gesture. Whatever the reason you are shaking hands with someone that doesn't matter, whether it's for business or personal encounters, these quotes will inspire you.
You May Also Enjoy Our Article on:
National Handshake Day Quotes
"The first sentence of a book is a handshake, perhaps an embrace." – Jhumpa Lahiri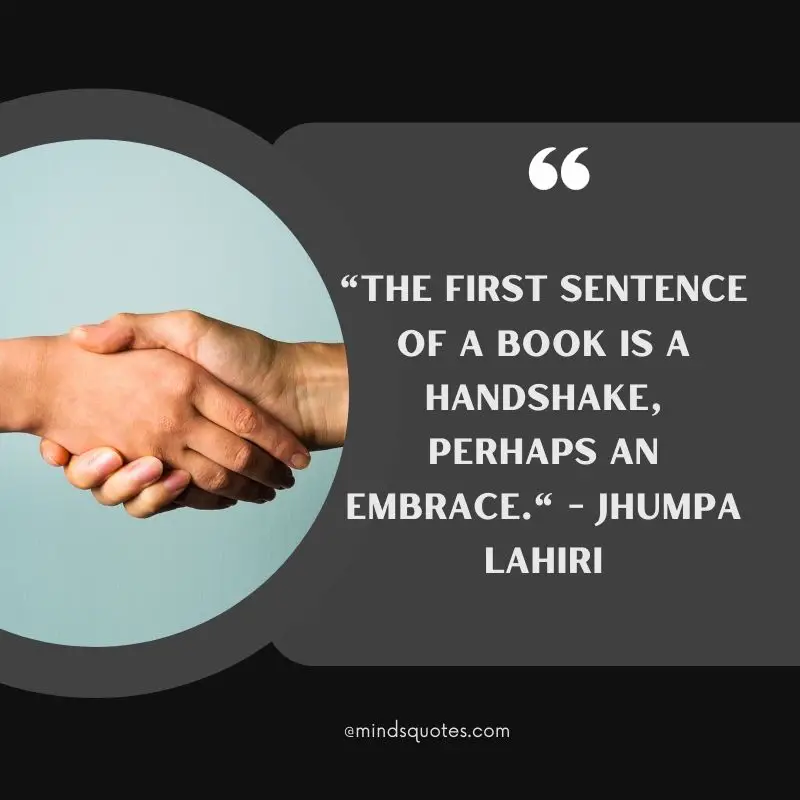 "The postman wants an autograph. The cab driver wants a picture. The waitress wants a handshake. Everyone wants a piece of you." – John Lennon
"There is not a soul who does not have to beg alms of another, either a smile, a handshake, or a fond eye." – John Dalberg-Acton
"You can't get AIDS from a hug or a handshake or a meal with a friend." – Magic Johnson
"I got a good handshake. A lot of executives tell me I have the best handshake in Hollywood." – Marlee Matlin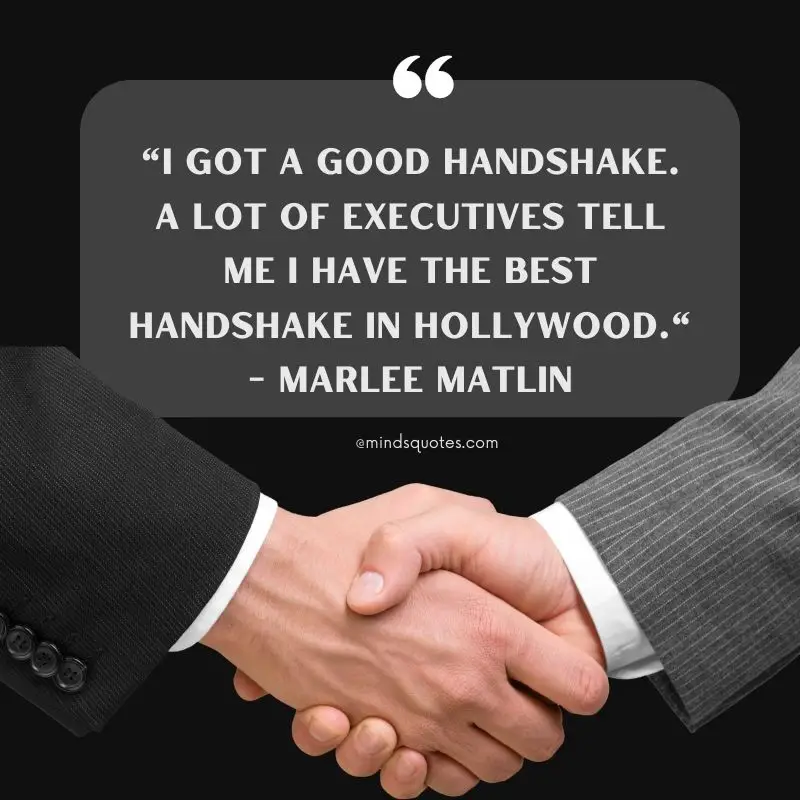 "Only truthful hands write true poems. I cannot see any basic difference between a handshake and a poem." – Paul Celan
"I have no contracts with my clients; just a handshake is enough." – Irving Paul Lazar
National Handshake Day Wishes
"Wishing a very Happy Handshake Day. It is a gesture that always helps you connect with people in a better way."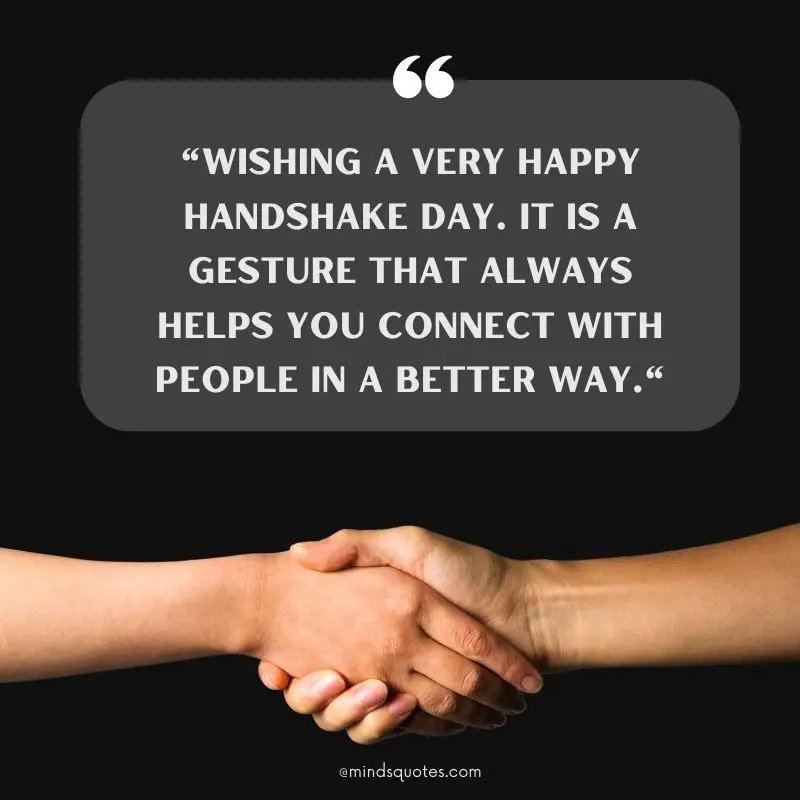 "The kind of handshake we do reveals a lot about our personality. So make sure that it always leaves a good impression on others. Happy Handshake Day."
"Warm greetings on Handshake Day 2023. Let us celebrate this day by celebrating this gesture which has been there forever. Warm wishes on Handshake Day."
National Handshake Day Messages
"On the occasion of Handshake Day, let us reach out to people and connect with them with a handshake. Wishing you a very Happy Handshake Day."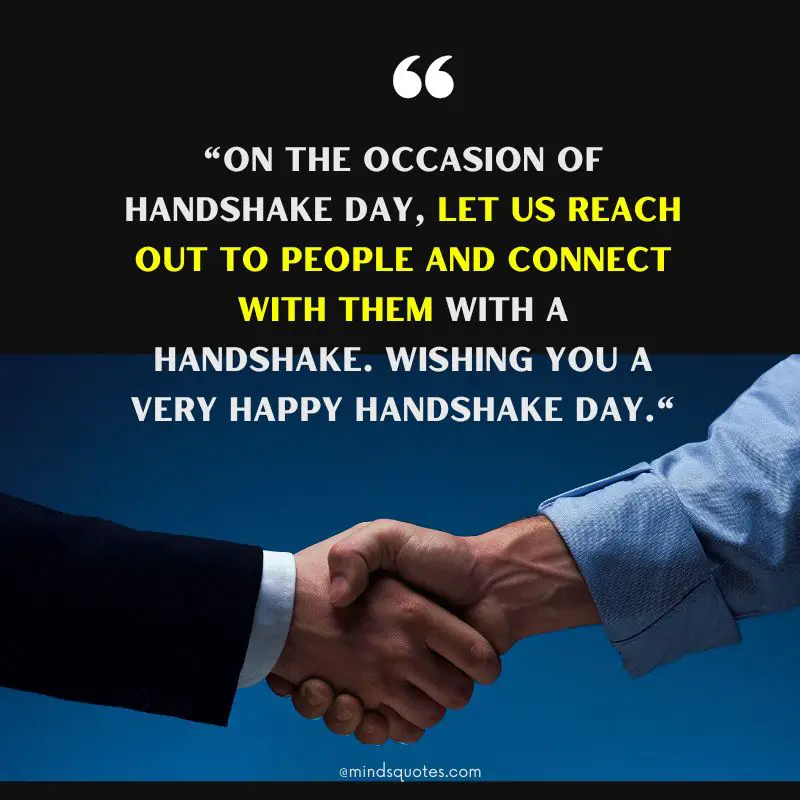 "Handshakes are not only a great way to welcome someone but they are also a good way to say goodbye to someone. Happy Handshake Day."
"A gentle handshake is a sign of warmth and compassion. It shows that you're someone who cares about others and that you're approachable. Happy Handshake Day"
"Handshake is a common way of greeting people across the globe which has been there for ages. Warm wishes on Handshake Day."
Handshakes Quotes
National Handshake Day is a day to celebrate the tradition of shaking hands with people around us. Shaking hands is a way to communicate with people with a friendly gesture. It improves our professional and personal relations with partners and friends. These Handshakes Quotes will encourage you to shake hands on the day as a way of making friends.
"I've learned through experience that to trouble celebrities with my handshake doesn't do anybody any good." – Nick Offerman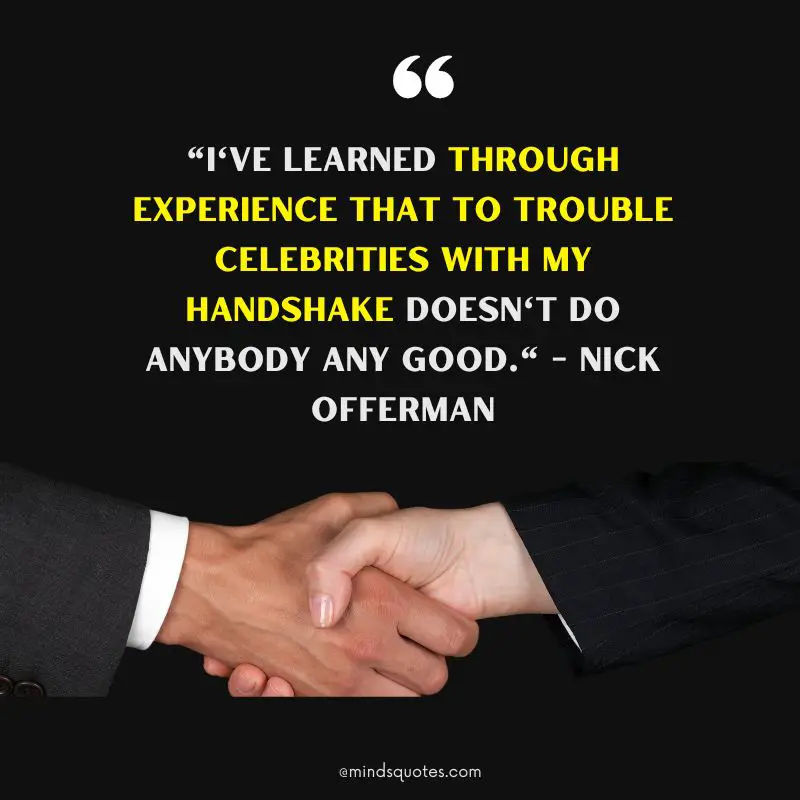 "Experience teaches you that the man who looks you straight in the eye, particularly if he adds a firm handshake, is hiding something." – Clifton Fadiman
"Second City should create a secret handshake, and when you graduate, you have to know it." – Lamorne Morris
"When I make a vow to God, then I would suggest to you that's even stronger than a handshake in Texas." – Rick Perry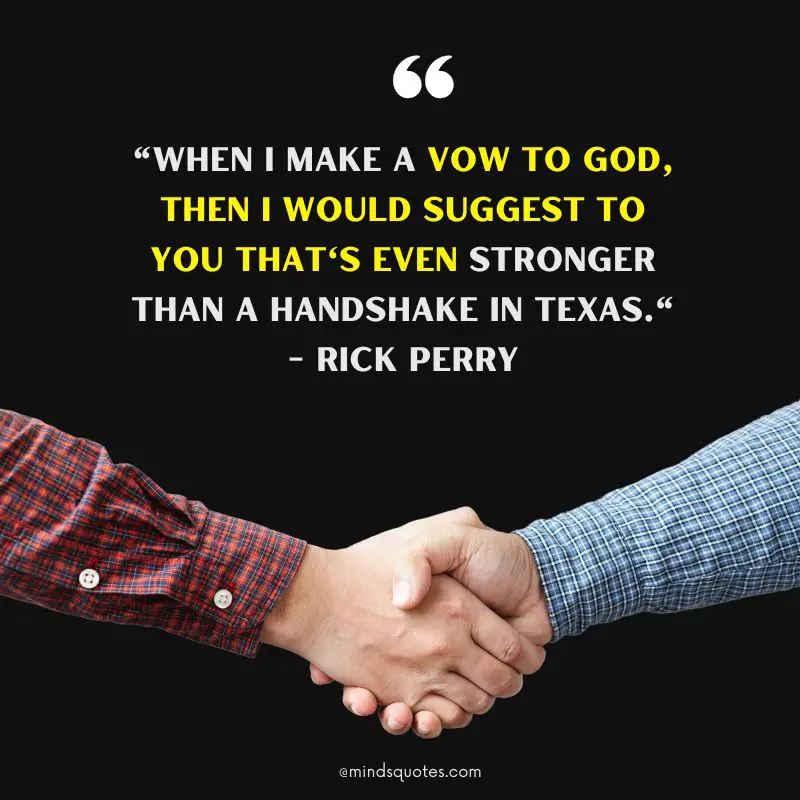 "I feel, at the national level, shooters should get monetary rewards also, along with medals and a handshake." – Nana Patekar
Conclusion
This blog post is about Handshaking Quotes and also national handshaking day. The day is an opportunity to learn about these wonderful and meaningful gestures and their history. In today's life shaking hand is a way of communicating with others. Please like and share this post to tell people about the benefits of shaking hands on your social media platform. Comment your opinion about the day and shake hands.