National Ice Cream Day quotes to show your love and appreciation for ice cream. National Ice Cream Day is an annual celebration that takes place on the third Sunday in July. This year the day is held on July 16th. This day is dedicated to indulging in our favorite frozen treat and enjoying all the delicious flavors that ice cream has to offer.
To commemorate this sweet occasion, many people turn to quotes that capture the joy and happiness that ice cream brings. Whether you're looking for inspiration, a laugh, or simply a reason to celebrate, National Ice Cream Day quotes are a fun and delightful way to spread the love for this beloved dessert.
National Ice Cream Day Quotes
National Ice Cream Day is a celebration of everyone's favorite frozen treat, and with some deliciously sweet National Ice Cream Day quotes the day will be more enjoyable. Whether you're a fan of classic flavors or enjoy experimenting with avant-garde combinations, these quotes capture the joy and nostalgia that ice cream brings.
From famous figures to ice cream aficionados, these quotes are sure to delight and inspire. Celebrate the day with National Ice Cream Day quotes and indulge in the pure pleasure of this summertime tradition.
"When I'm no longer rapping, I want to open up an ice cream parlor and call myself Scoop Dogg." – Snoop Dogg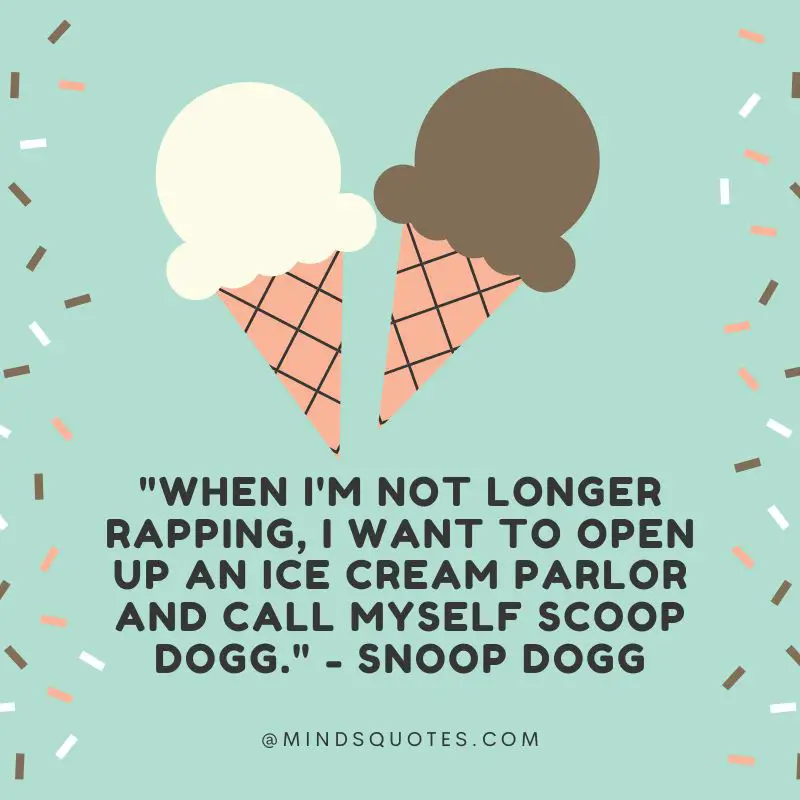 "Love is an ice cream sundae, with all the marvelous coverings. Sex is the cherry on top." – Jimmy Dean
"My advice to you is not to inquire why or whither, but just enjoy your ice cream while it's on your plate." – Thornton Wilder
"When I have bad days, I eat lots of chocolate ice cream and dance to the 'Lion King' soundtrack. It's really odd, but it's true." – Blake Lively
"You can pour melted ice cream on regular ice cream. It's like a sauce!" – Chris Pratt
"That was the best ice cream soda I ever tasted." – Lou Costello
"I love to eat – Kit Kats or cookies-and-cream ice cream. I need sugar like five times a day." – Kim Kardashian
"I know I have to run 20 more minutes if I eat ice cream. Basically, I eat everything, but I do more training." – Jackie Chan
National Ice Cream Day Wishes
"Wishing you a delightful National Ice Cream Day! May your day be filled with endless happiness and sweet memories."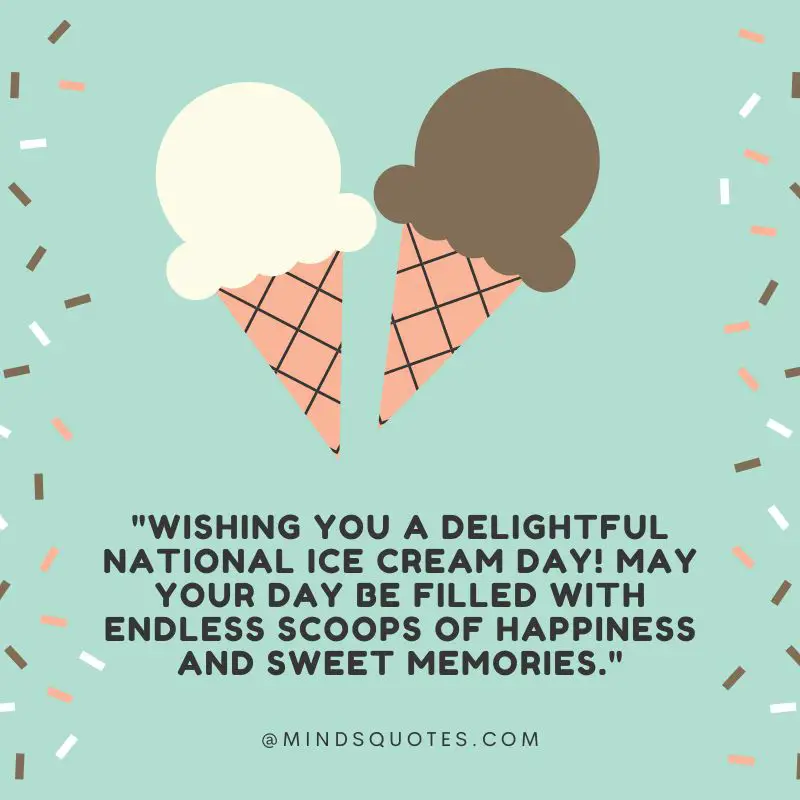 "I scream, you scream, we all scream for ice cream! Happy National Ice Cream Day!"
National Ice Cream Day is a day to celebrate the simple things in life, like the joy of a cold, creamy treat."
"Let's all take a moment to appreciate the deliciousness of ice cream. It's the perfect food for any occasion."
"National Ice Cream Day is a reminder that life is short, so eat as much ice cream as you can."
National Ice Cream Day Messages
"Life is uncertain, but ice cream is forever. Happy National Ice Cream Day!"
"On this National Ice Cream Day, I hope you indulge in your favorite flavors and enjoy every lick. May your day be as sweet as the ice cream itself!"
"Happiness is…eating ice cream on a hot day. Happy National Ice Cream Day!"
"I love you more than ice cream, and that's saying a lot. Happy National Ice Cream Day!"
National Ice Cream Day Captions
"You are never too old to have an ice cream."
"Ice and cream make the perfect combination: Ice Cream."
"Ice cream plus me is equal to happy me!"
"Life is like ice cream, enjoy it before it melts."
"Scoop, smile, and savor the sweetness of life."
"Indulge in the creaminess of life's little pleasures."
"Ice cream never judges. Neither does it discriminate nor disappoint. It always understands."
"Ice cream season goes from age one until death."
"If ice cream is the answer, then who cares what the question is!"
"Love for ice cream is the truest love on the planet." #IceCream
"Happy or sad, ice cream always makes everyone happy."
Ice Cream Quotes
"Being married means I can break the wind and eat ice cream in bed." – Brad Pitt
"My father's family were Italian ice cream men, and the knowledge was passed on, so I ran an ice cream van while I was dating my wife." – Chris Rea
"My love for ice cream emerged at an early age – and has never left!" – Ginger Rogers
"Not to like ice cream is to show oneself uninterested in food." – Joseph Epstein
"I miss being able to just hang out with people and friends and grab an ice cream or go to the cinema… the normal stuff." – Bill Kaulitz
"How do you say no when a little kid asks you for ice cream? I know I can't say no to it myself." – Jimmie Johnson
"Ice cream was my undoing, and six chocolate milkshakes in a row were nothing to me at one time." – Kate Smith
"When I was a kid, I used to think, 'Man, if I could ever afford all the ice cream I want to eat, that's as rich as I ever want to be.'" – Jimmy Dean
"Eating ice cream and not exercising is great. The downside is your health isn't so good." – Jeff Bridges
"Ice cream, I can't pass a gelateria without going in. Italy is a nightmare place for me to stay in shape." – Toni Garrn
"My indulgences are Skittles and rum raisin ice cream." – Sanya Richards-Ross
"I'm a health nut who likes to work out every day, but I am powerless when it comes to Yorkshire pudding, pizza, and ice cream." – Drew Scott
Conclusion
This blog post is a collection of National Ice Cream Day quotes, wishes, messages, and captions to celebrate the day. It is a day of enjoying this delicious dessert. In this summer season, ice cream is the only thing everyone loves. To express your love like and share these quotes on the internet. Share your favorite ice cream mane with us in the comment section.