World Chocolate Day Quotes will help you express your love and passion for chocolate on the day. The day is a day to promote the chocolate industry and all the joy it gives us. The day is celebrated on July 7th every year all over the world. These heart-touching World Chocolate Day Quotes are very helpful to celebrate this sweet treat.
On the day, people share their favorite chocolates and their love for this chocolate delight. Celebrate the day with joy and happiness with friends and family. The day is for everyone to try their favorite chocolate and appreciates the finer things in life. These World Chocolate Day Quotes, Wishes, and messages will remind you of the pleasure that comes from a piece of chocolate. So take a chocolate bar and celebrate the day with your loved ones.
World Chocolate Day Quotes
"Hot chocolate is like a hug from the inside." – Violet Sueno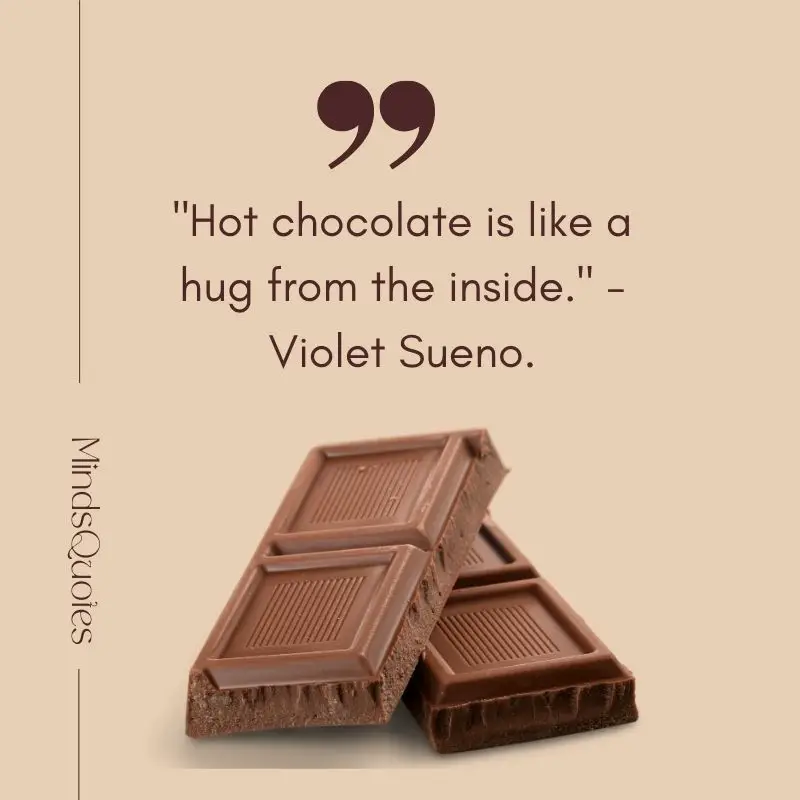 "A little bit of sweetness can drown out a whole lot of bitterness." – Francesco Petrarca
"Every day, without fail, I eat some dark chocolate." – Phoebe Tonkin
"If I had any choice in the matter, I'd stay in my comfy bed and eat warm chocolate chip cookies all day." – Simone Elkeles
"There are four basic food groups: plain chocolate, milk chocolate, dark chocolate, and white chocolate." – Jill Shalvis
"When we don't have the words chocolate can speak volumes." – Joan Bauer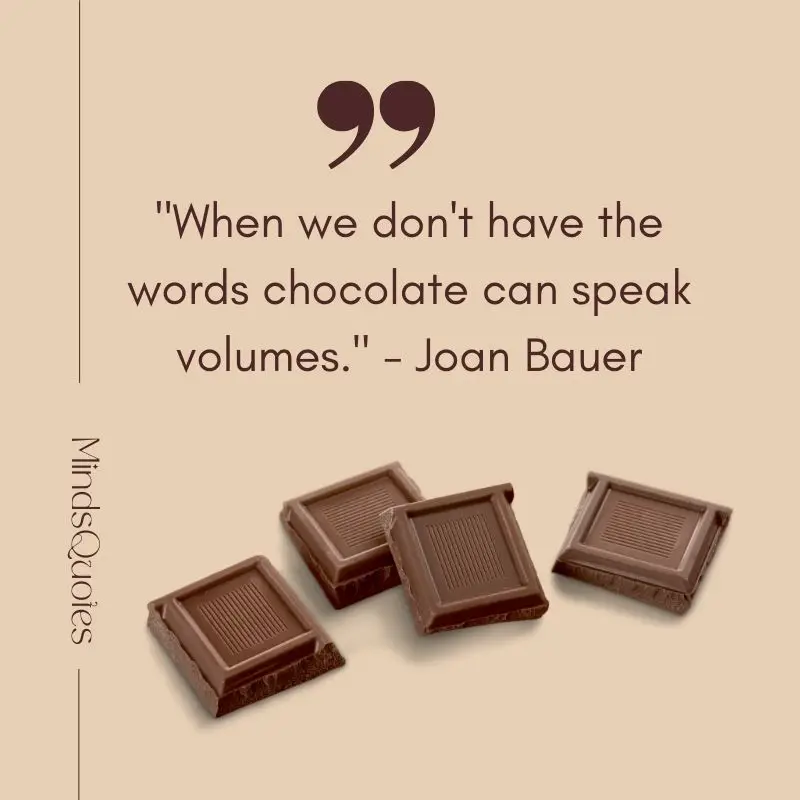 "Everyone has a price – mine is chocolate." – MindsQuotes
"There is nothing better than a friend unless it is a friend with chocolate." – Linda Grayson
"Anything is good if it's made of chocolate." – Jo Brand
"Chemically speaking, chocolate really is the world's perfect food." – Michael Levine
"All you need is love. But a little chocolate now and then doesn't hurt." – Charles M. Schulz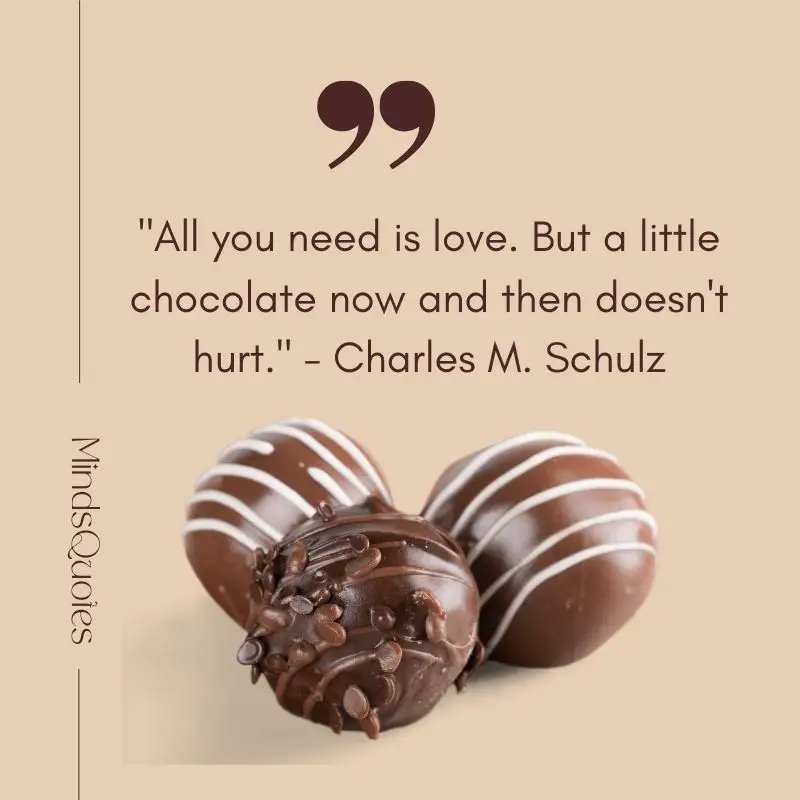 "Chocolate symbolizes, as does no other food, luxury, comfort, sensuality, gratification, and love." – Karl Petzke
"Your hand and your mouth agreed many years ago that, as far as chocolate is concerned, there is no need to involve your brain." – Dave Barry
"Life without chocolate is just an existence." – Sue Costello
"Chocolate is what I love. I have it every day." – Jennifer Hudson
"Chocolate is cheaper than therapy, and you don't need an appointment." – Jill Shalvis
World Chocolate Day Wishes
"As you are sweeter than the chocolates so I just love sharing them with you. Happy Chocolate Day!"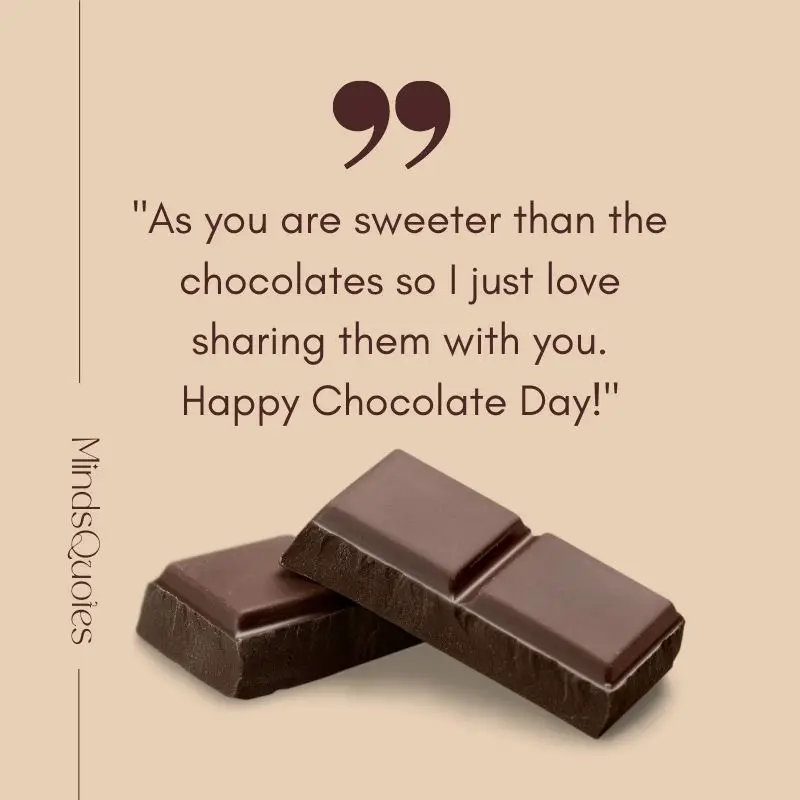 "Wishing you a delectable World Chocolate Day filled with an abundance of scrumptious treats and moments of pure bliss!"
"May your day be as rich and velvety as the finest chocolate, and may every bite bring you happiness beyond measure. Happy World Chocolate Day!"
"Love is like drinking hot chocolate. It tastes amazing and keeps you warm in the years to come. Happy Chocolate Day!"
World Chocolate Day Messages
"Let's solemn promise not to use brains where chocolates are concerned. Happy Chocolate Day!"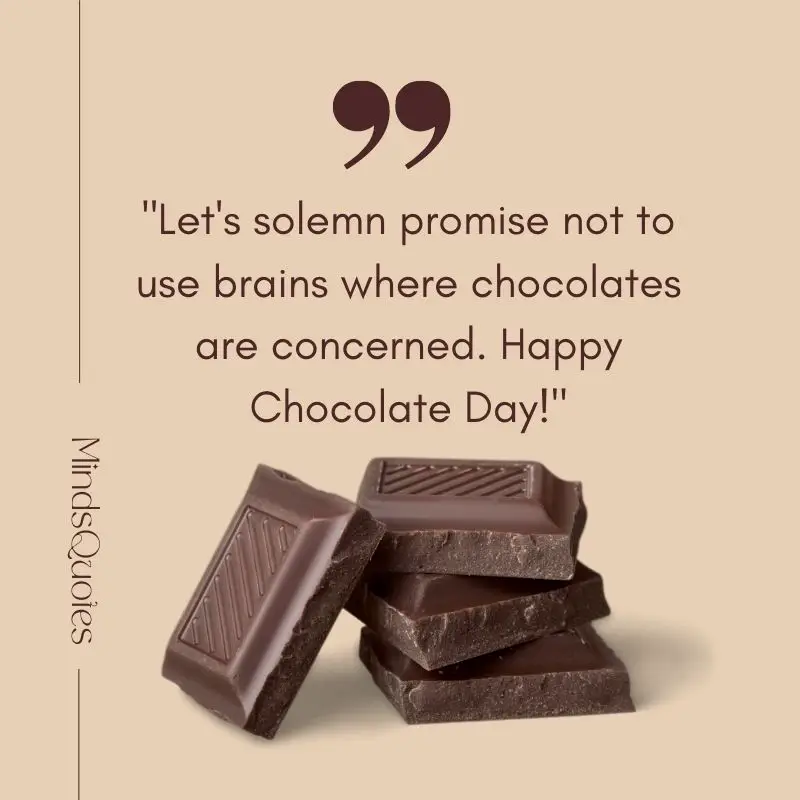 "You are like a chocolate, the longer you eat, the sweeter it gets. Happy Chocolate Day!"
"On this World Chocolate Day, I wish that you have an unlimited supply of chocolates from your loved ones to make it a happy occasion."
"I wish that each day of your life remains sweet like your favorite chocolate…Lots of love and happiness on Chocolate Day!"
Chocolate Quotes
"There's a sure shot way to get rid of that frown when you have some chocolate around." – Manali Manan Desai
"Chocolate is something you take for granted until you don't have any." – Marja McGraw
"There's no point in wasting calories on cheap chocolate, always opt for the darkest and richest." – Nanci Rathbun
"Then she thought bitterly that it would be much easier to resist chocolate if her life were less stressful." – J.K.Rowling
"If I ever meet with the man who fulfills my ideal, I shall make it a condition of the marriage settlement, that I am to have chocolate under the pillow." – Wilkie Collins
"Money can't buy happiness. But, it can buy a chocolate, which is pretty much the same thing." – Hanako Ishii
"Chocolate is medicinal. I just did another study that confirms it." – Michelle M. Pillow
"Love is just the chocolate-coated realization you're going to spend the rest of your life with a person and unfortunately it melts in your mouth." – Josh Stern
"Mom always said too much chocolate is like having too much love—you can't get enough." – Geraldine Solon
Short Chocolate Quotes and Sayings For Instagram
"Chocolate is both an industry and a sensation." – Herman A. Berliner.
"I don't drink coffee, but I do try to find a way to get some chocolate in every day." – Danielle Brooks
"My weakness is dark chocolate. I carry little tins of it in my purse." – Sharon Stone
"Chocolate remedies adversity." – Jareb Teague.
"Have a piece of chocolate today and feel like a queen or king!" – Mike O'Halloran.
"Chocolate is comfort without words." – Ursula Kohaupt
"When things are rough all you need is chocolate." – Geraldine Solon
"Chocolate makes everyone smile." – Benneville Strohecker.
"When it comes to chocolate, resistance is futile." – Regina Brett.
"Sharing chocolates with others is a form of communication which says, You can share all your sweet and dark secrets with me." – Ruchi Prabhu.
Funny Chocolate Quotes
"I love watching keep-fit videos while munching chocolate chip cookies." – Dolly Parton
"Whether it's chocolate or socks, the rule is the same; the darker the better." – Pseudonymous Bosch
"How much is a chocolate boyfriend – can I have one?" – Christopher
"I could give up chocolate but I'm not a quitter." – Lora Brody
"For me, it's always easy to choose between the Ultimate, the Infinite, and the Chocolate." – Ashleigh Brilliant
"I'm pretty much a chocolate guy. I'm up for any type of chocolate. Any chocolate." – Denis Leary
"If chocolate were a mandatory part of breakfast, people wouldn't be so grouchy in the morning." – Joanne Fluke
"And something chocolate, of course. A meal was not a meal without some sort of chocolate for dessert." – Janet Evanovich
"Chocolate doesn't solve everything, Nana." "It solves a whole heck of a lot, though." – Gabrielle Zevin
"Making chocolate is a way of life, not a profession." – Jacques Torres
Conclusion
This blog post is a collection of Chocolate Quotes and also about World Chocolate Day. The day is a day of joy and happiness that comes with a piece of chocolate. Like and share this post on your social media platform to share the joy with others. Comment us about how you will celebrate the day in the comment section below.