Yoga quotes capture the essence of this ancient practice and serve as reminders and inspirations for our yoga journey. Whether you are a seasoned yogi or a beginner just starting out, yoga quotes can provide guidance, motivation, and reflection.
Yoga is not just a physical practice but a way of life. It encompasses the physical, mental, and spiritual aspects of our being. Through the practice of yoga, we can find balance, peace, and connection with ourselves and the world around us.
In this blog, we will explore the power and wisdom of yoga quotes and how they can enhance our yoga practice. So, get ready to dive into the world of yoga quotes and discover their transformative impact on your well-being.
Yoga Quotes
Yoga is not only a physical practice but also a mindset and a philosophy. Countless yogis and philosophers have shared their wisdom through profound and inspiring quotes. These yoga quotes encapsulate the essence of yoga, offering guidance, motivation, and insight into the practice.
If you are a seasoned yogi or a beginner on your journey, these quotes can serve as powerful reminders of the transformative power of yoga. In this blog, we will explore some of the most meaningful and impactful yoga quotes, delving into their deeper meanings and how they can enhance your yoga practice and life.
"Yoga is a mirror to look at ourselves from within." – B K S Iyengar
"The attitude of gratitude is the highest yoga." – Yogi Bhajan
"Yoga means addition – addition of energy, strength, and beauty to body, mind, and soul." – Amit Ray
"Calming the mind is yoga. Not just standing on the head." – Swami Satchidananda
"In asana practice, we learn to cherish each breath, to cherish every cell in our bodies. The time we spend on the mat is love in action." – Rolf Gates
"In truth, Yoga doesn't take time, it gives time." – Ganga White
"Yoga teaches you how to listen to your body." – Mariel Hemingway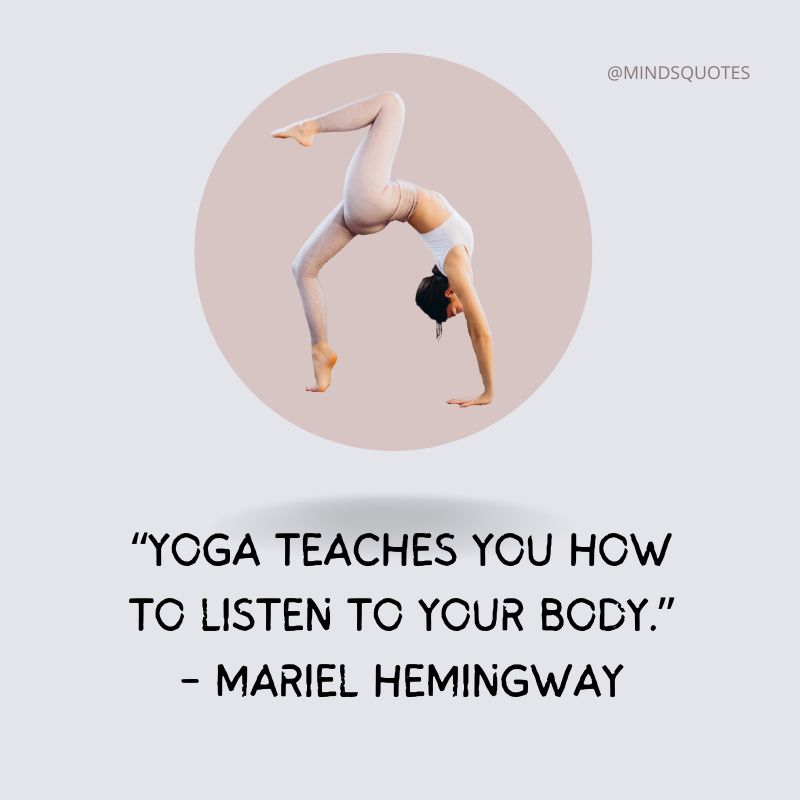 "When I let go of what I am, I become what I might be." – Lao Tzu
"If you seek peace, be still. If you seek wisdom, be silent. If you seek love, be yourself." – Becca Lee
"Yoga is the artwork of awareness on the canvas of body, mind, and soul."-Amit Ray
"I cannot always control what goes on outside. But I can always control what goes on inside." – Wayne Dyer
"The mind is madness. Only when you go beyond the mind, will there be Meditation?" – Sadhguru
"Yoga is 99% practice & 1% theory." – Sri K. Pattabhi Jois
Inspiration Yoga Quotes
Inspiration Yoga Quotes is a collection of inspiring and motivational quotes that aim to bring joy, positivity, and mindfulness into your daily life. These quotes are derived from the teachings of yoga, a centuries-old practice that focuses on achieving balance, harmony, and inner peace.
Whether you are a yoga enthusiast or simply seeking ways to cultivate a happier mindset, these quotes can serve as daily reminders to embrace gratitude, find contentment, and live in the present moment. Join us on this journey of self-discovery and positivity with Inspiration Yoga Quotes!
"Blessed are the flexible, for they shall not be bent out of shape." – Michael McGriffy
"If you are in a state of all-inclusive passion, we call this yoga." – Sadhguru
"Yoga is a way of moving into stillness in order to experience the truth of who you are." – Erich Schiffmann
"The attitude of gratitude is the highest yoga." – Yogi Bhajan
"True Yoga is not about… the shape of your life. Yoga is not to be performed; yoga is to be lived." – Aadil Palkhivala.
"Yoga does not just change the way we see things, it transforms the person who sees." – B.K.S Iyengar.
"When breath control is correct, mind control is possible." – Pattabhi Jois.
"Yoga is the stilling of the changing states of the mind." – Patañjali
"The very heart of yoga practice is abhyasa – steady effort in the direction you want to go." – Sally Kempton
"The inspiration you seek is already inside you, be silent and listen." Rumi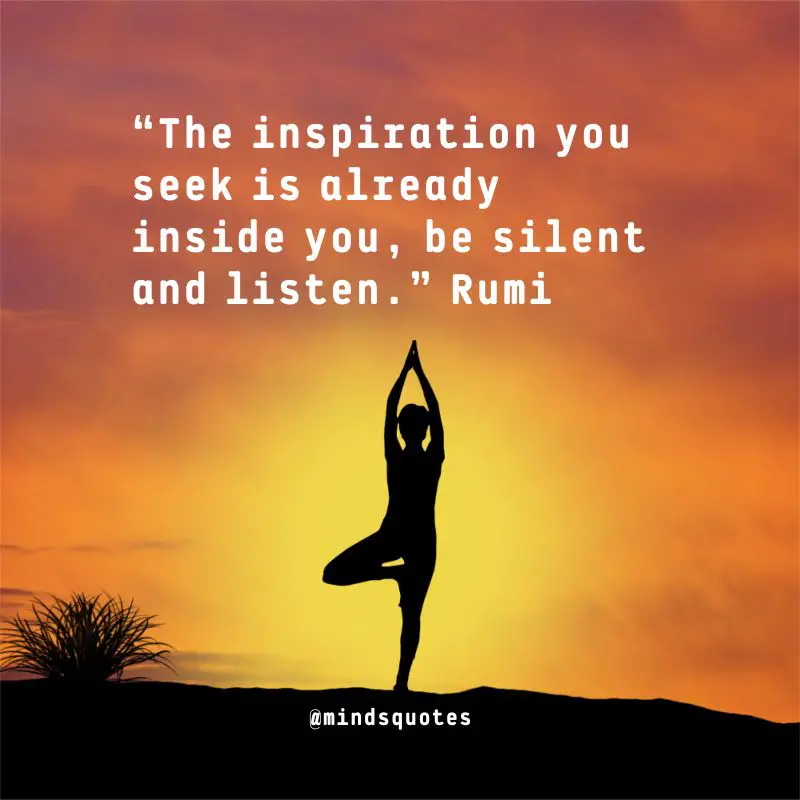 "If you fall over, you fall over. If you have to stop, you stop. But you start again. Just like life itself, you start again." 0 Gurmukh Kaur Khalsa
"It is only when the mind is free from the old that it meets everything anew, and in that there is joy." – Jiddu Krishnamurti
"It is better to conquer yourself than to win a thousand battles." – Buddha
"Yoga is the journey of the self, through the self, to the self." – The Bhagavad Gita
"There is always room for change, but you have to be open to that change." – Kathryn Budig
"Feelings come and go like clouds in a windy sky. Conscious breathing is my anchor." – Thich Nhat Hanh
Happiness Yoga Quotes
Happiness and yoga are two concepts that go hand in hand, as yoga is known for its ability to promote physical and mental well-being. In today's fast-paced and stressful world, finding happiness and peace of mind can be a challenge. That's where happiness yoga quotes come in. These quotes are designed to inspire and uplift, reminding us of the importance of finding joy in the present moment and living a life of purpose.
Whether you're new to yoga or a seasoned practitioner, incorporating happiness yoga quotes into your practice can help cultivate a positive mindset and deepen your connection with yourself and the world around you. Join us as we explore the power of happiness yoga quotes and their impact on our overall well-being.
"Thousands of candles can be lit from a single candle, and the life of the candle will not be shortened. Happiness never decreases by being shared." – Buddha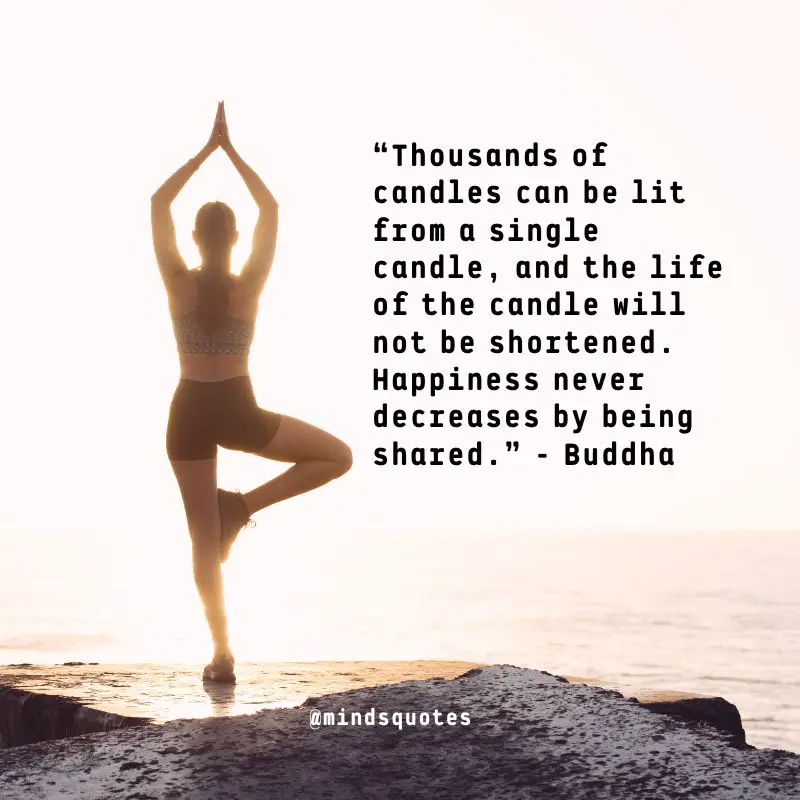 "Yoga is the golden key that unlocks the door to peace, tranquility, and joy." – B. K. S. Iyengar
"Happiness lies in making others happy, in forsaking self-interest to bring joy to others." – Paramahansa Yogananda
"In deep, conscious involvement with everything around you, there is no entanglement—there is just joy." – Sadhguru
"Judge nothing, you will be happy. Forgive everything, you will be happier. Love everything, you will be happiest." – Sri Chinmoy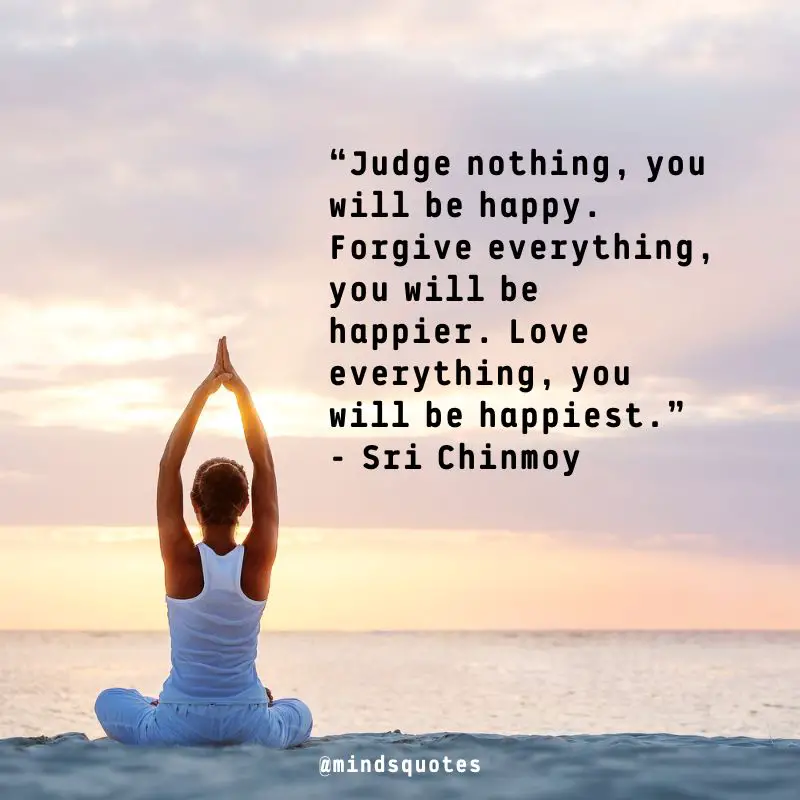 "Remain fixed in the sunlight of the true consciousness — for only there is happiness and peace. They do not depend upon outside happenings, but on this alone." – Sri Aurobindo
Funny Yoga Quotes
Funny Yoga Quotes are a delightful way to add a touch of humor to your yoga practice. While yoga is often associated with serenity and mindfulness, injecting some laughter into your routine can help lighten the mood and make your practice more enjoyable. Whether you're a seasoned yogi or new to the practice, Funny Yoga Quotes offers a unique perspective on the holistic benefits of yoga. Get ready to dive into the world of Funny Yoga Quotes!
"Yoga is not about tightening your ass. It's about getting your head out of it." – Eric Paskel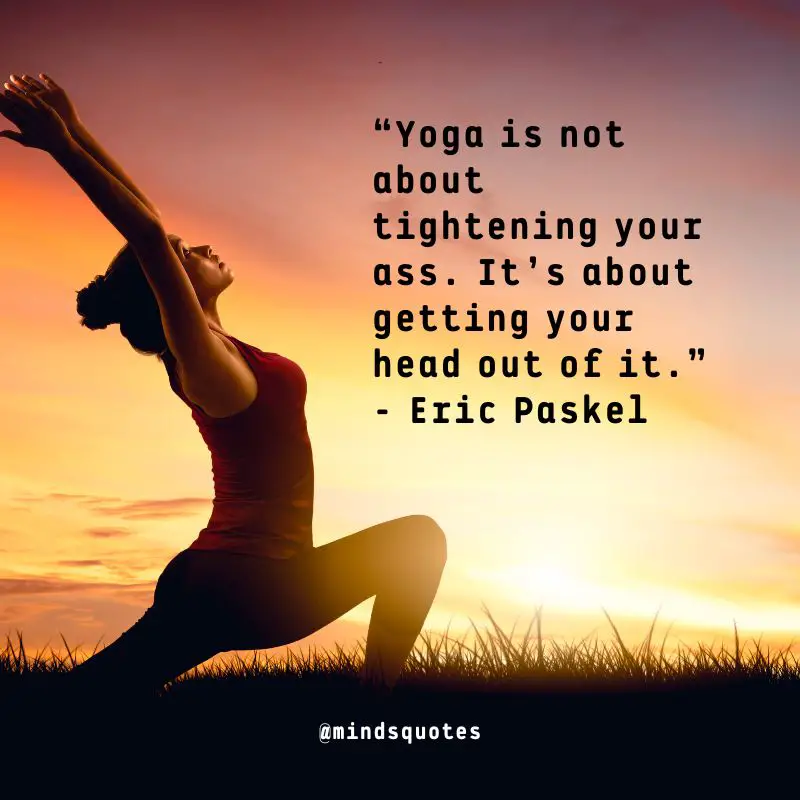 "The only yoga stretch I've perfected is the yawn." – Grant Tucker.
"A photographer gets people to pose for him. A yoga instructor gets people to pose for themselves." – Terri Guillemets.
"Man who doesn't have strength can practice. Except for lazy people; lazy people can't practice Ashtanga yoga." – Sri Krishna Pattabhi Jois.
"Yoga class is great. You can close your eyes and imagine yourself in a relaxing place." – Grant Tucker
Conclusion
Yoga is often associated with peace, serenity, and deep introspection. However, that doesn't mean it can't be lighthearted and humorous as well. Yoga quotes have become increasingly popular in recent years, spreading laughter and positivity throughout the yoga community. These quotes add a touch of lightness to the practice and remind us not to take ourselves too seriously.
In this blog, we will explore the world of yoga quotes, their origins, and their power to bring a smile to our faces during our yoga journey. So, get ready to laugh and find inspiration in the hilarity of yoga! Like and share these quotes on your social media platform to inspire others.