Alone Quotes are about how you feel when you are alone and what are the benefits of being alone, the most important thing is what to do in this situation. So many people are around you but you feel lonely or feel like something is missing, that's how you feel when you are alone. There are so many reasons for being lonely. We can't discuss all of them here but we will discuss the most common reasons.
You have a best friend and for some reason, he or she breaks your trust or leaves you, then you feel lonely and end up being alone. After some time we forget about this and make some new friends. But when you are in love and something bad happens with it, then you also get alone.
Alone Quotes
Being alone is a lie because when you are alone you close yourself and you try to know yourself. Being alone is good for some time but not good forever. For a long time being alone can make you depressed and then create some psychological problems.
"No one saves us but ourselves. No one can and no one may. We ourselves must walk the path." – Buddha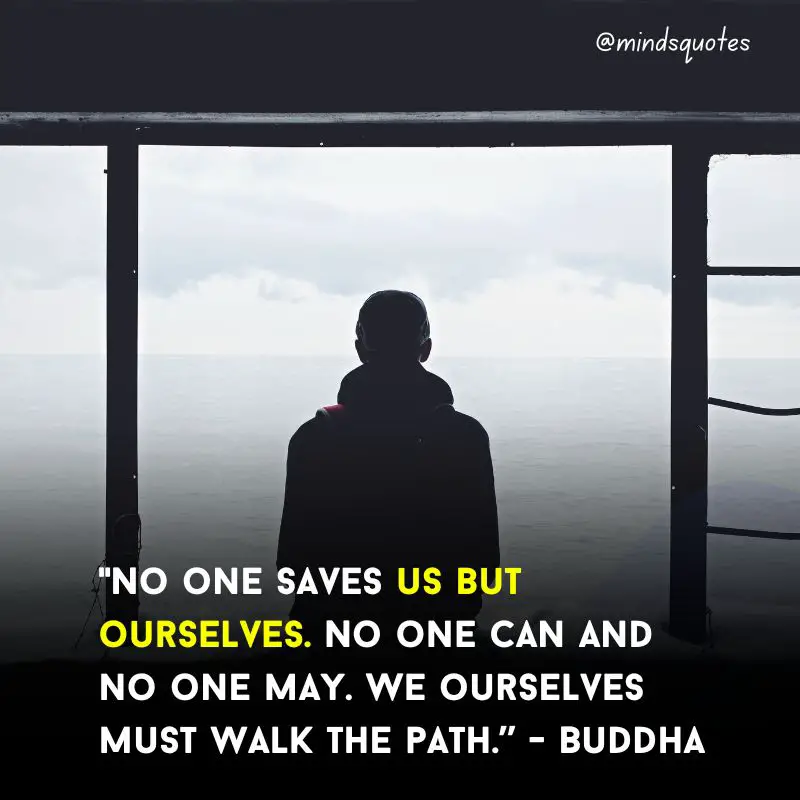 "Until you get comfortable with being alone, you'll never know if you're choosing someone out of love or loneliness." – Mandy Hale
"In order to be open to creativity, one must have the capacity for constructive use of solitude. One must overcome the fear of being alone." – Rollo May
"The thought of being on my own really terrified me. But then I realized being alone is really a cleansing thing." –  Lindsey Buckingham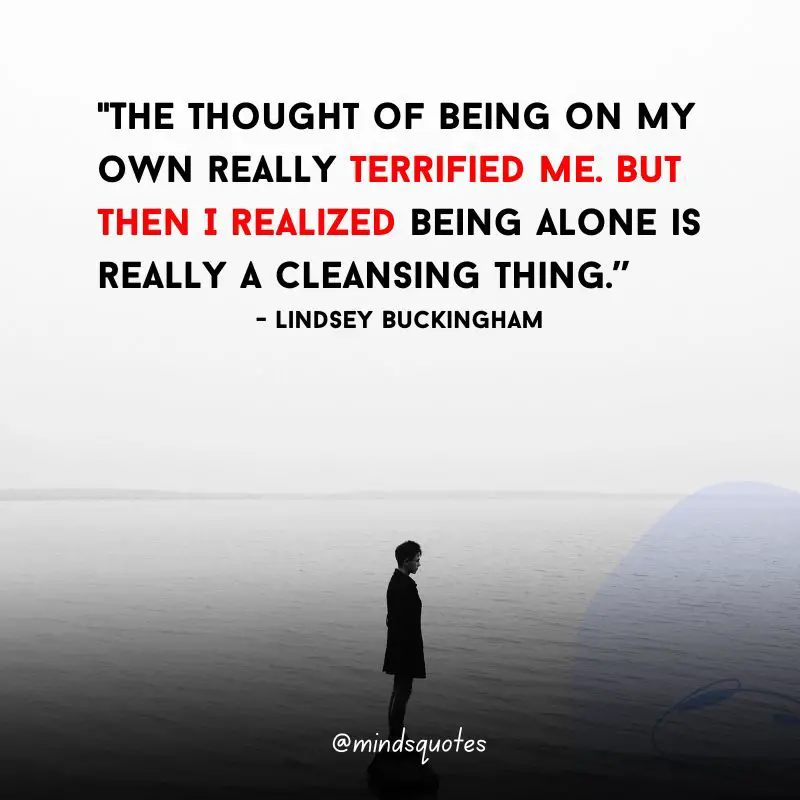 "Loneliness adds beauty to life. It puts a special burn on sunsets and makes night air smell better." – Henry Rollins
"Associate yourself with people of good quality, for it is better to be alone than in bad company." – Booker T. Washington
"Sometimes you need to take a break from everyone and spend time alone, to experience, appreciate and love yourself." – Robert Tew
"When you learn how to be alone you'll discover the difference between alone and lonely."  – LJ Vanier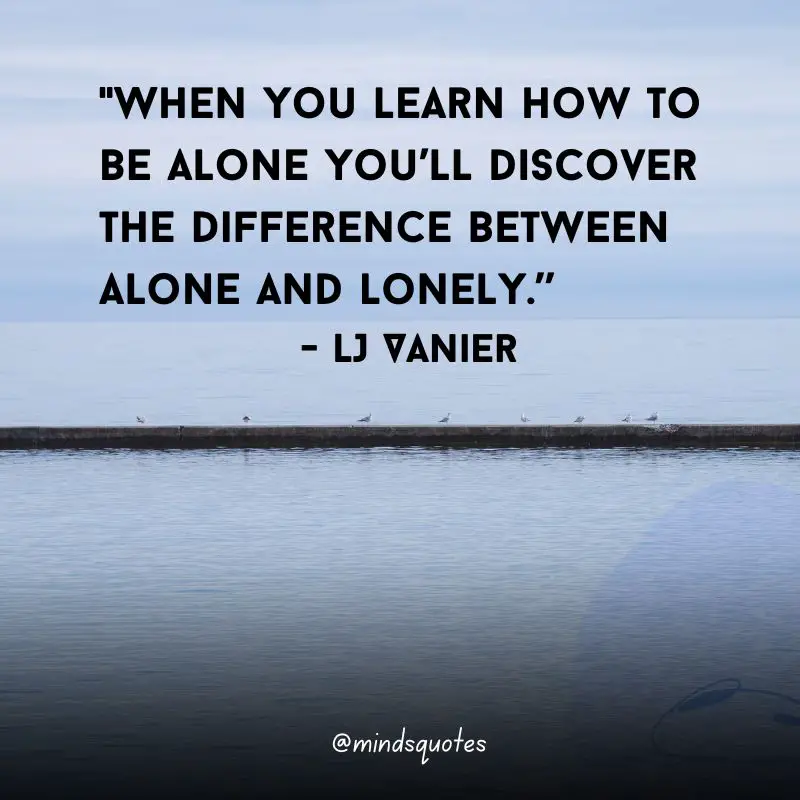 "Truth is, I'm generally happiest when it's just me. It's okay to be madly in love with yourself." – Richelle E. Goodrich
Feeling Alone Quotes
"Having everyone, sometimes like having no one, this is when you feel lonely."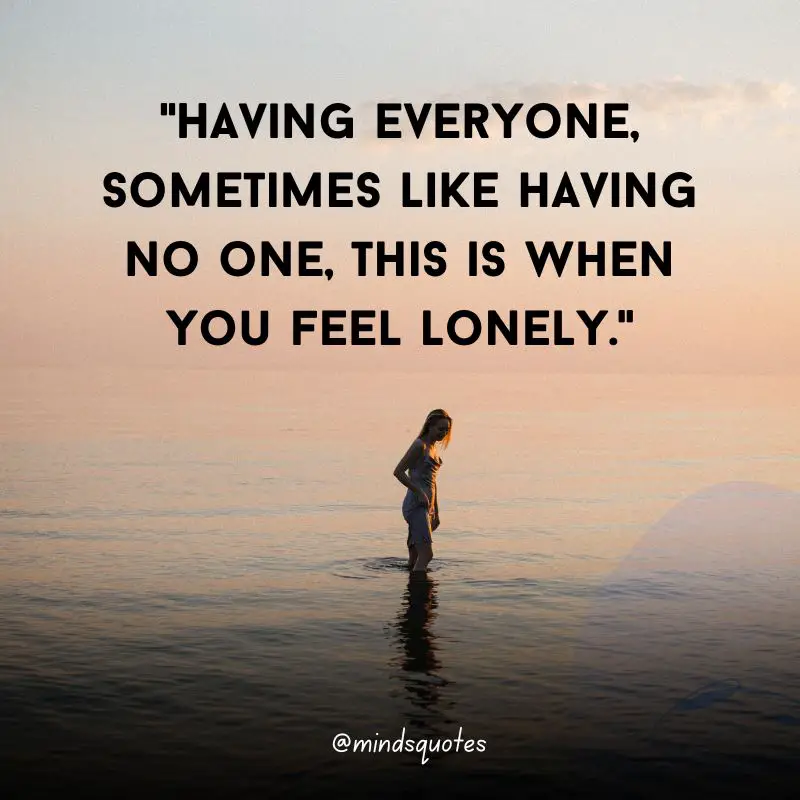 "The soul that sees beauty may sometimes walk alone."
"I am alone and this loneliness is killing me."
"My loneliness is due to people around me who do not understand me."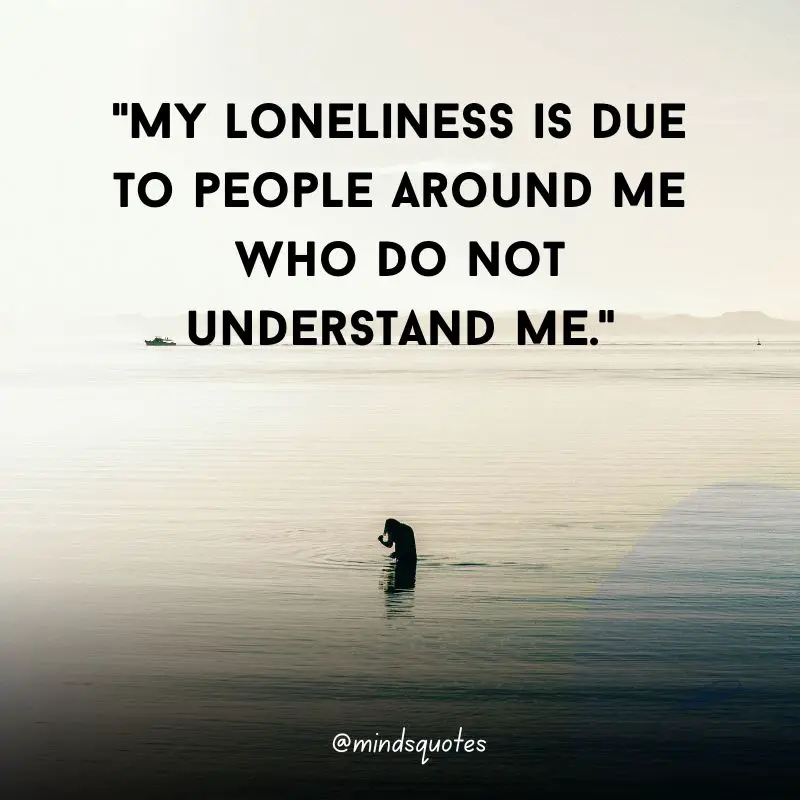 "Nothing can bring you peace but yourself."
"People think that I am alone but I have the greatest support from myself."
"One good thing about being alone is that I have so much time for myself."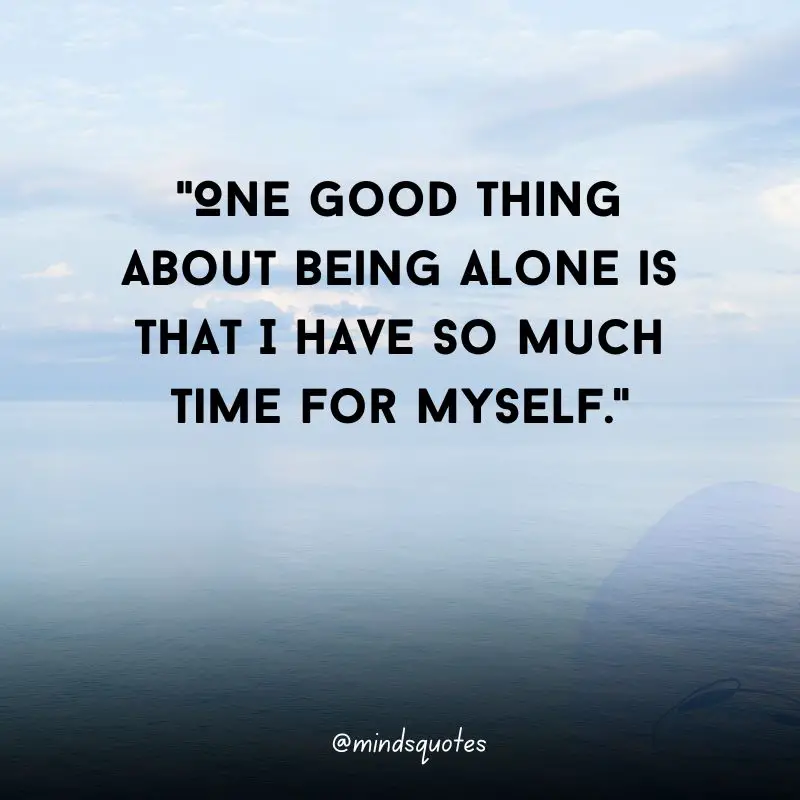 "Being alone is good but being lonely is the worst."
"Loneliness is not lack of company, loneliness is lack of purpose."
"I have everyone even though I am alone because everyone is not my only one."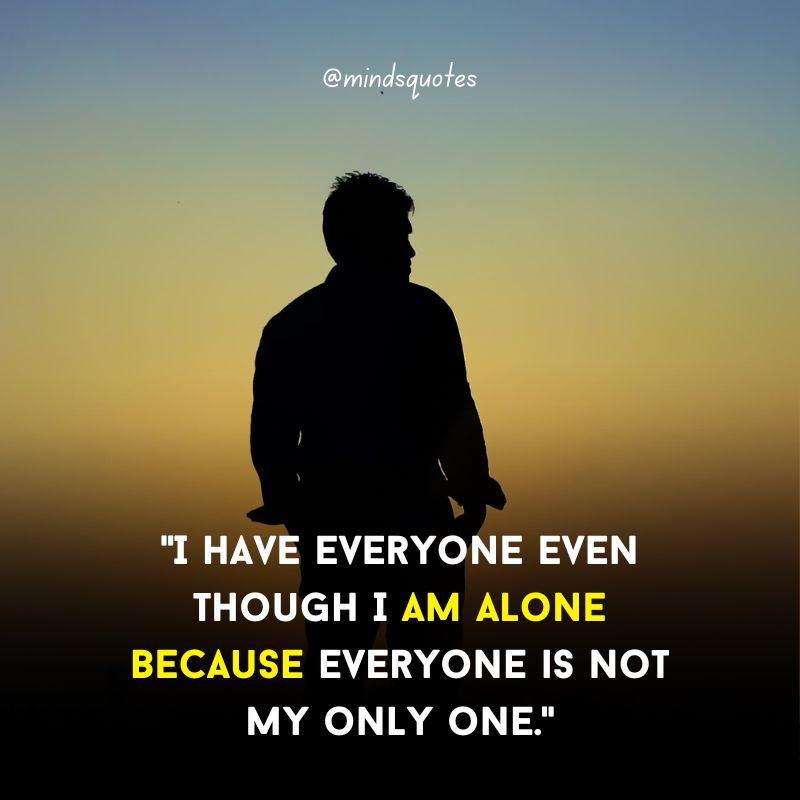 "People around me are not right for me, so I am alone in the crowd."
Sad Alone Quotes
Being alone is good to improve yourself. If you are always alone then you are independent, because you know if you fail no one will help you to rise again. It makes you think about yourself and what others think about you. It's better to rely on yourself than depend on others' help.
"To be of good quality, you have to excuse yourself from the presence of shallow and callow minded individuals." – Michael Bassey Johnson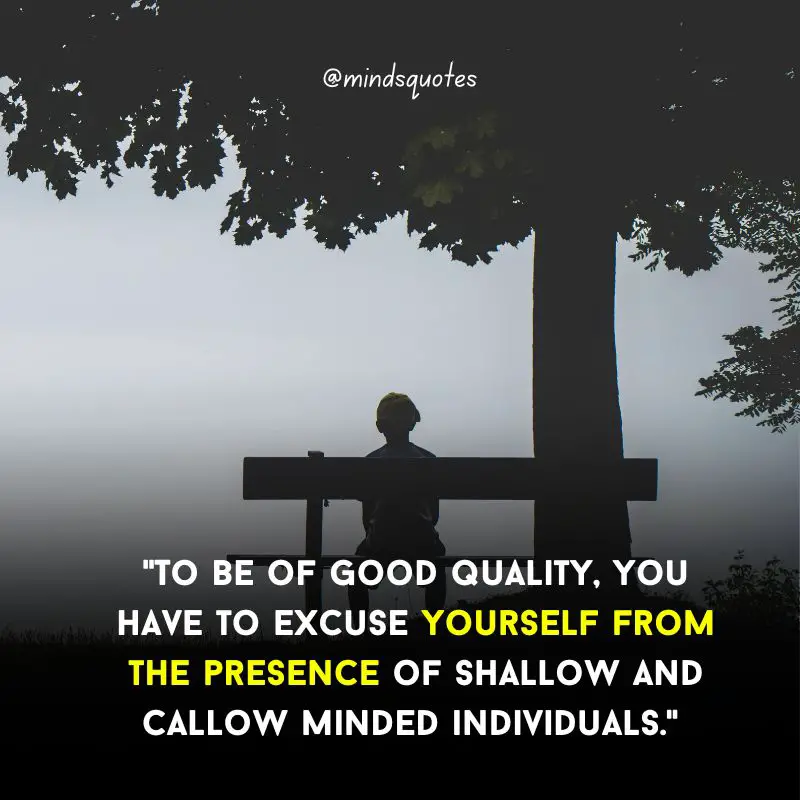 "Sometimes you need to sit lonely on the floor in a quiet room in order to hear your own voice and not let it drown in the noise of others." – Charlotte Eriksson
"I've always believed that the only defeats and victories that matter in life are those you lose or win alone, against yourself." – Mihail Sebastian
"I made my way here alone for a long while. It took some time to find my place. It took more time to become somebody worth protecting." – Melissa Albert
"There are two kinds of luxuries; being alone and being with someone who understands." – Nitya Prakash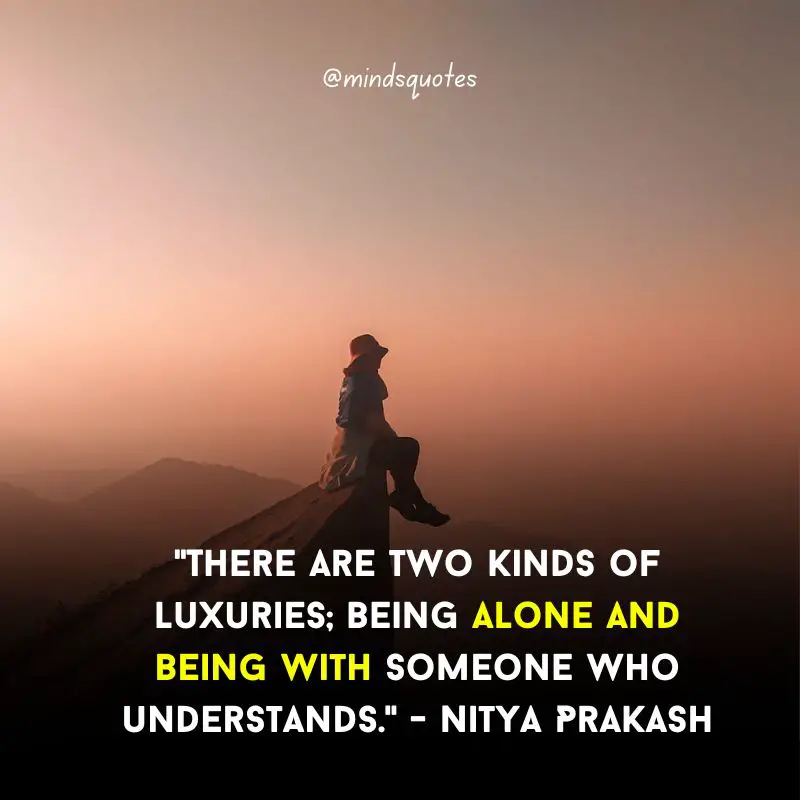 "Like it or not, there are times when you need to be alone; times when you need to be lonely; times when you need to need other people." – Alan Bradley
"If you make friends with yourself, you'll never be alone." – Maxwell Maltz
Being Alone Quotes
Alone Status and shorts are trending on social media. Everyone puts status on their social media about their feelings. You should tell others about your feelings too. If anybody cares about you they will come to help you.
"The only time we waste is the time we spend thinking we are alone." – Mitch Albom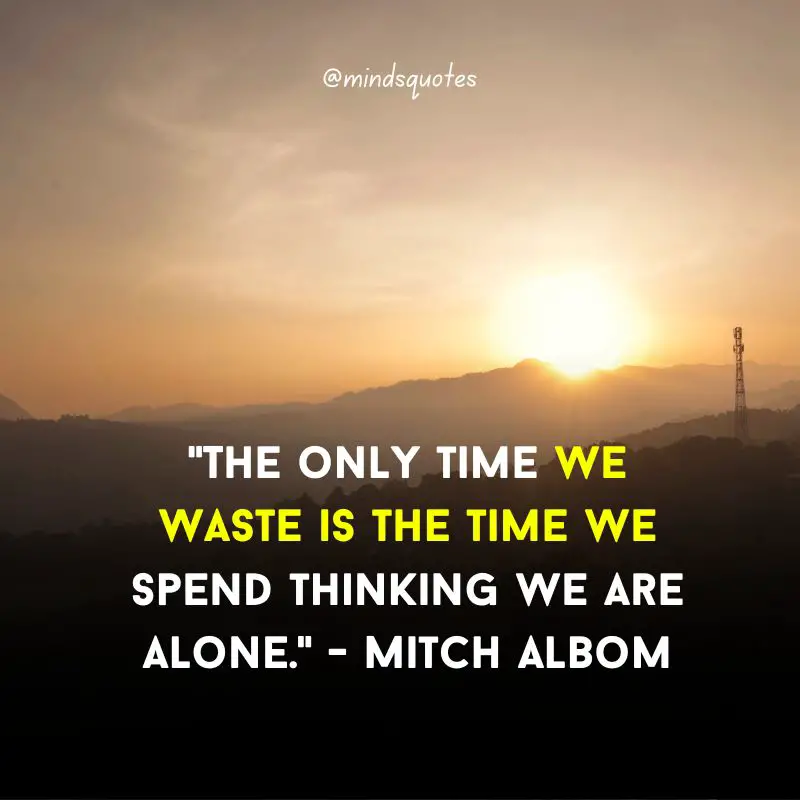 "Loneliness adds beauty to life. It puts a special burn on sunsets and makes night air smell better." – Henry Rollins
"That's love: Two lonely persons keep each other safe and touch each other and talk to each other." – Rainer Maria Rilke
"What a lovely surprise to finally discover how unlonely being alone can be." – Ellen Burstyn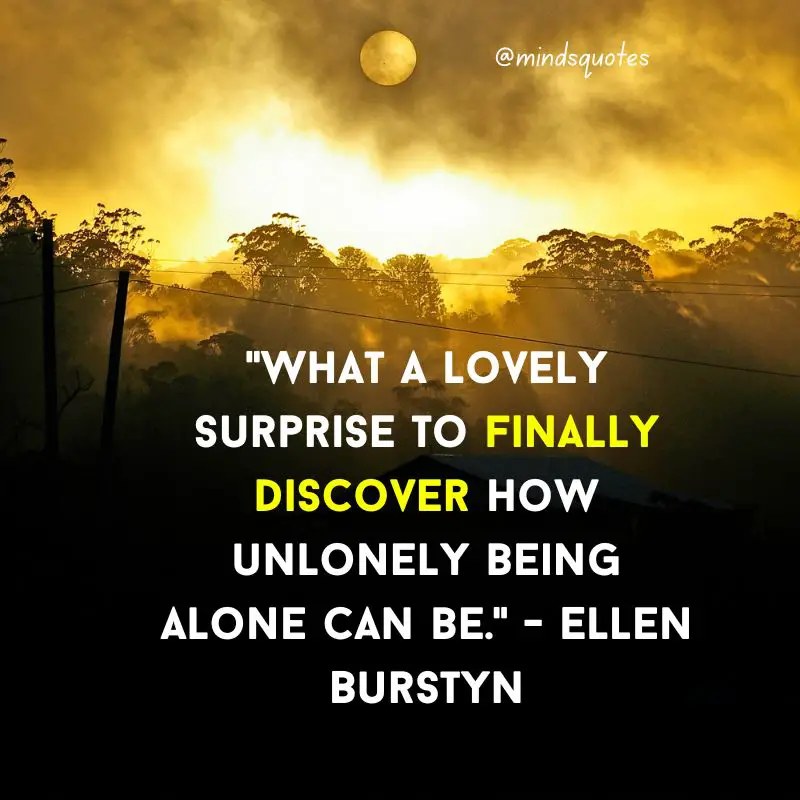 "You are never alone. You are eternally connected with everyone." – Amit Ray
"Because once alone it is impossible to believe that one could ever have been otherwise. Loneliness is an absolute discovery." – Marilynne Robinson
"I was trained to turn loneliness into laziness." – Bill Callahan
"I need the pain of loneliness to make my imagination work." – Orhan Pamuk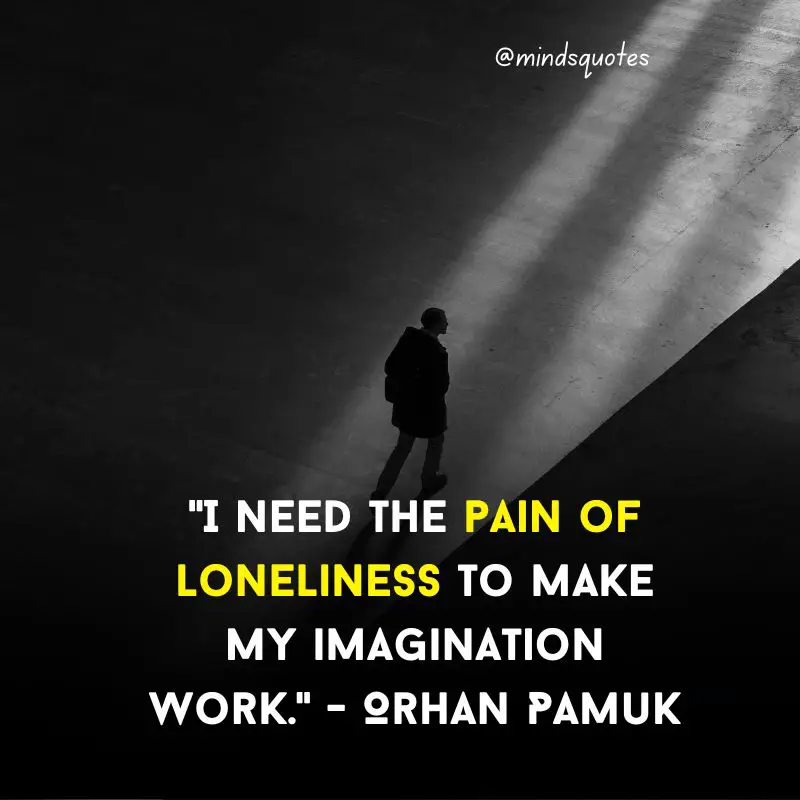 "I am lonely sometimes but I dare say it's good for me…" – Louisa May Alcott
"There's a special quality to the loneliness of dusk, a melancholy more brooding even than the night's." – Ed Gorman
"People run away to be alone, he said. Some people had to be alone." – William Trevor
"We isolated ourselves because it hurt less." – Jodi Picoult
"If you find yourself in the middle of nowhere, allow your mind to go everywhere." – Jenim Dibie
"I don't want to be alone, I want to be left alone." – Audrey Hepburn
"Sometimes I think that my own company is more suitable for me than if I were around others. Because of the person that I am." – Kyle Labe
"None of us are really alone as long as we're lonely." – Maggie Stiefvater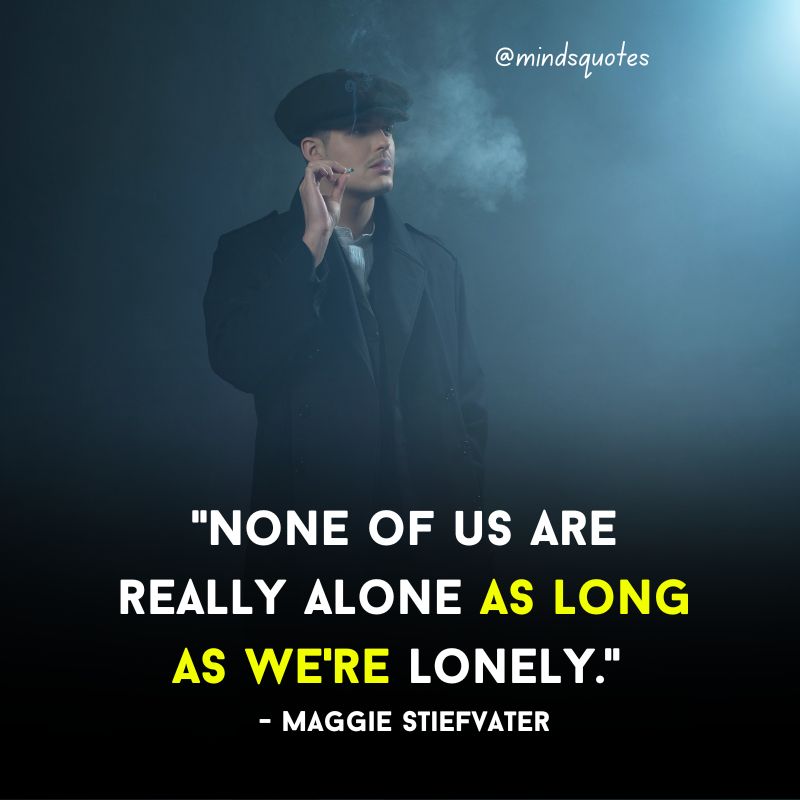 "He would be lonely all his life. But a man took it for his share and went on." – Marjorie Kinnan Rawlings
"Turn your loneliness into singing and praying and you shall realize that you are never alone at all." – Ernest Agyemang Yeboah
"If I can teach myself the art of loneliness then perhaps the art of writing will come more easily to me." – Nell Stevens
"Even in an empty room we are never alone." – Wayne Gerard Trotman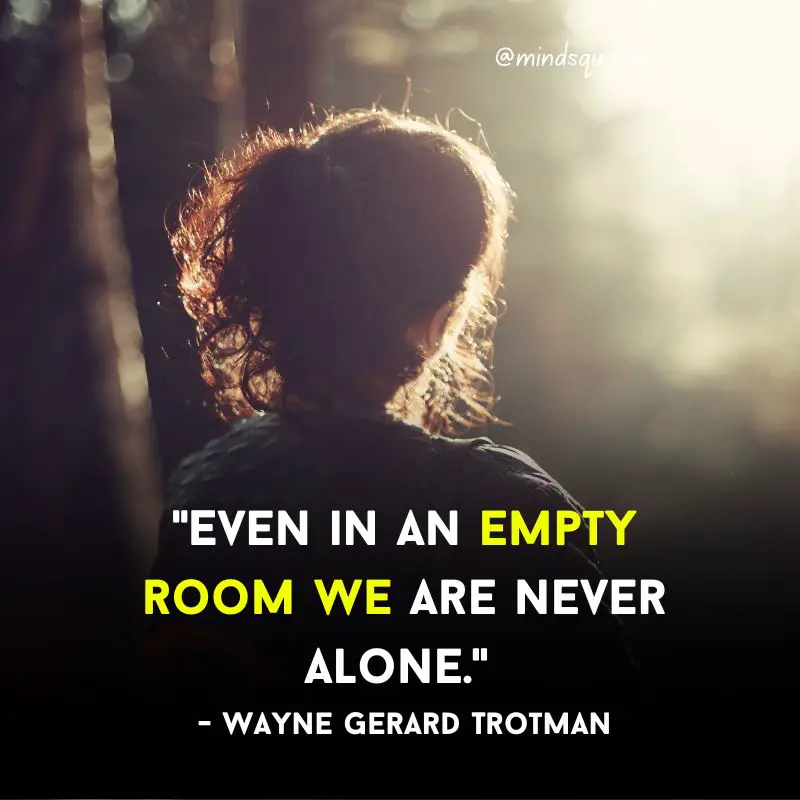 "You better go alone than with negative people!." – Israelmore Ayivor
"It is good to be alone for solitude is difficult; that something is difficult should be one more reason to do it." – Rainer Maria Rilke
"I want to be with those who know secret things or else alone." – Rainer Maria Rilke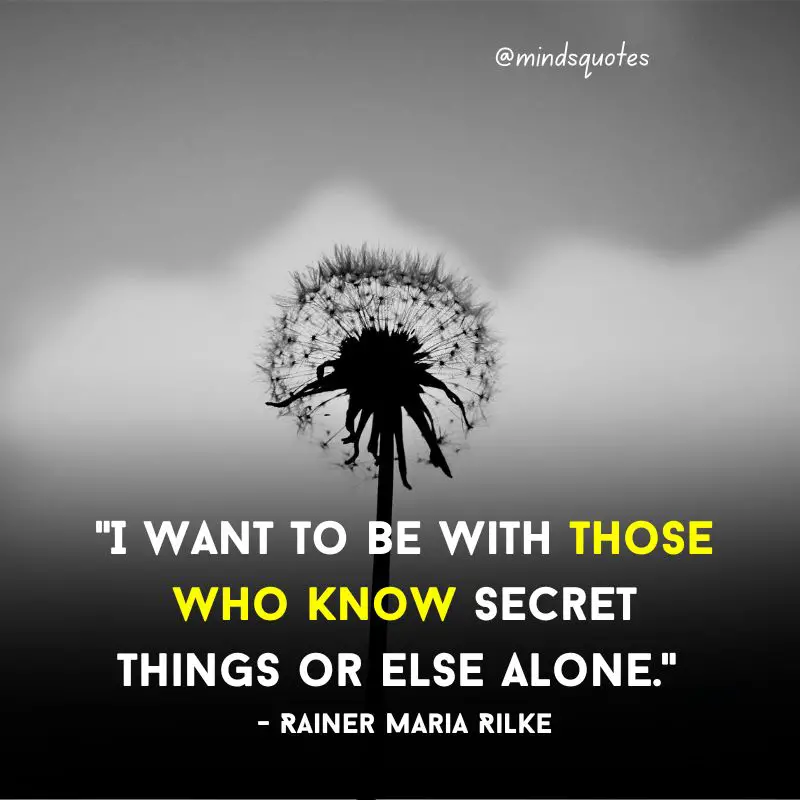 "If you want to miss your crown follow the crowd. If you want to wear the crown go alone and be yourself." – Israelmore Ayivor
Leave Me Alone Quotes
"Keep calm and just leave me alone."
"Life could be wonderful if people would leave you alone." – Charlie Chaplin
"It's a beautiful day to leave me alone."
"If you'd like to reach me, leave me alone." – Sheryl Crow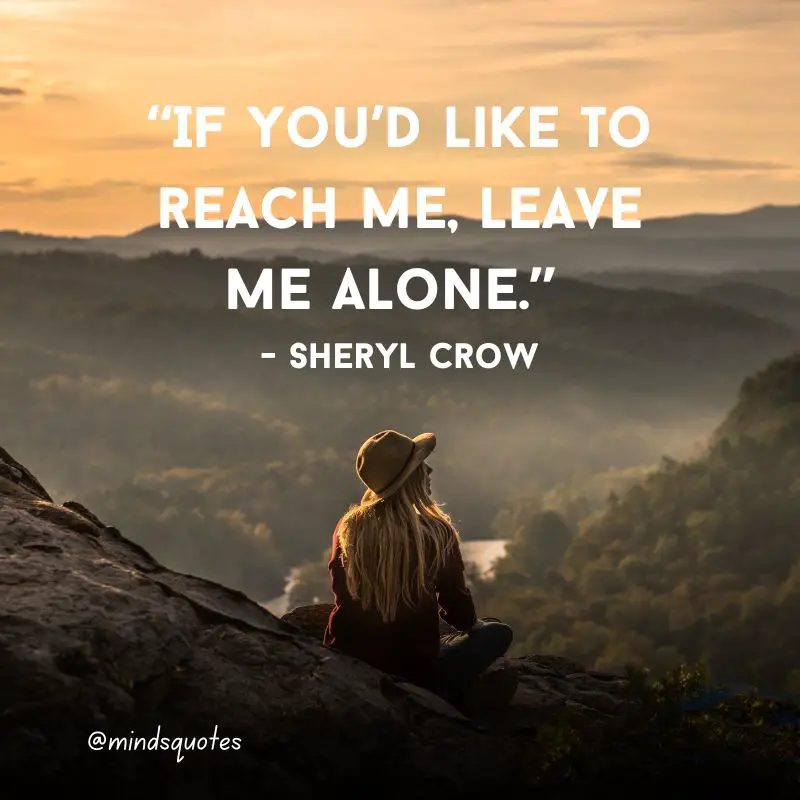 "As I get older I'm more and more comfortable being alone." – Sienna Miller
"Sometimes it's better to be alone nobody can hurt you."
"Just leave me alone, I know what to do."
"Muddy water is best cleared by leaving it alone." – Alan Watts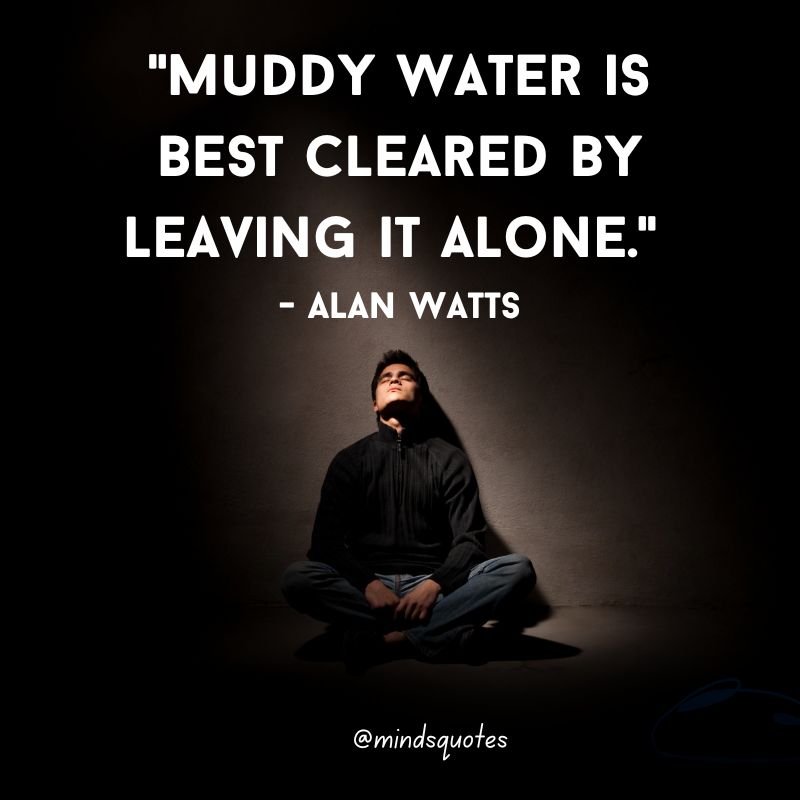 "Be real with me, or just leave me alone."
"This loneliness won't leave me alone." – Otis Redding
"Why can't everybody leave everybody else the hell alone." – Jimmy Durante
"I am not alone because loneliness is always with me."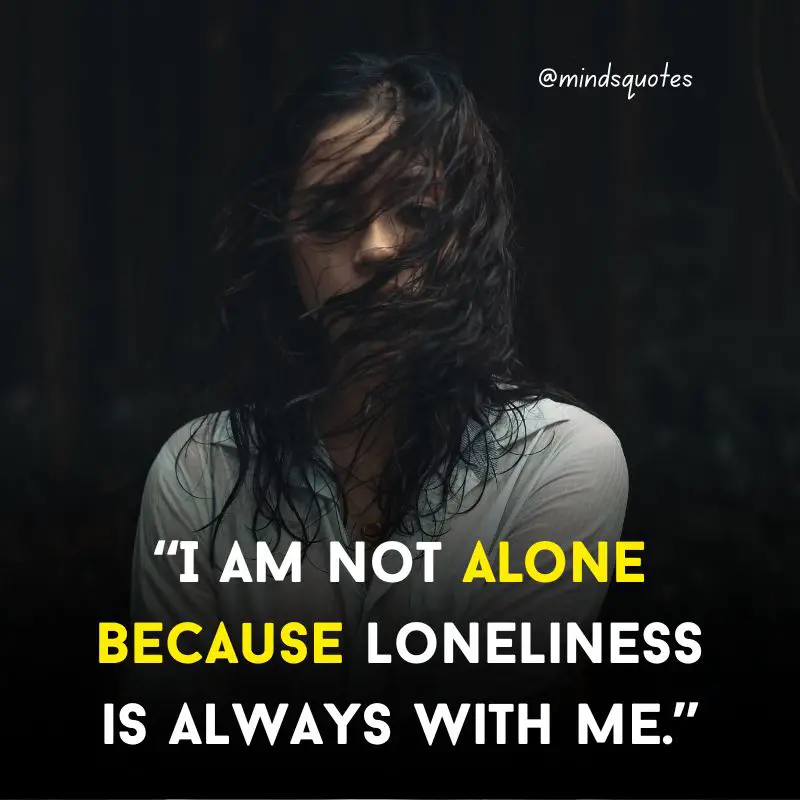 "Give me a treat, or leave me alone. It's Monday." – Paige
"I'm not alone, but I am lonely without you."
"I don't want to be alone, I want to be left alone." – Audrey Hepburn
"I need time alone like you need air to breathe."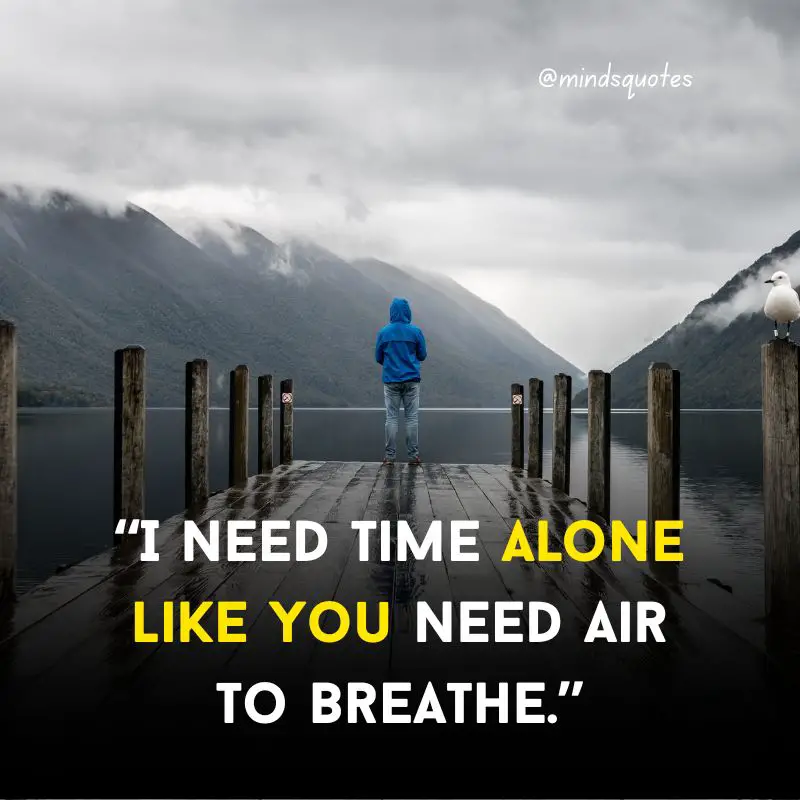 "Only God can judge me so I'm gone, either love me or leave me alone." – Jay-Z
"Let me be me, or let me be." – Anthony Liccione
"Either give me more wine or leave me alone." – Rumi
Alone Quotes for Girl
"I'm tired of being alone, and fighting my battles alone." – Mercedes Lackey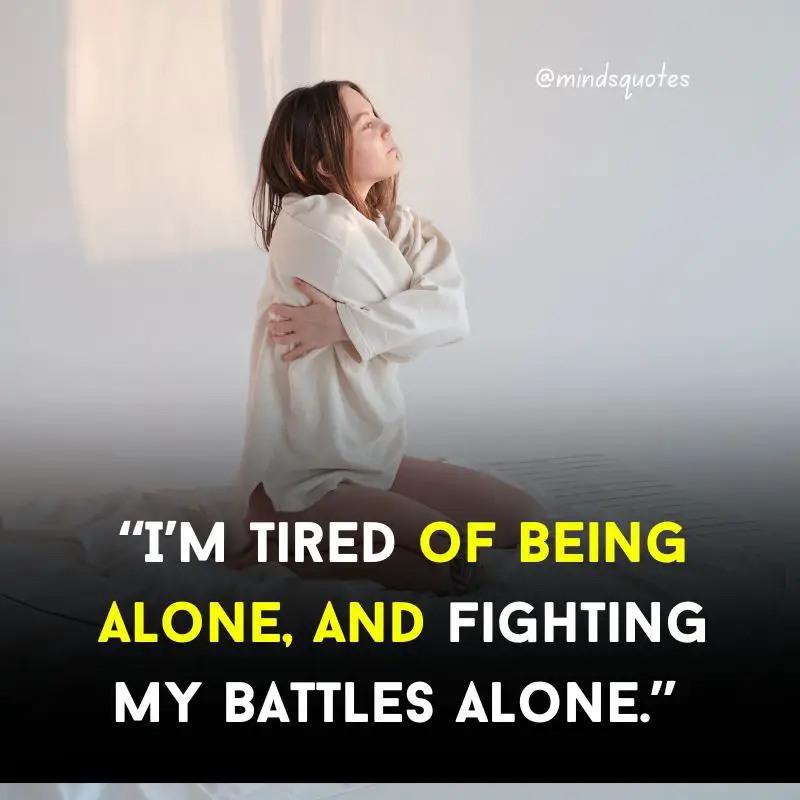 "When the snows fall and the white winds blow, the lone wolf dies but the pack survives." – George R.R. Martin
"All alone! Whether you like it or not, alone is something you'll be quite a lot!" – Dr. Seuss
"There is a pleasure in the pathless woods, there is a rapture on the lonely shore." – Lord Byron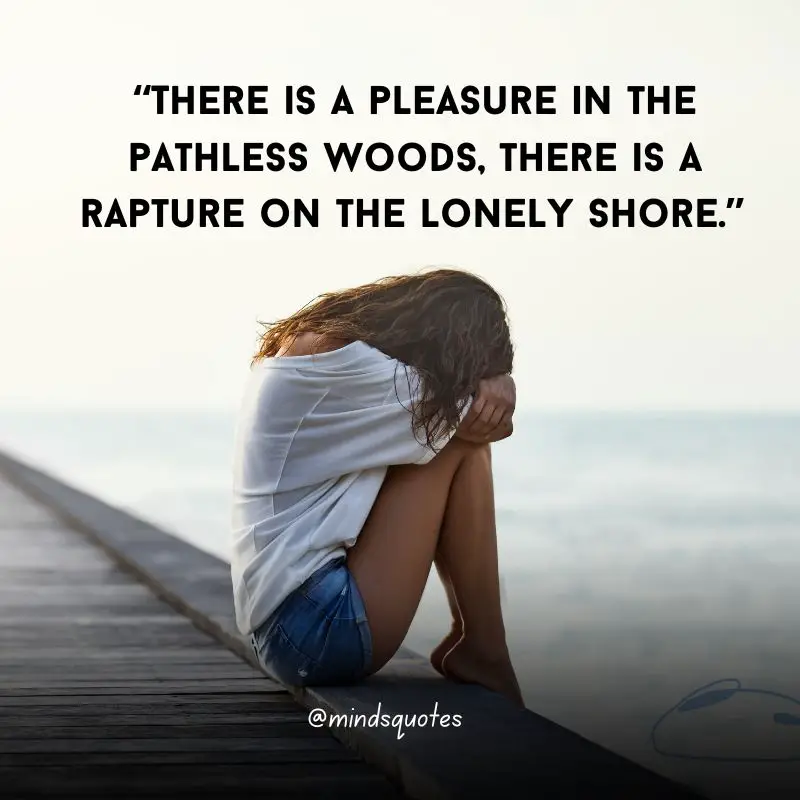 "Loneliness expresses the pain of being alone and solitude expresses the glory of being alone." – Paul Tillich
"When you feel like you're fighting alone in life that's when you should be fighting the hardest." – Janice Hung
"I never feel alone because loneliness is always with me."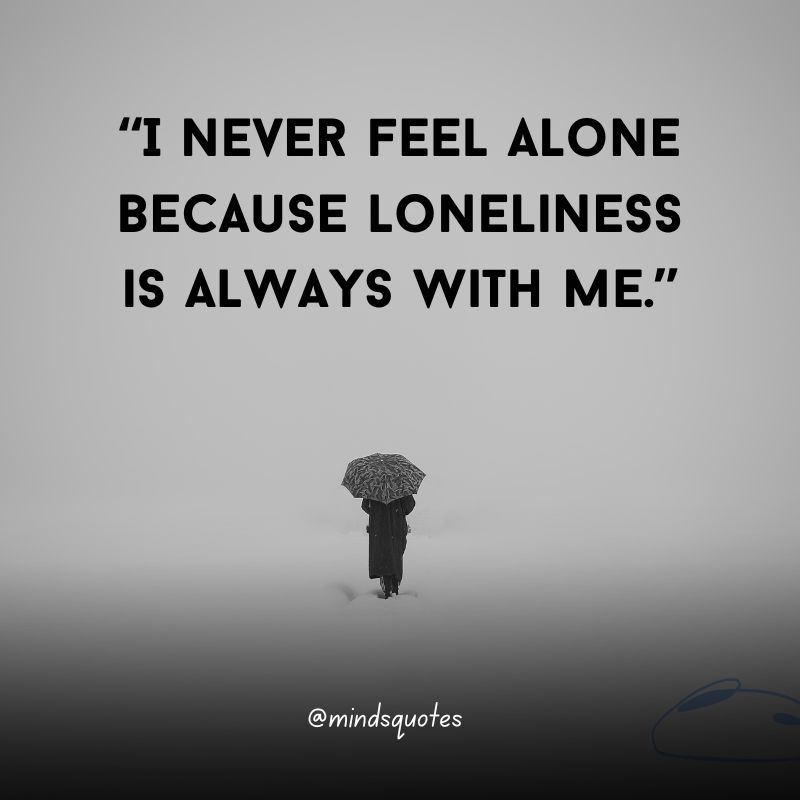 "The loneliness you feel with another person, the wrong person, is the loneliest of all." – Deb Caletti
"Absence makes the heart grow fonder, but it sure makes the rest of you lonely." – Charles M. Schulz
"It takes nothing to join the crowd. It takes everything to stand alone." – Hans F. Hansen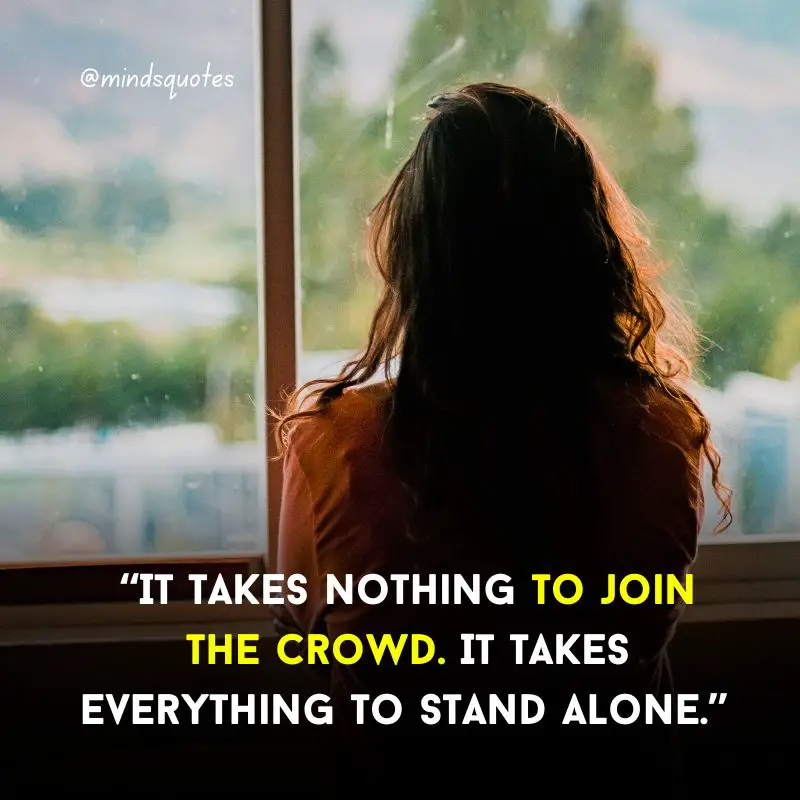 "The night can be a dreadful time for lonely people once their loneliness has started." – Ernest Hemingway
"The moon understands what it means to be human. Uncertain. Alone. Cratered by imperfections." – Tahereh Mafi
Home Alone Quotes
"All kids, no parents. Probably a fancy orphanage." – Harry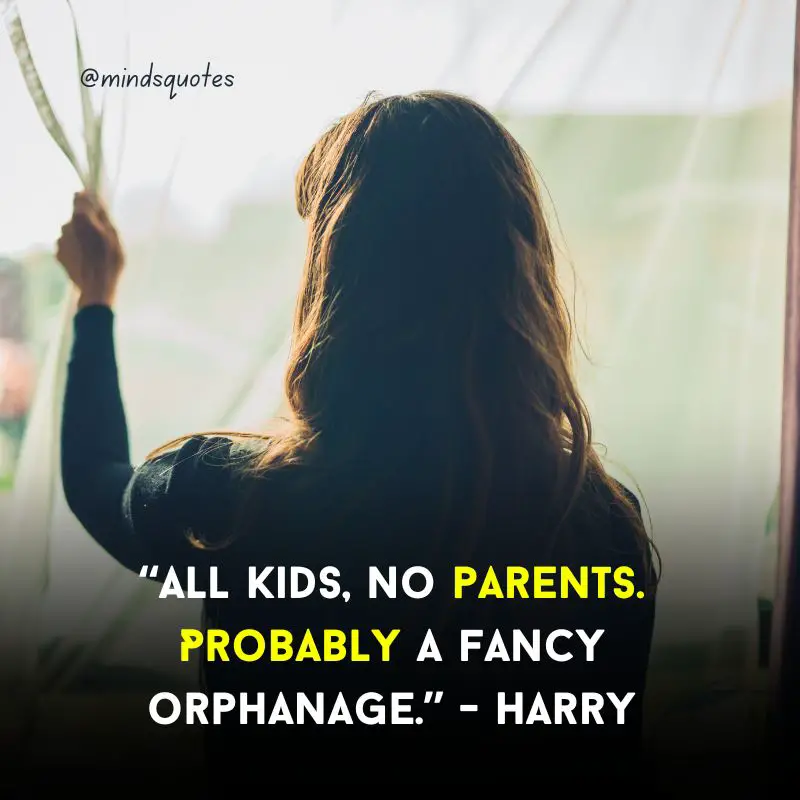 "Mom, does Santa Claus have to go through customs?" – Brooke
"Will you please tell Santa that instead of presents this year, I just want my family back." – Kevin
"You're not at all worried that something might happen to Kevin?" – Megan:
"Say… is it true French babes don't shave their pits?" – Buzz
"This is ridiculous. Only a wimp would be hiding under a bed. And I can't be a wimp. I'm the man of the house." – Kevin
"Kevin, you are such a disease." – Jeff
"There are 15 people in this house and you're the only one who has to make trouble." – Kate
"All the great ones leave their mark. We're the Wet Bandits!" – Marv
"Keep the change, ya filthy animal." – Gangster Johnny