Christmas wishes for Sister. A sister is the most precious gift to any brother's life. If you have a sister with you during the Christmas season, then you don't need anyone, not even Santa. We think Santa will come to us and give us the gift we want but if you have the most expensive gift on your side already. Enjoying Christmas with a beautiful sister makes you the luckiest person in the world.
Big sisters are always taking care, of and supporting us every moment. We should always respect them, love them and also support them when they need it. Some people have little cute sisters, love them, and take good care of them. So enjoy Christmas with your family and especially with your sister and make them proud to be your sister.
You have a sister and both of you grew up together and share so many memories. Because of your career or work you have to leave her behind. At Christmas time you have the chance to be together and enjoy the season and nothing makes you happy more than that.
Merry Christmas Wishes for Sister
"I hope the warmth of the Christmas season stays with you throughout the year. May God bless you my dearest sister. Have a lovely Christmas."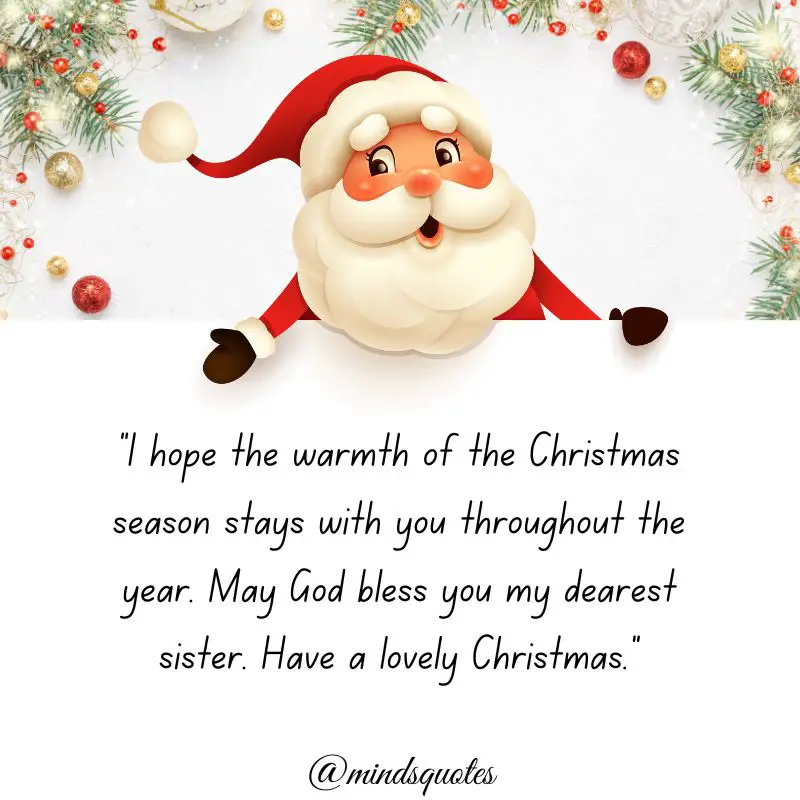 "Thank you for always taking care, loving, and supporting me. You are the best sister anyone could ever have. Wishing you a very merry Christmas."
"I appreciate you always being there to make me laugh when I was sad. May this Christmas bring you the things you have always wanted. Merry Christmas!"
"Hope you have a glittery and magical Christmas dear sister. May Lord bless you with all the good things in the world. Merry Christmas"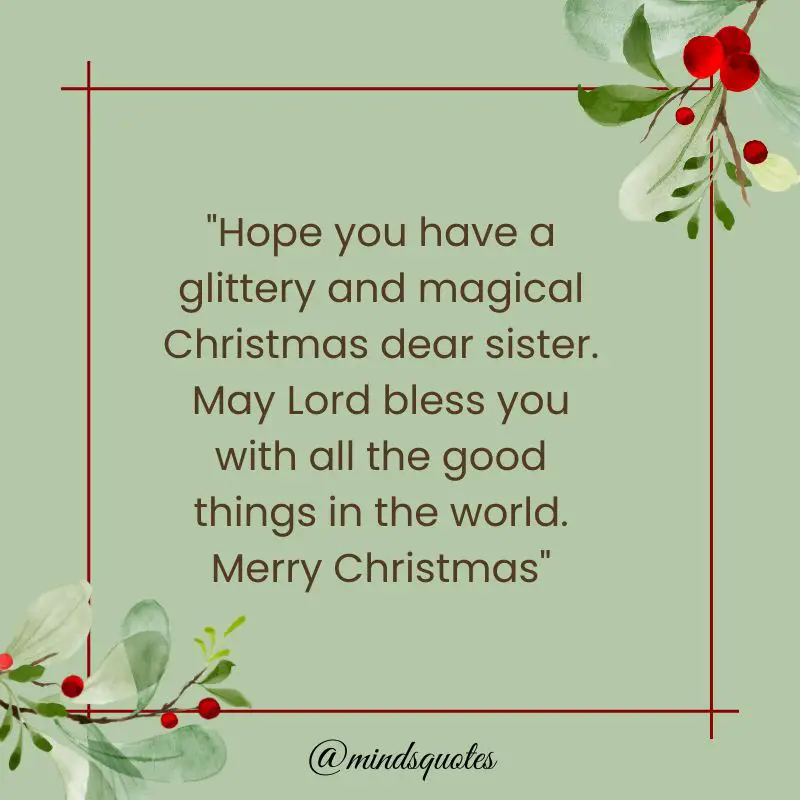 "I hope you get to spend an amusing Christmas and hope it brings all the happiness to you because you deserve it. A very merry Christmas to you, sister!"
"Merry Christmas to the most important person in my life! Thank you for being my constant support."
"A very merry Christmas to my constant person. I Hope this Christmas makes you happy the way you make me happy."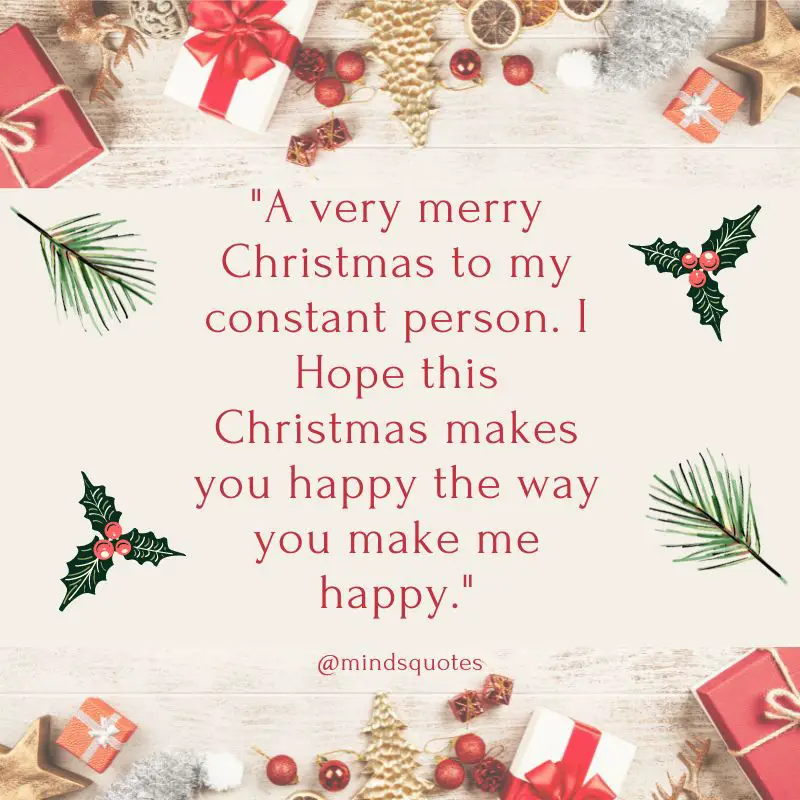 "I Hope you get all the things you wish for because you deserve it. You mean the most to me. Merry Christmas, dear sister."
"Thank you for being this wonderful. I hope your Christmas this year is filled with happiness. Merry Christmas."
"I Hope you have an excellent and joyous Christmas because you are the nicest sibling. I wish you a Merry Christmas."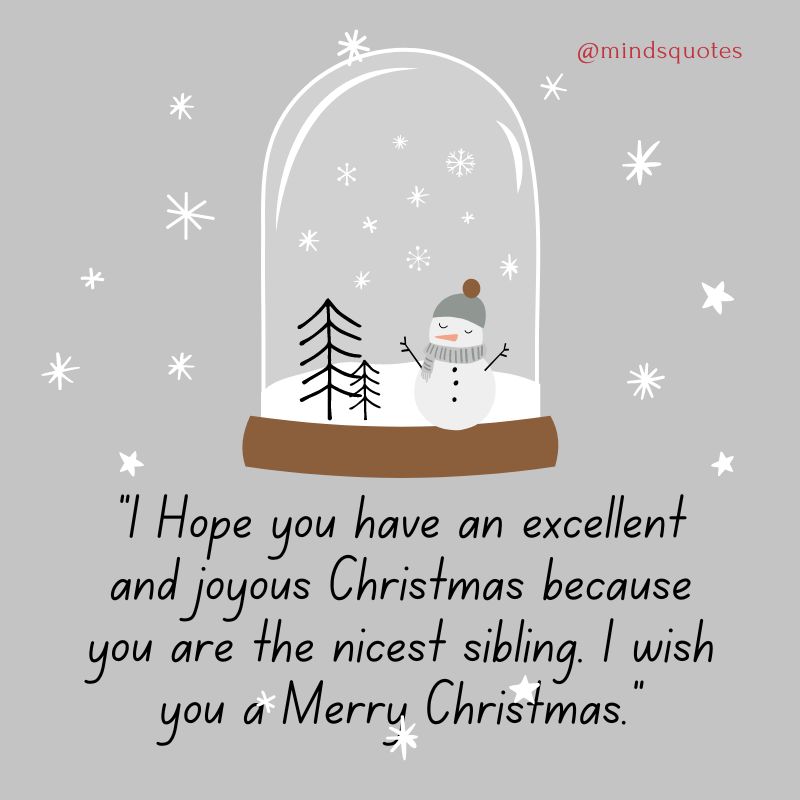 "I hope you like my presents and secretly admire them as I admire you always dear sister. Wish you a delightful Christmas and a great new year ahead."
"I have always wanted a brother to match my boxing skill, but you came and changed my life. Merry Christmas dear sister."
"Merry Christmas to the most fantastic sibling. Hope you get everything you asked for. Enjoy your holidays."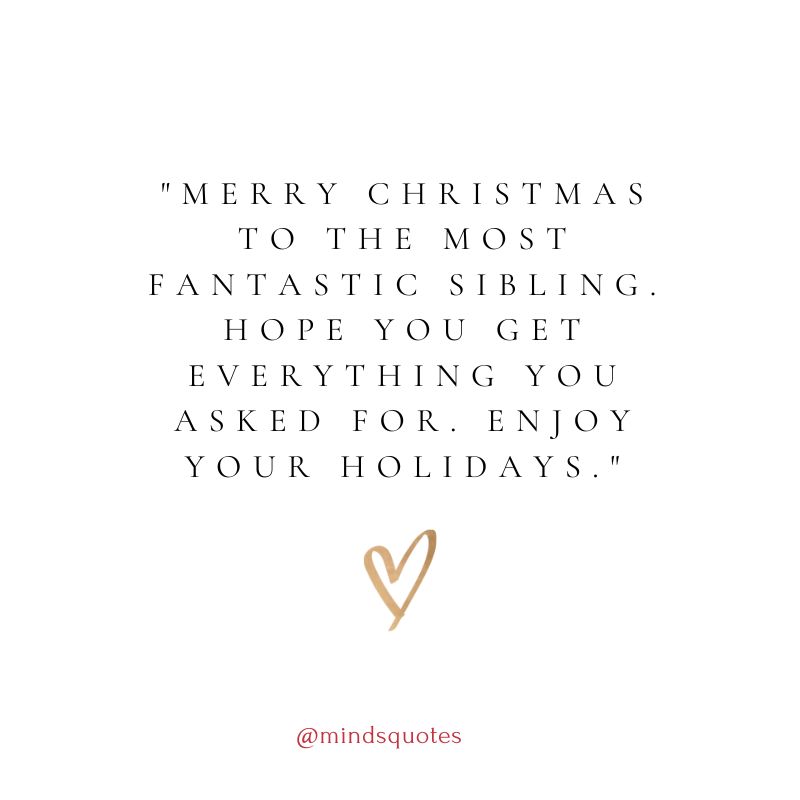 "It's a privilege to share my childhood with you. Merry Christmas my lovely sister. You are the best."
"The most precious gift Santa has given to me is a sister like you. Merry Christmas love. You are my favorite person. I hope I am yours too."
"The most exotic feeling for me is spending Christmas with my witty sister. Merry Christmas love."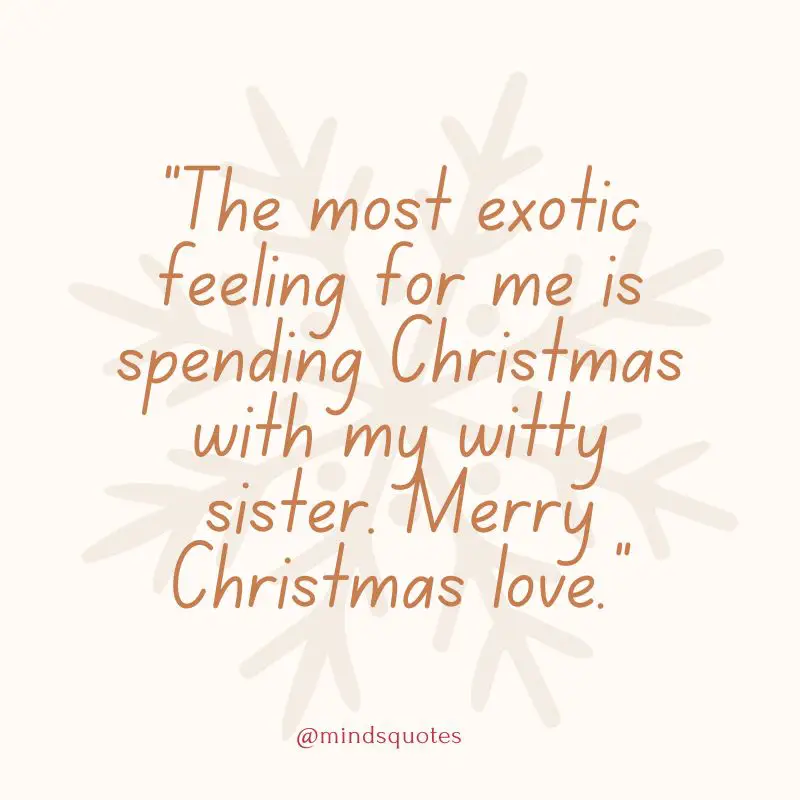 "My holiday will always be about our childhood and shared gifts. Have a lovely Christmas, my dear sister. You are my favorite."
"I hope Santa gives you the most charming gift to my sister because she is the prettiest girl on earth. Have a very happy Christmas."
"I hope this Christmas brings you and your family happiness, prosperity, and good health. Merry Christmas to all of you."
"Christmas does not feel like Christmas unless we get together and decorate the holy tree. Merry Christmas dear sister. Love and wishes for your family."
"Merry Christmas to the most beautiful woman and her charming family. Now just ask your sibling to have Christmas dinner at your place please."
"Dear sister, I'm thinking of you this holiday season. Best wishes and a very merry Christmas to you and your family."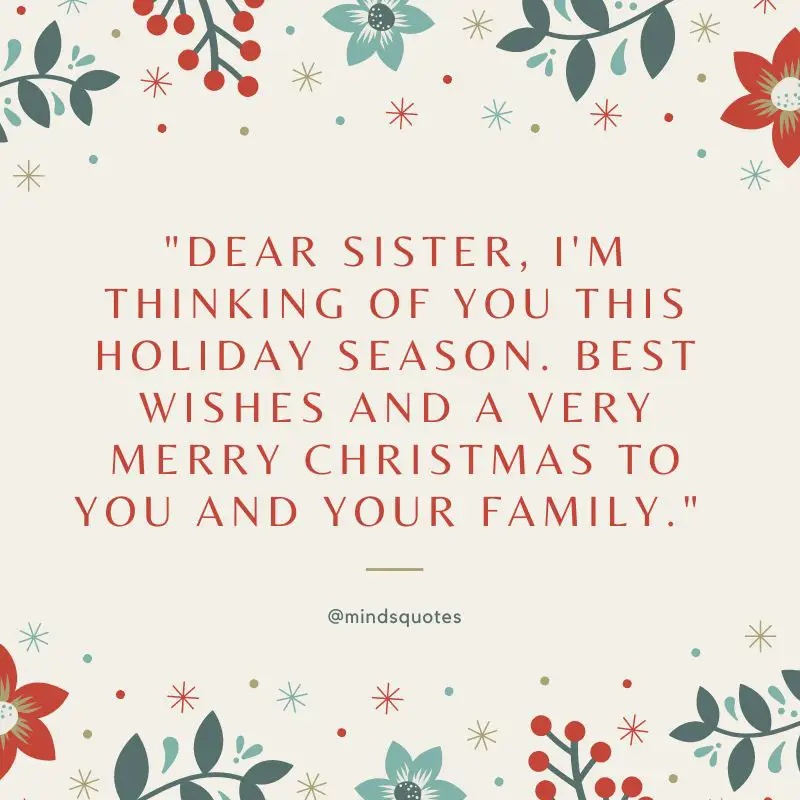 "Here's to the fun Christmas we have celebrated in our childhood. Hope you and your lovely family are enjoying it to the fullest this year. Merry Christmas sissy."
"Wishing my favorite people a merry Christmas. Sending warm hugs to you and your family."