Earth Day Quotes are a powerful way to raise awareness about environmental issues and encourage people to take action. we all know that Earth is the planet we are living on and we can call it home in this entire universe. We must protect the ecosystem, nature, and everything in it. not for ourselves we have to save the earth for the next generation.
Every year April 22 is a day people worldwide celebrate as earth day. Several events are arranged to raise awareness about the conservation of nature and protect the environment. In the year 1970, earth day was celebrated for the first time and now more than 200 countries celebrate the day every year.
education is the key to preserving this planet for the future. Here we collected some of our best Earth Day Quotes, wishes, and messages to help you understand the importance of saving the environment. We hope these quotes will encourage you to do your part to protect the earth.
You May Also Enjoy Our Article on:
Earth Day Quotes
Earth Day is a way to show your love and appreciation for mother earth. These Earth Day Quotes are from environmentalists to celebrities to help you express your thoughts about the earth.
These Earth Day Quotes are all about celebrating our planet and everything that gets from it and also everything that makes it special. The Earth is so beautiful and amazing place we are living in and it is a miracle that we exist in a place like this. To protect the earth whatever it takes.
"The Earth is a fine place and worth fighting for." – Ernest Hemingway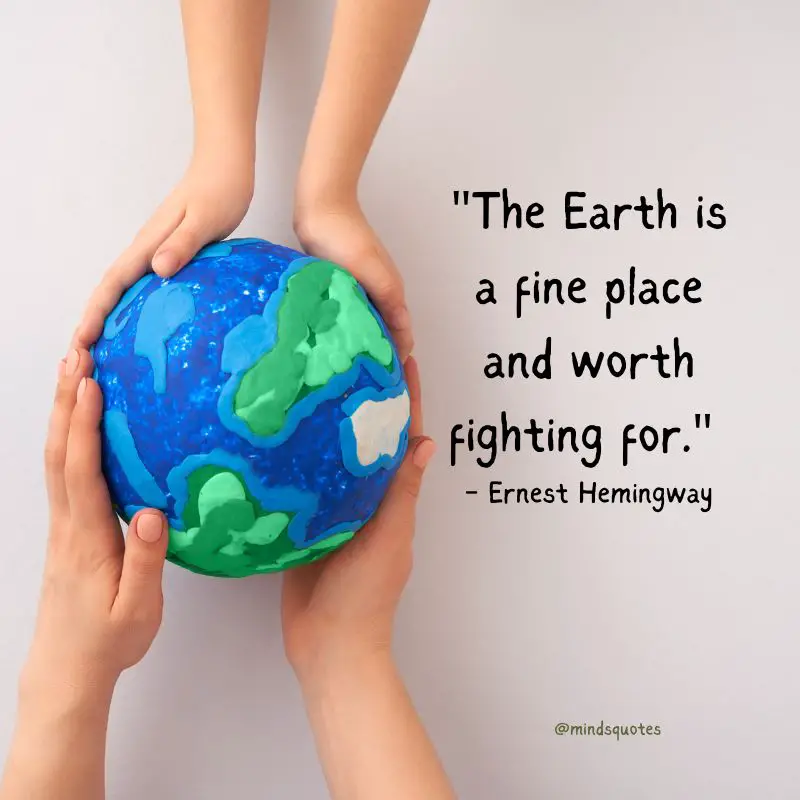 "The environment is where we all meet; where we all have a mutual interest; it is the one thing all of us share." – Lady Bird Johnson
"The Earth will not continue to offer its harvest, except with faithful stewardship. We cannot say we love the land and then take steps to destroy it for use by future generations." – John Paul II
"The environment and the economy are really both two sides of the same coin. If we cannot sustain the environment, we cannot sustain ourselves." – Wangari Maathai
"The earth is what we all have in common." – Wendell Berry
"Nothing is more beautiful than the loveliness of the woods before sunrise." – George Washington Carver
"What's the use of a fine house if you haven't got a tolerable planet to put it on." – Henry David Thoreau
"We abuse land because we regard it as a commodity belonging to us. When we see land as a community to which we belong, we may begin to use it with love and respect." – Aldo Leopold
"The environment is everything that isn't me." – Albert Einstein
"The greatest threat to our planet is the belief that someone else will save it." – Robert Swan.
"We do not inherit the earth from our ancestors, we borrow it from our children." – Native American Proverb
"The ultimate test of man's conscience may be his willingness to sacrifice something today for future generations whose words of thanks will not be heard." – Gaylord Nelson
Earth Day Wishes
Earth Day Wishes to celebrate with each other all those wonderful things we get from the earth. Wish others on the day to be aware of the crisis of earth. The main purpose of the day is to promote to protect the environment. A worm wish can make people participate to protect the earth and encourage others to do the same.
"Mother Earth provides enough to satisfy every man's need, but not every man's greed. Happy Earth Day!"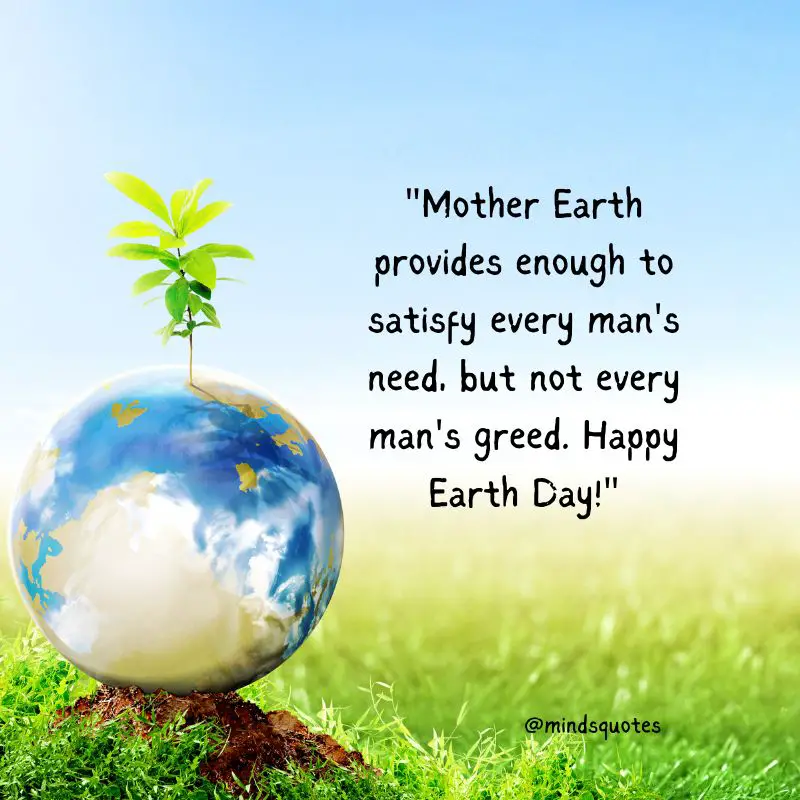 "You don't have to be a Superman, be Captain Planet! Let's save mother earth together."
"Happy Earth Day 2023! May we all work together to create a world where our planet and all its inhabitants can thrive."
"let's celebrate the beauty and wonder of our planet and recommit to protecting it for generations to come. Happy Earth Day!"
"On this day, let's do our parts and make the earth greener and more liveable. Warm Wishes on Earth Day."
"Wishing you a happy Earth Day filled with gratitude for our planet and a renewed commitment to taking care of it."
"Let the trees grow freely as you do on this earth. Save the planet in whatever way you can. Happy Earth Day!"
Earth Day Messages
Earth Day Messages are a good way to give people some advice to care for nature and the environment. A simple but meaningful message can change the world. On Earth, day shares some good messages about the Earth to inspire people to protect it. the messages you share can make people think about the issues that impact our planet.
"Happy Earth Day! Let's continue to work together to protect and preserve our planet for future generations."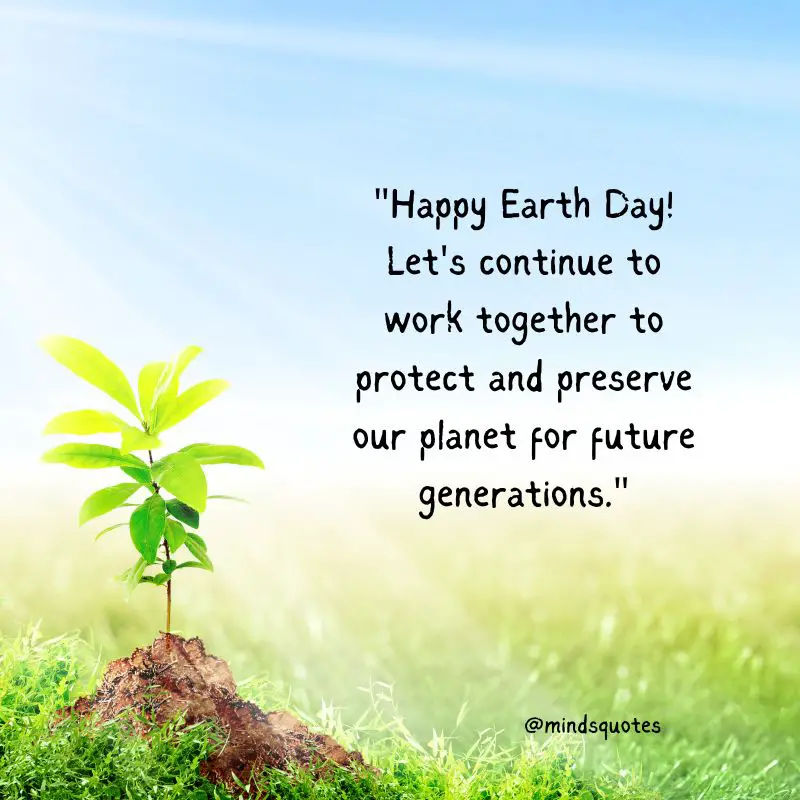 "Take good care of your Earth Earth Protect us We must Protect it too. Happy Earth Day 2023!"
"On this Earth Day, let's take a moment to appreciate the beauty of our planet and commit to doing our part to keep it healthy and thriving."
"The proper use of science is not to conquer nature but to live in it. Happy Earth Day!"
"Let us take a vow to protect mother earth by doing our parts. Every small effort counts. Happy Earth Day!"
"Create a greener world before it becomes a fantasy for the next generation. Happy Earth Day!"
"Here's to a happy and sustainable Earth Day 2023! May we all make choices that promote a healthy planet and a brighter future."
Earth Day Slogans
Earth Day Slogans are the perfect and powerful way to tell people about the issues of the earth. It's also a way to motivate others to protect it. People all around the world held several events and rallies to aware people the condition of the earth is not very well. Here are some of the latest Earth Day Slogans for the day.
"Keep Calm and Save the Earth"
"Go Green or Go Home"
"Reduce, Reuse, Recycle"
"Be the Change for a Greener World"
"Let's Make Every Day Earth Day"
"Save the Planet, Save Ourselves"
"Protect our Species, Preserve our Planet"
Earth Day Captions
Earth Day Captions is an easy and most approachable way to spread awareness about earth issues on the internet. Captions with images are short and to the point line which makes people think about the issues that we all facing right now. It is also the fastest way to tell the world about the day and its purpose. We hope these Earth Day Captions will help you spread the information about the day.
"It's time to take action and create a sustainable future for all. Happy Earth Day!"
"The Earth provides us with everything we need, let's give back by protecting and preserving it."
"Happy Earth Day 2023! Let's appreciate and protect our beautiful planet every day."
"Every small action counts when it comes to protecting our planet. Happy Earth Day!"
"Let's celebrate this Earth Day by committing to living more sustainably and protecting our planet."
Conclusion
This blog post is a collection of Earth Day Quotes, Wishes, Messages, Slogans, and Captions to aware people of the day. Celebrate the day with your friends and family to save the earth. We hope the article will make you feel encouraged. Please like and share it on your social media platform and comment to us if you have a better solution on how to save the earth.