Tax Day Quotes will inspire and motivate you to get your taxes done on time. For regular people and businesses, the United States realizes a variety of taxes. Federal income tax, payroll taxes, and state, and local taxes are some of the most common tases. There are also some certain goods and services excise taxes imposed by the federal government.
This year April 18 is the due date to pay taxes in the United States but some taxpayers can file for an extension if they have any issues. For accountants and tax preparers, it is a very busy day.
We believe these Tax Day Quotes, Wishes, and Messages can help you reduce the stress of tax season. these quotes are from some famous people.
You May Also Enjoy Our Article on:
Tax Day Quotes to Inspire and Motivate
Tax day is a time to pay the government for its services. For many people, tax day is a feared event. People have to calculate their taxes, gather all paperwork, and submit them on time. It's a lot of work and it can be a headache.
There are lots of Motivational and Inspirational Tax day Quotes to help you reduce your stress and give you a relaxing feeling to get through it. you have to take a break and read some Tax Day quotes to help yourself get your tax done.
"In this world, nothing can be said to be certain, except death and taxes." – Benjamin Franklin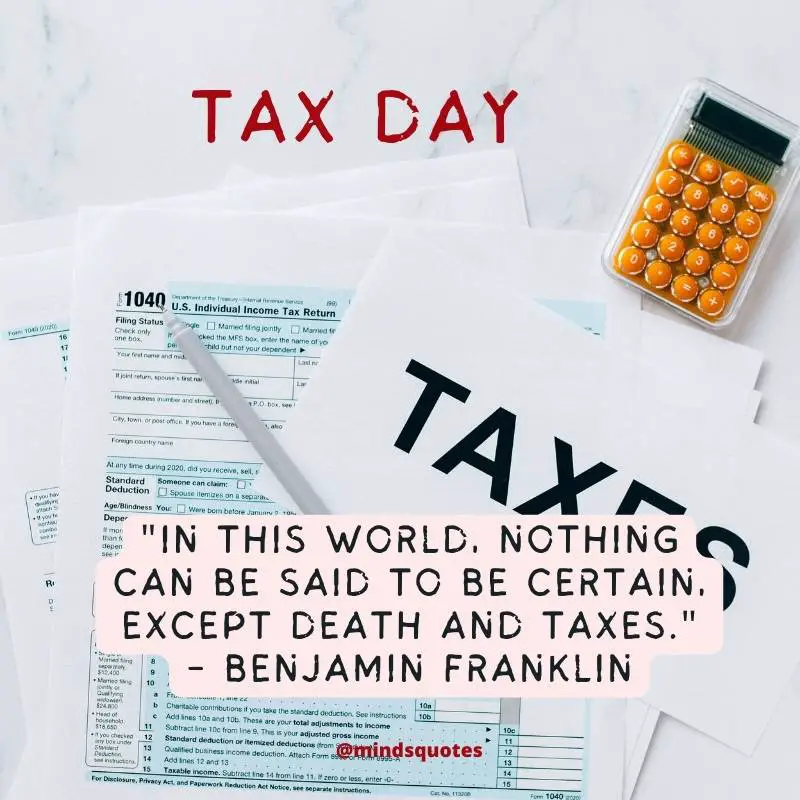 "Taxes are the price we pay for a civilized society." – Oliver Wendell Holmes Jr.
"I am proud to be paying taxes in the United States. The only thing is, I could be just as proud for half of the money." – Arthur Godfrey
"Taxation with representation ain't so hot either." – Gerald Barzan
"The income tax has made more liars out of the American people than golf has." – Will Rogers
"The avoidance of taxes is the only intellectual pursuit that still carries any reward." – John Maynard Keynes
"The hardest thing in the world to understand is the income tax." – Albert Einstein
"There is no such thing as a good tax." – Winston Churchill
"Paying taxes is not a punishment. It's a responsibility." – Chris Matthews
"Taxes grow without rain." – Jewish Proverb
Tax Day Messages
Tax Day Messages will tell you lots of things about taxes. these are some words from people to encourage you for the day. And also show your rights and responsibilities on the day.
Reading some Tax Day Messages is the better way to procrastinate on that inevitable task. Clear your tax before you get late and avoid the extra penalty and trouble from the federal government.
"Taxes are the price we pay for living in a civilized society. So, let's pay our dues with integrity and honesty. Happy Tax Day!"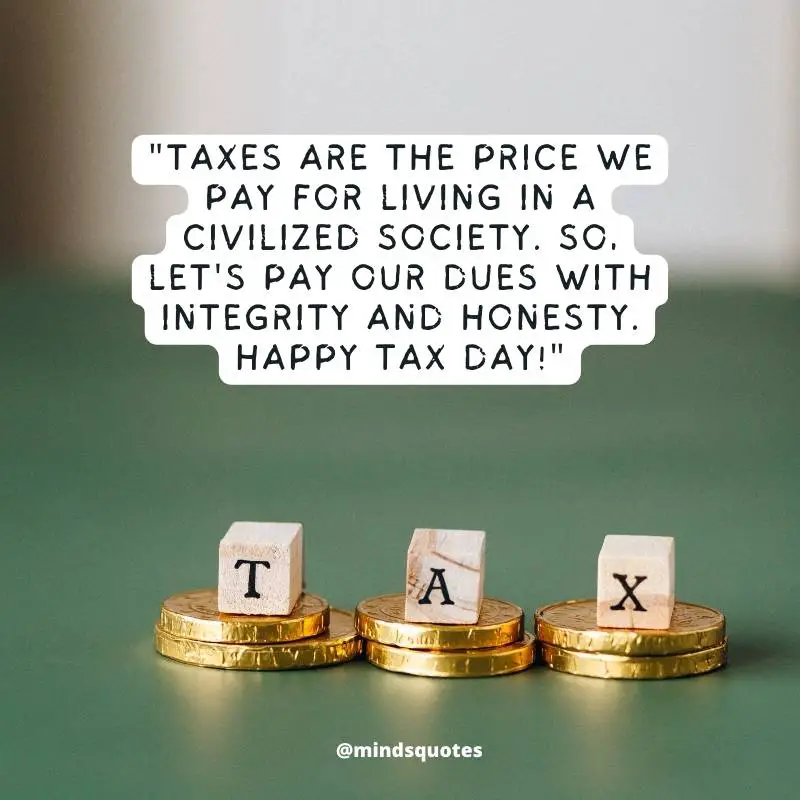 "May your tax filing process be smooth and stress-free, and may you find all the deductions and credits available to you. Happy Tax Day 2023!"
"May this Tax Day bring you peace of mind, knowing that you have fulfilled your civic duty and contributed towards building a better future for all. Happy Tax Day!"
"It's Tax Day! Don't forget to file your taxes and pay your dues. Let's all do our part to contribute to our nation's progress and development."
Tax Day Wishes
Tax Day Wishes will help you get through it with a smile on your face. we all know tax day can be a pain but it also has some positive sides too.
On the Day We want to wish you a happy tax day! It is not a fun day but it is not a hard day if you clear your tax on time. we also wish those people who are working in the tax department to collect all taxes on time to make the country a better place.
"The art of taxation focuses on pulling out the maximum number of feathers from a bird by hurting it the least so that she doesn't shout. Happy Tax Day."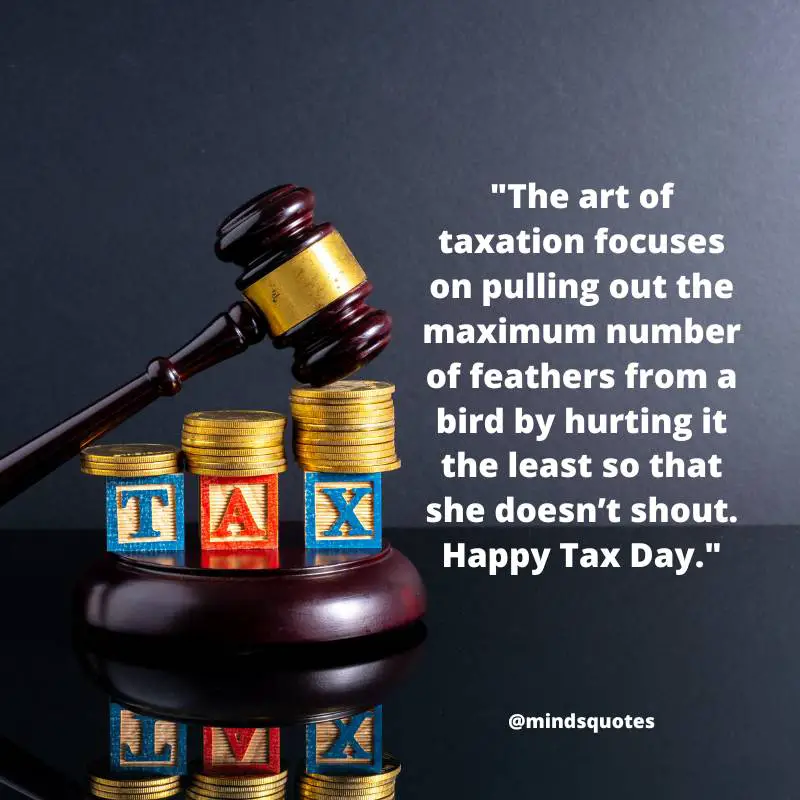 "Wishing you a successful Tax Day, filled with accurate calculations, timely submissions, and a sense of pride in contributing towards the greater good of our nation."
"You are not earning more to party more…. you are earning more to pay more taxes. So beware when your earnings increase. Happy Tax Day 2023."
"One of the hardest things to understand in this world is the taxation system. You really need to be very smart at dealing with it. Happy Tax Day."
Conclusion
This post is a collection of Tax Day Quotes, Messages and Wishes. The post is for encourage you for the day and help you understand the value of the day. Like and comment your thoughts about the day and share this post on your social media platform to let know others.