Hate Quotes are everywhere, and they're usually a response to something that's happening in the world. They can be a way to show support for airing out your grievances with the world. Whatever the reason may be, hate quotes are a way for people to express their feelings about something or someone.
No one ever said that life was going to be easy. When you're surrounded by hate, it can be difficult to find the courage to keep going. But with the right attitude, you can use those hateful words as motivation to push yourself harder and achieve your goals. Here are some famous Hate Quotes In English to help get you started.
Hate Quotes
Hate Quotes are the perfect way to let the world know what you think or don't think of someone or something. Everybody hates something or somebody, and hate quotes way to express that feeling. They can be humorous, sardonic, or downright angry, but they always succinctly sum up your feelings in a few powerful words. The negative effects of hate quotes can be devastating. They can ruin relationships, lead to violence, and even cause death. But the positive effects are the opposite, it helps you think positively. If you have any serious issues in this field of hatred, then Consult with any professional before it's late.
"I think that hate is a thing, a feeling, that can only exist where there is no understanding." – Tennessee Williams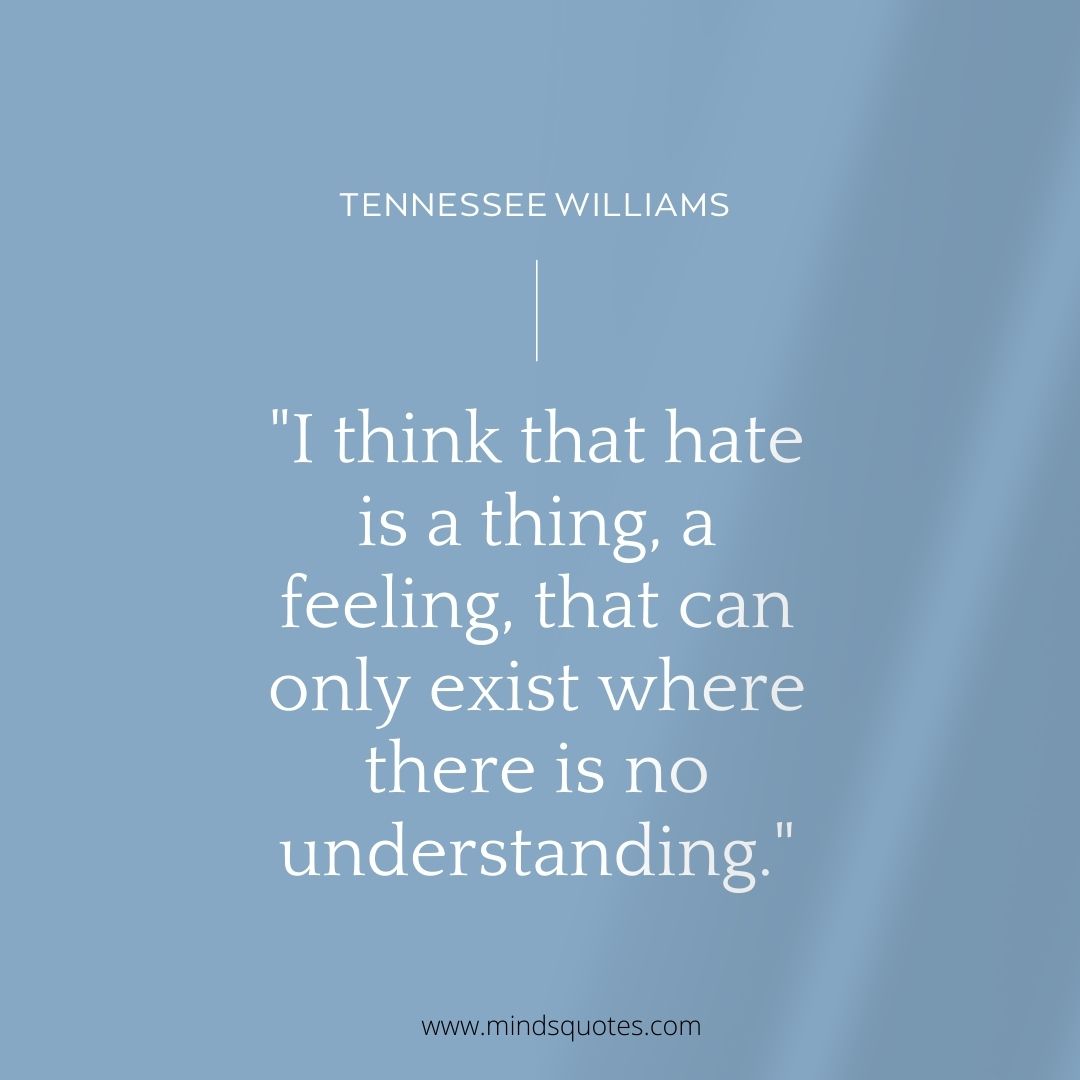 A person hates you for 1 of 3 reasons. 1) They want to be you. 2) They hate themselves. 3) They see you as a threat.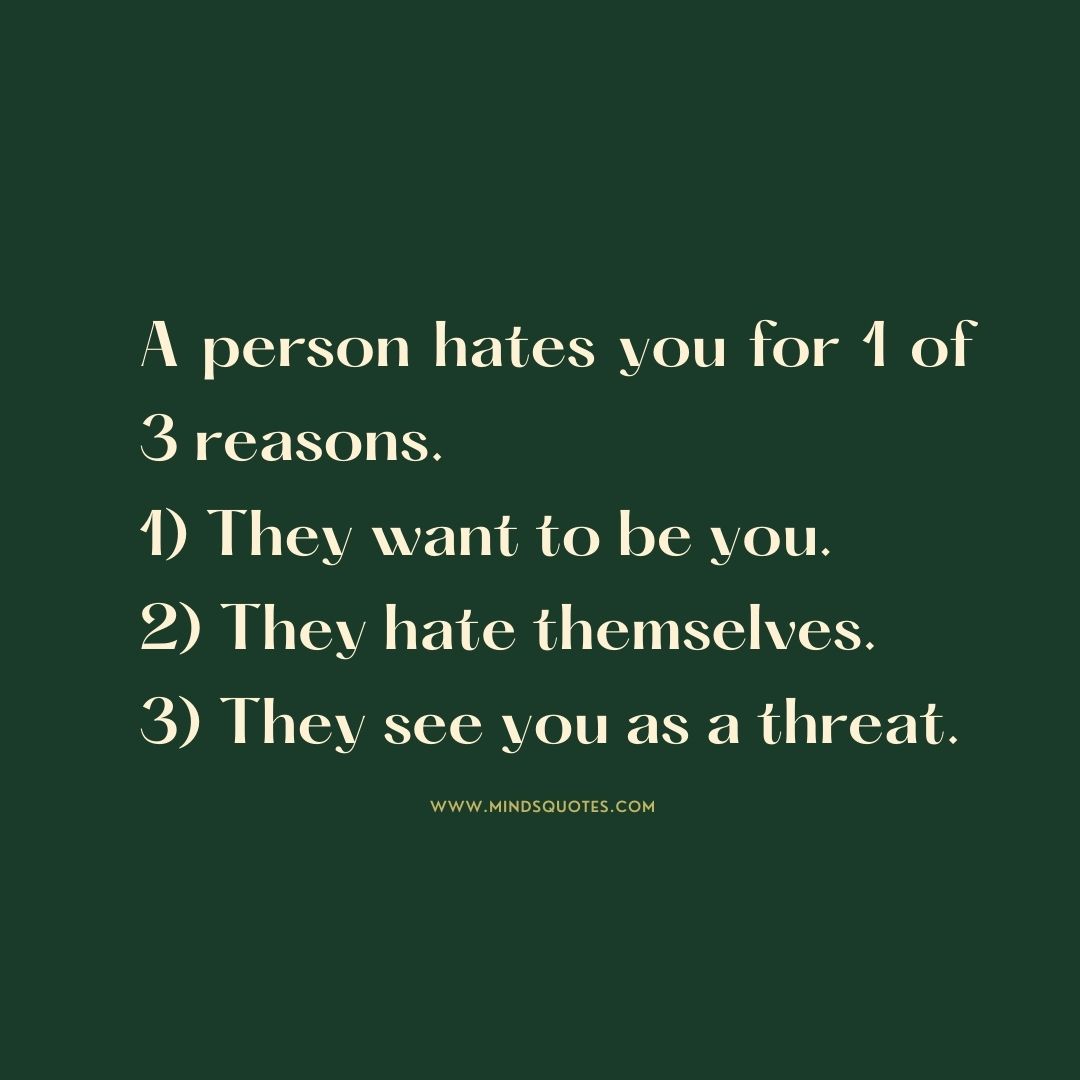 "Hating people is like burning down your own house to get rid of a rat." – Henry Emerson Fosdick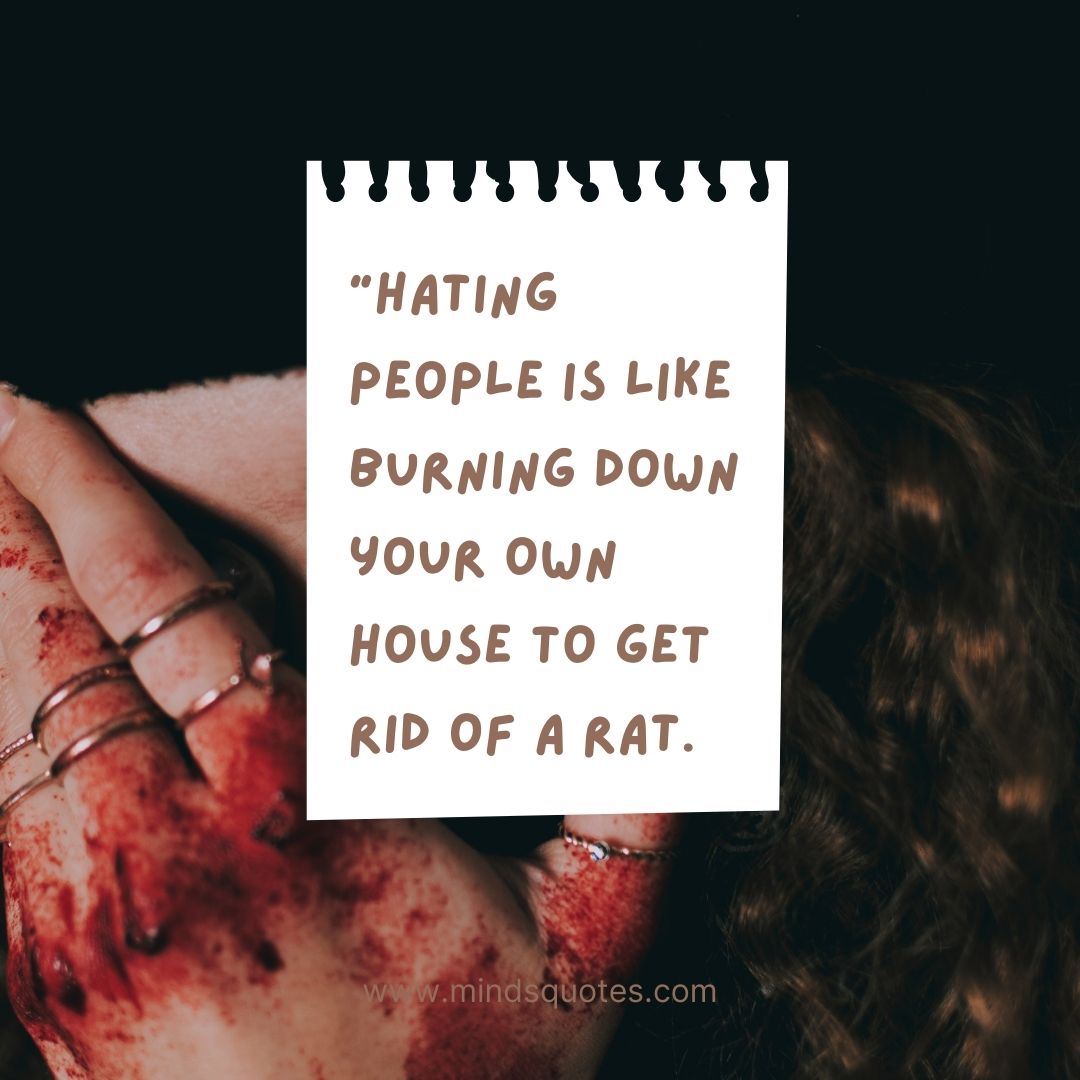 "I have decided to stick with love. Hate is too great a burden to bear." – Martin Luther King, Jr.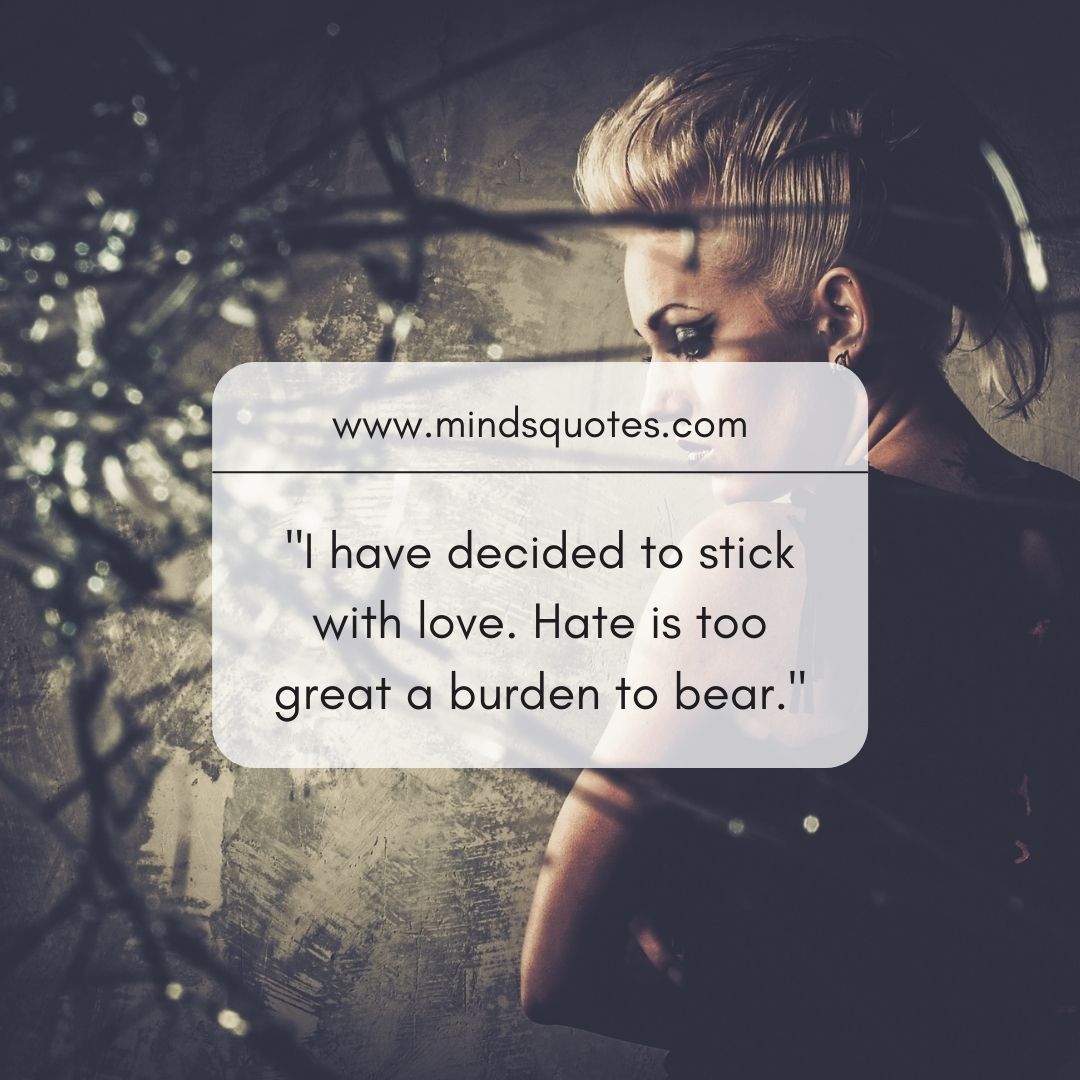 "If you hate a person, you hate something in him that is part of yourself. What isn't part of ourselves doesn't disturb us." – Hermann Hesse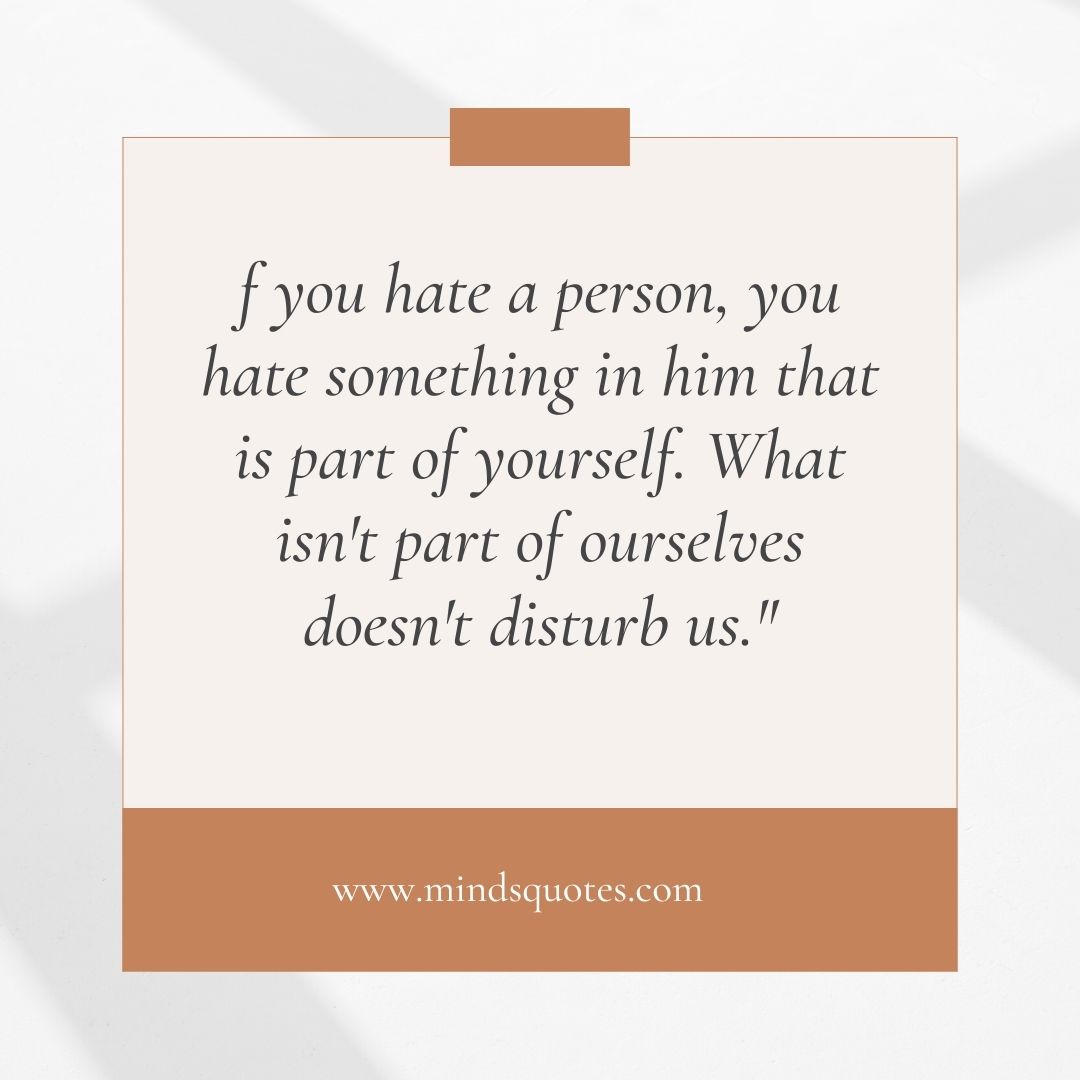 "We hate some persons because we do not know them, and will not know them because we hate them." – Charles Caleb Colton
"Hate is like water in a dry gulch. The longer it runs, the deeper it digs." – Ken Alstad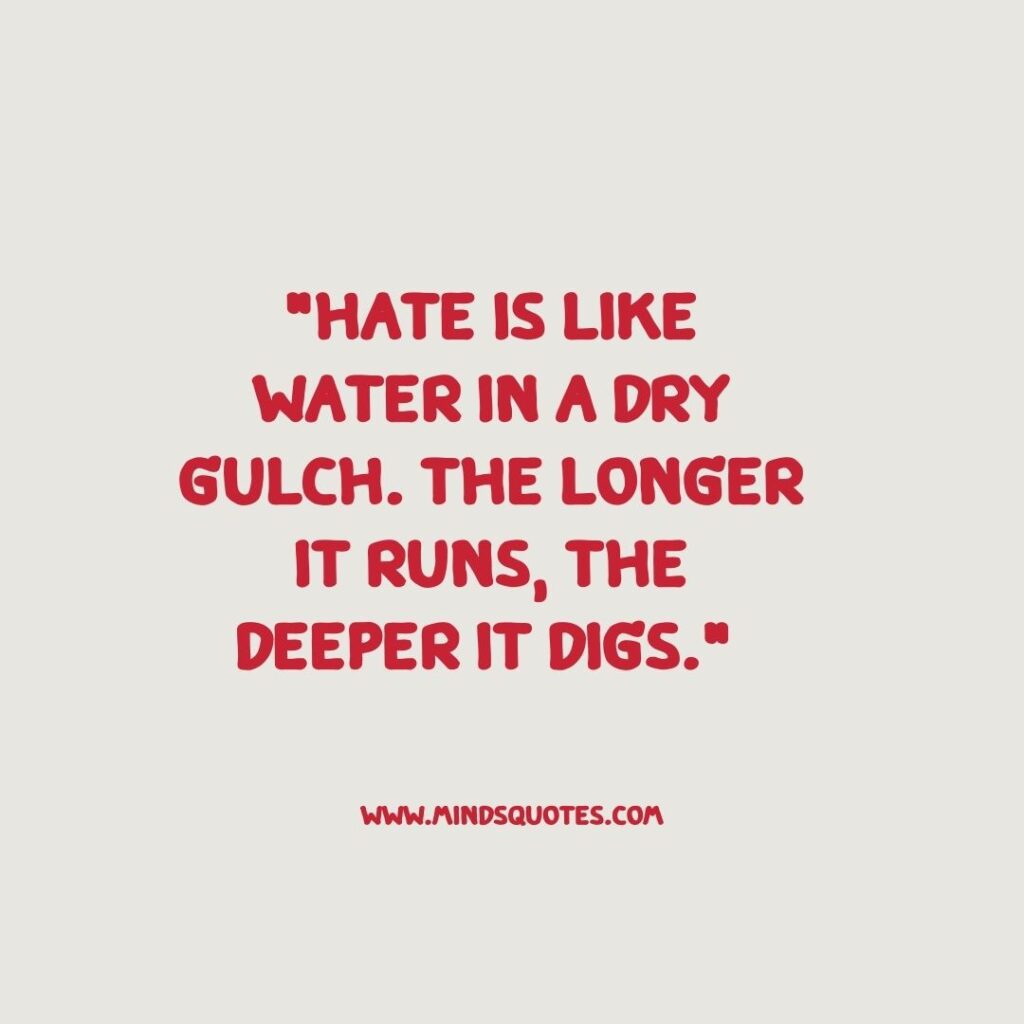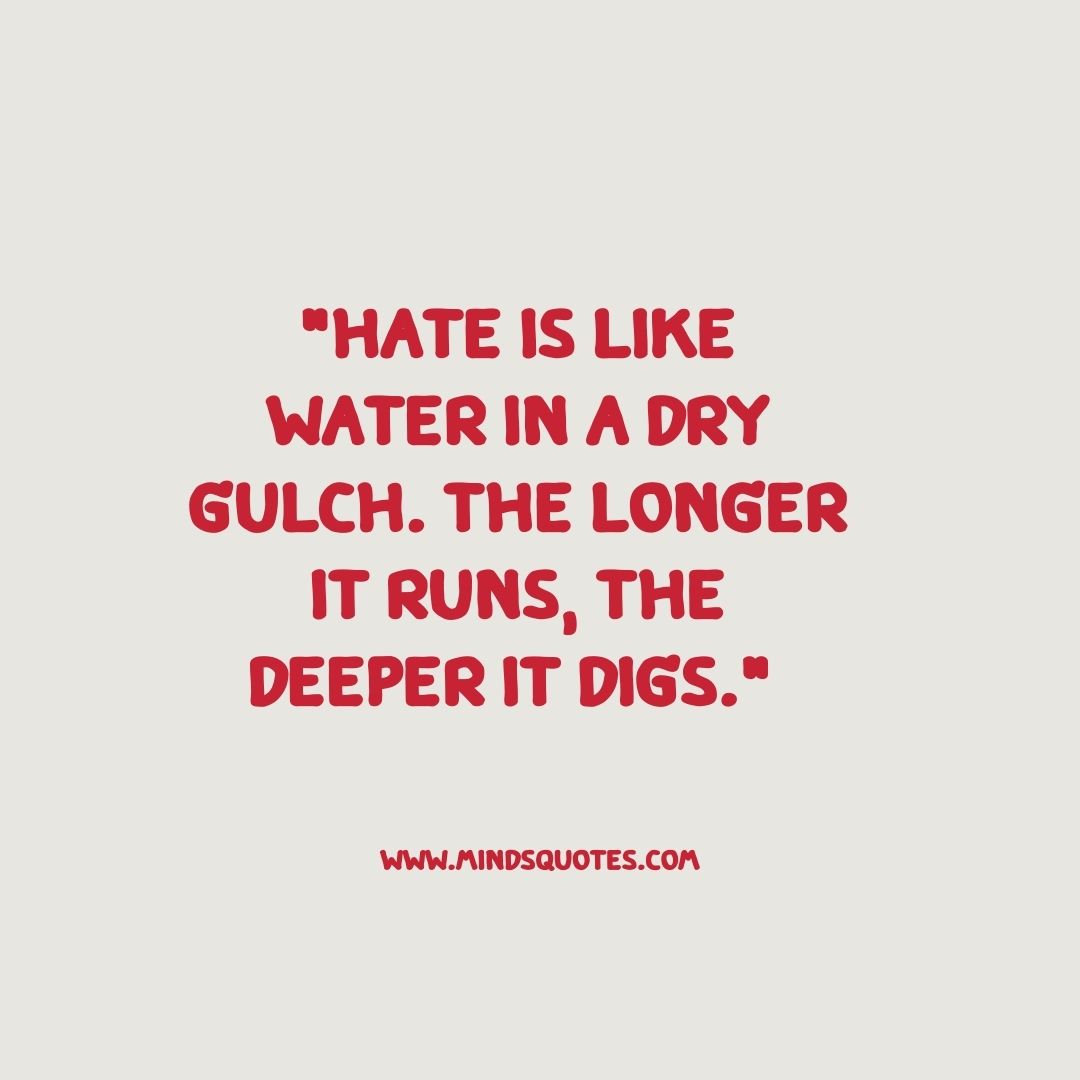 "The price of hating other human beings is loving oneself less." – Ken Alstad
"Hatred comes from the heart; contempt from the head; and neither feeling is quite within our control." – Arnold Schopenhauer
"The hatred of those who are near to us is most violent." – Tacitus
"Hate is always a clash between our spirit and someone else's body." – Cesar Pavese
"Hate is the consequence of fear; we fear something before we hate it; a child who fears noises becomes a man who fears noises." – Cyril Connolly
"All men kill the thing they hate, too, unless, of course, it kills them first." – James Thurber
"It is easy to hate and it is difficult to love. This is how the whole scheme of things works. All good things are difficult to achieve, and bad things are very easy to get." – Confucius
"Success makes so many people hate you. I wish it wasn't that way. It would be wonderful to enjoy success without seeing envy in the eyes of those around you." – Marilyn Monroe
"Throughout life people will make you mad, disrespect you, and treat you badly. Let God deal with the things they do, cause hate in your heart will consume you too." – Will Smith
"If you pay too much attention to hate, they win…they bring you down. Too much love in the world to deal with that nonsense. Be positive." – Justin Bieber
Hate Quotes for Love
"Love and hate are two of the strongest emotions we feel in relationships." – Ava Max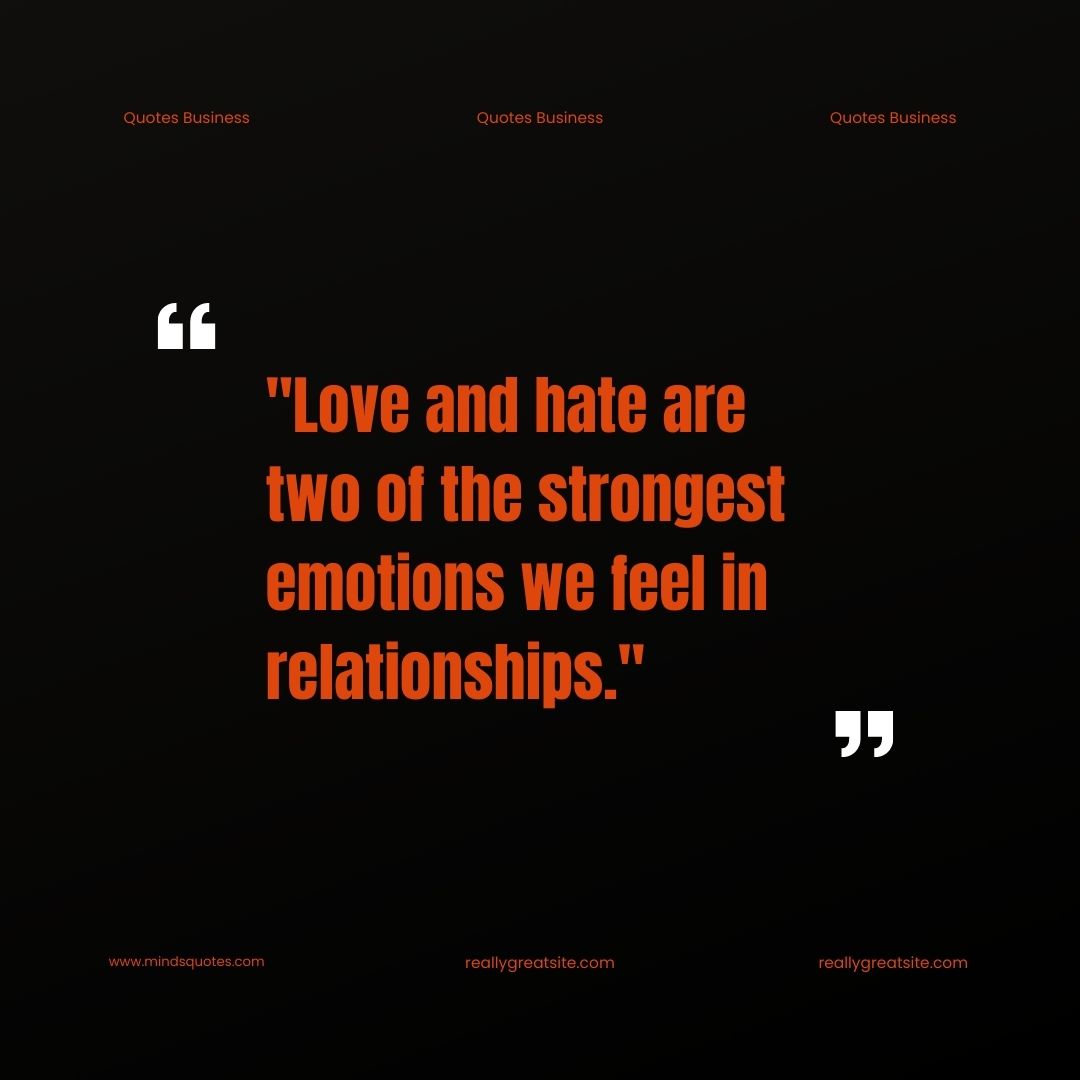 "No one can hate you more than someone who used to love you." – Rick Riordan
"We just became strangers who knew each other really well."
"Love and hate cannot be avoided. You cannot feel one without the other too."
"The end of love looks like the beginning of the war" – Bangambiki Habyarimana
"I hate you because I love you, and you let me down."
"Jealousy is just loved and hate at the same time." – Drake
"You hold my hand for a while, but you hold my heart forever."
"I have a love-hate relationship with radiation." – Steven Magee
"I need you like a heart needs a beat."
"For me, I love and hate Costco. I think it's ruined America and made America great." – Jonathan Krisel
"Everything that I understand, I understand because I love you."
Haters Quotes in English
"Haters don't hate you. They hate themselves because you're a reflection of what they wish to be. Poor, confused people."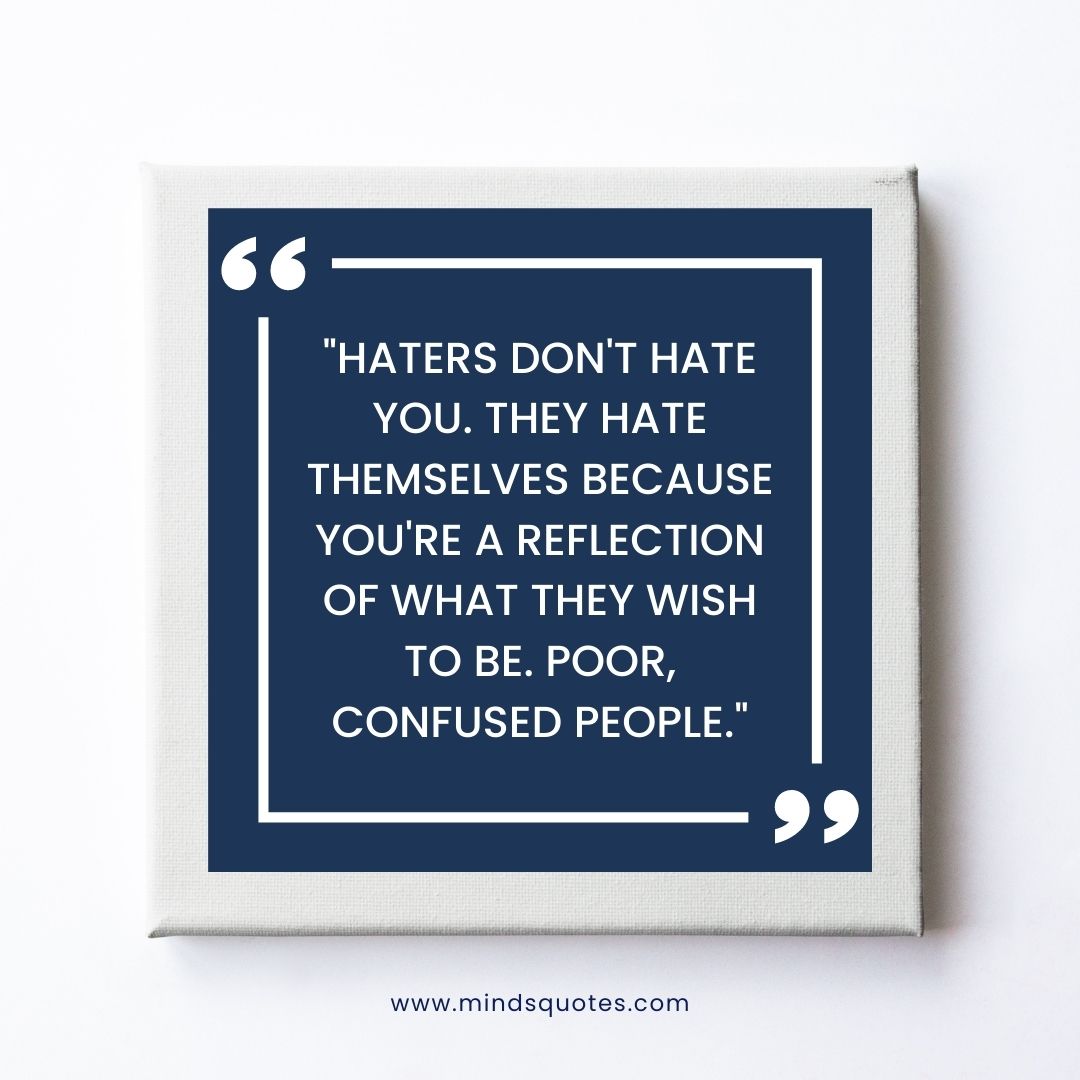 "Envy is a symptom of a lack of appreciation of our own uniqueness and self-worth. Each of us has something to give that no one else has." – Elizabeth O'Connor
"Gossip is just a tool to distract people who have nothing better to do from feeling jealous of those few of us remaining with noble hearts." – Anna Godbersen
"Chances are that when someone is hating on you, it's not about you at all. It's about them. It's their fear, their jealousy, their boredom, and their insecurity."
"People lie, things change, boyfriends cheat, friends ditch and there are always going to be those people who would kill to see you fall."
"Never hate people who are jealous of you, but respect their jealousy because they're the ones who think you're better than them."
"Sometimes people in your life will try to expose what's wrong with you because they can't handle what's right with you!"
"I don't give anyone a reason to hate me. They create their little Drama of pure Jealousy."
"Whatever you do, if you are successful, do not let the haters cut you. When you start bleeding, there will be hungry wolves out to come to get you and will attempt to take your true talent."
Hate Captions
"Hatred makes us all ugly." – Laurell K. Hamilton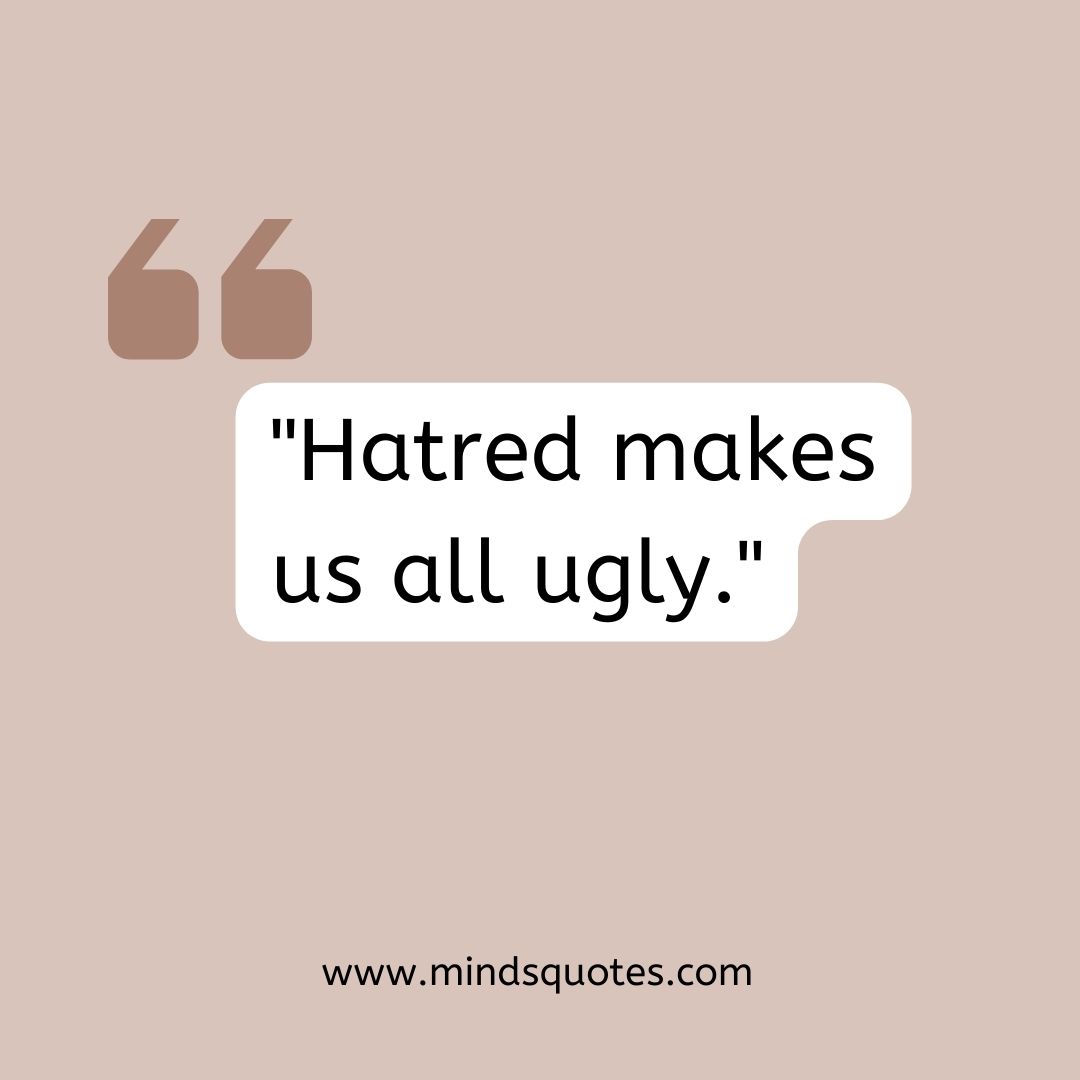 "Hate less, live longer." – Terri Guillemets
"Hate brings to men wars and fear!" – Gertrude Buckingham
"We love without reason, and without reason we hate." – Jean Francois Regnard
"When we don't know who to hate, we hate ourselves." – Chuck Palahniuk
"Hate cages all the good things about you." – Terri Guillemets
"From the deepest desires often come the deadliest hate." – Socrates
"Haters don't have their own lives. Why? Because they are so focused on living in yours."
"Thanks to all of you who talk bad about me, thanks for making me the center of attention."
Hate Caption for Instagram
"You mostly don't have haters of you, but mostly you have haters of your success."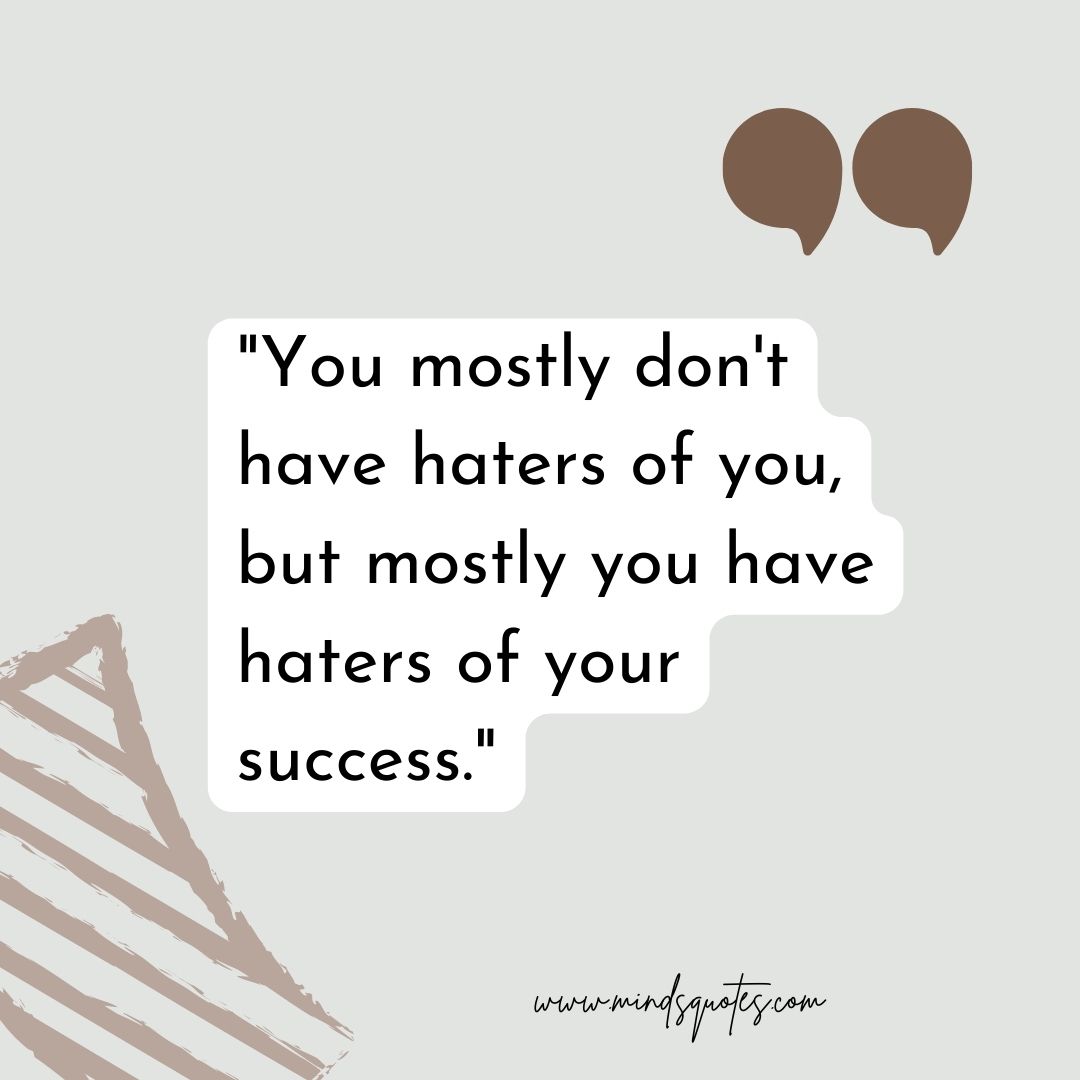 "Dear haters, don't criticize me for my flaws and mistakes when you can't even see your own."
"You lose a lot of time, hating people." – Marian Anderson
"Haters will see you walk on water and say it's because you can't swim."
"Pay close attention to people who don't clap when you win." – Leonardo DiCaprio
"Jealousy is an ugly trait. Hating me isn't gonna make you pretty."
"Respect your haters, they're the ones who think you're better than them."
"Smile and grow in front of your haters. It kills them."
Conclusion: This post is all about quotes about haters and hate. It contains a collection of funny, inspiring, and insightful Haters Quotes in English and Hate Quotes in English. If you like quotes, or just want to learn more about haters, then this is the post for you. Please share it with your friends and follow us.