Hug Day Quotes is about how important a simple hug is and why you should hug your beloved. Hug Day is the 6th day of valentines week, it comes after promise day and before kiss day. People celebrate the day by embracing their loved ones. The day is celebrated every year and will also be celebrated on February 12th, Sunday.
However, International Hug Day, or simple Hug Day is celebrated on the 21st of January all over the world. That is the official Hug Day and most western people celebrate the day more than other countries. And in India and some other Asian countries, people celebrate it on Valentine's week.
Hugs are one of the most adorable things in life. When someone is upset or worried, a simple hug can bring them relief for some time. After a long time when we meet friends or relatives, a heart worming hug tells them how much we care about them.
We fight with each other and blame others for everything, it will makes our life worse. But a simple apology and open-hearted hug will end all those misunderstandings. Hug your loved ones on Hug Day and feel their presence with your heart. We wish you a very Happy Hug Day.
Hug day Quotes
Happy Hug day! On this special day, let's take a moment to appreciate the power of hugs. Hugs can provide comfort, show support, and express love. They are simple gestures that can make a big difference in someone's day.
On this special day, let us celebrate the power of hugs! A hug is a gesture of affection and can be a great way to show your loved ones how much you care.
So, on this Hug Day, take the time to reach out and hug someone you love. Or, if you can't be with your loved ones in person, send them a virtual hug with one of these Hug Day Quotes!
A hug is like a boomerang – you get it back right away."

– Bil Keane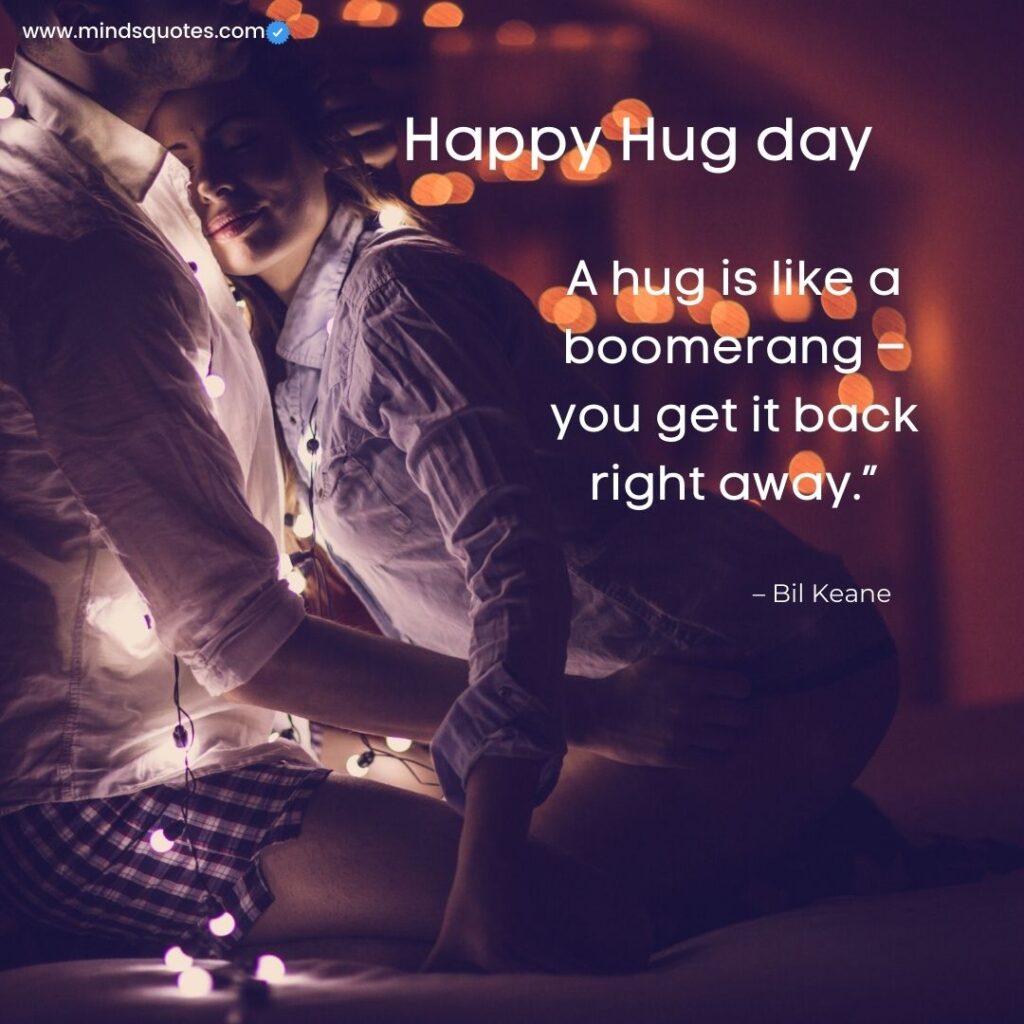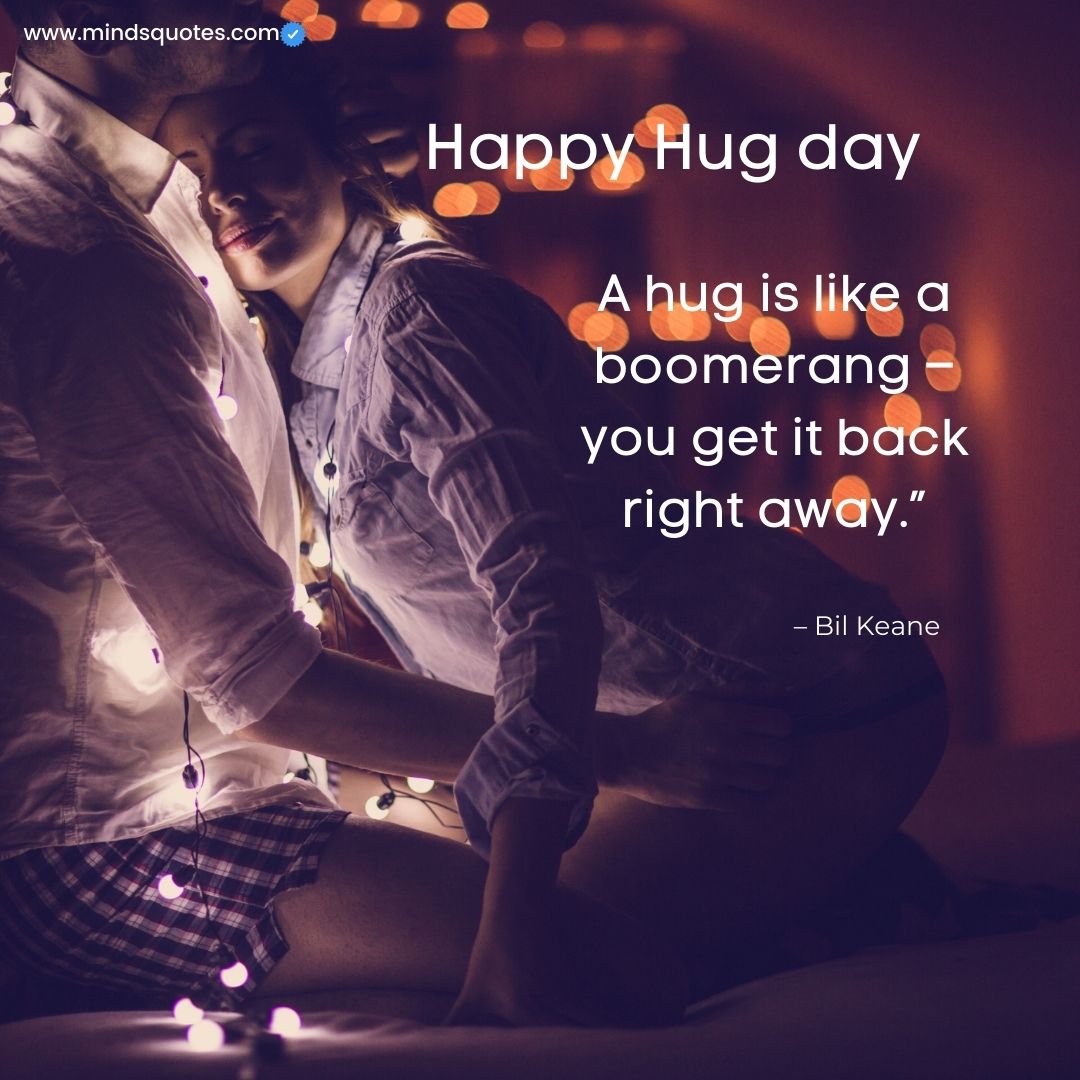 "Feel the presence of love wrapped up within a hug."

– Robert M. Hensel
"Hugs are the universal medicine."

– Unknown
"A hug makes you feel good all day."

– Kathleen Keating
"Where I live if someone gives you a hug, it's from the heart."

– Steve Irwin
"There's something in a simple hug that always warms the heart. It welcomes us back home and makes it easier to part."

– Johnny Ray Ryder, Jr.
"I have learned that there is more power in a good strong hug than in a thousand meaningful words."

– Ann Hood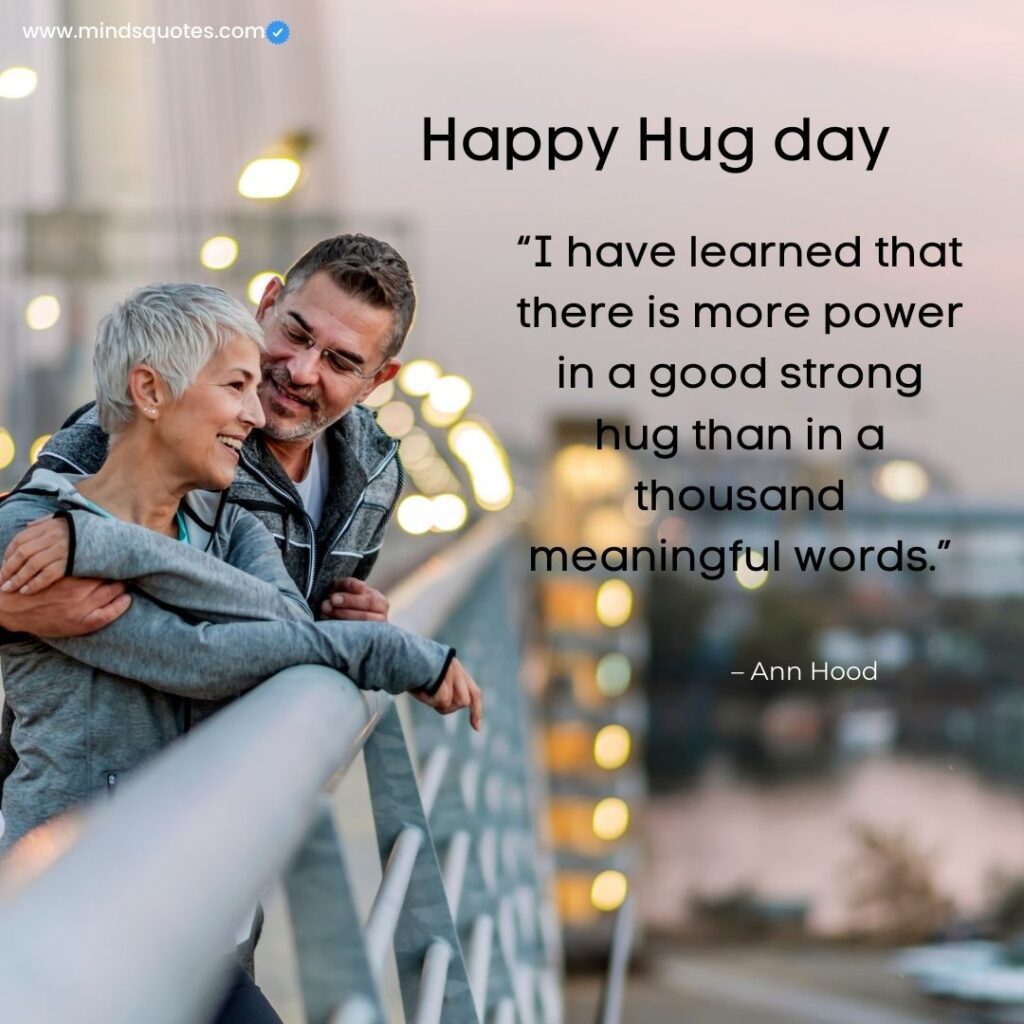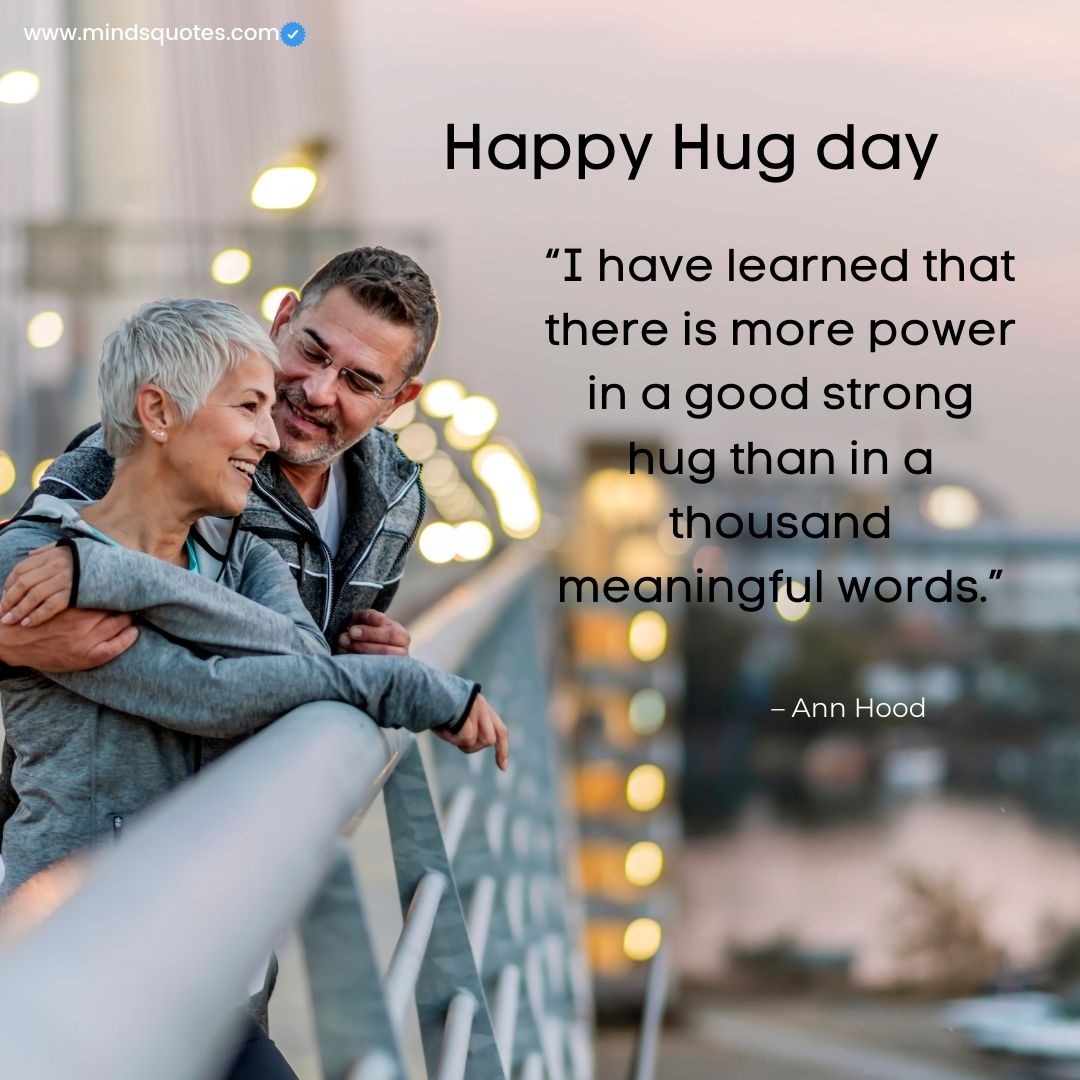 "With age, you get to a place where you don't want to knock people out. You just want to give people a hug."

– Vin Diesel
"Everybody needs a hug. It changes your metabolism."

– Leo Buscaglia
"A hug a day keeps the demons at bay."

– German Proverb
"Hugs can do great amounts of good – especially for children."

– Princess Diana
"Having a child, that's huge. I get to go home and hug my daughter. That's the greatest thing in the world."

– Nick Foles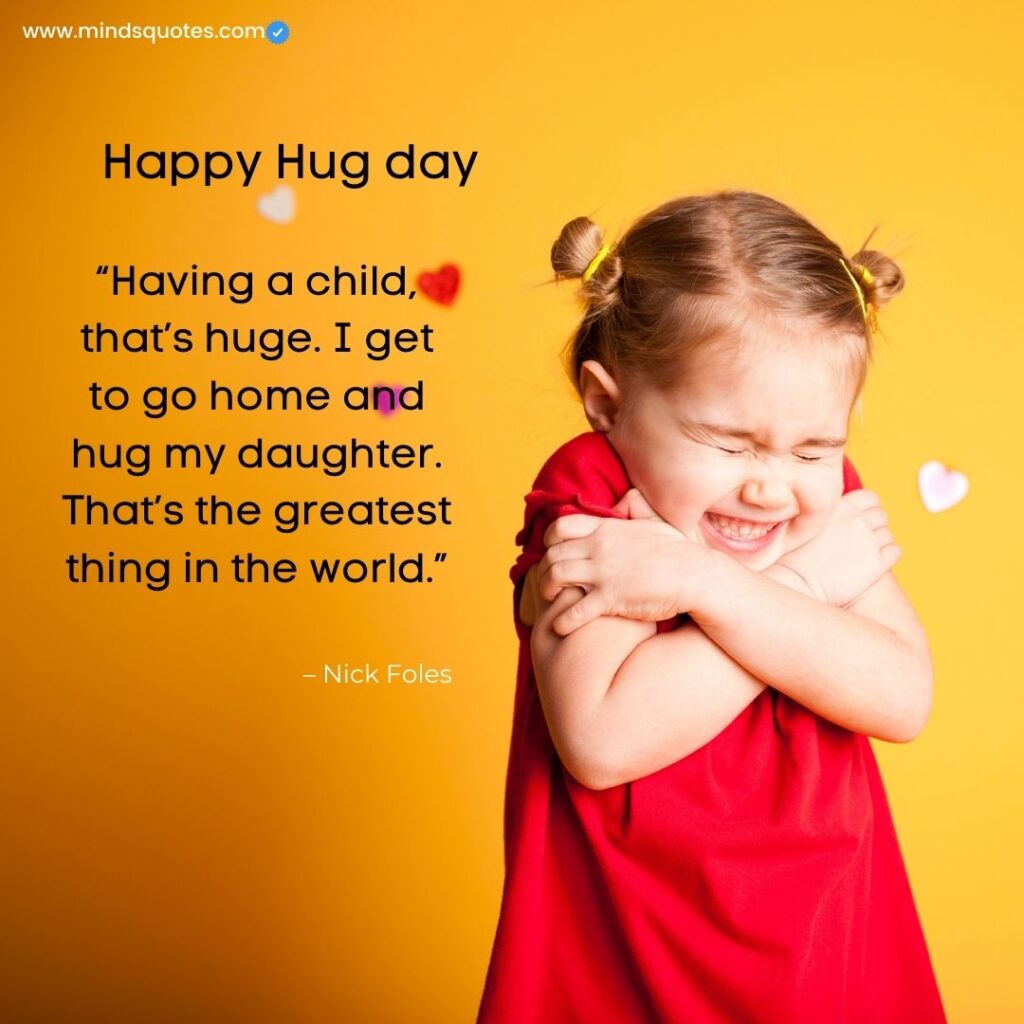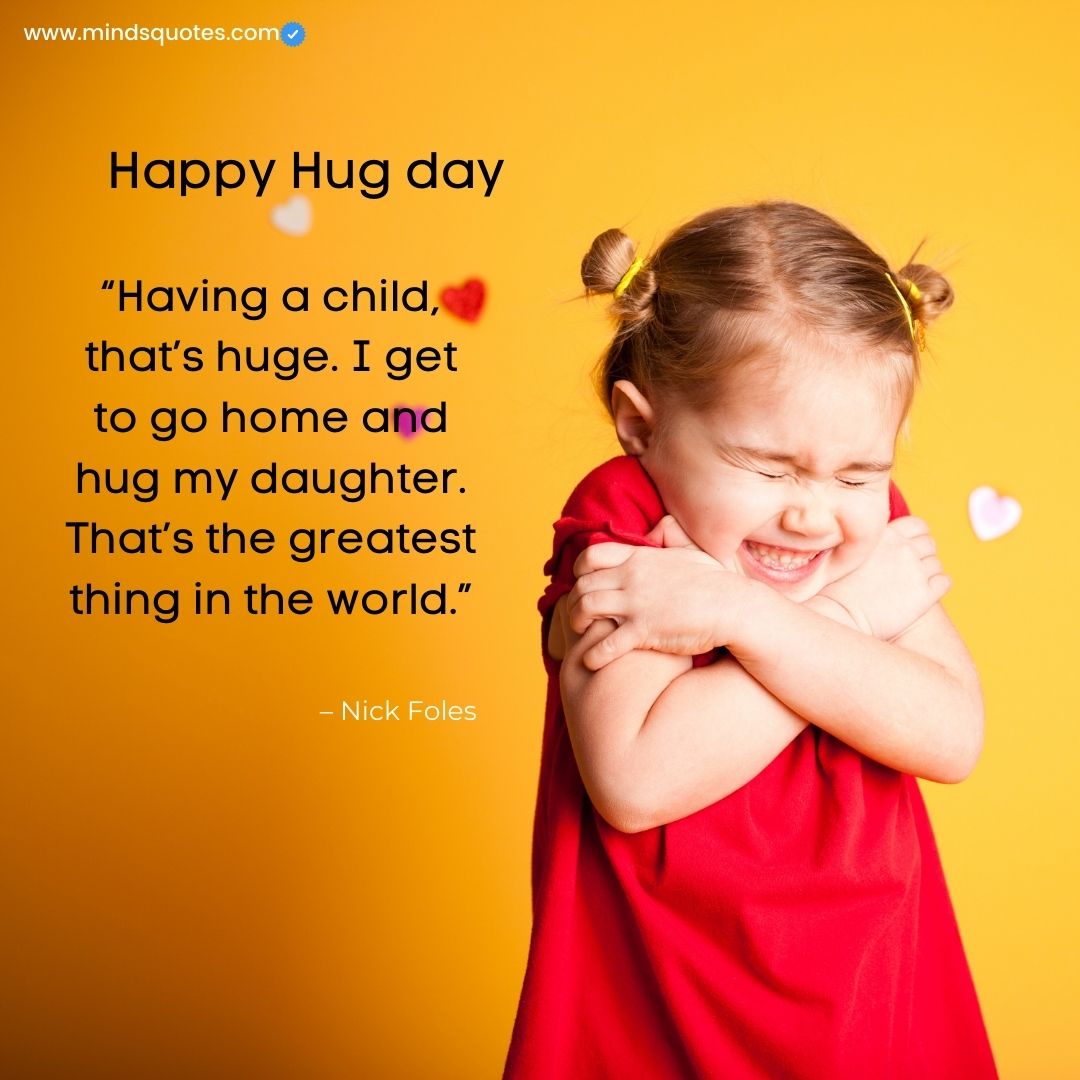 "When the right person hugs you, it's like medicine. I'm so grateful for those few people in my life who are good for my soul."

– Steve Maraboli
"The good part of having six kids is, there's always one who wants to hug you and say, 'Daddy, I love you.'"

– John McEnroe
"Getting people where they want to go, reliably and happily, can make or break their ability to succeed in a work endeavor or to hug a family member at an important moment."

– Oscar Munoz
Happy Hug Day Wishes Quotes
Happy Hug Day is celebrated every year as a part of Valentine's Week. It is a day to express love and affection with a sweet hug. A hug is the best way to show your loved ones how much you care for them.
On this day, people exchange hugs with their friends, family, and loved ones. A hug can make a person feel loved, cared for, and special. It is a gesture of warmth, affection, and comfort.
So, if you are looking for ways to make your loved ones feel special on this day, then read on! Here are some of the best Happy Hug Day Wishes Quotes that you can use to express your love and affection.
"Some moments can only be cured with a big squishy grandma hug."

– Dan Pearce
"However long a hug lasts, it doesn't last long enough."

– Kyle Schmalenberg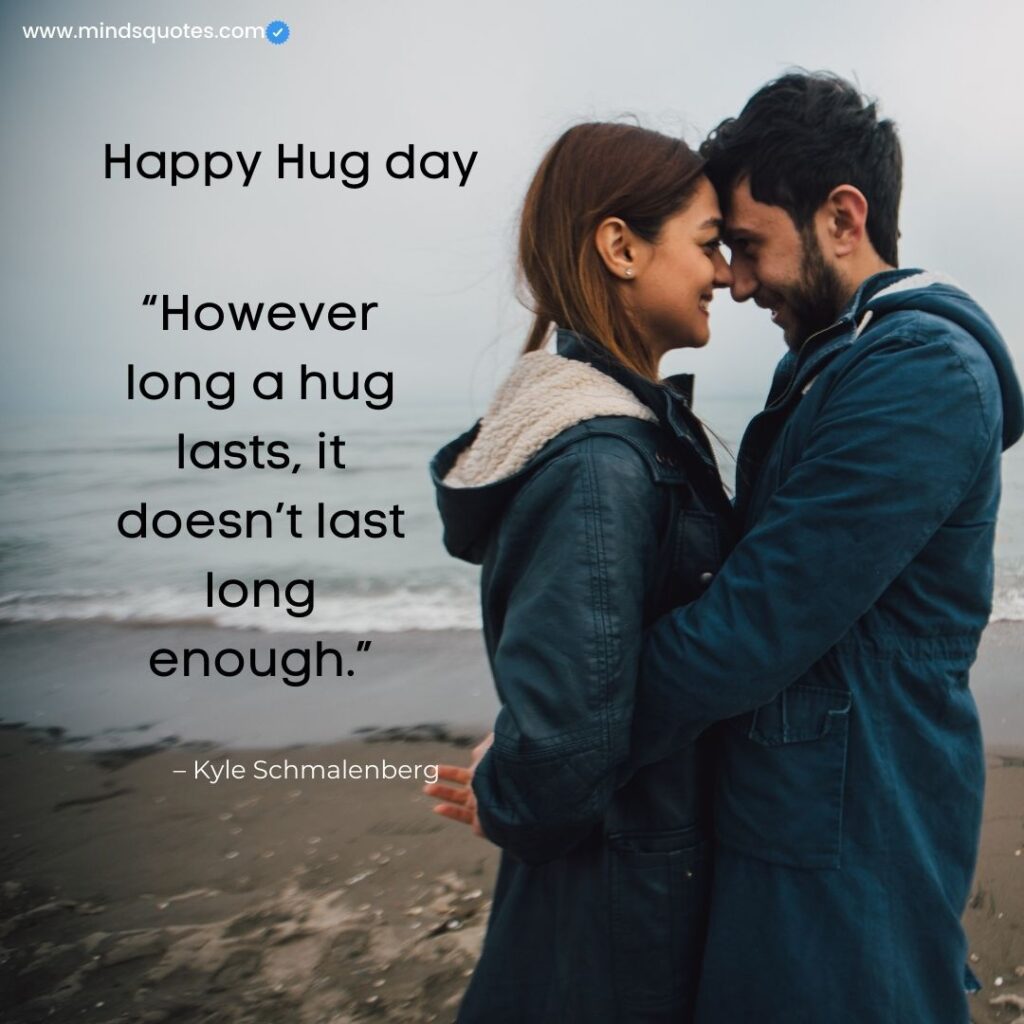 "When I come home, my daughter will run to the door and give me a big hug, and everything that's happened that day just melts away."

– Hugh Jackman
"Mama hugs me and I hold her back. Sometimes all you can do is hold on."

– Jasmine Warga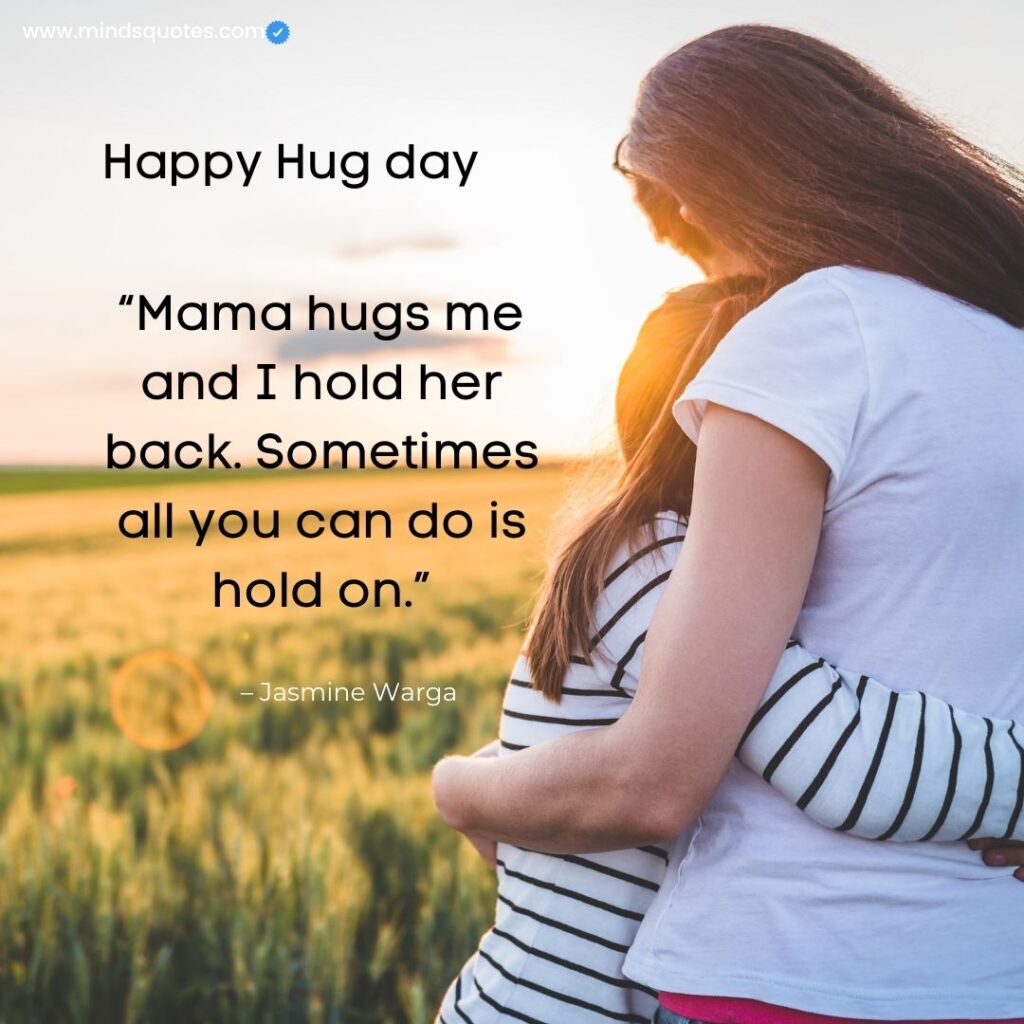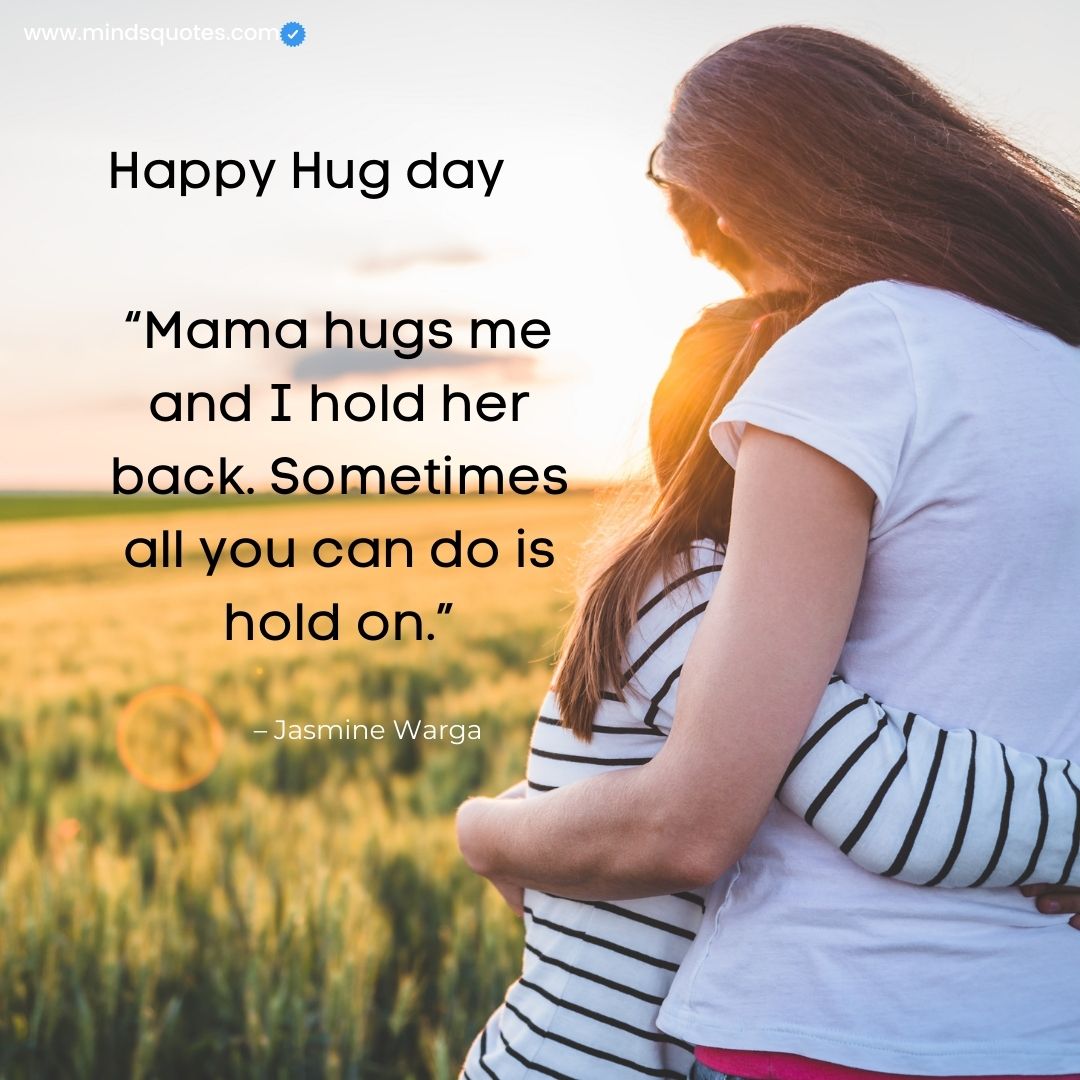 "A hug is an amazing thing. It's just the perfect way to show the love we're feeling but can't find the words to say."

– Johnny Ray Rider
"Be a love pharmacist: dispense hugs like medicine—they are!"

– Terri Guillemets
"Hugs and kisses are ways to express what cannot be said."

– Kacie Conroy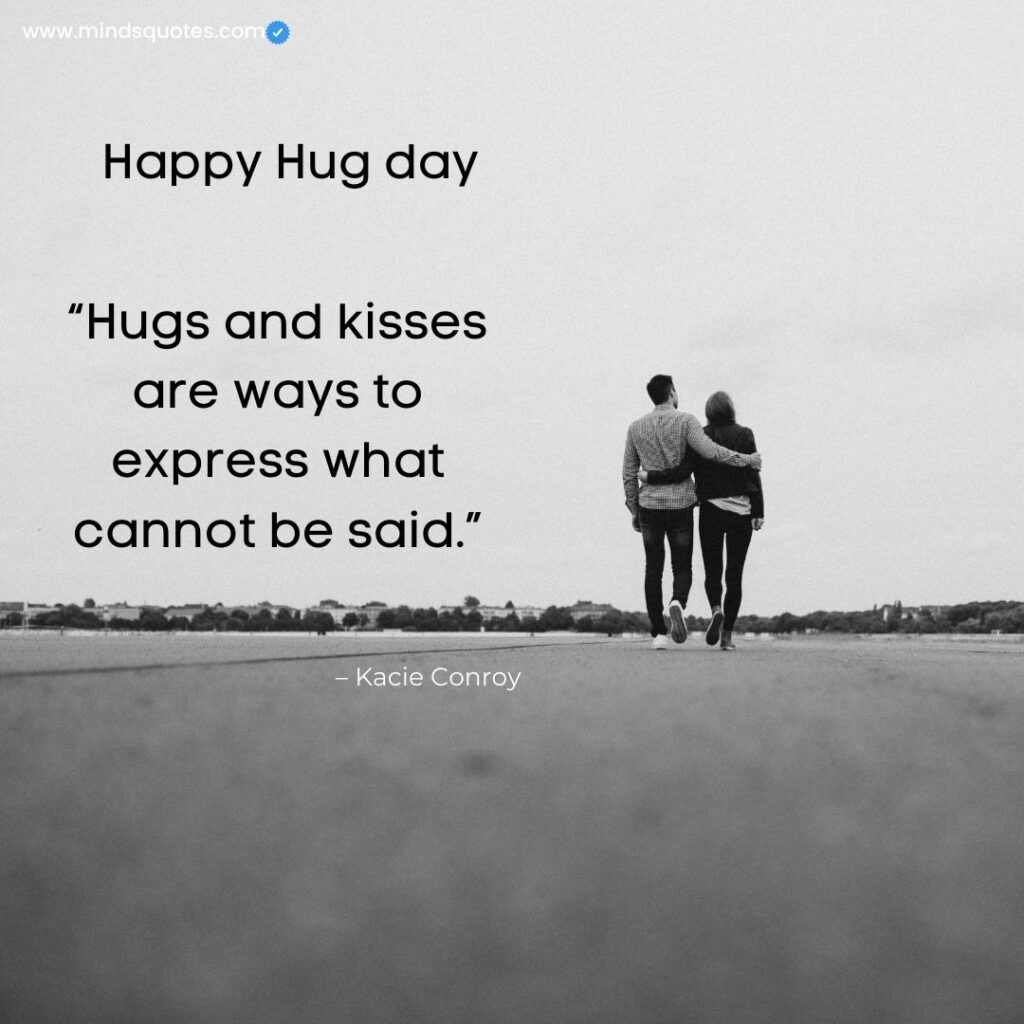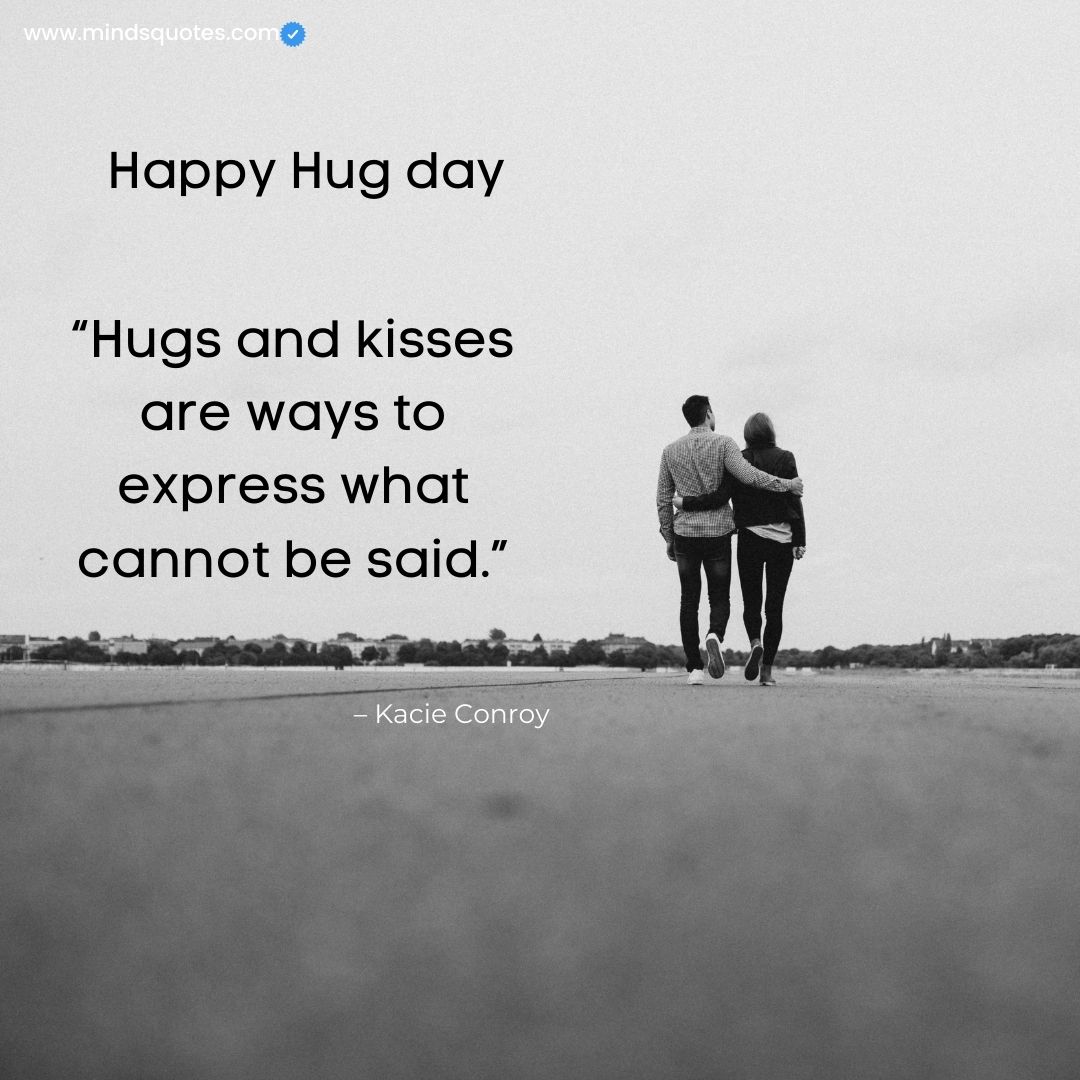 "When you are hugging a child, always be the last one to let go. You never know how long they need it."

– Unknown
"Sometimes a silent hug is the only thing to say."

– Robert Brault
"Sometimes all you can do is hug a friend tightly and wish that their pain could be transferred by touch to your own emotional hard drive."

– Richelle E. Goodrich
"That's what people who love you do. They put their arms around you and love you when you're not so lovable."

– Deb Caletti |Hug day quotes for love
"A kiss without a hug is like a flower without the fragrance."

– Proverb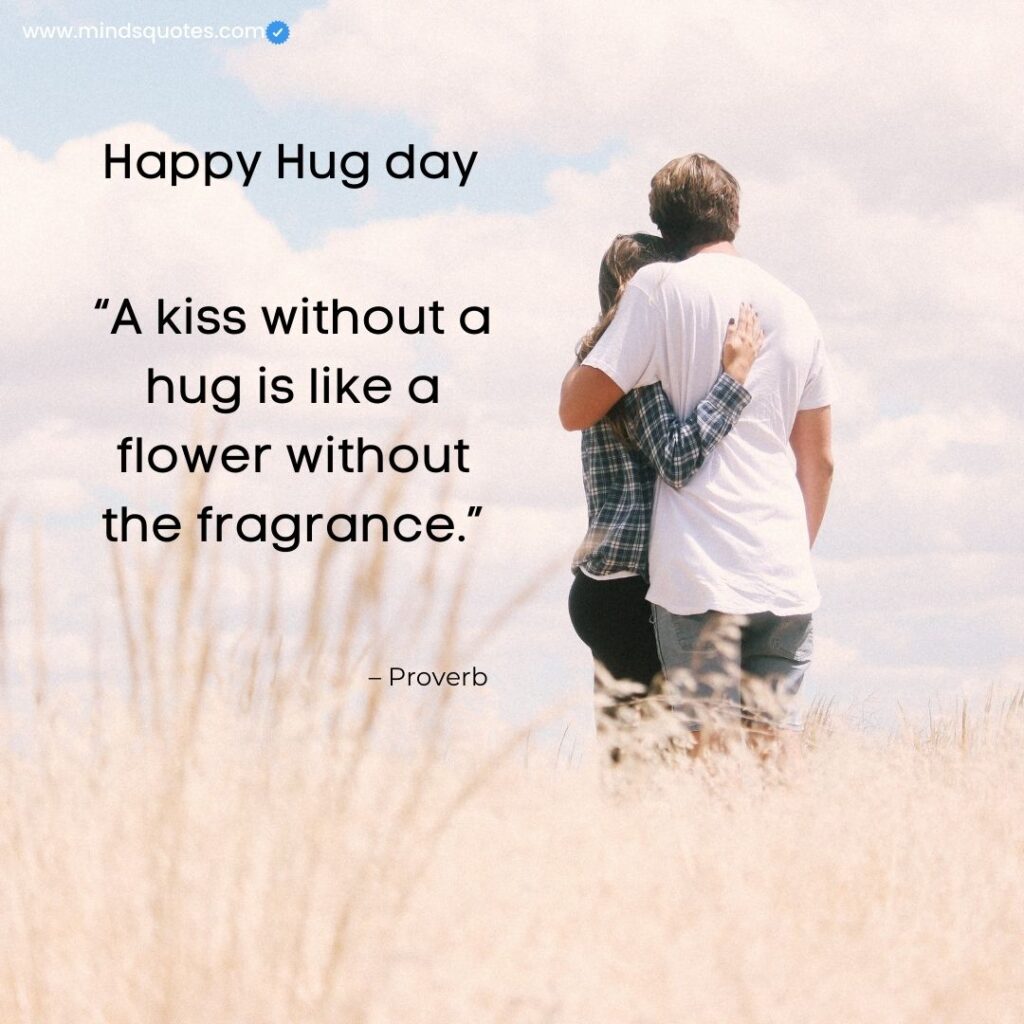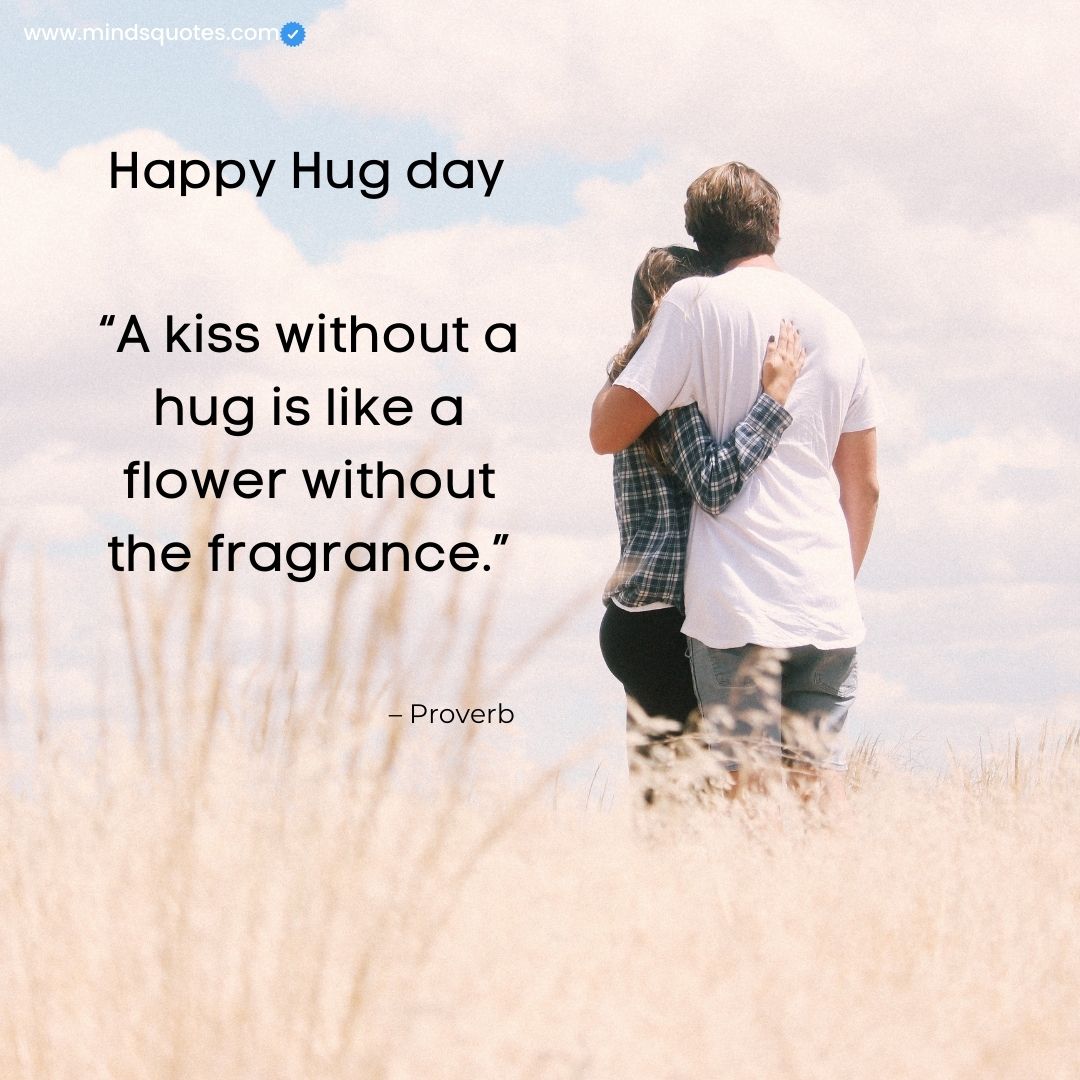 "We need 4 hugs a day for survival. We need 8 hugs a day for maintenance. We need 12 hugs a day for growth."

– Virginia Star
"I love hugging people. I still hug everybody in my meet-and-greet lines."

– Taylor Swift
"There's nothing like a mama-hug."

– Terri Guillemets
"I don't ever wanna come across too intimidating, so as long as I look like you can come up and give me a hug, that's good."

– Jessica Simpson
"I wish I could just hug you all, but I'm not gonna."

– Layne Staley
"Children are not unforgiving. You can punish them and they will hug you in a few minutes."

– T.D. Jakes
"I love hugging. I wish I was an octopus, so I could hug ten people at a time."

– Drew Barrymore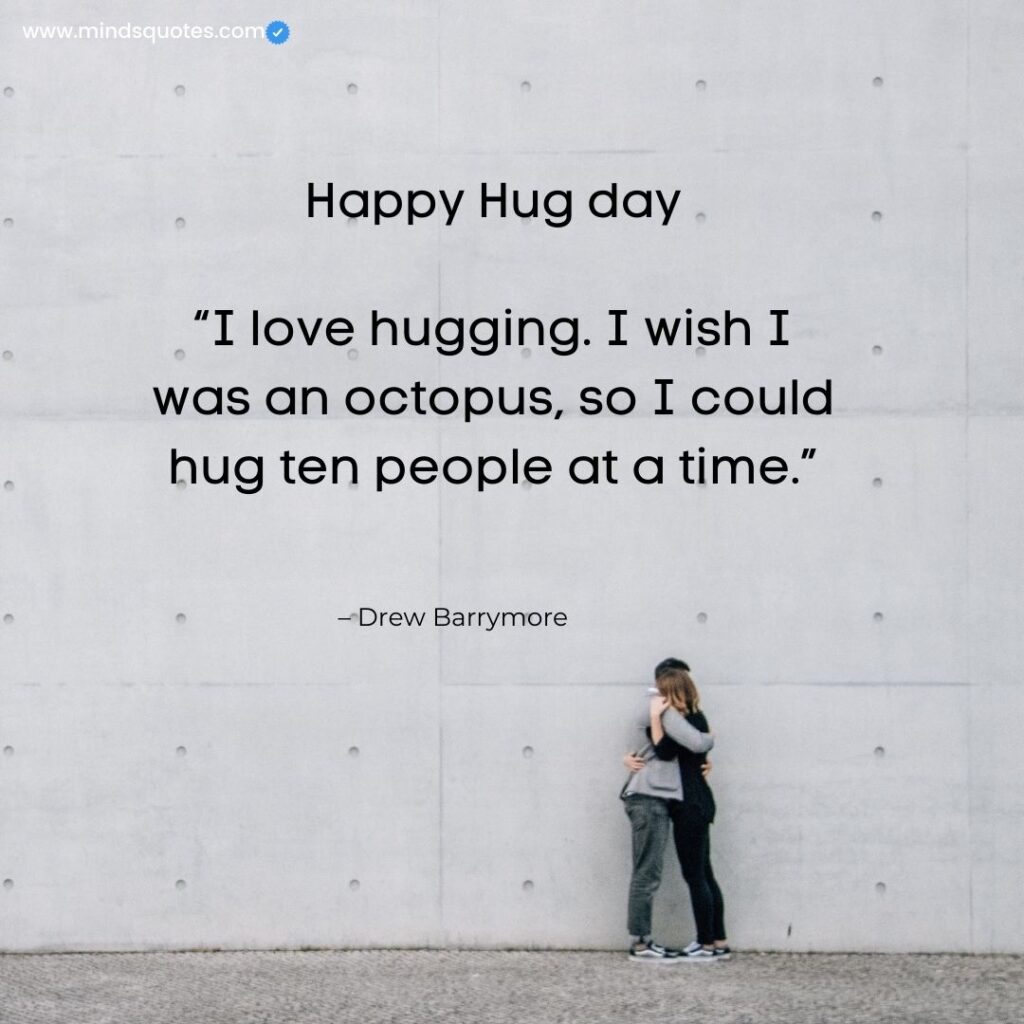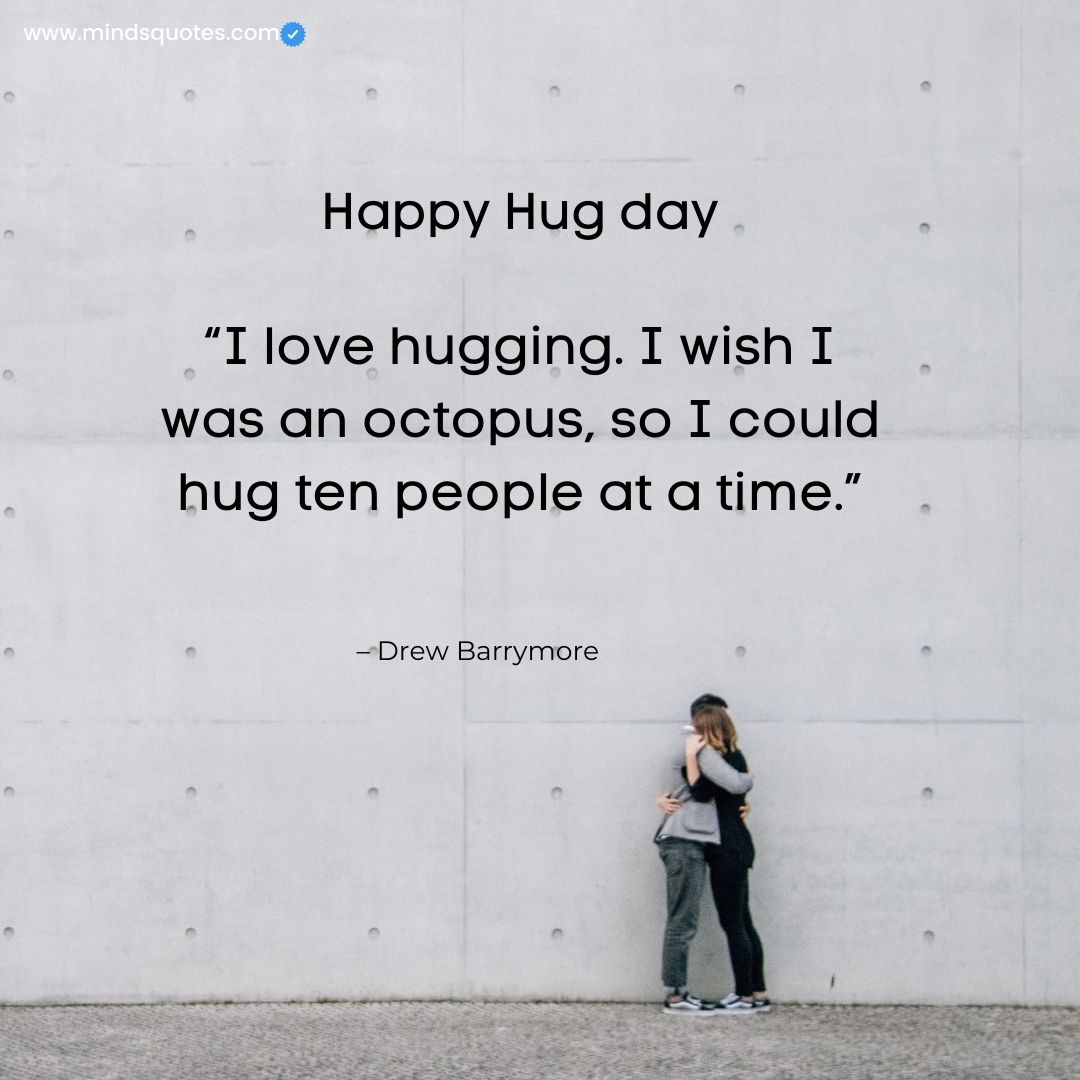 "You know, sometimes the world seems like a pretty mean place. That's why animals are so soft and huggy."

– Bill Watterson
"You know, food is such – it's a hug for people."

– Rachael Ray
"I'd love to have a big old hug with Richard Simmons."

– Blake Shelton
"Laughing together is as close as you can get to a hug without touching."

– Gina Barreca
"You might also like these true love quotes for the hopeless romantic."
"They invented hugs to let people know you love them without saying anything."

– Bil Keane
"I've learned that every day you should reach out and touch someone. People love a warm hug, or just a friendly pat on the back."

– Maya Angelou
"A hug is worth a thousand words."

– Charles Caleb Colton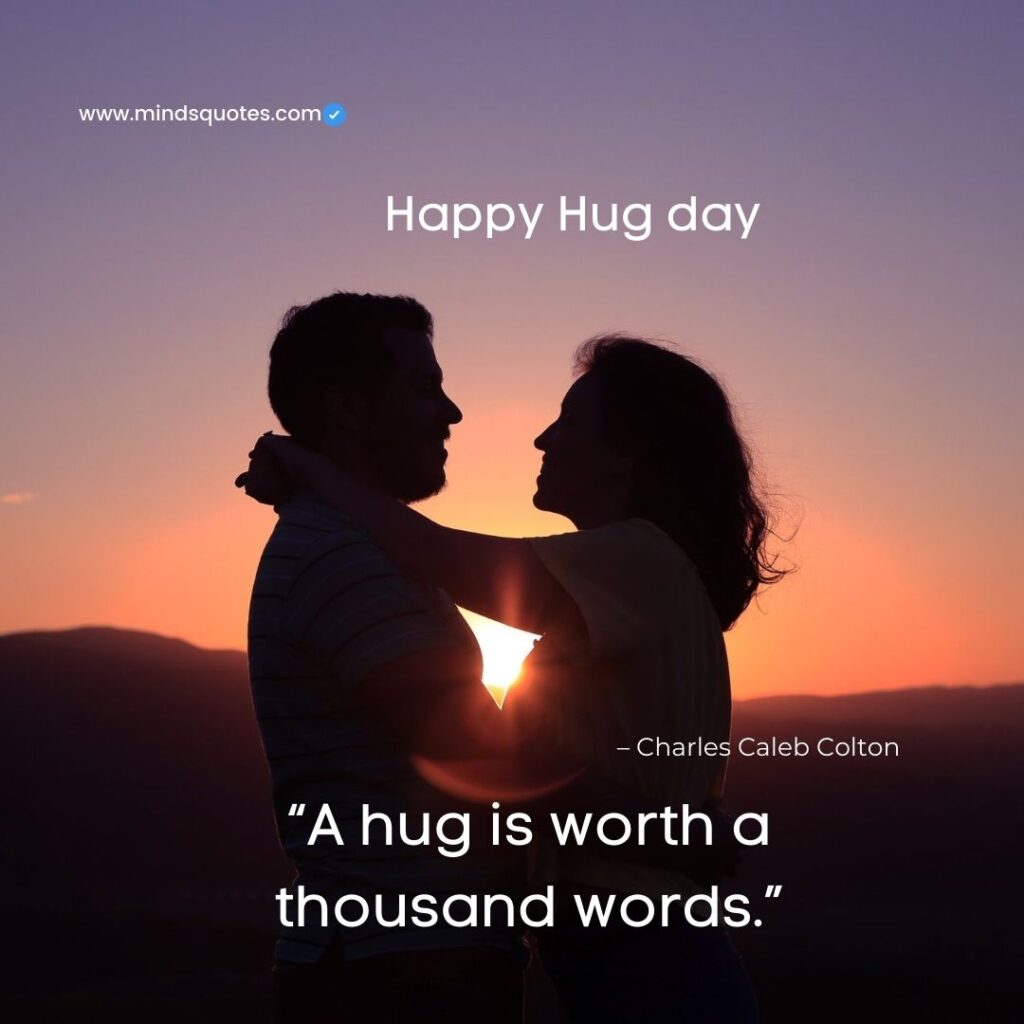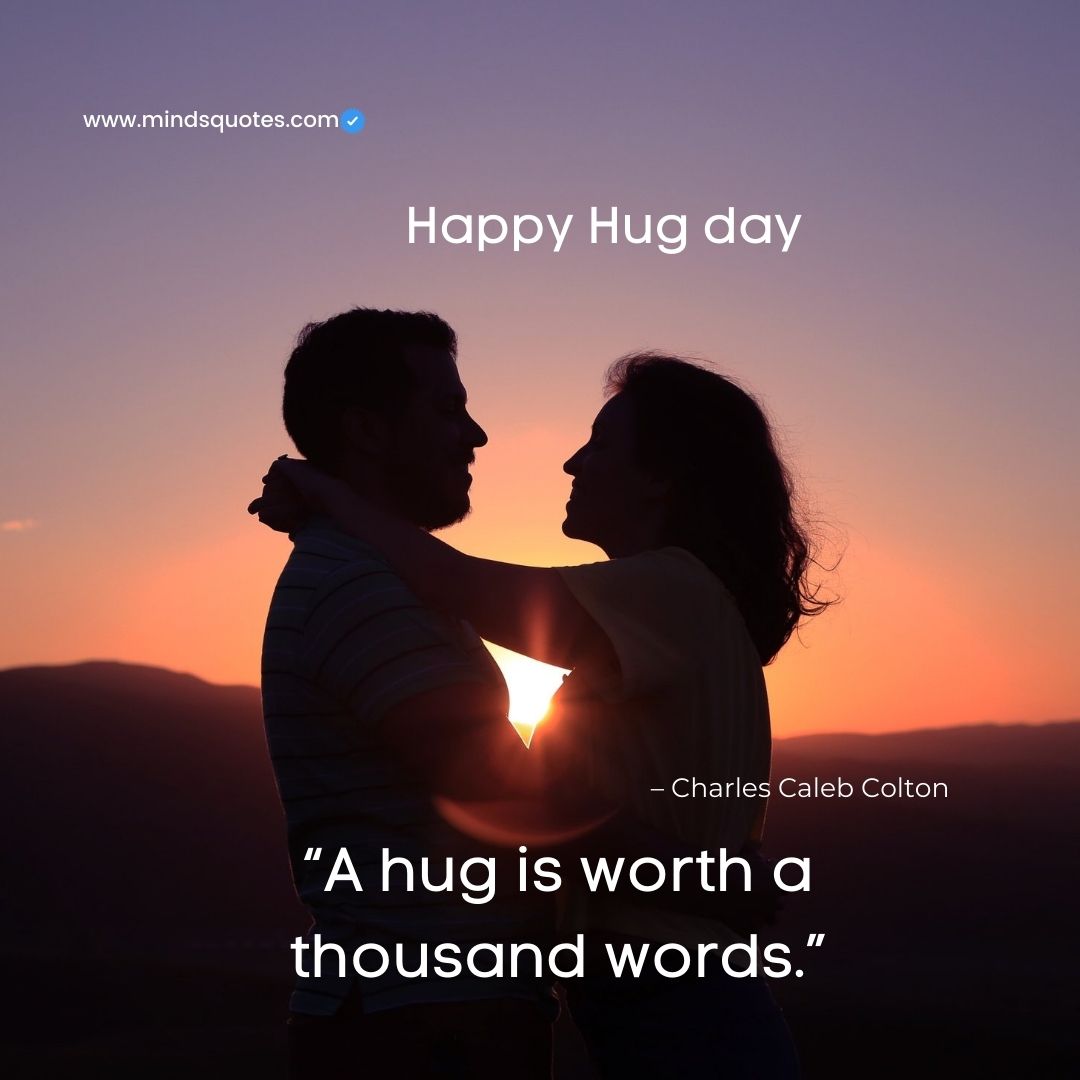 "The best gift you can give is a hug: one size fits all and no one ever minds if you return it."

– Marge Piercy
"When you hug someone, never be the first to let go."

– H. Jackson Brown
"Sometimes it's better to put love into hugs than to put it into words. Soul meets soul on lovers' lips."

– Percy Bysshe Shelley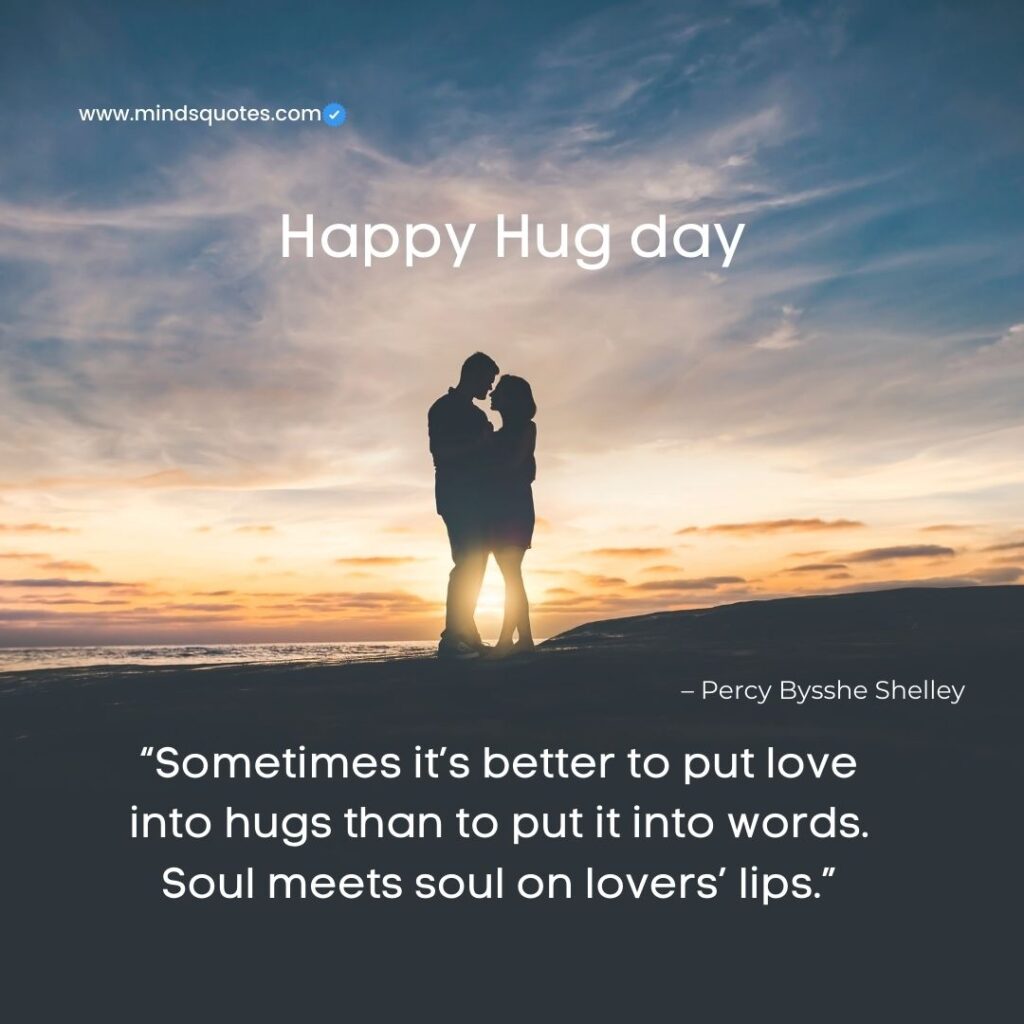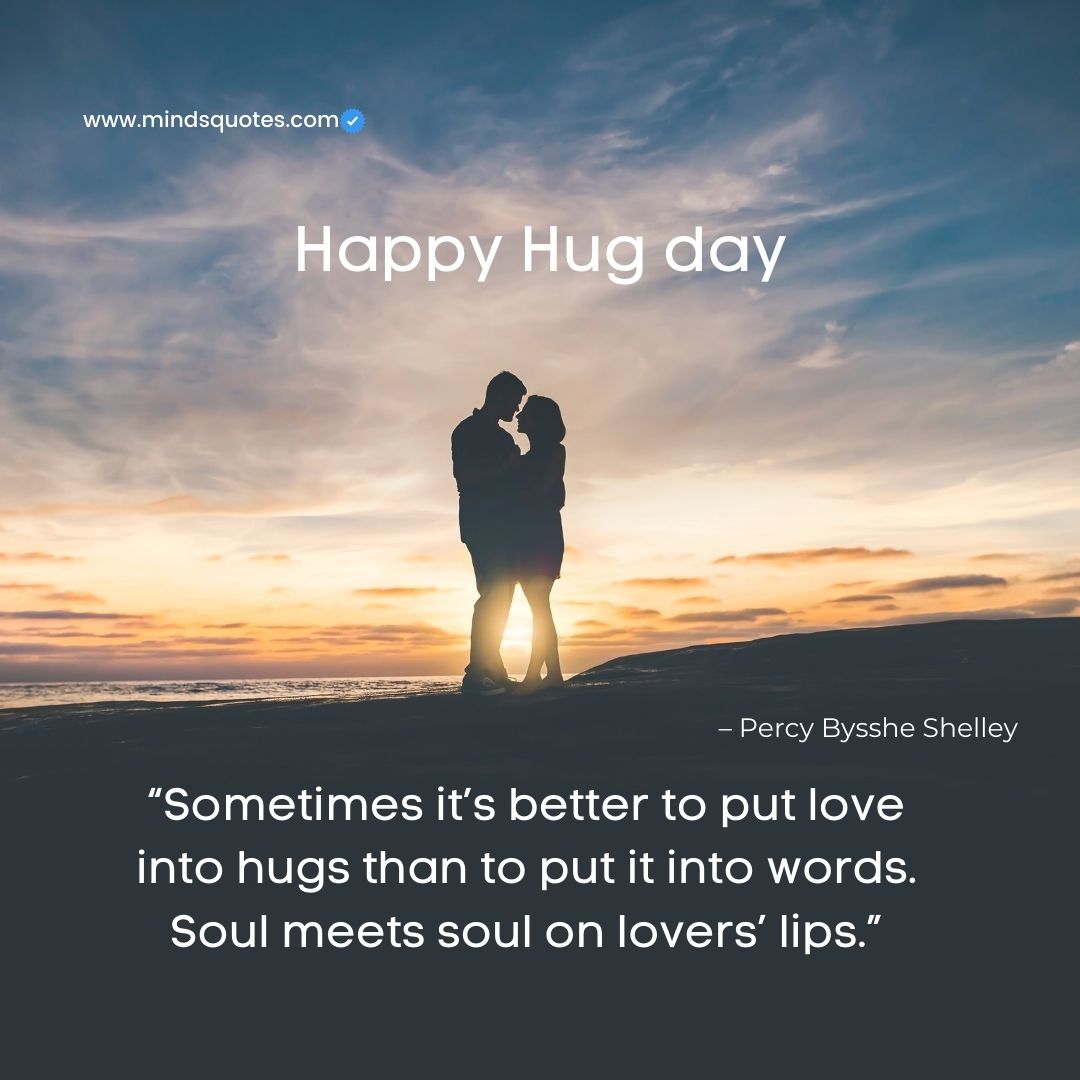 "The mystery of God hugs you in its all-encompassing arms."

– Hildegard of Bingen
"My mom smiled at me. Her smile kind of hugged me."

– R. J. Palacio
"Hug me and you will see the moon. Love me and I will bring the moon to you!"

– Kelly Clark
Conclusion
Happy Hug Day is celebrated on February 12 every year. The day is dedicated to spreading love and happiness by hugging the people we love. A hug is a very simple yet powerful gesture that can express a lot of emotions – love, care, appreciation, sympathy, etc.
A hug can make someone feel loved and valued, and it can also be a great way to show your support for someone going through a tough time. If you are looking for a way to make someone feel special on Hug Day, then why not send them a heartfelt message along with a warm hug?
In this article, we have compiled a list of heartwarming Hug Day quotes and wishes that you can use to express your love and affection for your loved ones. So go ahead and spread the love by shearing this article.