Valentine's Day Quotes are for celebrating the special day of love with your loved one. People celebrate the day every year on 14th February as valentine's day. This year Valentine's day is on Monday and it's not a good day to celebrate.
So make your plan before the day comes. To celebrate that day we collect the best Quotes about the day like;  Valentine's Day is the day for romance and love. But on the origin it's not what we think it is today. It's not for romance.
Originally it's feast of Saint valentine's or Saint valentine's day. In Christian religion it's feast day to honor Christian early martyrs named Saint valentine's. Later in many religions it became a significant culture, traditions and commercial celebration of romance and love.
Don't think too much about the origin of the day, it's complicated like love. Enjoy the day with your loved ones and make the day special.
Valentine's Day Quotes
You are everything there is to me, and you always will be my friend, my sweetheart. Happy Valentines Day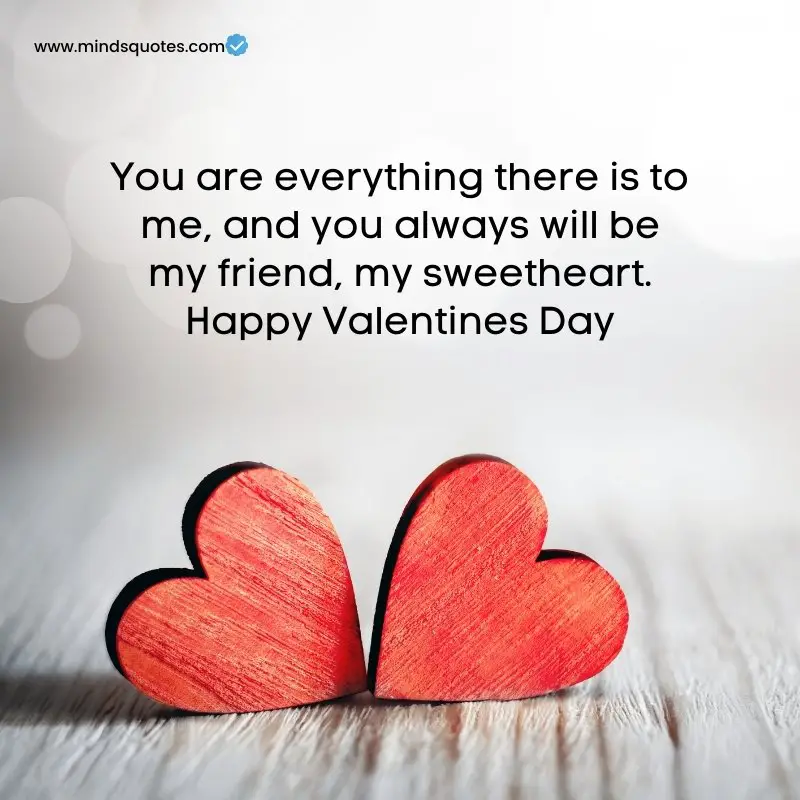 I love you. Today. Right now. Just as you are. And I know, with time we will change. We will evolve. We will grow. And I hope we do all of it together. -Akif Kichloo
Take my hand, take my whole life too, but I can't help falling in love with you. -Elvis Presley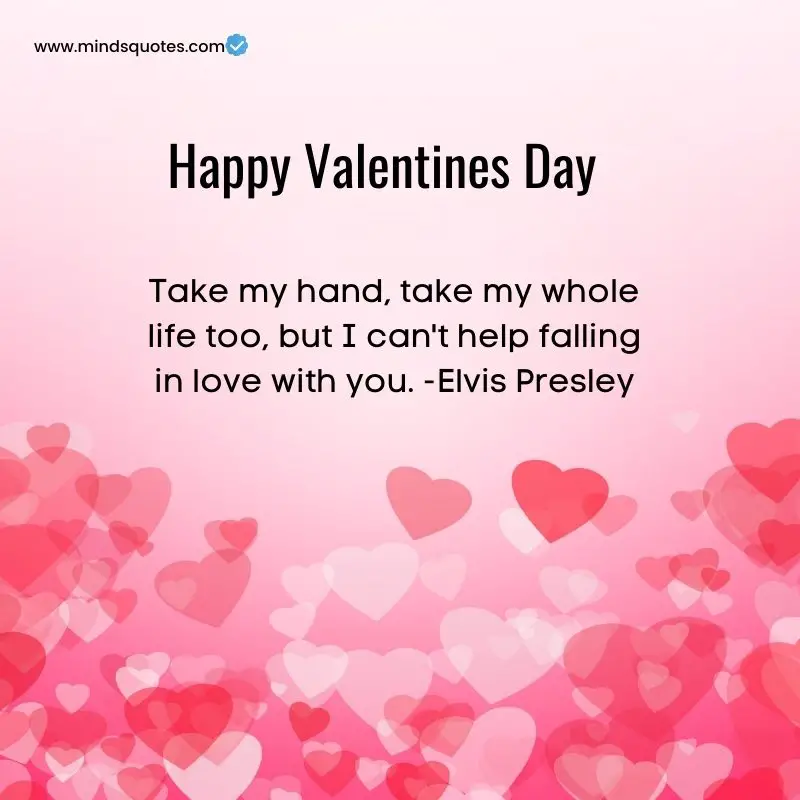 I love you more than I have ever found a way to say to you. -Ben Folds
Love is a dream that comes to life when we meet. |Valentine's Day Quotes
I may not say much when I am with you, but all of me loves you all the time. -Richard Nixon
The shorthand soulmates often use to describe one another is the love of my life. -Alan Wolfelt |Valentine's Day Quotes
As love grows older, our hearts mature and our love becomes as coals, deep-burning and unquenchable. –Bruce Lee
There is so much love for us to share. This is our time to fall in love again with each other -Rita Jacobsen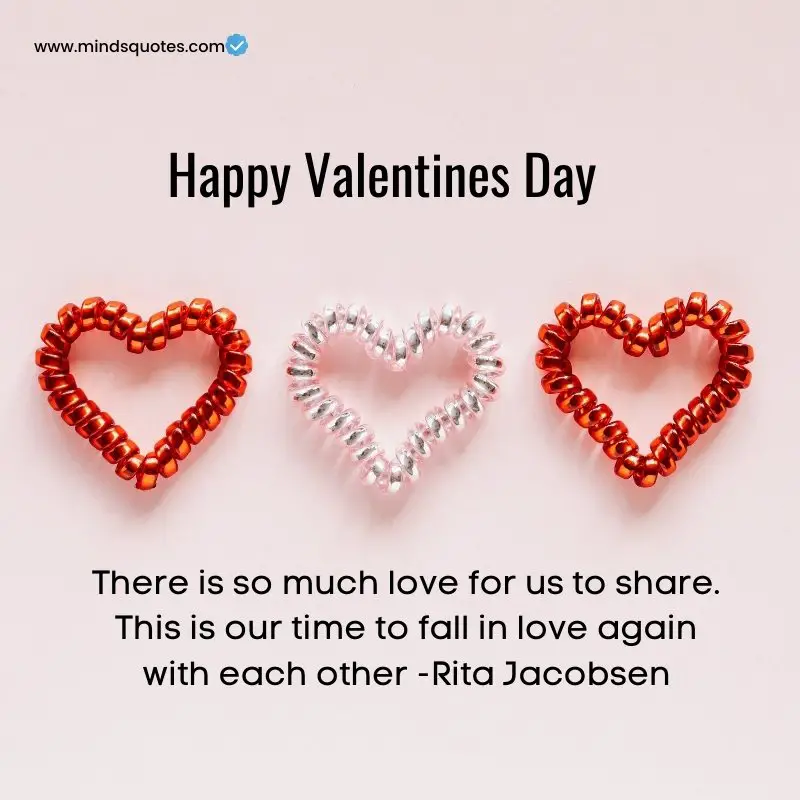 If I could reach up and hold a star for every time you've made me smile, the entire evening sky would be in the palm of my hand. |Valentine's Day Quotes
Great love awakens us to the fullness of life. Great love shapes us. When we embrace love the world appears brighter and even our food tastes better when we love. -Tito Tinajero
Loving someone and having them love you back is the most precious thing in the world. -Nicholas Sparks
There is no remedy for love but to love more. Thoreau |Valentine's Day Quotes
Life gives us many things to be thankful for. I give thanks to God for you! A blessing in my life, you are! -Catherine Pulsifer
Love cures people – both the ones who give it and the ones who receive it. -Dr. Karl Menninger
In a lifetime love is a treasure, and life with you my dear is always such a pleasure. -Catherine Pulsifer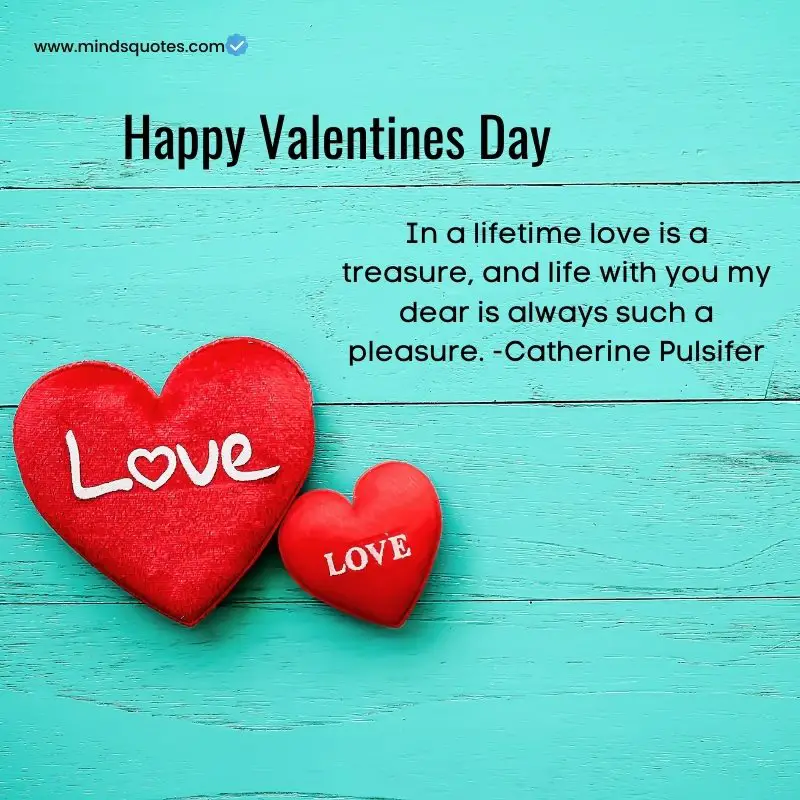 The basis for Valentine's Day celebration is associated with love. Love is its primary figure and focus. This is why the 14th day of February was set aside globally for all lovers and Valentine himself. -Felix Emiebi
On this Valentines let me tell you, you are a sweetheart who makes every day the bright and cheerful kind, who brings the warmest memories and the happiest thoughts to mind. |Valentine's Day Quotes
I'm glad I have you for the rest of my life as a best friend, lover, and fellow adventurer. Thank you for constantly supporting me, forgiving me, loving me, making me laugh, and challenging me to be a better person. -Raquel Martin
Celebrating Saint Valentine's Day is a time to show how much you love and appreciate everyone – from your friends to your mom! -Paul K. Stevens
On Valentine's day we think of those who make our life worthwhile, Those gracious, friendly people who we think of with a smile.
Never above you. Never below you. Always beside you. -Walter Winchell
If I had a flower for every time I thought of you … I could walk through my garden forever. -Alfred Tennyson
A hundred hearts would be too few. To carry all my love for you.  |Valentine's Day Quotes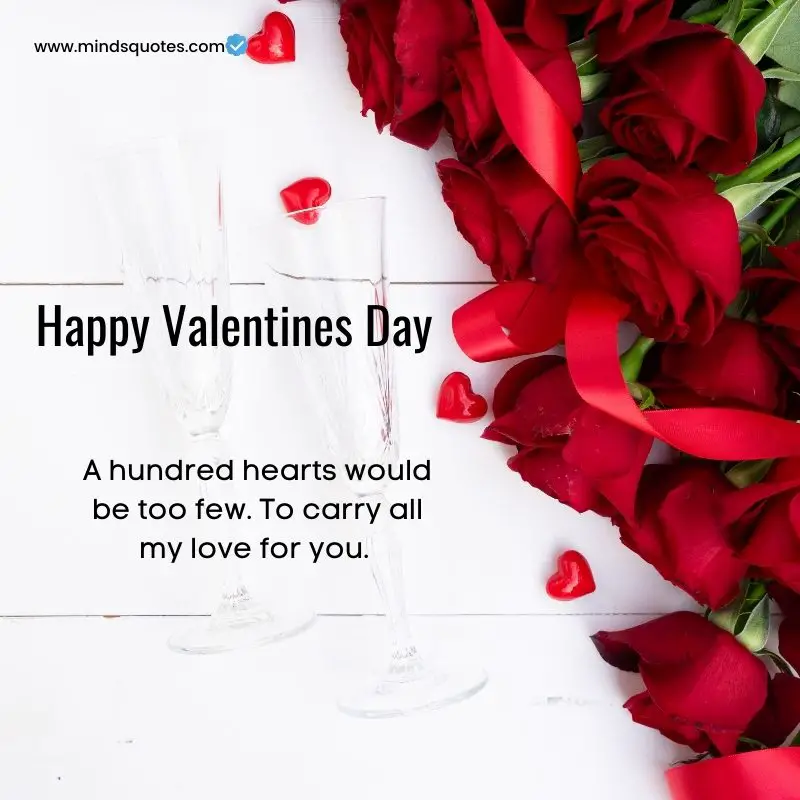 How blessed we are to have each other. What could be more wonderful than having someone that I love to share our dreams, to listen and to care. May this Valentine remind you how very special you are to me. |Valentine's Day Quotes
Love is a symbol of eternity. It wipes out all sense of time, destroying all memory of a beginning and all fear of an end. 
Another Valentines Day, and the greatest gifts ever is your love and your friendship, all the attributes you bring to our relationship.
Perhaps it is our imperfections that make us so perfect for one another.
For all the special things you could ever be, I know that you will always be the only one for me.
This message comes with all my love to thank you for the happiness you bring into my life not only on Valentines Day but each and every day.
Thank you for all the loving things you do. And on this Valentines Day I want to tell you I appreciate and love YOU!
Our relationship has grown, we have changed, we sometimes bend, but always our love is stronger.
The future for me is already a thing of the past. You were my first love and you will be my last. -Bob Dylan
I've fallen in love many times, always with you. |Valentine's Day Quotes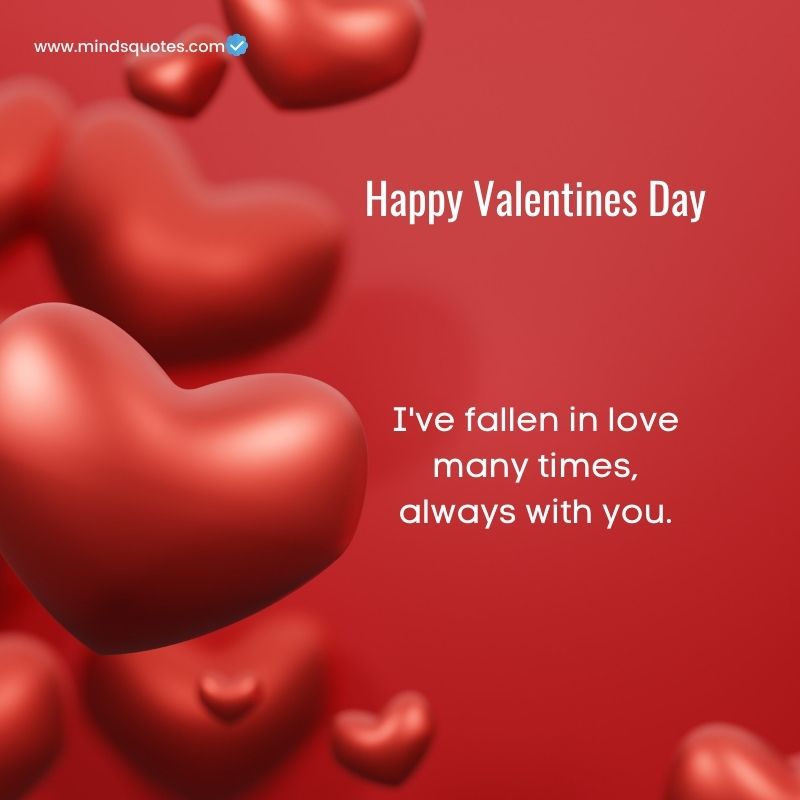 The sweetest of all sounds is that of the voice of the woman we love. Jean de la Bruyère
This special day we call Valentine's Day, a day we all show love for one another. Sharing cards, chocolate and flowers is a way to show our care to our friends, our family and others. -Sharon Gardner |Valentine's Day Quotes
Valentine's Day is precisely what the spirit needs. It is hot chocolate for the soul. It is a bright splash of color on a stark white canvas. The day reminds us to reaffirm our love, or perhaps to give voice to that which has remained unsaid. -Dorothy Denneen Volo
You know you're in love when you can't fall asleep because reality is finally better than your dreams. -Dr. Seuss
No matter where I went, I always knew my way back to you. You are my compass star. -Diana Peterfreund
Valentine. Is the day of love. Many ways to express affection to the people we love. By way of giving a gift that is definitely synonymous with words of love and romance. Gifts do not have to be very expensive.-Arif Jmsh
Love is the greatest refreshment in life. -Pablo Picasso |Valentine's Day Quotes
Take away love, and our earth is a tomb. -Robert Browning
From every human being there rises a light that reaches straight to heaven. And when two souls that are destined to be together find each other, their streams of light flow together, and a single brighter light goes forth from their united being. 
Let loose the sails of love and let them fill with breezes sweet with tenderness to-day; scorn not the praises youthful lovers say; romance is old, but it is lovely still. -Edgar A Guest
Wherever you are, be happy. This is the only wish I can do for you on this special day. Happy Valentine's Day.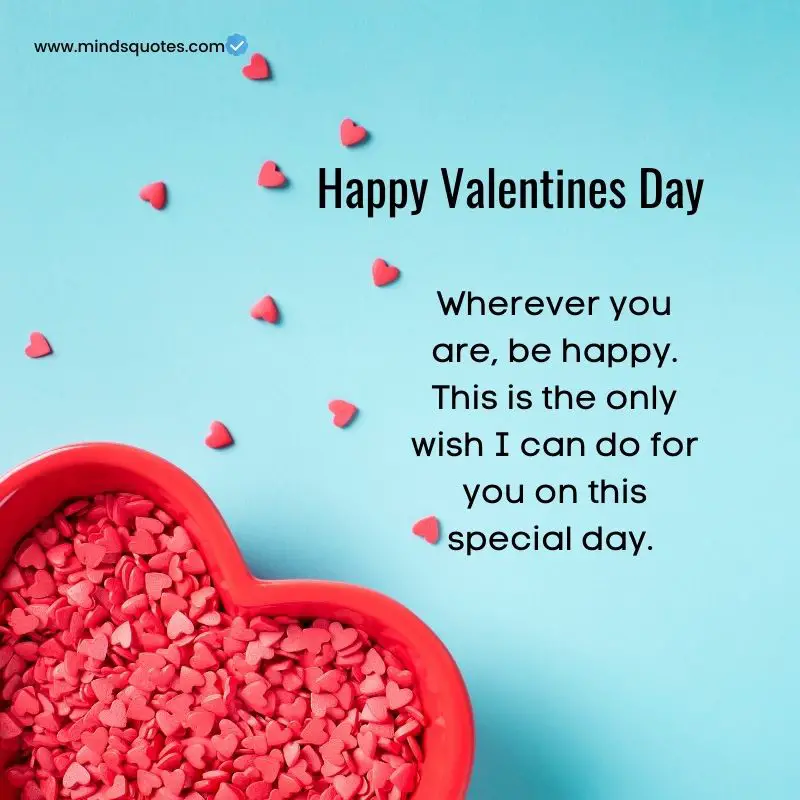 When love is true between two people, it's forever, there are no wandering eyes or thoughts about regret. -Khary Tollive |Valentine's Day Quotes
Love is like a friendship caught on fire: in the beginning a flame, very pretty, often hot and fierce, but still only light and flickering. As love grows older, our hearts mature and our love becomes as coals, deep-burning and unquenchable. -Bruce Lee
Within you I lose myself. Without you I find myself wanting to become lost again. 
Trip over love, you can get up. Fall in love and you fall forever. |Valentine's Day Quotes
Never forget I love you, words can't express the feelings in my heart. Meeting you, loving you, is a miracle in my life. You're everything to me. -Catherine Pulsifer
My commitment lasts my lifetime, a love that will never end. -Catherine Pulsifer
Love means to commit oneself without guarantee, to give oneself completely in the hope that our love will produce love in the loved person. Love is an act of faith, and whoever is of little faith is also of little love. -Erich Fromm
Romance is a beautiful experience. that we should all have the pleasure of giving and receiving. Being in Love is one of the most powerful emotions to experience in our lifetime and having the two makes life that little bit more special. -Cassandra M Porter,
What are some things that love is and does? It is patient and kind. Love does rejoice in truth; it always protects, trusts, hopes, and perseveres. -Sarah Bowling
If I could reach up and hold a star for every time you made me smile, I would have the whole night sky in the palm of my hand. |Valentine's Day Quotes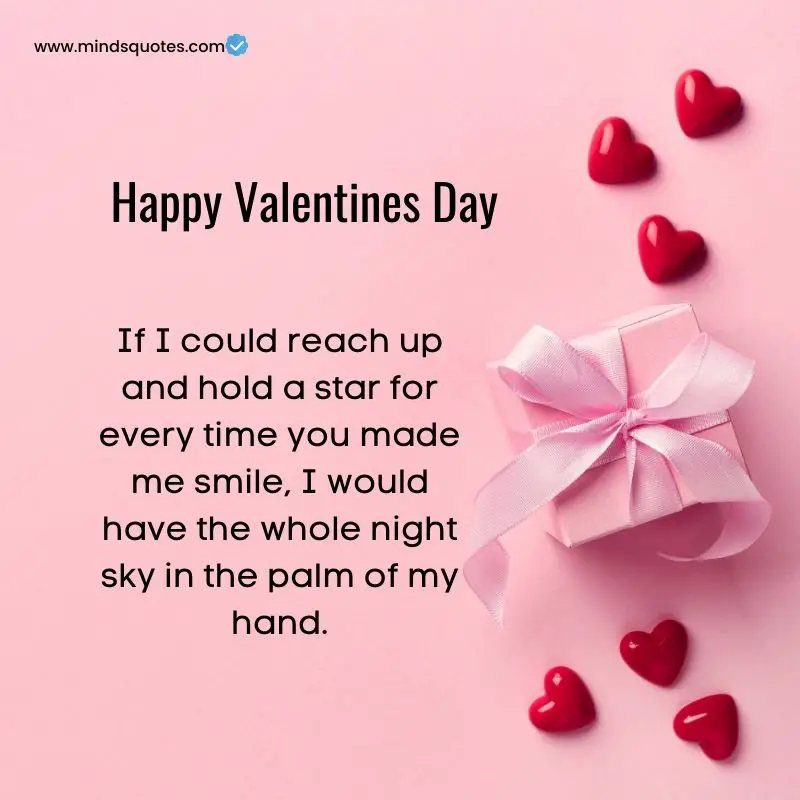 The best way to express my thoughts for you is to say that you are my better half. Who would I be without you in my life? I love you for who you are when I am with you. -Kate Summers
Love recognizes no barriers. It jumps hurdles, leaps fences, penetrates walls to arrive at its destination full of hope. -Maya Angelou
I love you more than yesterday, but less than tomorrow. |Valentine's Day Quotes
My heart is full and warm of deep emotions which radiate out in waves of light and love. Ellen Gerst, Express Your Heartfelt Emotions
God's plans are the perfect plan. He sent me a special valentine when He sent me you. God knew what he was doing when he sent me to you! -Theodore W. Higginsworth
The most important day of the year to say 'I love you' is everyday, not just on Valentine's Day. In marriage, never take the other person for granted. Expressing your love shows your appreciation for the person. -Catherine Pulsifer
Clouds never get tired of giving rain to us; and you, you must never get tired of giving your love! Valentine's Day is a day to remember to give more, to love more, it is a day to behave like a heavy rain! -Mehmet Murat İldan
There is an old saying that goes like this: 'A life with love will have some thorns, but a life without love will have no roses.' We have had our share of thorns but the roses that have bloomed far outweigh the thorns. -Catherine Pulsifer |Valentine's Day Quotes
A valentine warms the heart, so be brave and be smart, give one to the ones you love, now they have you to think of. -Kriss Stewart
However, quality love relationships do not happen by accident. Real love is built the old-fashioned way – through hard work. Danny Silk, Keep Your Love On.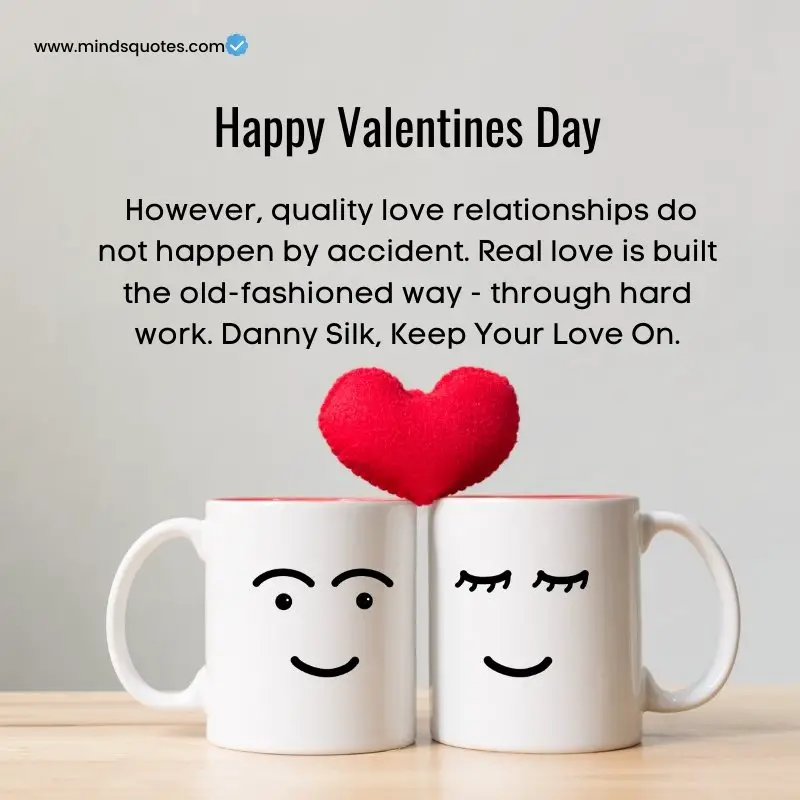 So many words to choose, so many Valentines cards to pick from, but you my dear are unique, and the one word I would use to describe you is amazing! -Catherine Pulsifer
Our love was started by the first hello, may we never see it end with a final goodbye. -Kate Summers |Valentine's Day Quotes
Love is a symbol of eternity. On this Valentine's Day my hope and wish is that our love will be forever. -Catherine Pulsifer