National Tattoo Day Quotes are a way to show your passion and promoto the industry on the day. The day is a celebration of the artistry and self-expression that comes with body ink. Observed on July 17th every year, National Tattoo Day is the perfect opportunity to showcase the beauty and diversity of tattoos while also exploring their deeper meanings and significance.
In honor of this special day, we have gathered a collection of inspiring and thought-provoking National Tattoo Day Quotes to help you appreciate the art form and perhaps even inspire you to get inked yourself. Celebrate National Tattoo Day and discover the power of self-expression through body art.
National Tattoo Day Quotes
National Tattoo Day is a celebration of body art and the creativity that comes with it. Whether you are a tattoo enthusiast or simply appreciate the art form, National Tattoo Day is a great opportunity to showcase your love for tattoos and share inspiring quotes that symbolize their significance. This blog post explores the importance of National Tattoo Day and presents a collection of thought-provoking National Tattoo Day quotes that capture the essence of this unique day.
"Our bodies were printed as blank pages to be filled with the ink of our hearts." – Michael Biondi
"My body is my journal, and my tattoos are my story." – Johnny Depp
"Tattoos have a power and magic all their own. They decorate the body but they also enhance the soul." – Michelle Delio
"Tattoos … are the stories in your heart, written on your skin." – Charles De Lint
"The tattoos, they were just something to do." – Robert Parish
"Tattoos are addicting, and I used to have this tribal tattoo, but I was never really happy with it." – Randy Orton
"There is something in the act of having tattoos done that I love. It can be quite addictive." – Lena Headey
National Tattoo Day Wishes
"Happy National Tattoo Day! May your tattoos remind you of the memories, lessons, and loves that have shaped your life."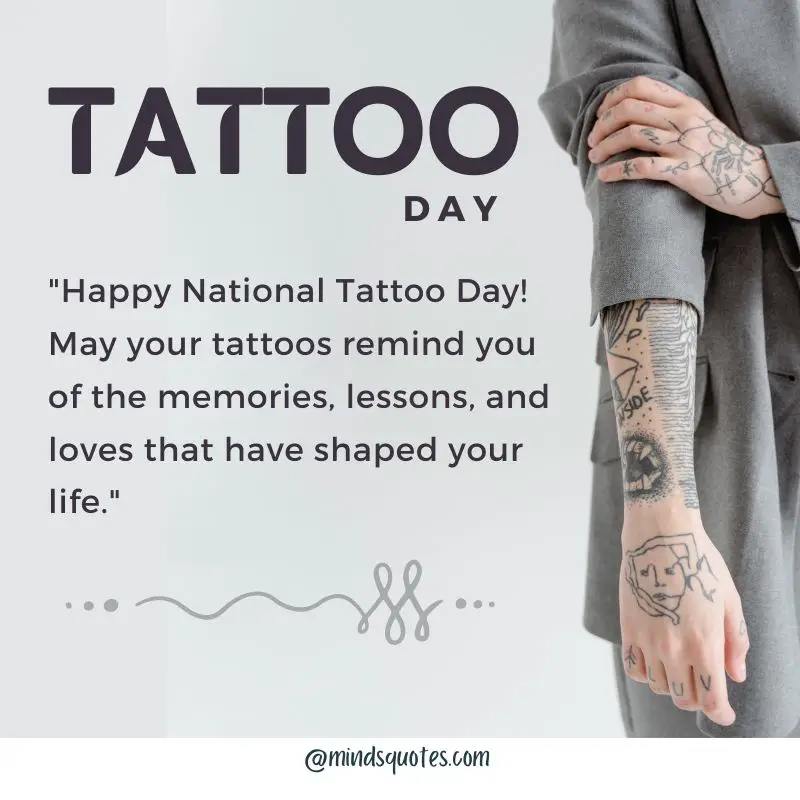 "On this special day, we celebrate the artistry and creativity of tattoo artists worldwide. Happy National Tattoo Day!"
"We are all damaged. Tattoos sure do cause pain when we get them done but they are a way for us to heal through the damages of our past. Happy National Tattoo Day."
"Here's to all the people who have the courage to be themselves, even if it means getting inked. Happy National Tattoo Day!"
"Tattoos are a way for a soul to grow and nourish. There is power and magic in the story of a tattoo. Happy National Tattoo Day."
National Tattoo Day Messages
"Happy National Tattoo Day! May your inked art always be a beautiful expression of your unique self."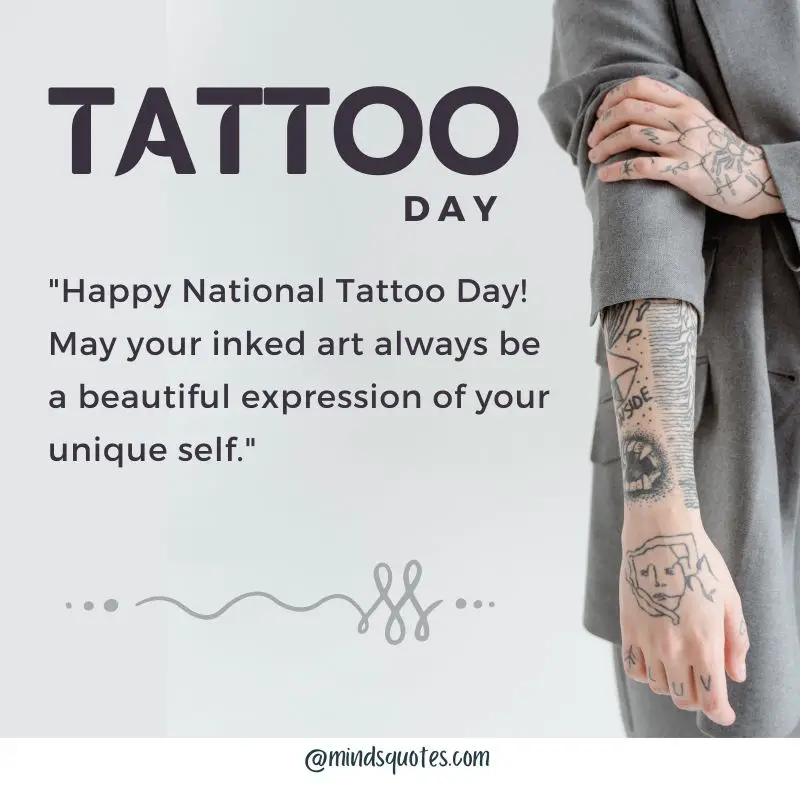 "Wishing all the tattoo enthusiasts out there a day filled with creativity, inspiration, and endless possibilities. Happy National Tattoo Day!"
"Happy National Tattoo Day to all the ink lovers out there! May your tattoos always remind you of the stories, people, and experiences that make you who you are."
"May your tattoos always be a reminder of the strength and resilience you carry within. Happy National Tattoo Day!"
"To all the inked souls, today is your day to shine! Embrace the art that tells your story. Happy National Tattoo Day!"
Tattoo Quotes
"Show me a man with a tattoo and I'll show you a man with an interesting past." – Jack London
"I'm from a nice, suburban, middle-class family, but my tattoos remind me where I've been." – Tom Hardy
"Tattoos are a permanent commitment of passion." – Tawny Lara
"Maybe that's what I needed. Another tattoo. Some pain on the outside to ease the pain on the inside." – N.R. Walker
"Scars are the tattoos your despondence carved once…" – Shivangi Lavanya
"I'll become someone new. Through blood and pain and ink, I can be remade." – Alice Broadway
"Our bodies were printed as blank pages to be filled with the ink of our hearts." – Michael Biondi
"If you like how people look when they're all covered in tattoos, then you should be covered in tattoos." – Lil Peep
"I want my tattoos to be a story of my life." – Anne-Marie
Tattoo Quotes that Will Inspire You
"I do have a few little tattoos, but they were mostly done to cover scars because I'm so fair." – Dolly Parton
"My tattoos are reminders to hang in there when things get tough." – Demi Lovato
"Tattoos have a power and magic all their own. They decorate the body but they also enhance the soul." – Michelle Delio
"If the body is a temple, then tattoos are its stained glass windows." – Sylvia Plath
"If people are honest with themselves when they choose a tattoo, the art will represent them better than anything that will ever come out of their mouth." – Troy Holloway
"The ink of a pen is simply the blood of a heart." – Michael Biondi
Tattoo Quotes to Fit Your Unique Thoughts on Body Art
"Tattoos transform us from raw animals into cooked cultural beings." – Claude Lévi-Strauss
"Tattoos are permanent and a lifelong commitment, the same as marriage." – Chester Bennington
"Books are to me as homemade tattoos are to an inmate. Can't get enough of them." – Laurie Notaro
"Tattooing is about personalizing the body, making it a true home and fit temple for the spirit that dwells inside it." – Michelle Delio
"Tattoos made my skin more 'me'." – Melissa Maxwell
"Getting a tattoo should hurt. It's a rite of passage." – Jenna Jameson
"Tattoos exude pain and pleasure all at the same time." – Chester Bennington