Self Respect Quotes are a great way to get in touch with your inner thoughts and feelings. They can also help you to become more mindful of the respect you have for yourself. When you take the time to read, ponder, and apply these quotes to your life, you may start to see a change in how you think about and treat yourself. You may even find that you can better defend your honor and stand up for yourself when necessary.
Quotes on Self-Respect and Dignity can offer guidance and inspiration when we need it most. Respect for oneself is a crucial foundation for a happy life. It ensures that our interactions with others and our thoughts about ourselves are positive and constructive. To respect ourselves, we must first understand our worth. We need to be able to look at ourselves objectively and appreciate our individual qualities and strengths.
Self Respect Quotes
Self Respect Quotes are also a great way to help you build up your self-esteem. They remind us that it is okay to be ourselves, that we are worth taking care of, and that our feelings matter. Sometimes, all we need is a gentle reminder from someone else that we are on the right track. Below you will find a handful of our collection of Respect Yourself Quotes.
"Once you embrace your value, it neutralizes when others think less of you." – Rob Liano.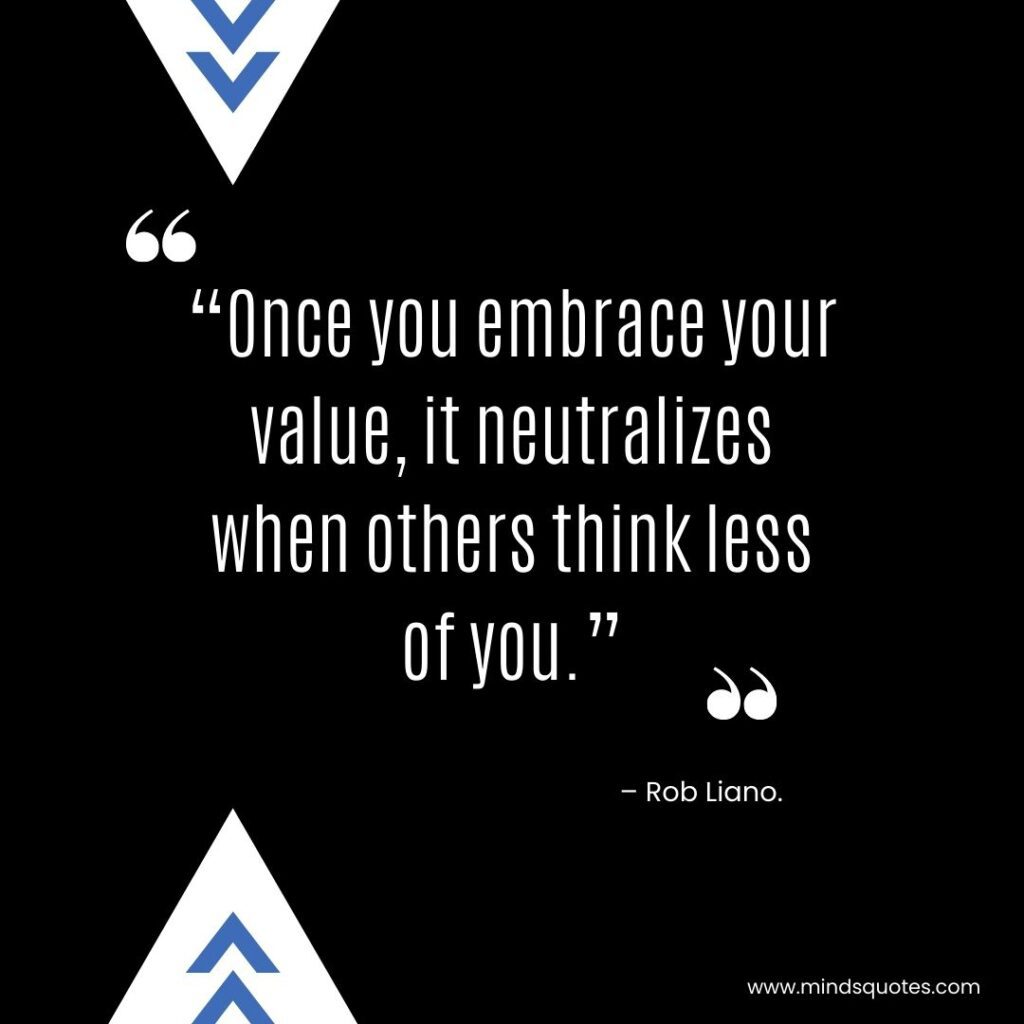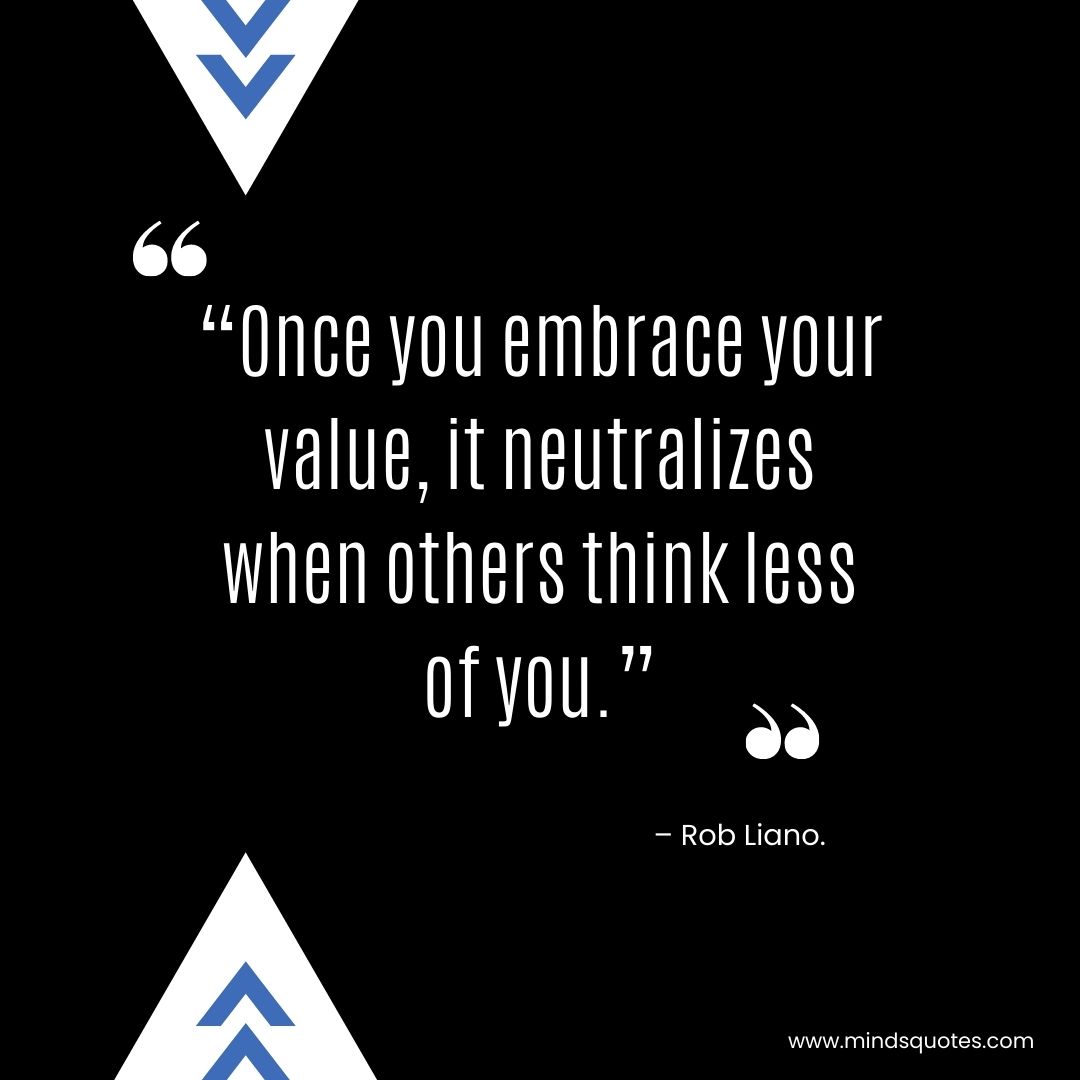 "'If you can't say something nice, don't say anything? Talking nicely also applies when you're talking to yourself." – Victoria Moran.
"No one can make you feel inferior without your consent." – Eleanor Roosevelt.
"Your peers will respect you for your integrity and character, not your possessions." – David Robinson.
"If your compassion does not include yourself, it is incomplete." ― Jack Kornfield,
"Self-pity gets you nowhere." – Harry Emerson Fosdick.
Famous Self-Respect Quotes
Respect yourself and others will respect you.

-Confucius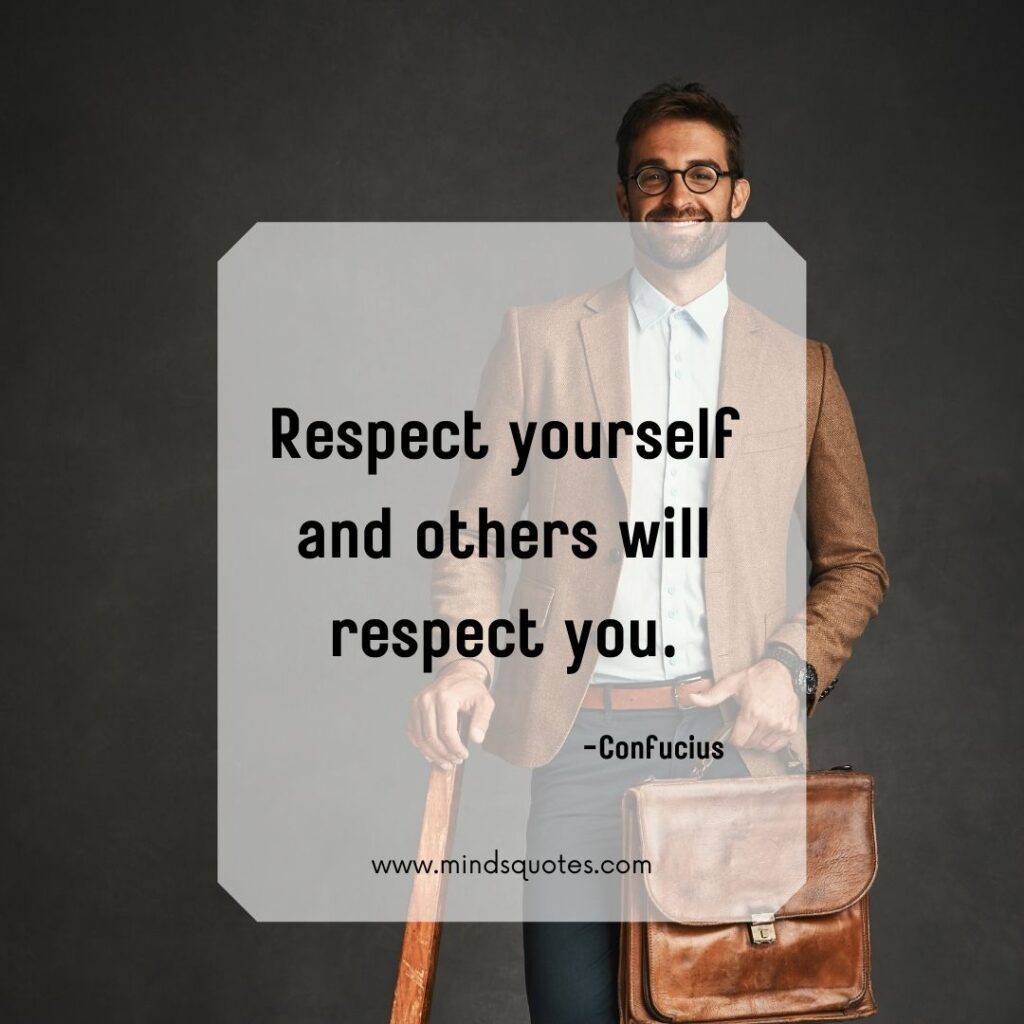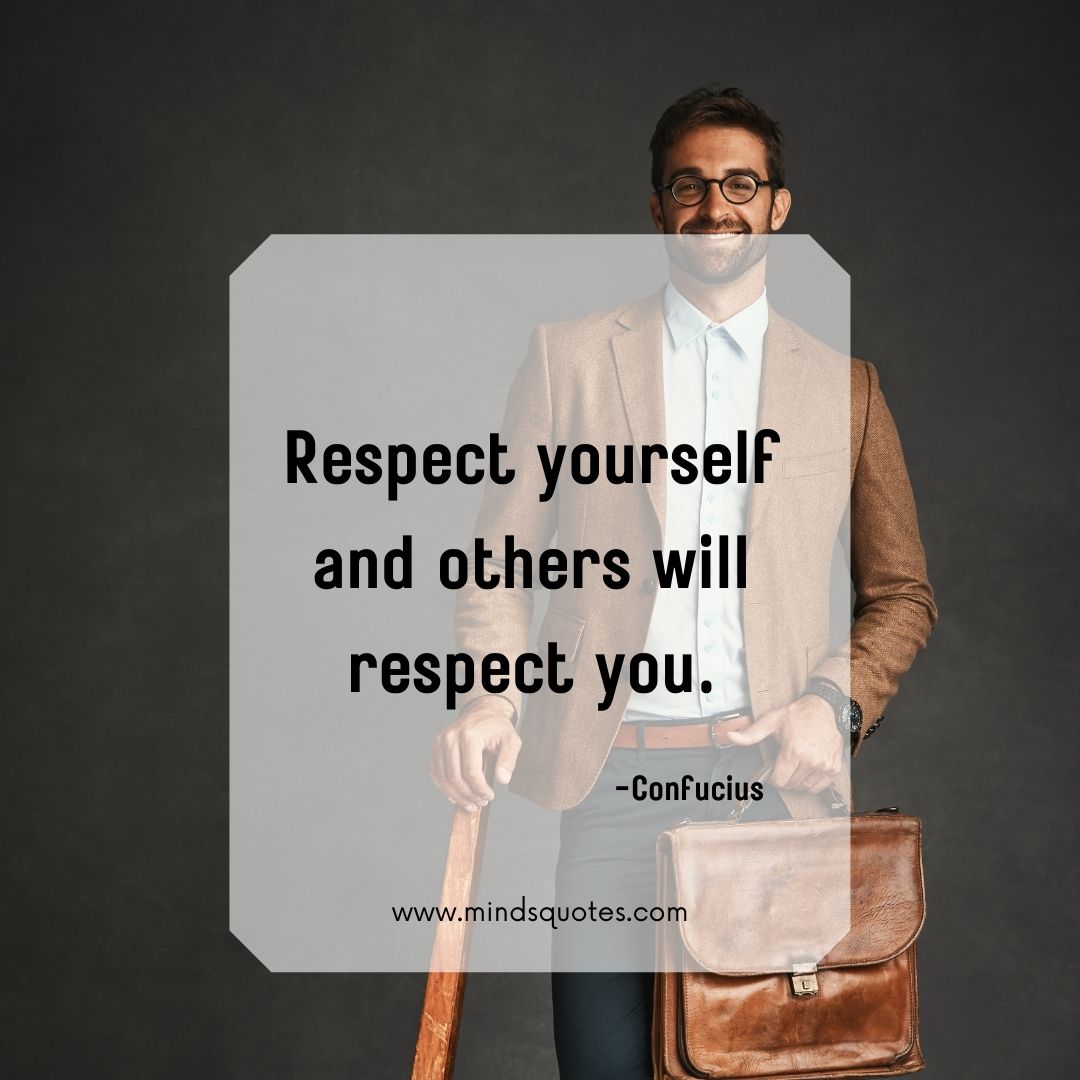 Be tolerant of others and strict with yourself. -Marcus Aurelius
Self-respect knows no considerations. -Mahatma Gandhi
Never violate the sacredness of your individual self-respect. -Theodore Parker
Our self-respect does not have a price tag. -Nawaz Sharif
If you don't care to be liked, they can't touch you. -Naval Ravikant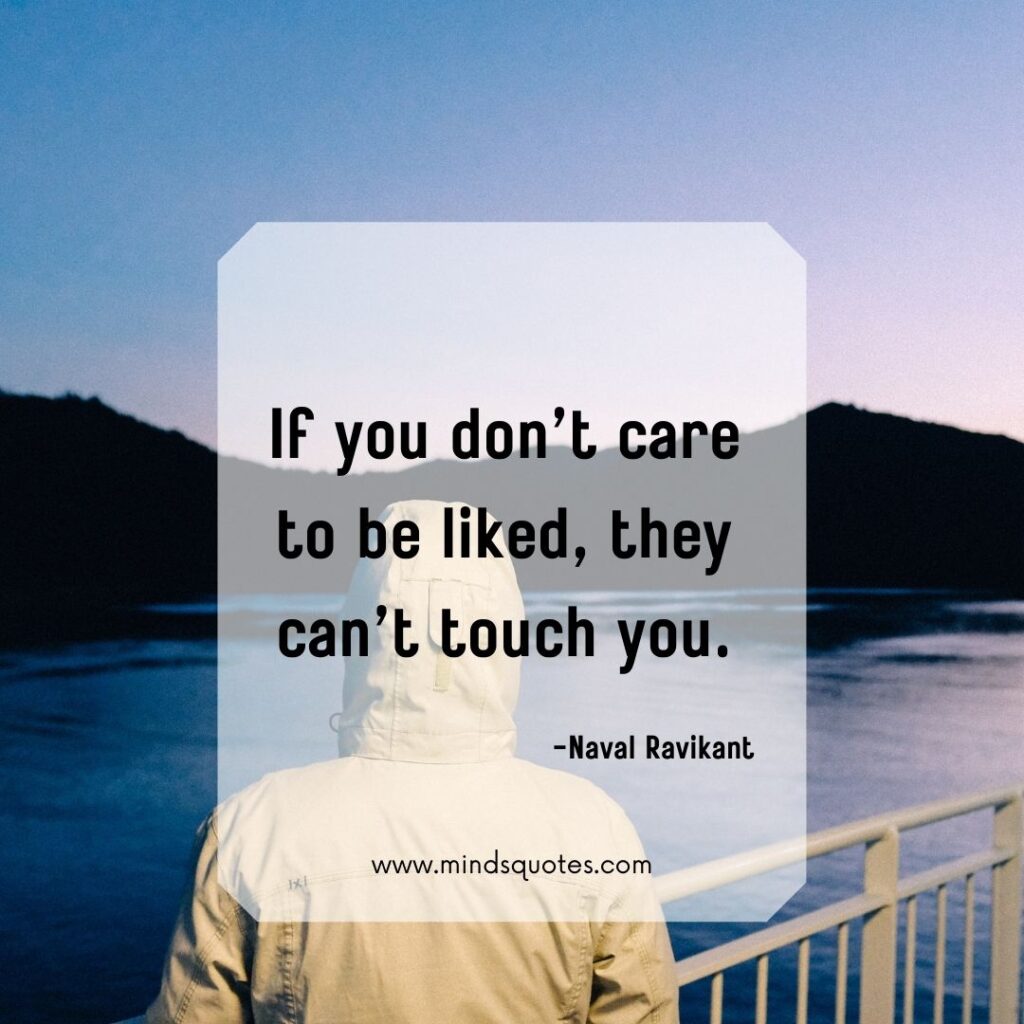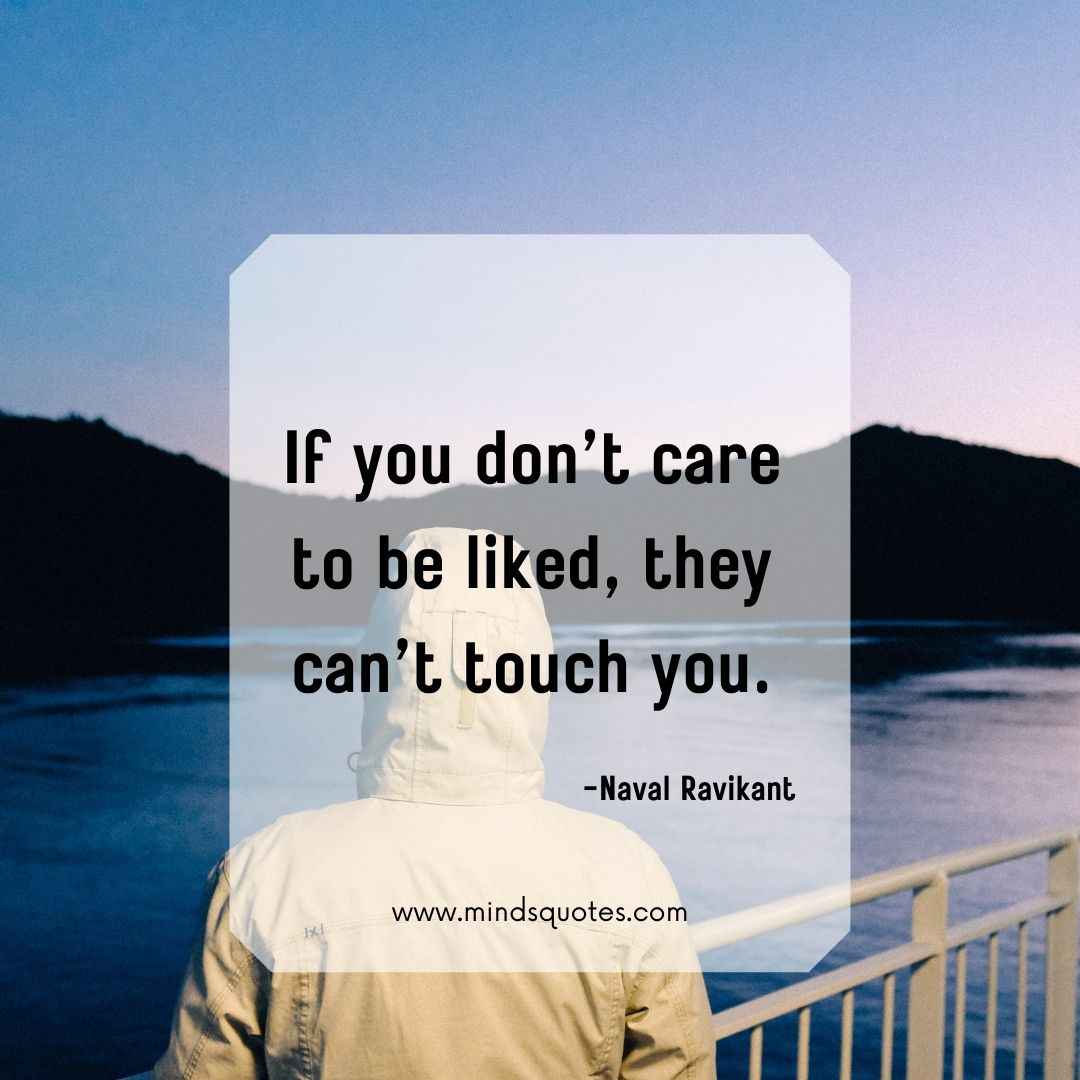 Ego is false confidence, self-respect is true confidence. -Naval Ravikant
Self Respect Quotes in English
"Respect people who trust you. It takes a lot for people to trust you, so treat their trust like precious porcelain." — Brandon Cox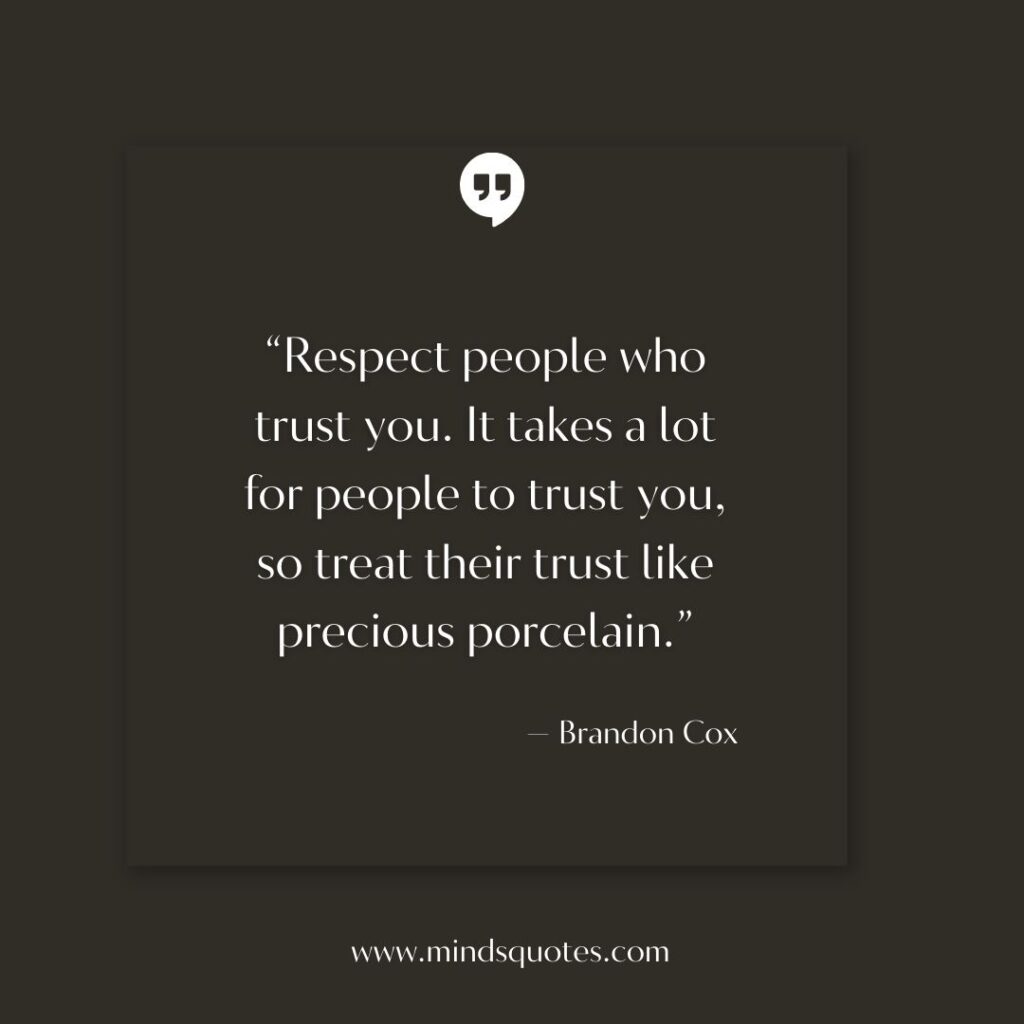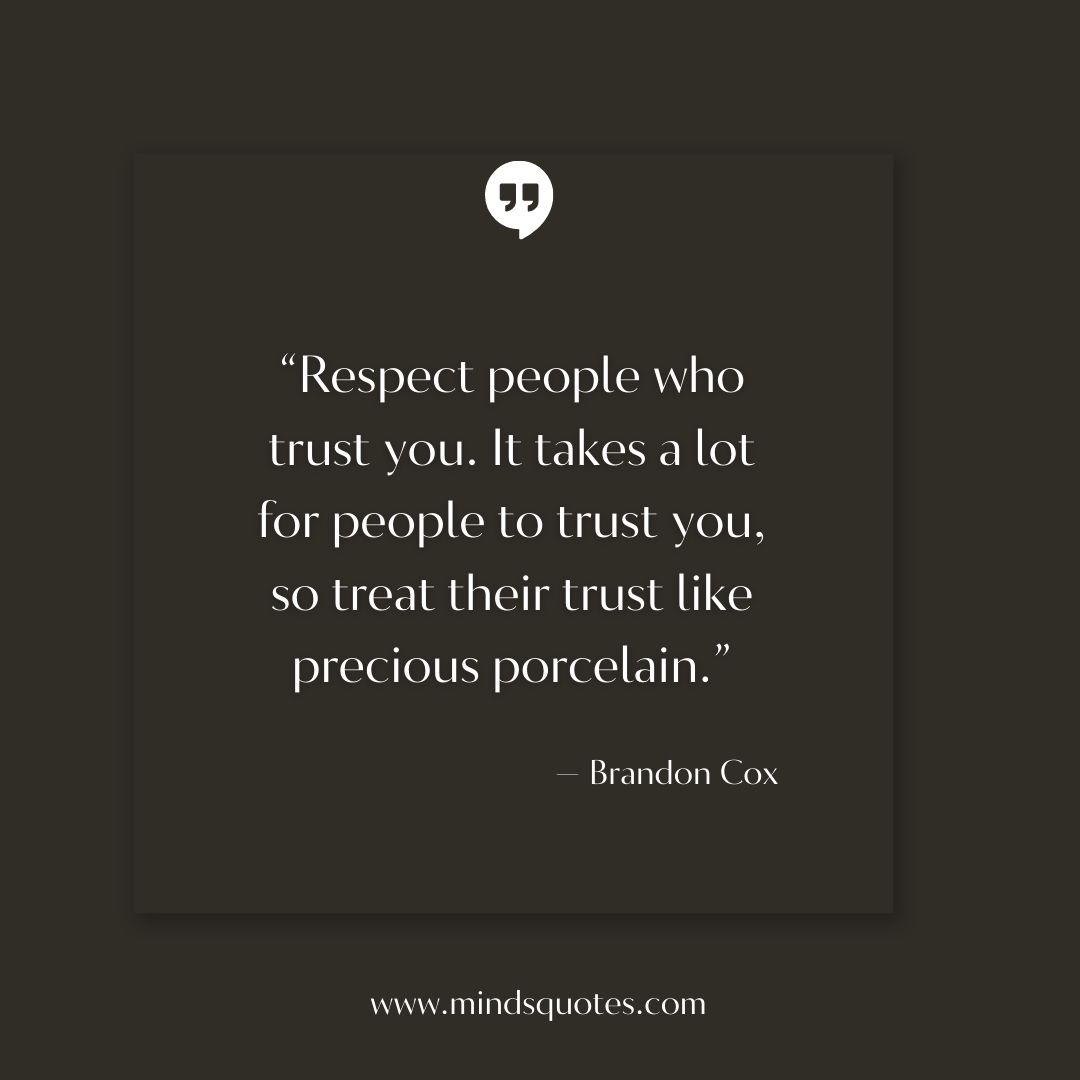 "You have one life. Live it on your own terms."
"Self-acceptance is pure power." ― Amy Leigh Mercree
"Without feelings of respect, what is there to distinguish men from beasts?" — Confucius
The challenge to America is to extend to Asia the defensive shield of American power in forms consonant with Asian freedom and self-respect. Ferdinand Marcos
"The worst loneliness is to not be comfortable with yourself." – Mark Twain.
"The art of conversation is the art of hearing as well as of being heard." — William Hazlitt
"Maturity is when you realize self-respect is greater than love."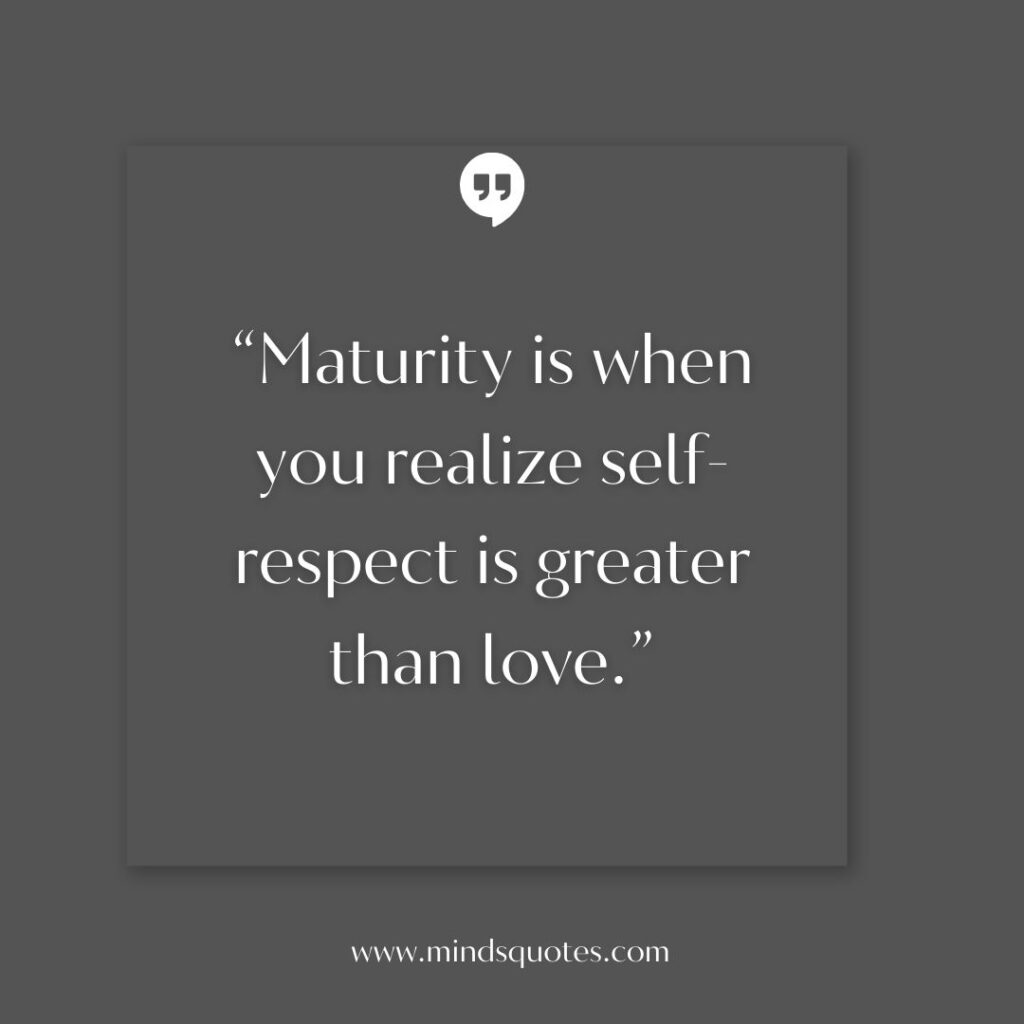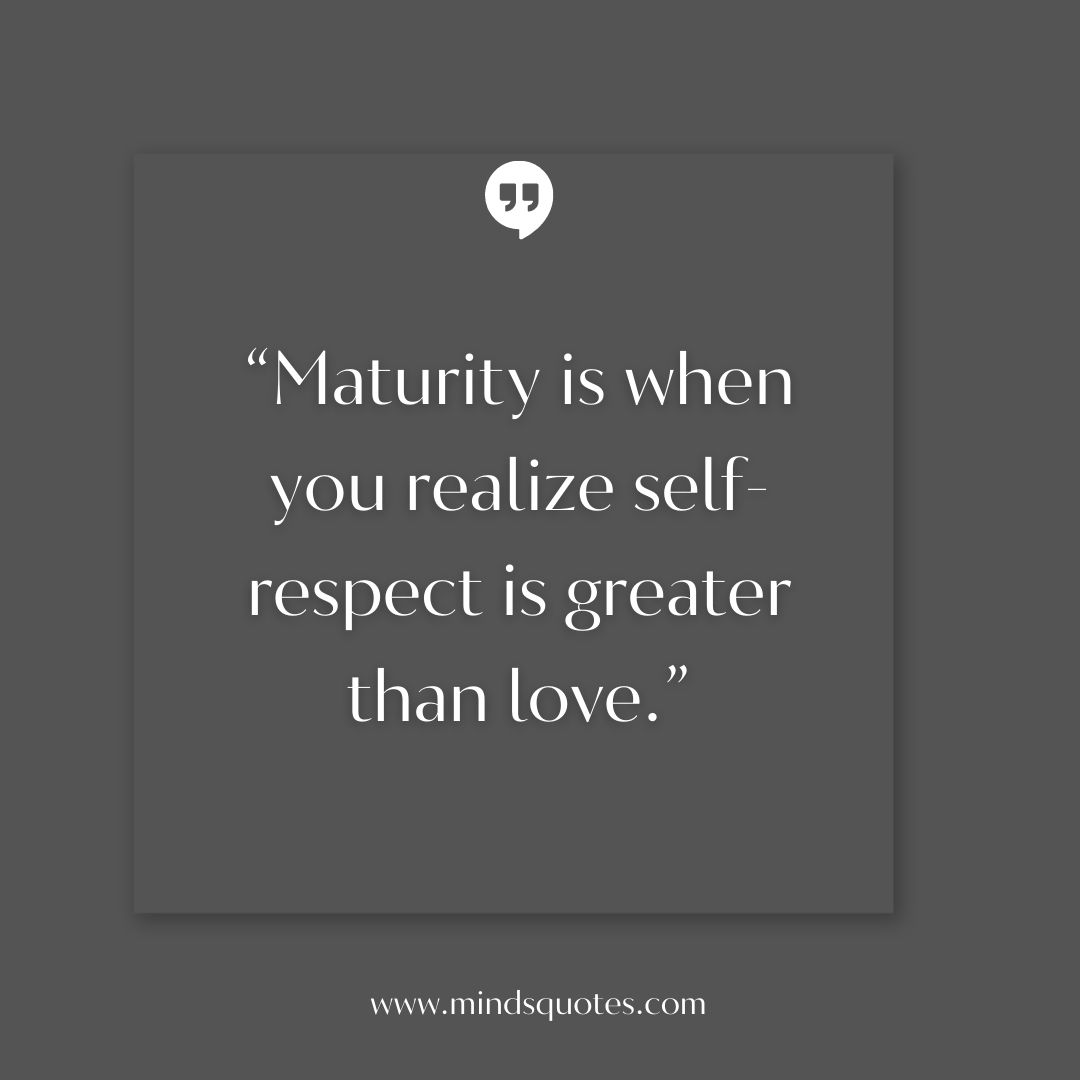 "You're always with yourself, so you might as well enjoy the company."
When you know that you can overcome challenges, you do gain that self-respect, and then you won't end up in a situation that you regret later on. Danica McKellar
Self-respect is a commodity worth cleaving to. -Diane Lane
The willingness to accept responsibility for one's own life is the source from which self-respect springs. Joan Didion
Best Self-Respect Quotes
Nationalist pride, like other variants of pride, can be a substitute for self-respect. -Eric Hoffer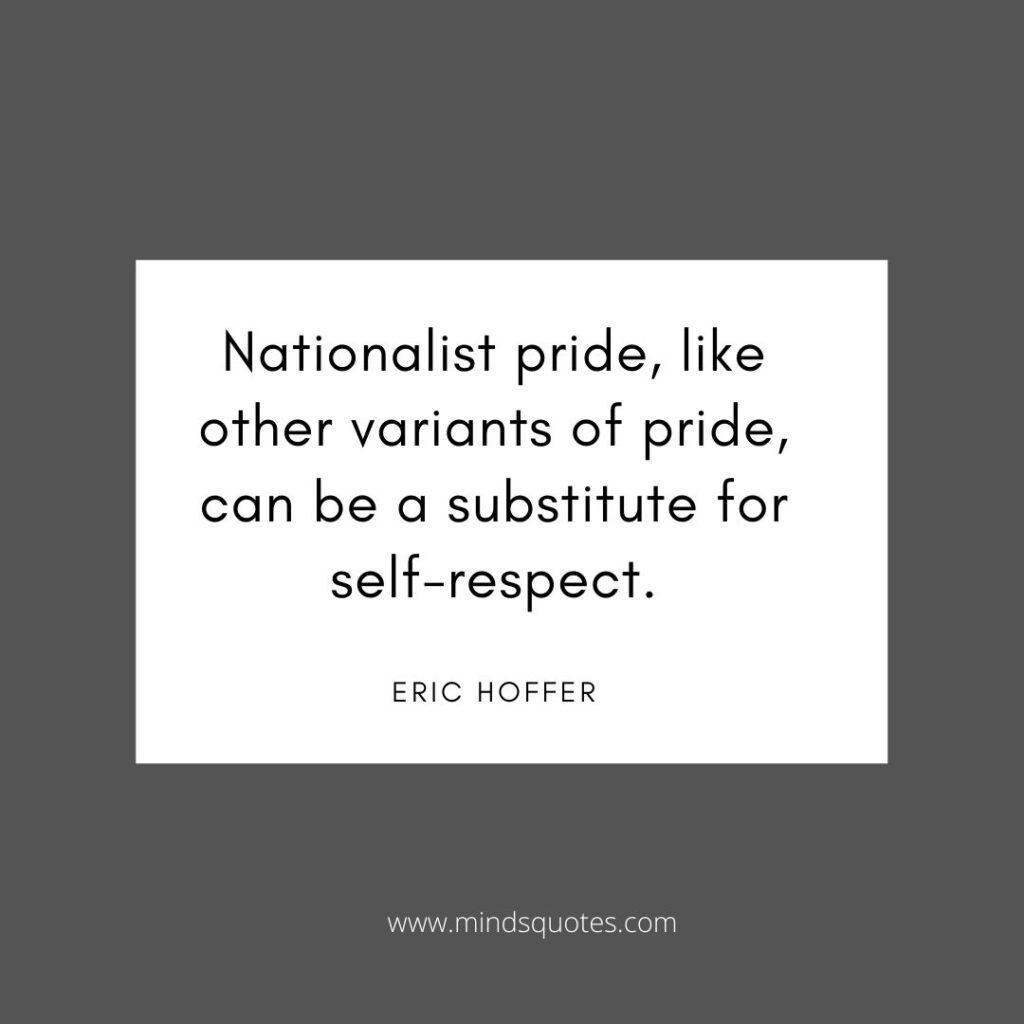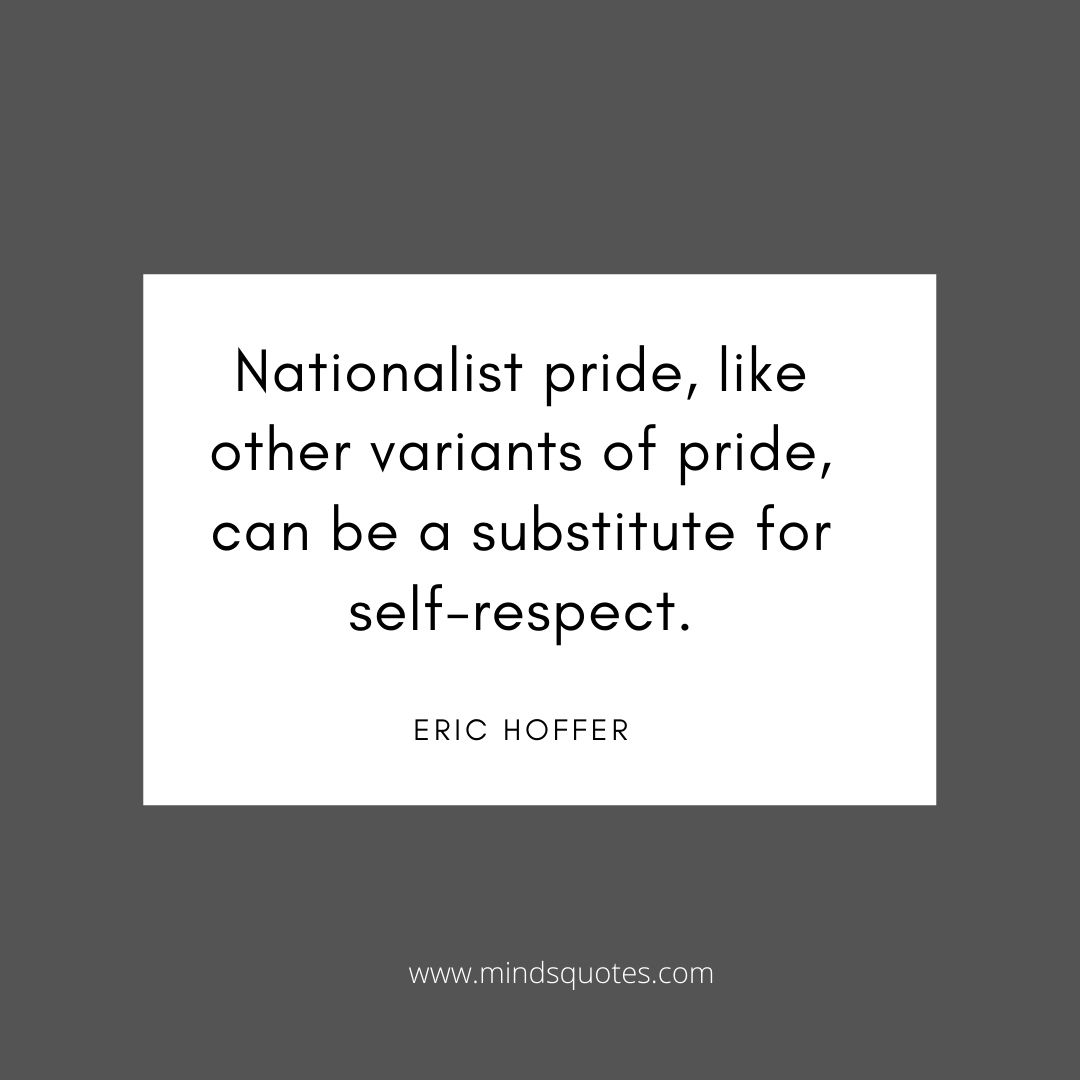 My self-respect is very dear to me. Nawaz Sharif
It is not the money but the self-respect and wanting to create good music. Barry Gibb
"Knowledge will give you power, but character respect." — Bruce Lee
"I'm not concerned with your liking or disliking me… All I ask is that you respect me as a human being." — Jackie Robinson
"There is no respect for others without humility in one's self." — Henri Frederic Amiel
The wish to lead out one's lover must be a tribal feeling; the wish to be seen as loved is part of one's self-respect. Elizabeth Bowen
A person that does not value your time will not value your advice." — Orrin Woodward
Quotes on Self-Respect
Quotes On Self-Respect will tell us the importance of respecting ourselves. Once we have a strong sense of self-respect, we can start to act by it. This means standing up for ourselves when others try to take advantage, making healthy choices for our bodies and minds, and setting boundaries in our relationships. When we respect ourselves, others will be more likely to respect us too. You can find Self Respect Quotes all over the internet, and they can help inspire you to change the way you think about yourself for the better.
"I'm not perfect, never claimed to be but I can look in the mirror & respect the woman staring back at me."
"At this age, I'm only interested in consistency, stability, respect & loyalty."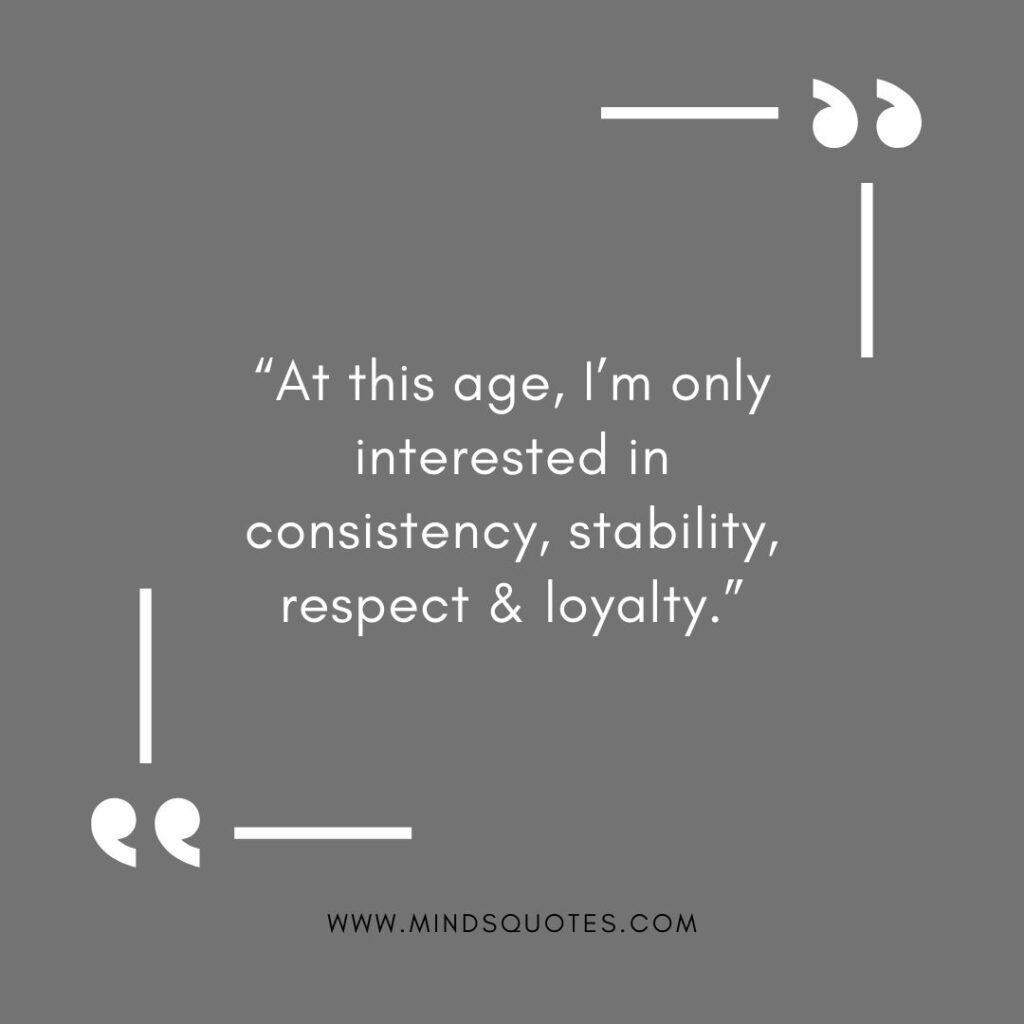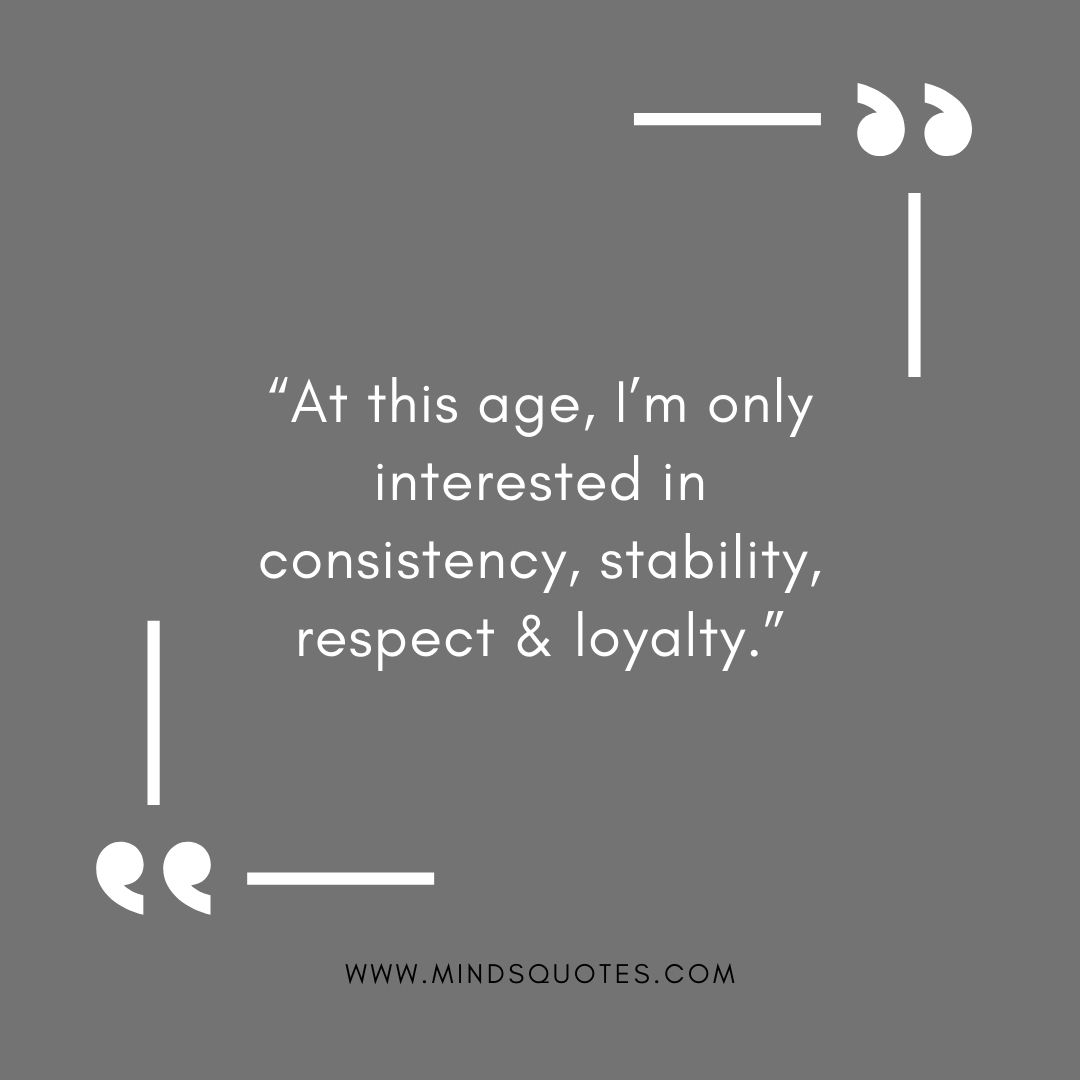 "Rainbow needs rain, healing needs hurt, and love needs you. Stand in your light! you are worthy."
"The moment you are old enough to take the wheel, the responsibility lies with you."― J.K. Rowling.
"You can't force someone to respect you, but you can refuse to be disrespected."
"Be the reason someone feels welcomed, seen, heard, valued, loved, and supported."
"The most terrifying thing is to accept oneself completely."– Carl Gustav Jung.
"To be yourself in a world that is constantly trying to make you something else is the greatest accomplishment."– Ralph Waldo Emerson.
Short Self Respect Quotes
"I don't treat people badly, I treat them accordingly."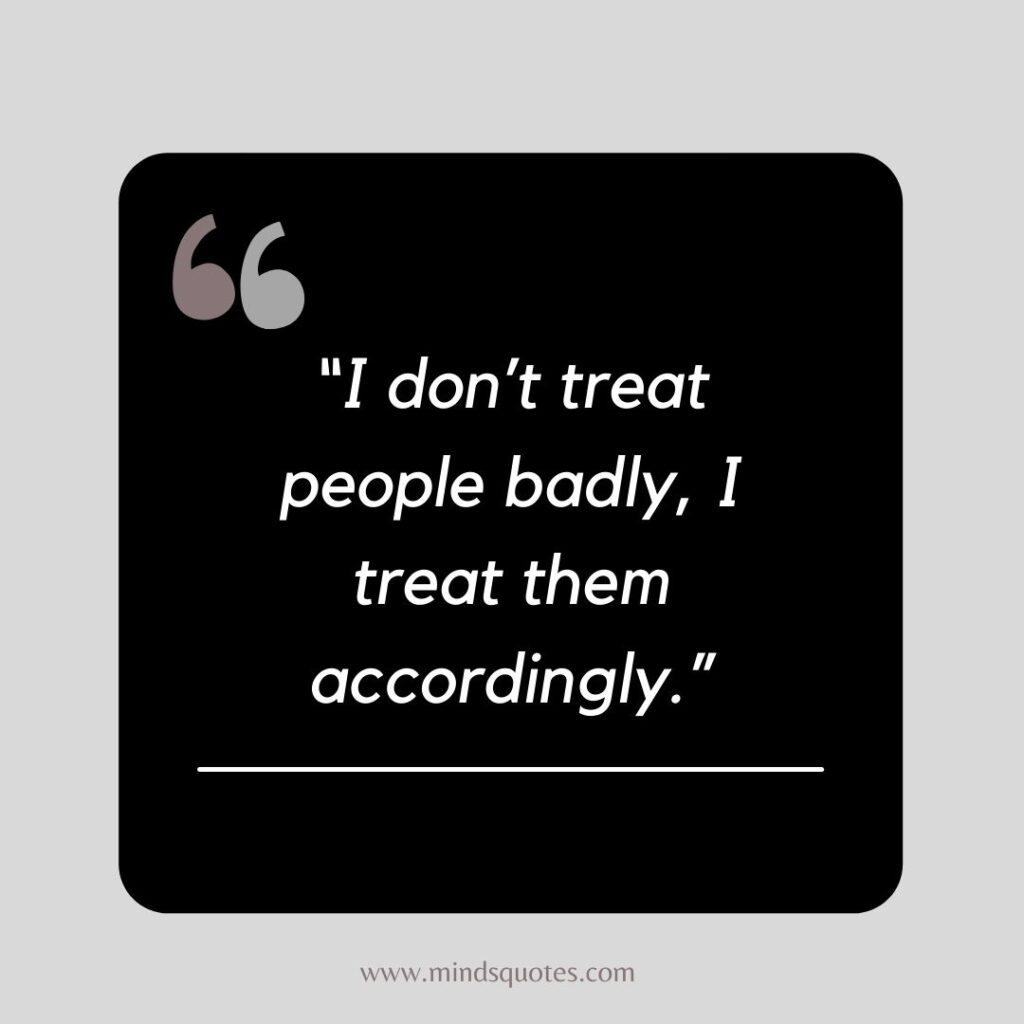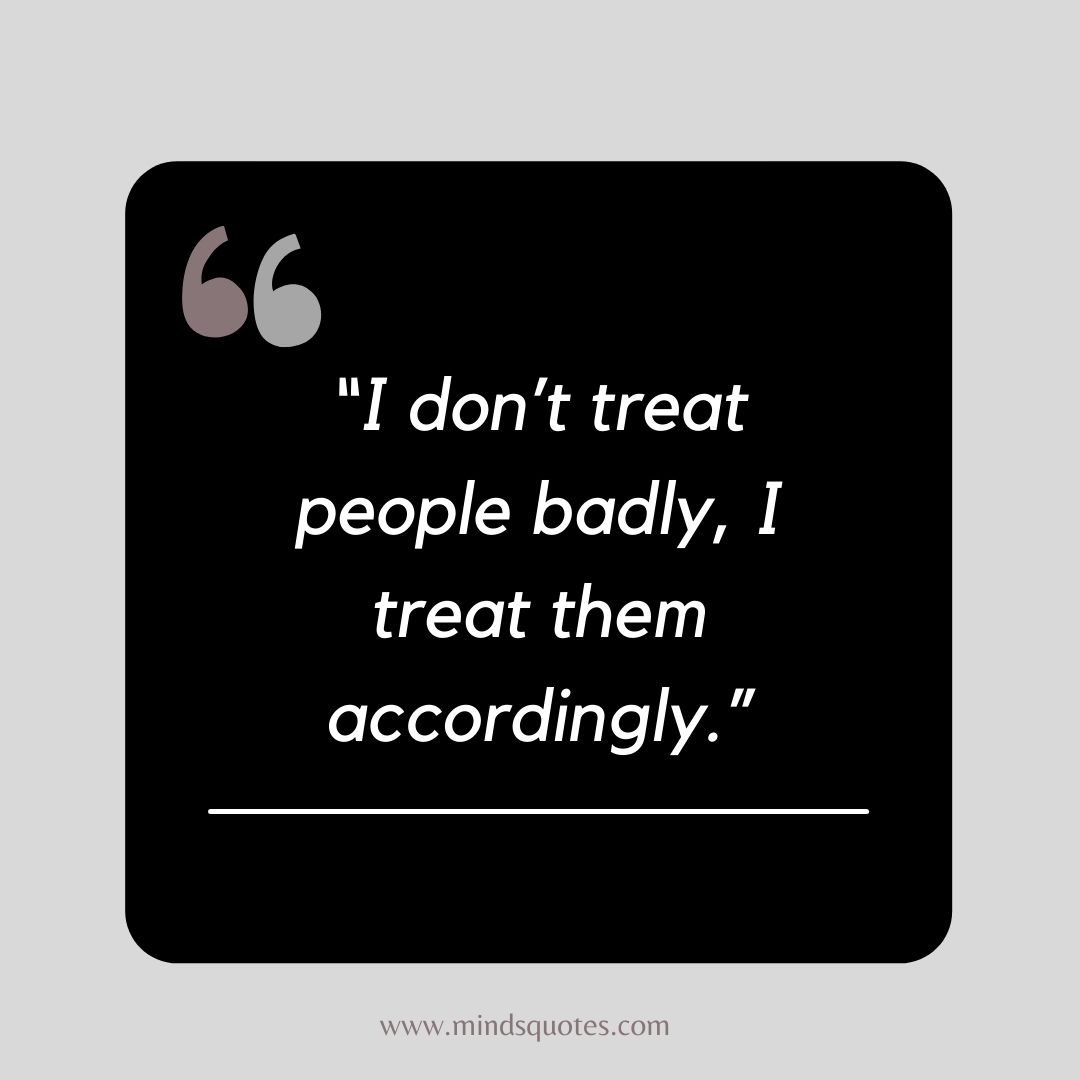 "Sometimes you have to leave, not forego, for self-respect."
"Lighten up. No one is perfect." – Deborah Day.
"Your self-respect has to be stronger than your feelings."
"Be faithful to that which exists within yourself." – André Gide.
"To fall in love with yourself is the first secret to happiness."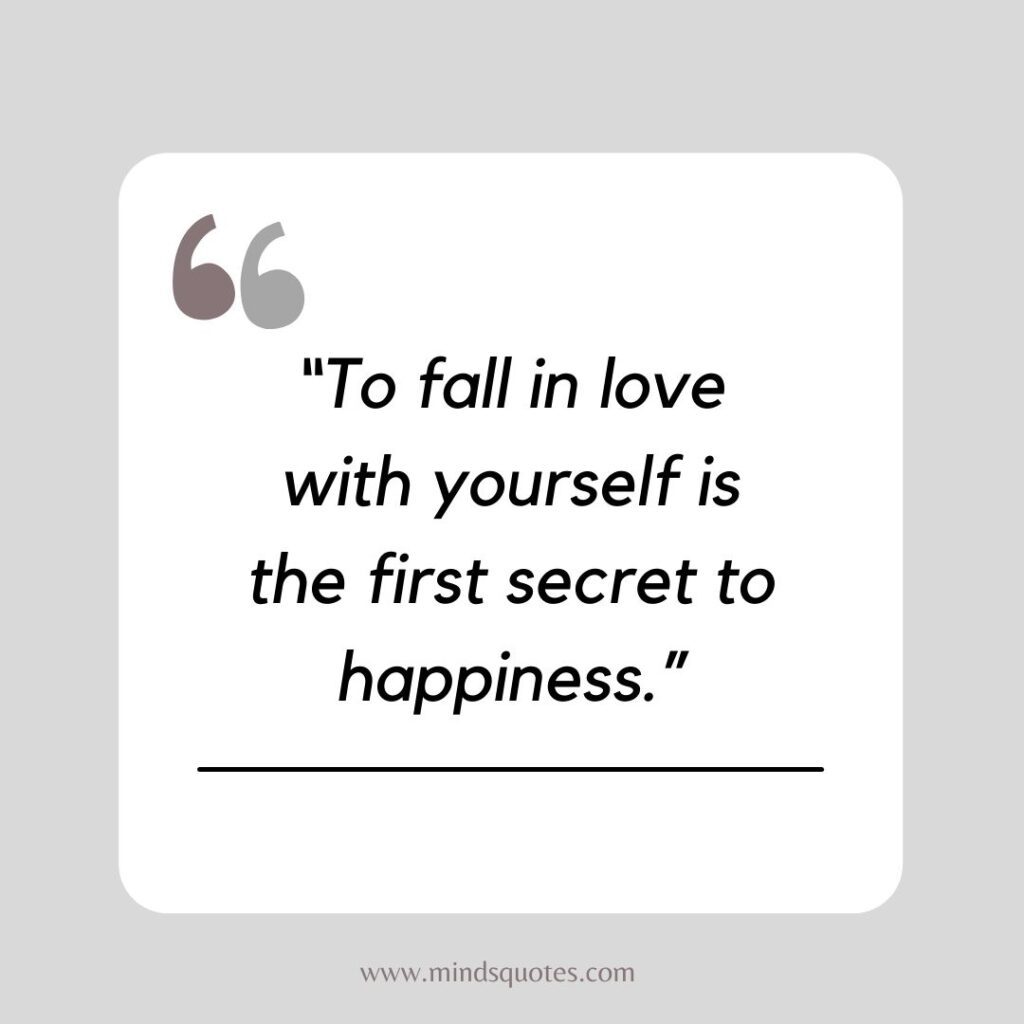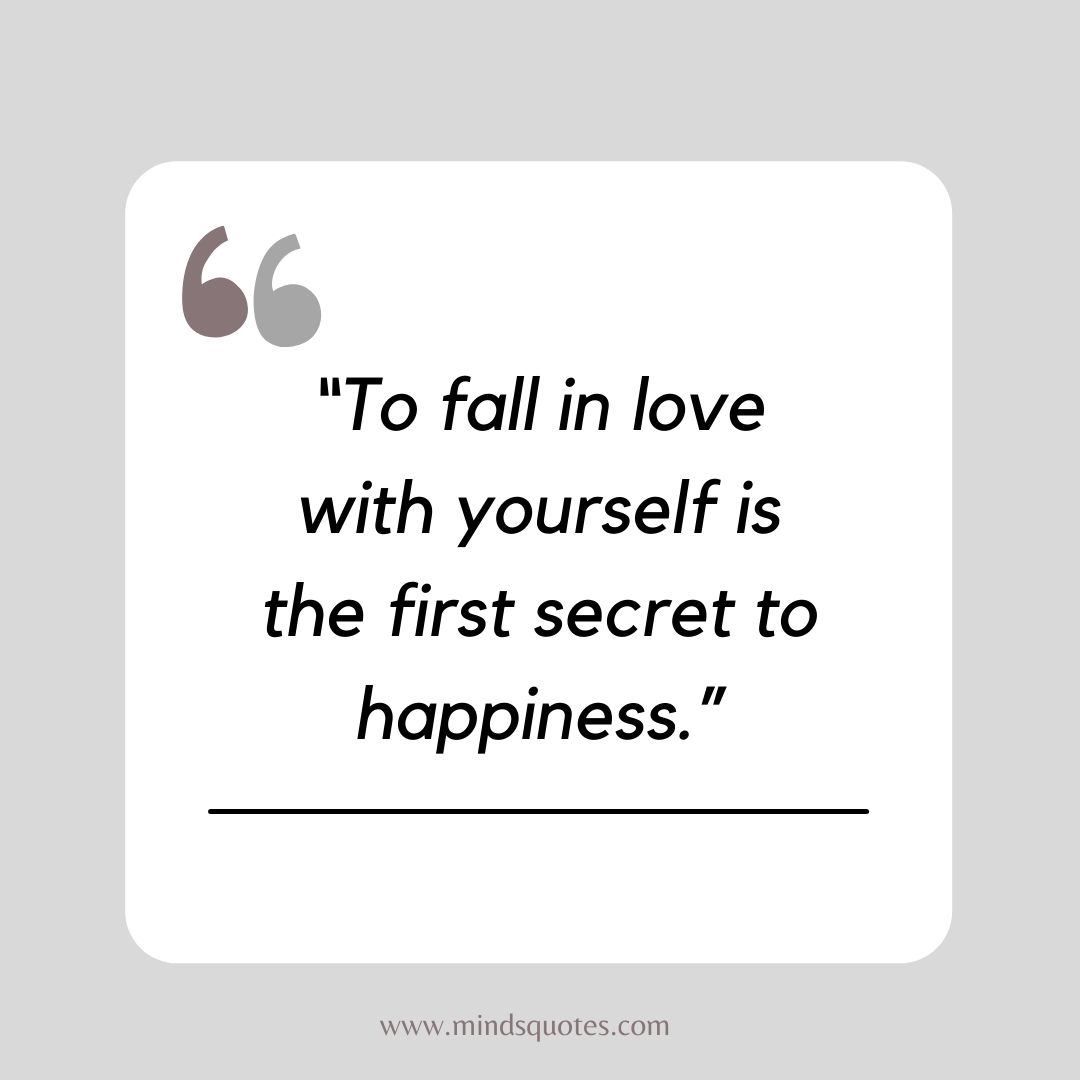 "A man cannot be comfortable without his own approval." – Mark Twain.
"Don't ever set yourself on fire to keep other people warm."
Powerful Self Respect Quotes from Famous People
"Stay out of your own way" – Whoopi Goldberg.
"Life is just about believing in yourself, in your dreams. You are the dream.

– Keke Palmer.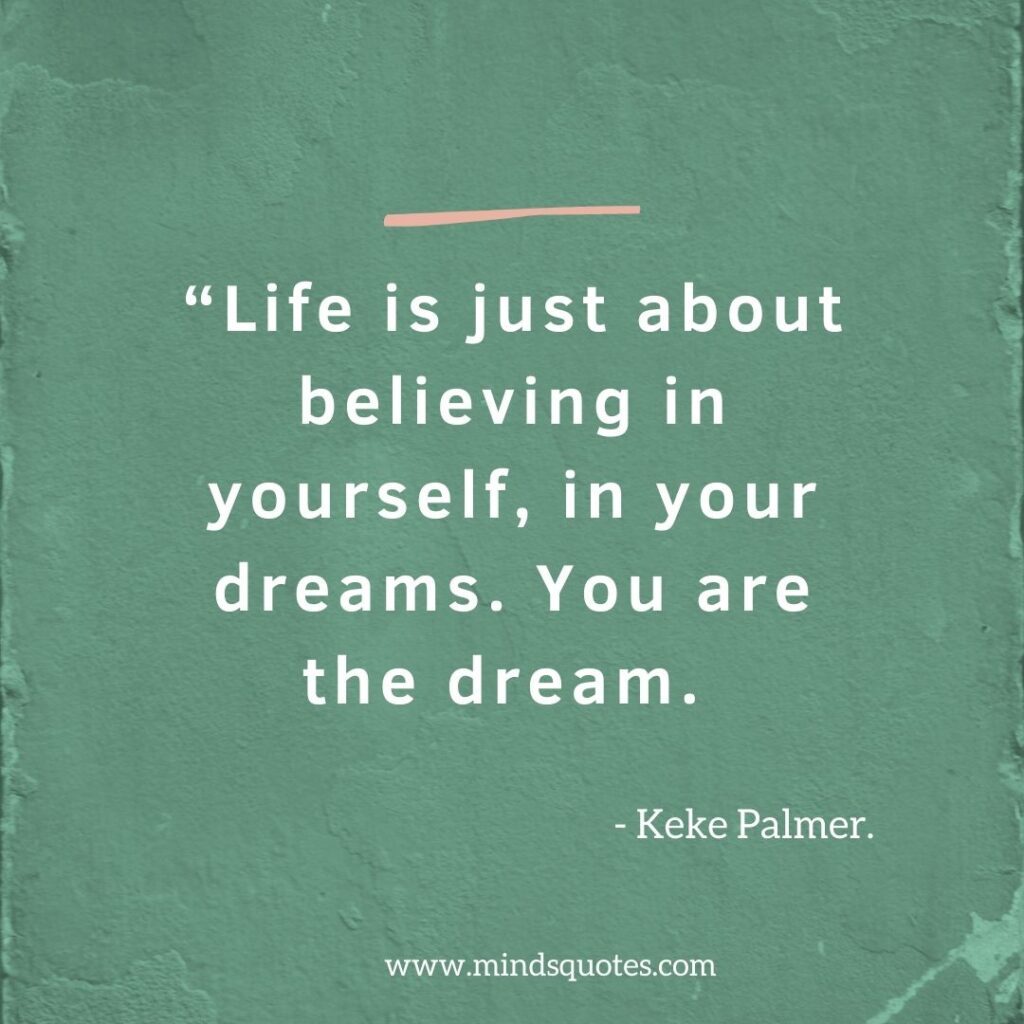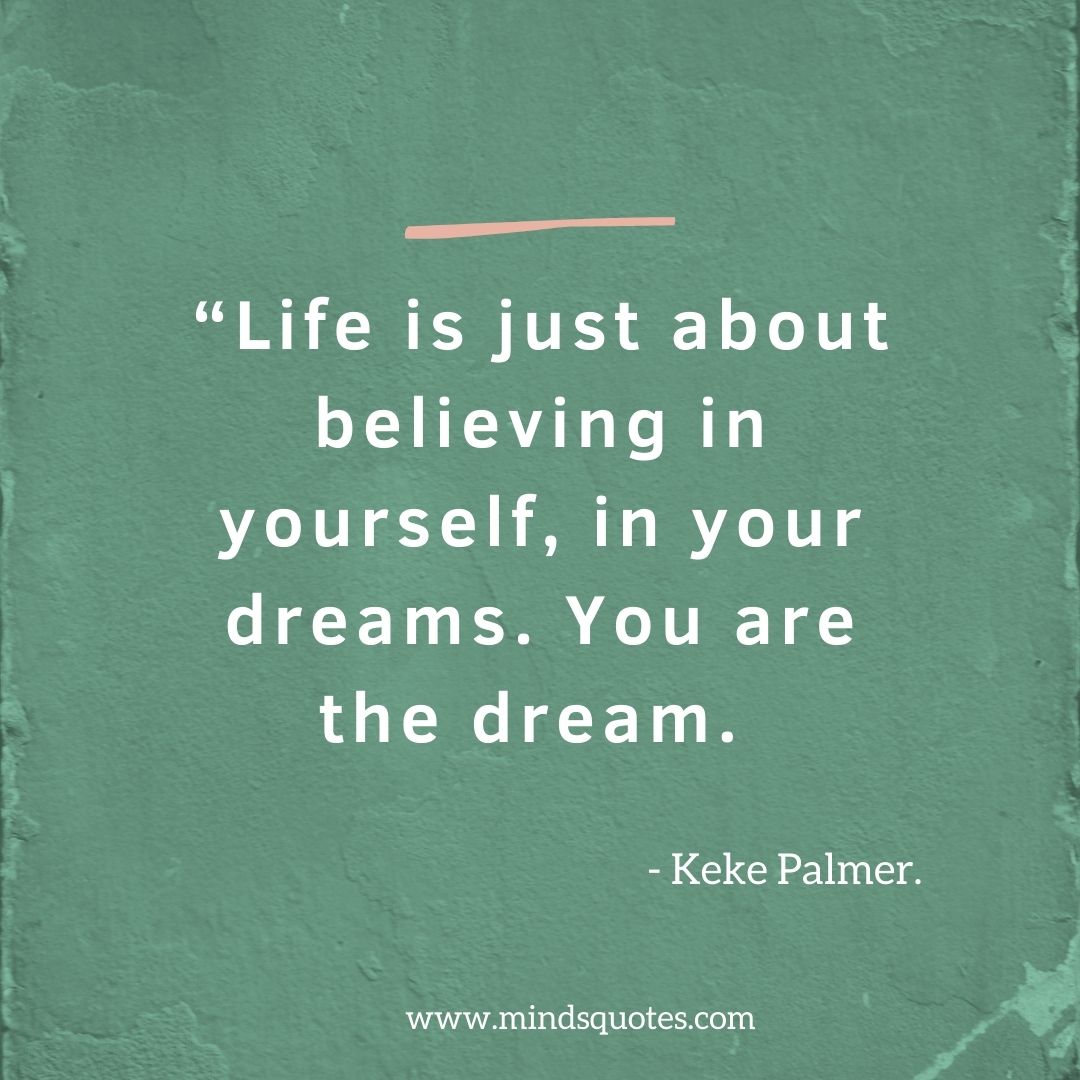 "Not being yourself is the worst form of self-disrespect." ― Mokokoma Mokhonoana.
"One's dignity may be assaulted…cruelly mocked, but it can never be taken away unless it is surrendered." – Michael J. Fox.
Low self-esteem is like driving with your hand-break on." – Maxwell Maltz.
"The reward for conformity is that everyone likes you but yourself." – Rita Mae Brown.
Quotes About Self Love and Respect
Quotes About Self Love and Respect can teach us about the two most important things self-love and respect. With self-love and respect, we learn to forgive ourselves, be authentically kind to ourselves, and set healthy boundaries. We learn that our opinions are just opinions and that they don't have to define us. We learn not to take things so personally. We develop a strong sense of self-worth, which allows us to find fulfillment in our pursuits rather than outside validation.
"Love yourself first and everything else falls into line." – Lucille Ball.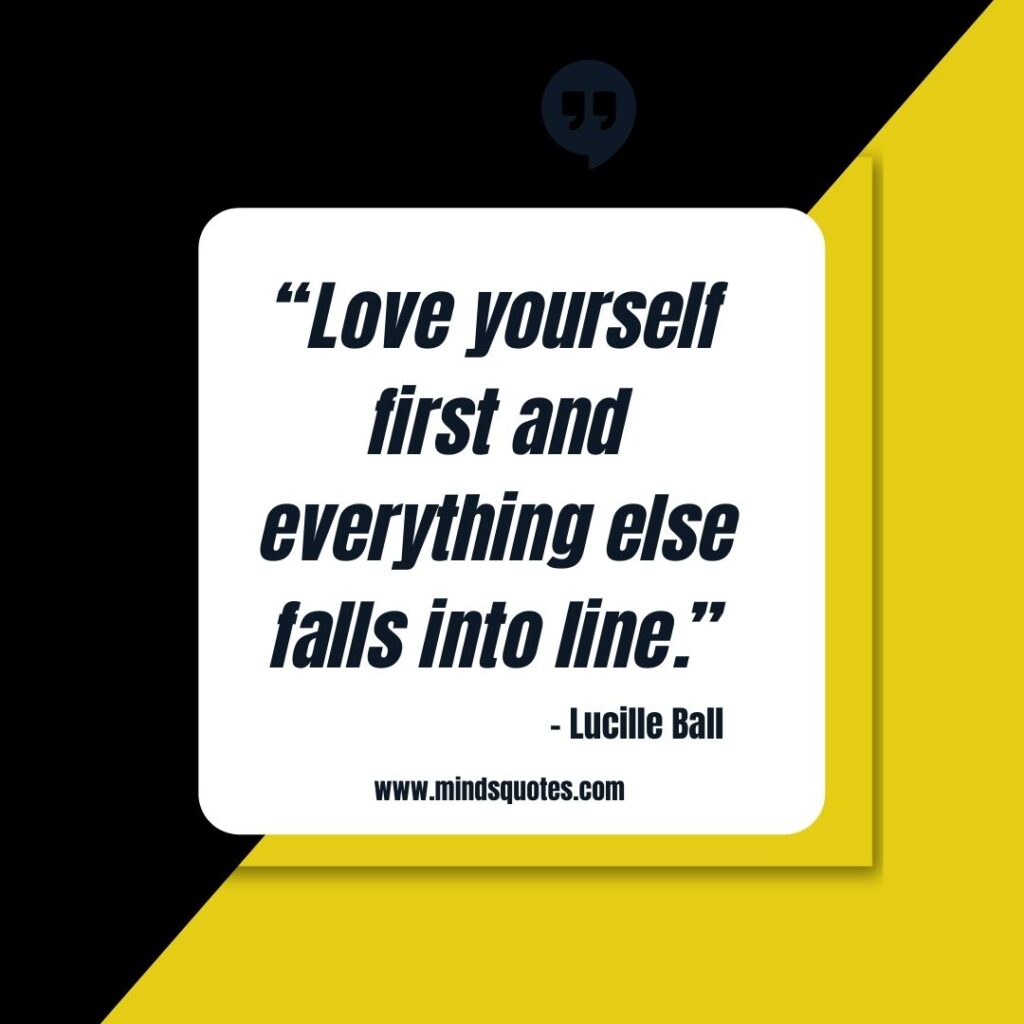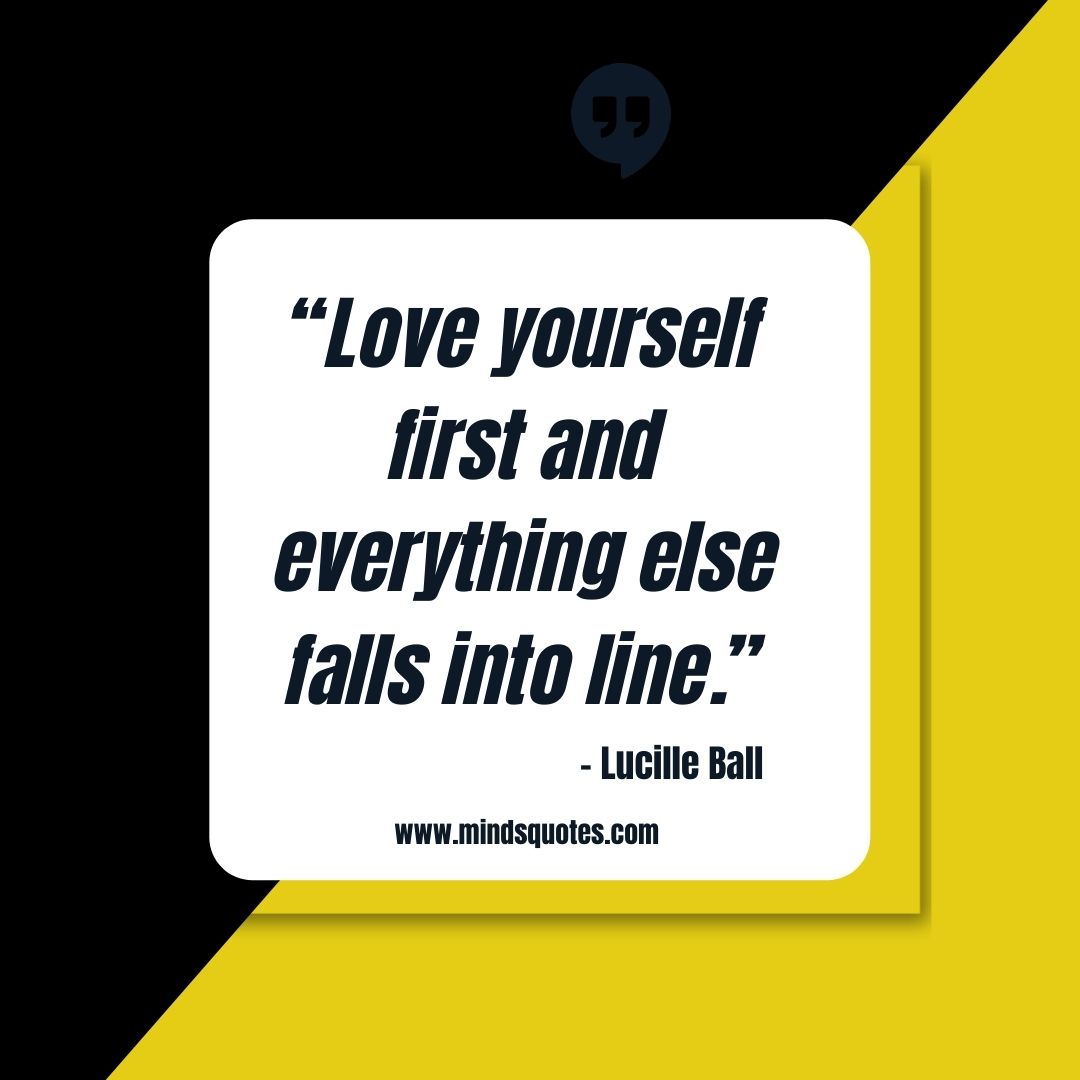 "To establish true self-esteem we must concentrate on our successes and forget about the negatives in our lives."– Denis Waitley.
"I had to grow to love my body. I did not have a good self-image at first, I chose to love myself."– Queen Latifah.
"A person learns how to love himself through the simple acts of loving and being loved by someone else."– Haruki Murakami.
"You yourself, deserve your love and affection."- Buddha.
"When we fulfill our function, which is to truly love ourselves, then true happiness sets in."– Gabrielle Bernstein.
"Self-love is an ocean and your heart is a vessel. Make it full."– Beau Taplin.
"Love is the great miracle cure."– Louise Hay.
Quotes on Self-Respect and Dignity
Self-respect and dignity are two very important, yet often overlooked, aspects of our lives. Without them, it is difficult to lead a fulfilling life. We will give you some Quotes on Self-Respect and Dignity to help you feel better. When we love and respect ourselves, we make better choices that reflect our values and support our well-being.
"Once you embrace your value, it neutralizes when others think less of you." – Rob Liano.
I never work just to work. It's some combination of laziness and self-respect. – Harold Ramis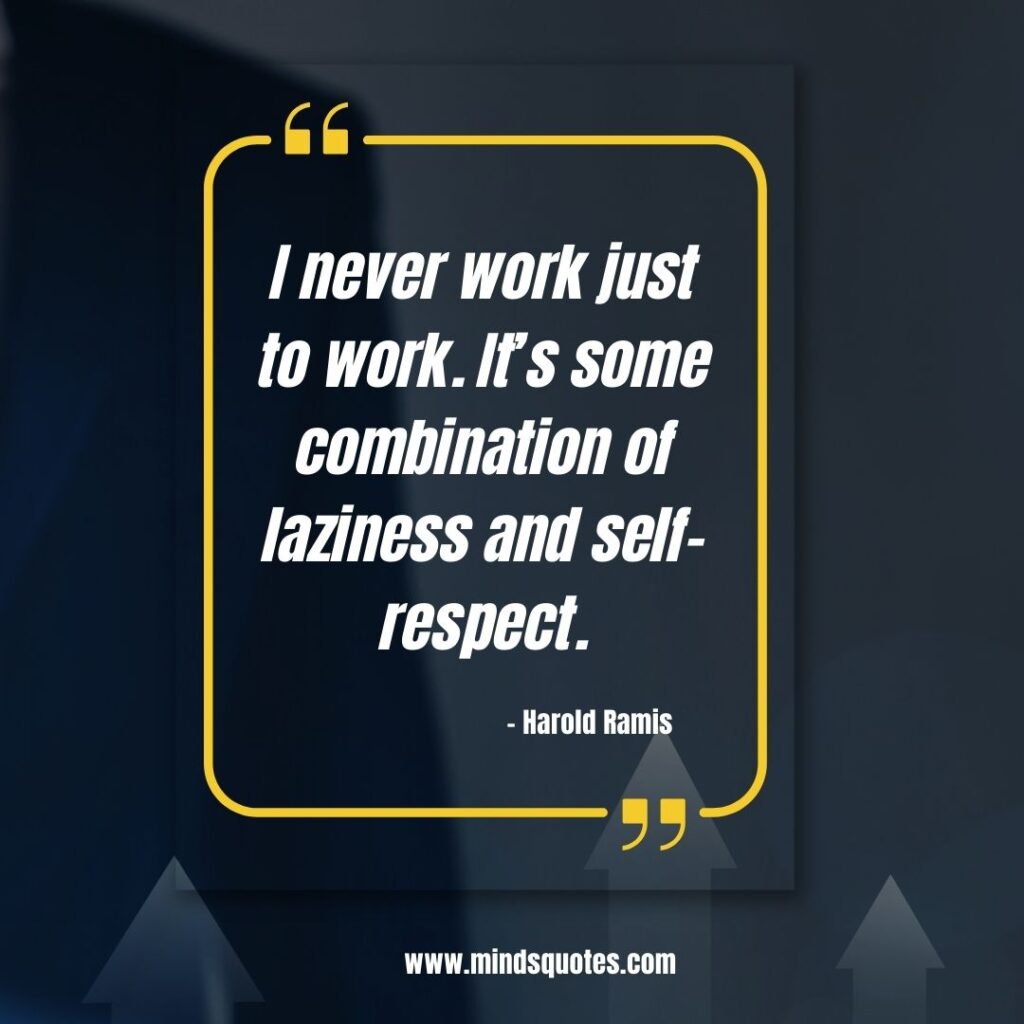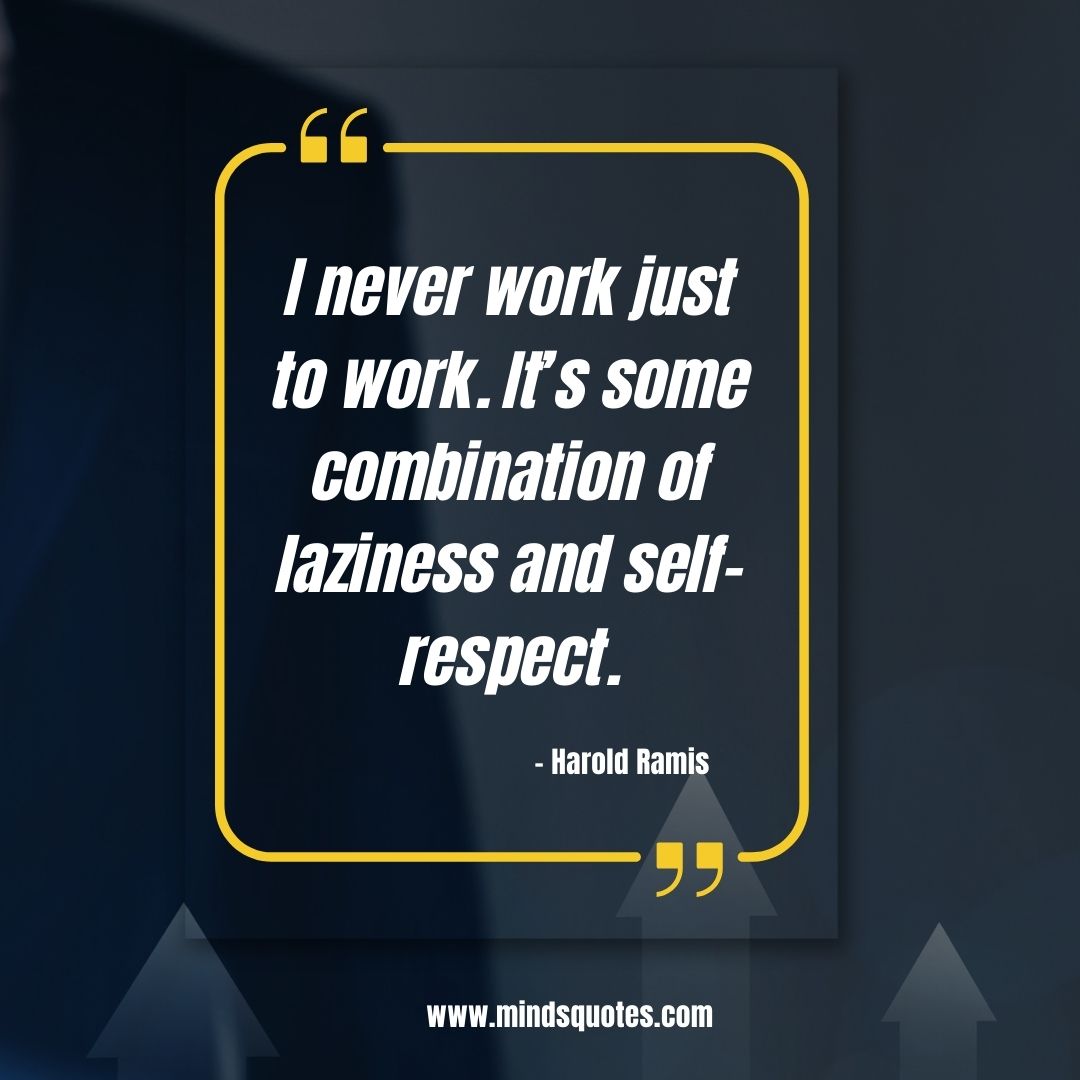 "Self-belief is not self-centered. We can only fight effectively for others if we already believe in ourselves." – Carla H. Krueger.
"Not being yourself is the worst form of self-disrespect." ― Mokokoma Mokhonoana.
Just see the mirror, and you will find the person who will always protect and guide you.
Self-respect permeates every aspect of your life. – Joe Clark
"The reward for conformity is that everyone likes you but yourself." – Rita Mae Brown.
If we lose love and self-respect for each other, this is how we finally die. – Maya Angelou
"I want to be the best version of myself for anyone who is going to someday walk into my life and need someone to love them beyond reason." ― Jennifer Elisabeth
Attitude Self Respect Quotes
Attitude Self Respect Quotes involve having a sense of intrinsic self-regard. People who have self-respect know their limits, which gives them the power to stay away from anything that is bad for them or would lower their self-esteem. People with high self-respect don't let anyone step on them, which is the main reason why they don't have any bad addictions and don't engage in risky behaviors. Learning to have a healthy self-respect attitude is key to living a fulfilling life.
Attitude is negative but self-respect is positive.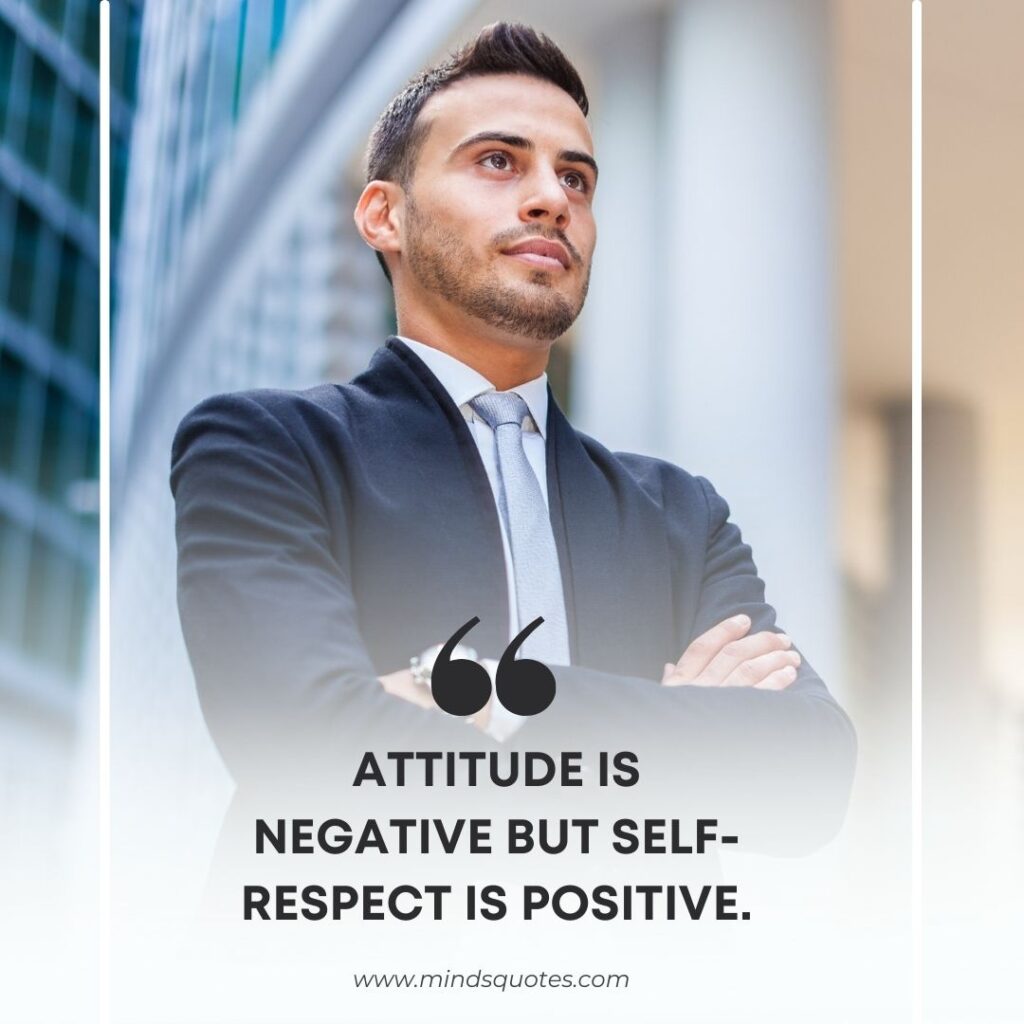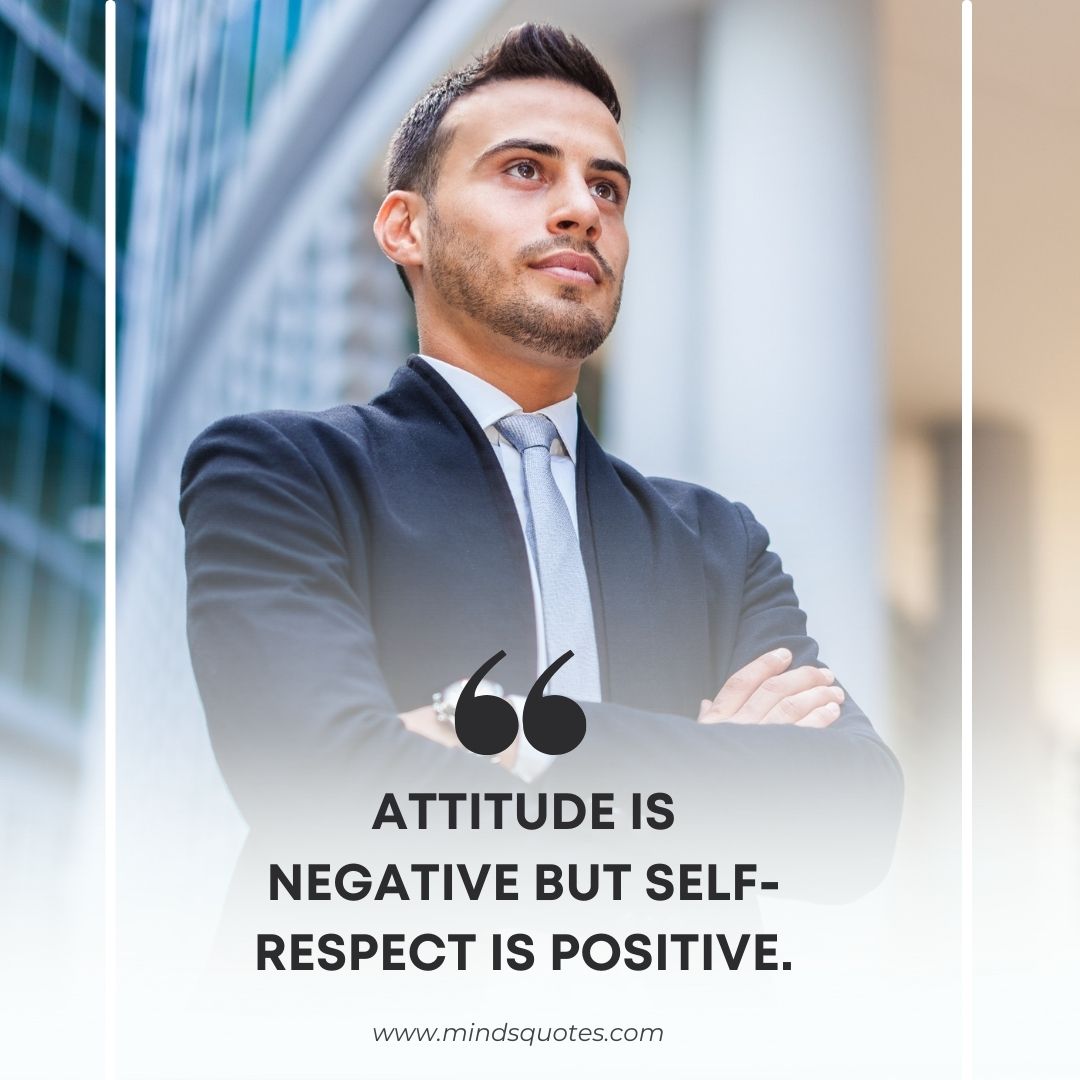 Never bend your head. Hold it high. And Look the world straight.
Never spoil your self-respect, not even from yourself.
For success, attitude is equally as important as ability. -Walter Scott
Self-respect knows no considerations.
I'm not even a backup plan, and definitely not a second choice.
"Live life to the fullest, and focus on the positive." — Matt Cameron
I can love you beyond my ego. But, you don't expect me to love you beyond my self-respect.
Self Respect in Love Quotes
Self Respect in Love Quotes is about respecting yourself in love. Love is a powerful feeling that can brighten up someone's day and make them feel on top of the world. However, when that love is not reciprocated, it can be crushing. Self-respect is one of the most important aspects of a healthy relationship. Without it, you might find yourself in a harmful or abusive situation.
You may also find that you have trouble trusting others, or that you have trouble developing intimacy in your relationships. Build self-respect by forgiving yourself for your mistakes. Spending time with people who make you feel good about yourself, and setting boundaries in your relationships. Self Respect Quotes can help you with this.
"No other love can fulfill one's heart better than unconditional self-love."– Edmond Mbiaka.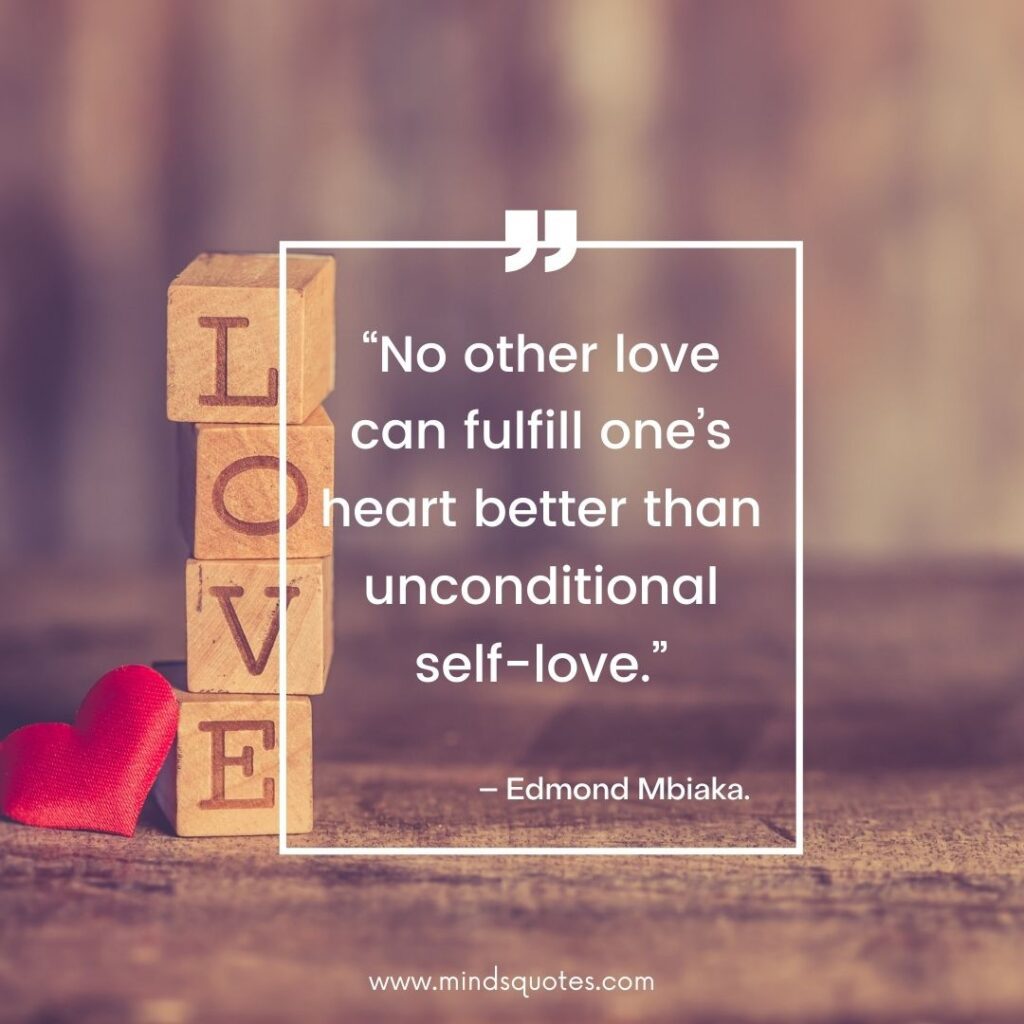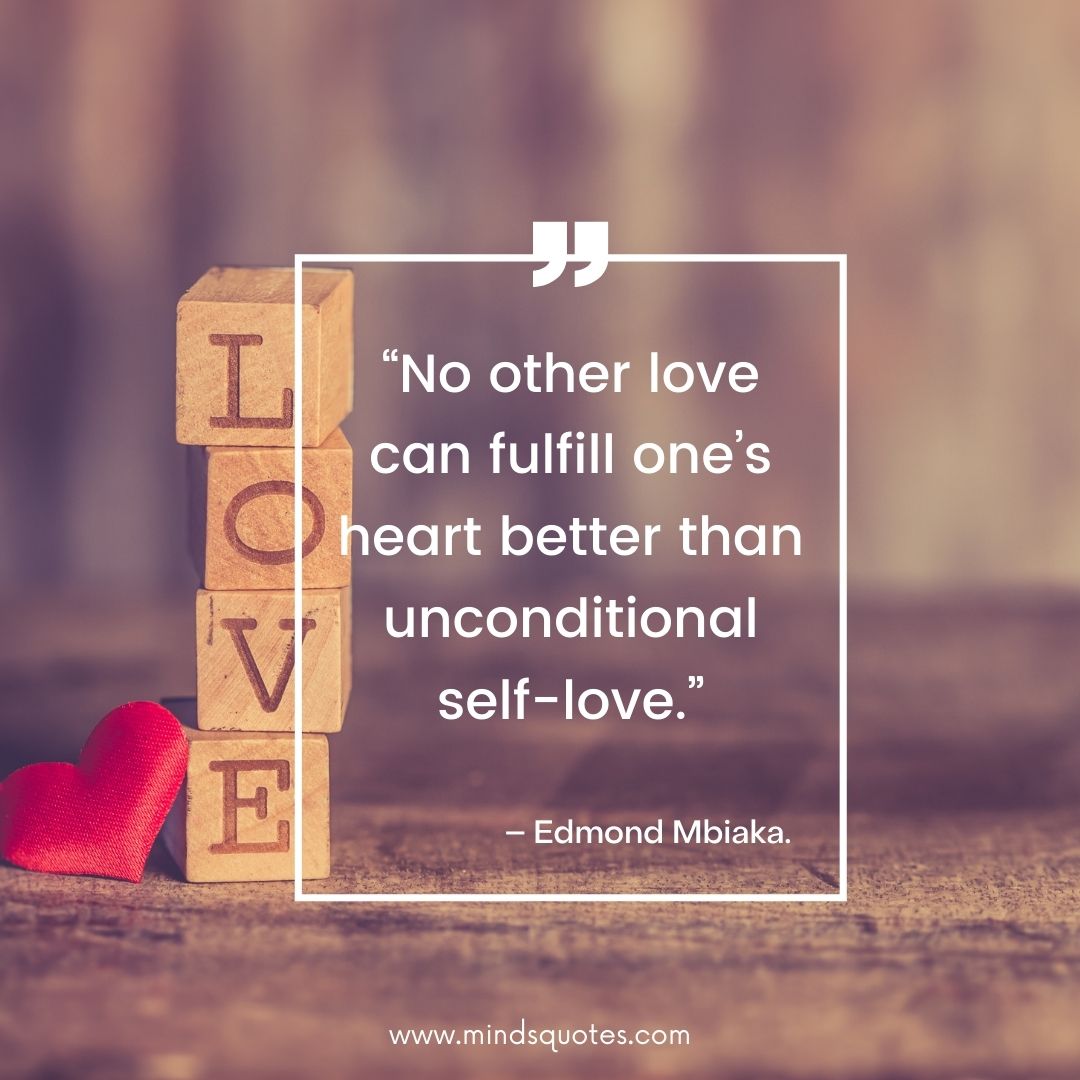 "Experience tells you what to do; confidence allows you to do it."-Stan Smith.
"Self-control is strength, calmness is power."- James Allen.
"What's important to me is not others' opinions of me, but what's important to me is my opinion of myself."– C. Joybell C.
"The most beautiful thing you can wear is confidence."- Blake Lively.
"If you don't love yourself, nobody will, you won't be good at loving anyone else." – Wayne Dyer.
"You are responsible for your life." – Oprah Winfrey.
"Loving yourself comes from accepting who you really are."– Catriona Gray.
"Loving yourself isn't vanity. It's sanity." – Katrina Mayer.
Women Self Respect Quotes
Self-respect is one of the most important things a woman can have. When you respect yourself, you demand that others respect you as well. You hold yourself to high standards and have a better sense of your own worth. This makes it easier to brush off hurtful comments and negativity, and stand up for yourself when necessary. Read some Women Self Respect Quotes to know how to respect a woman or as women know how about self-respect.
"When a woman is talking to you, listen to what she says with her eyes." – Victor Hugo.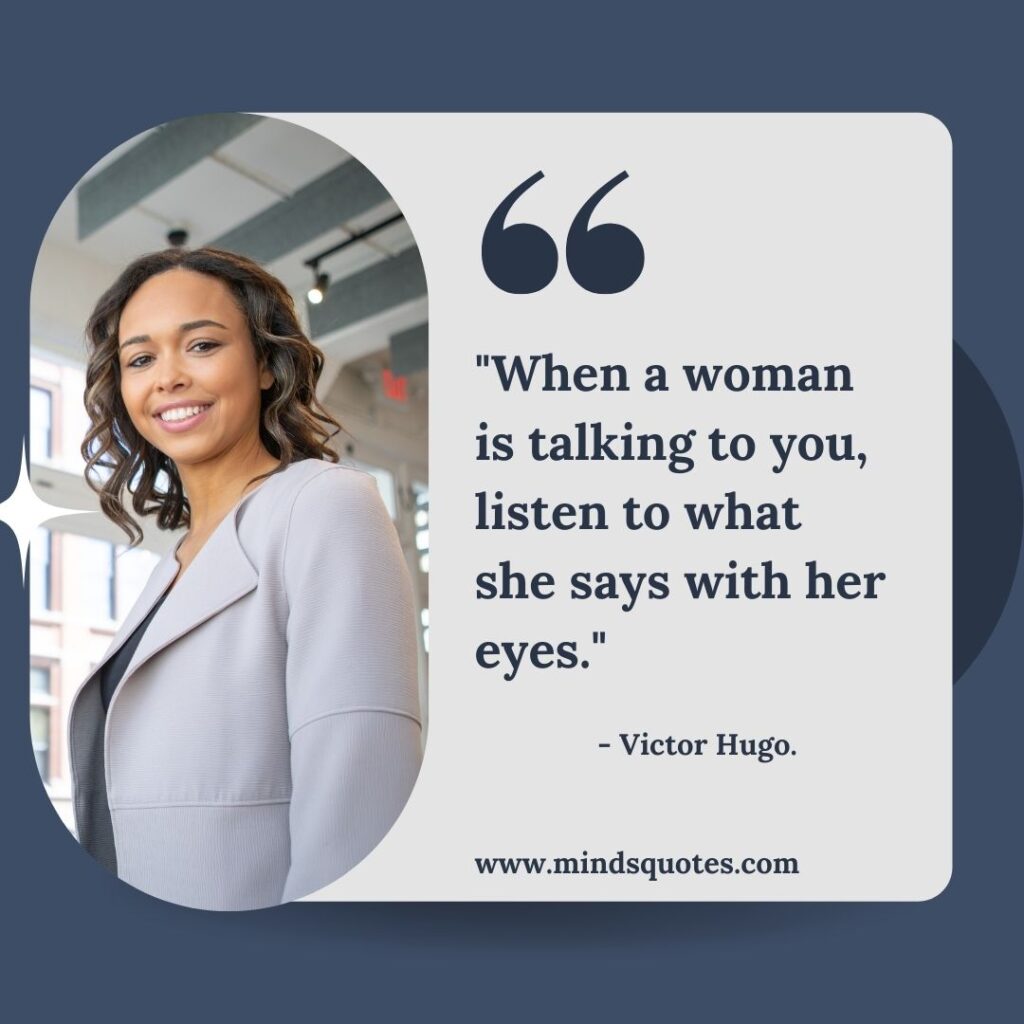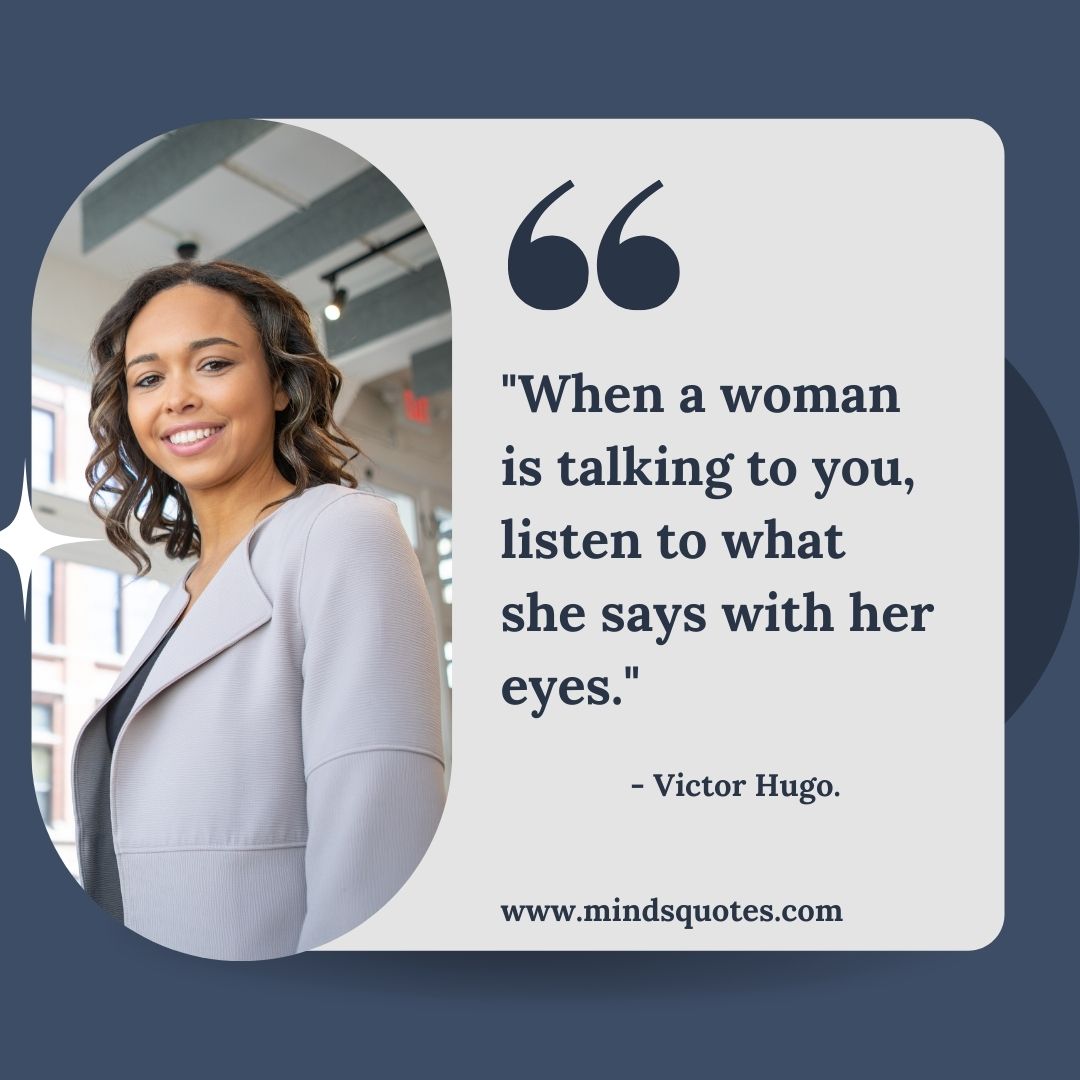 "The measure of any society is how it treats its women and girls."- Michelle Obama.
"Everyone should be respected as an individual, but no one idolized."- Albert Einstein.
"A man can build a home but it needs a woman to run a home."- Amit Kalantri.
"Above all, don't lie to yourself."- Fyodor Dostoevsky.
"Have respect for yourself and no one can take away your self-respect."- Sri Sri Ravi Shankar.
"Respect for ourselves guides our morals; respect for others guides our manners." – Lawrence Sterne.
"A woman brought you into this world, so you have no right to disrespect one." – Tupac Amaru Shakur.
Relationship Self-Respect Quotes
Relationship Self Respect Quotes will tell you why you need self-respect in a relationship. It is common for people to enter into relationships without having a clear understanding of what they need and want from the partnership. Inevitably, this can lead to clashes and resentments down the line. To prevent this, both people in a relationship need to have a good sense of self-respect. When each individual feels respected by the other, they are more likely to be cooperative and communicative.
Moreover, healthy relationships are built on mutual respect rather than one person giving and the other taking. If you want to have a successful relationship, it is essential that you and your partner both respect each other. Here are lots of Self Respect Quotes that will help you deal with your situation.
Respect is something that is often earned and not simply given.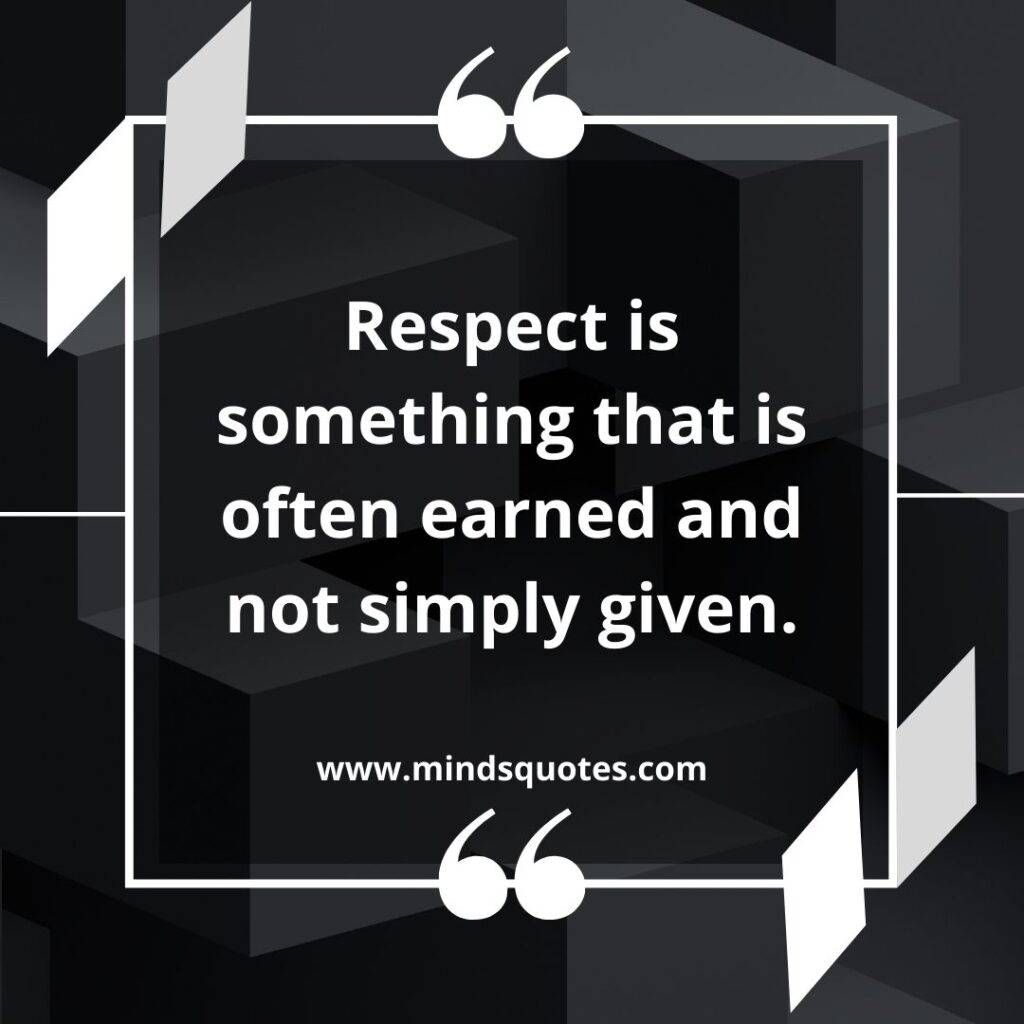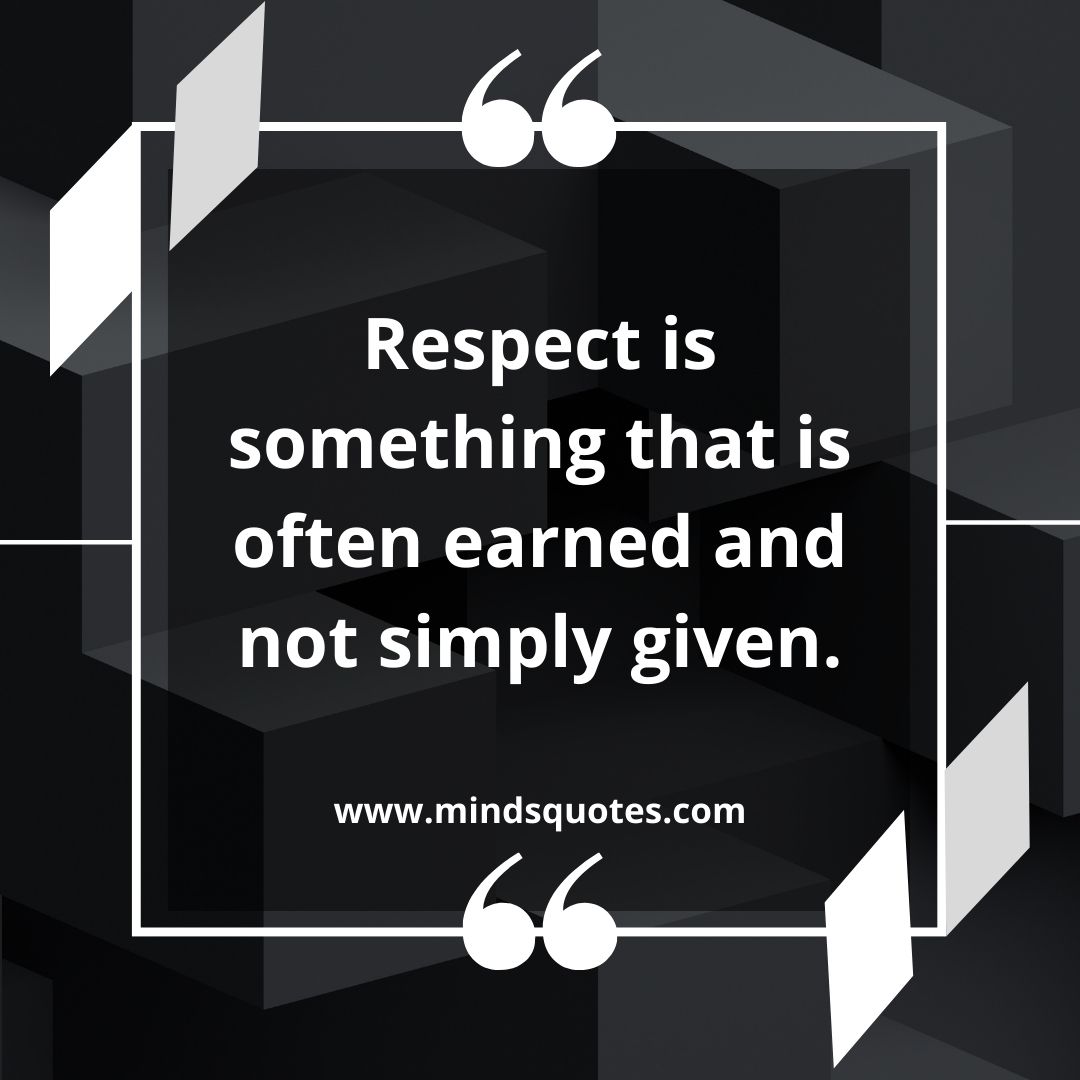 "I must respect the opinions of others even if I disagree with them." – Herbert H. Lehman
Real love is not based on romance or candlelight dinner. It is based on respect, compromise, care, and trust!!
Respect is at the core of every human interaction.
A great relationship is about two things first, finding out the similarities, and second, respecting the differences.
"Respect is what we owe; love, what we give." – Philip James Bailey
Respect is as important as love in a relationship!
"Men are respectable only as they respect." – Ralph Waldo Emerson
Conclusion:
Self Respect Quotes can be a great way to boost your self-esteem. These quotes will help you understand the importance of self-respect and how to achieve it. They can remind you of your worth and help you stay positive in difficult times. This article provided a list of some of the best self-respect quotes out there. Like, comment, and share them with your friends to help others find self-respect and worth. And don't forget to follow us for more great content like this.