Women's Day Messages to Celebrate the Special Day with Some Beautiful Messages. 
Women's Day Message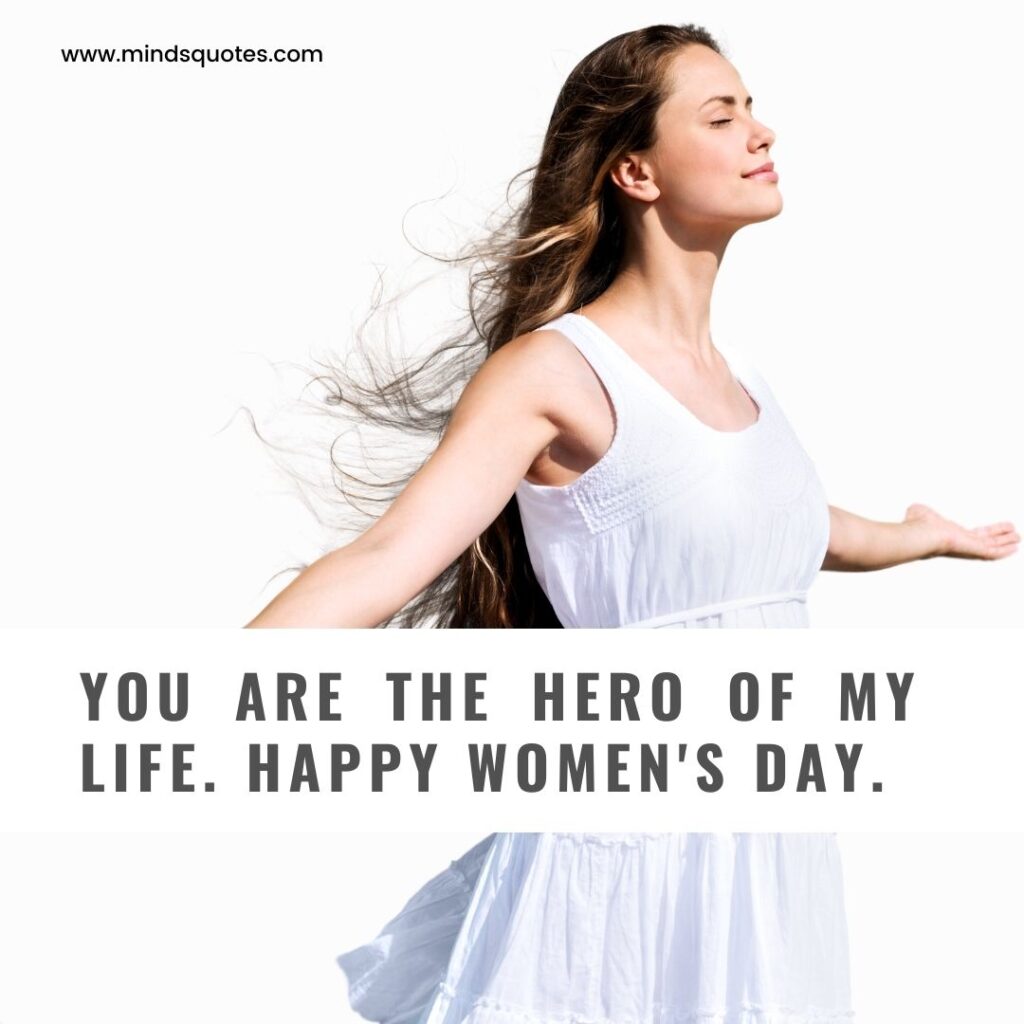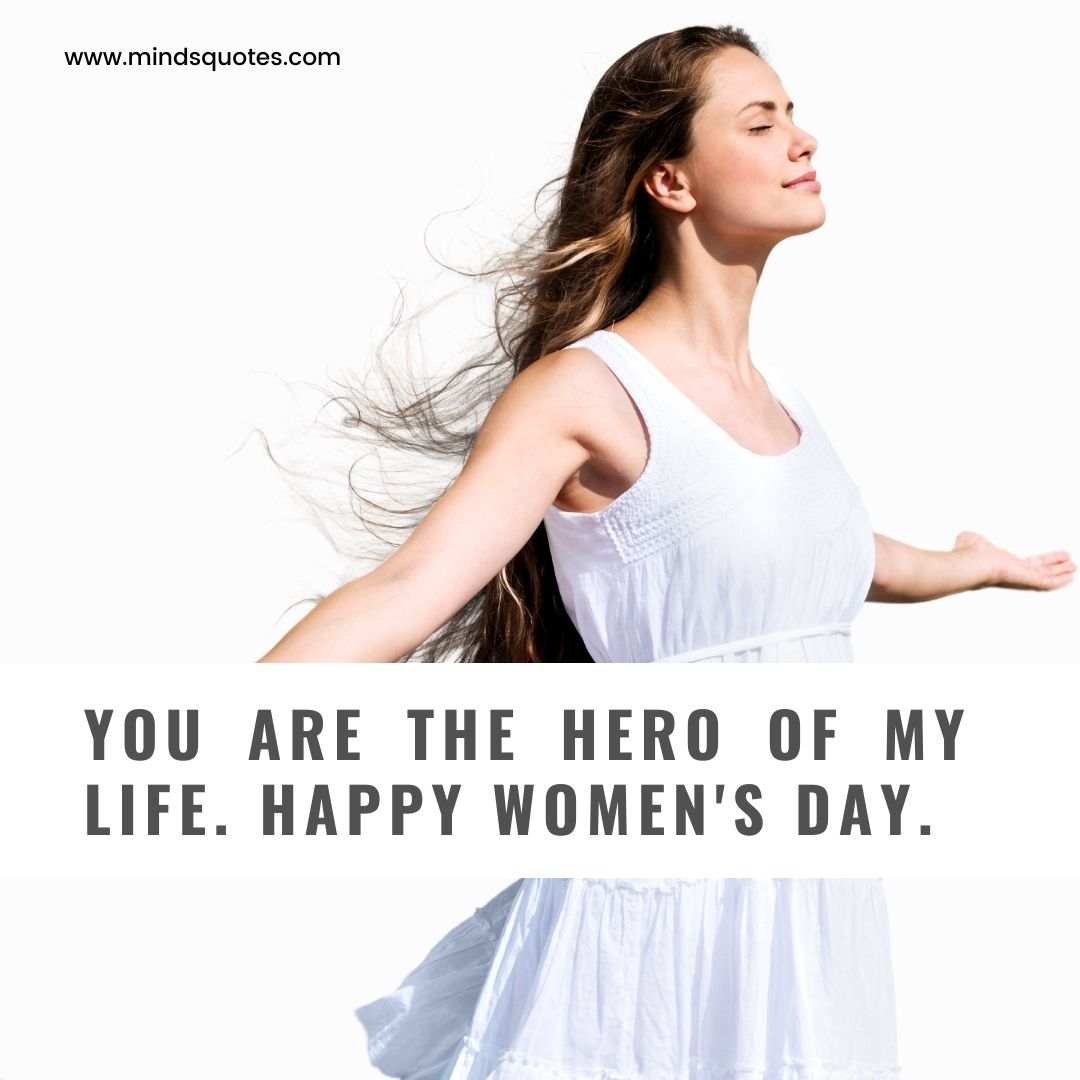 You are the Hero of my life. Happy Women's Day.
Meaning- A woman can be anything in their life. And everyone needs them more than anything. Compared to a hero, they're more than that.
Break the chains and live your life as per your plans. Happy Women's Day.
Meaning- Most men think women are not capable of doing anything incredible. However, today women prove themselves and make their own place in this man's world. If you are a woman don't feel weak, fight for your rights and break the chain.
No matter how tough the situation would be, your inspiring words always lift me up. Happy Women's Day.
Meaning – In this modern-day, a woman works more than a man works. Even though they work in very tough situations without any complaints. That inspires everyone, including men.
You are beautiful, charming, loving, and caring. There is no one else like you. Happy Women's Day.
Meaning – That's absolutely right. No one will be like them in the World. They can be a loving, caring, charming and beautiful person at a time.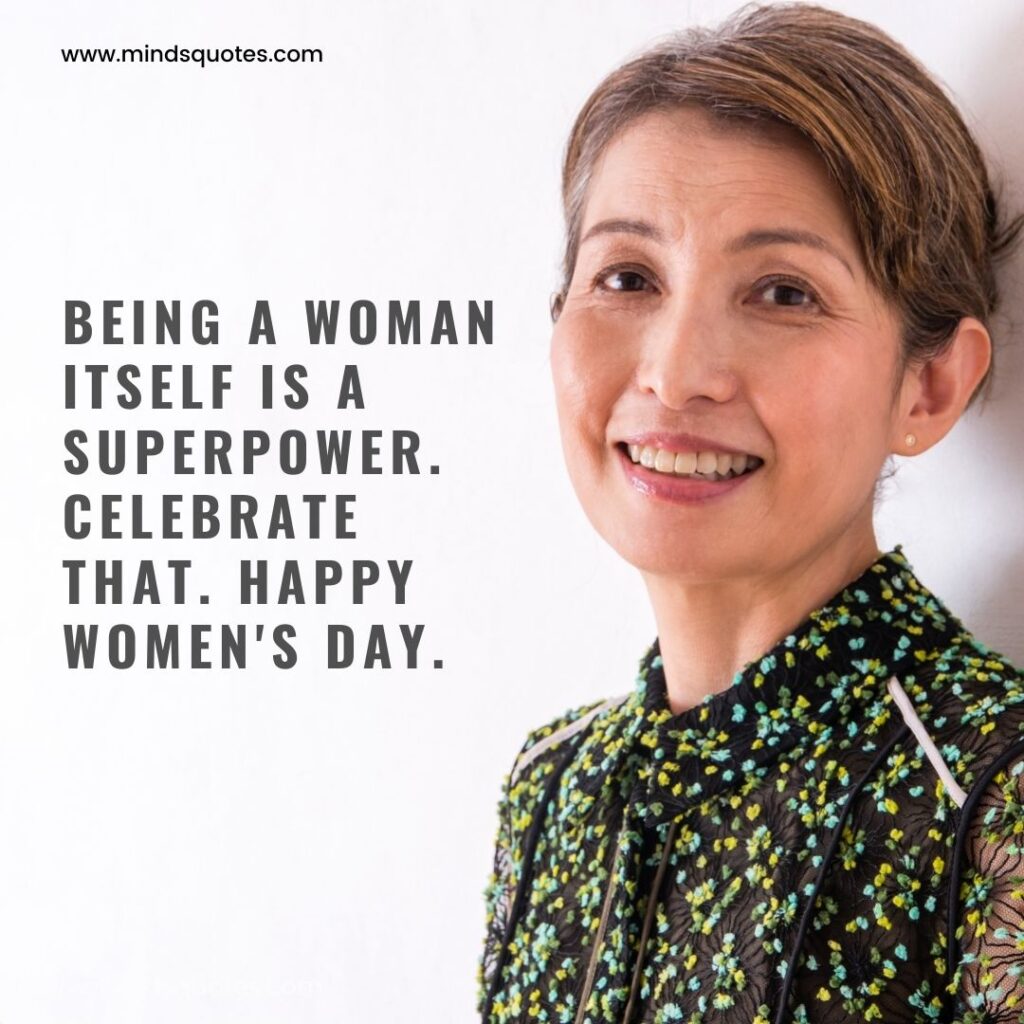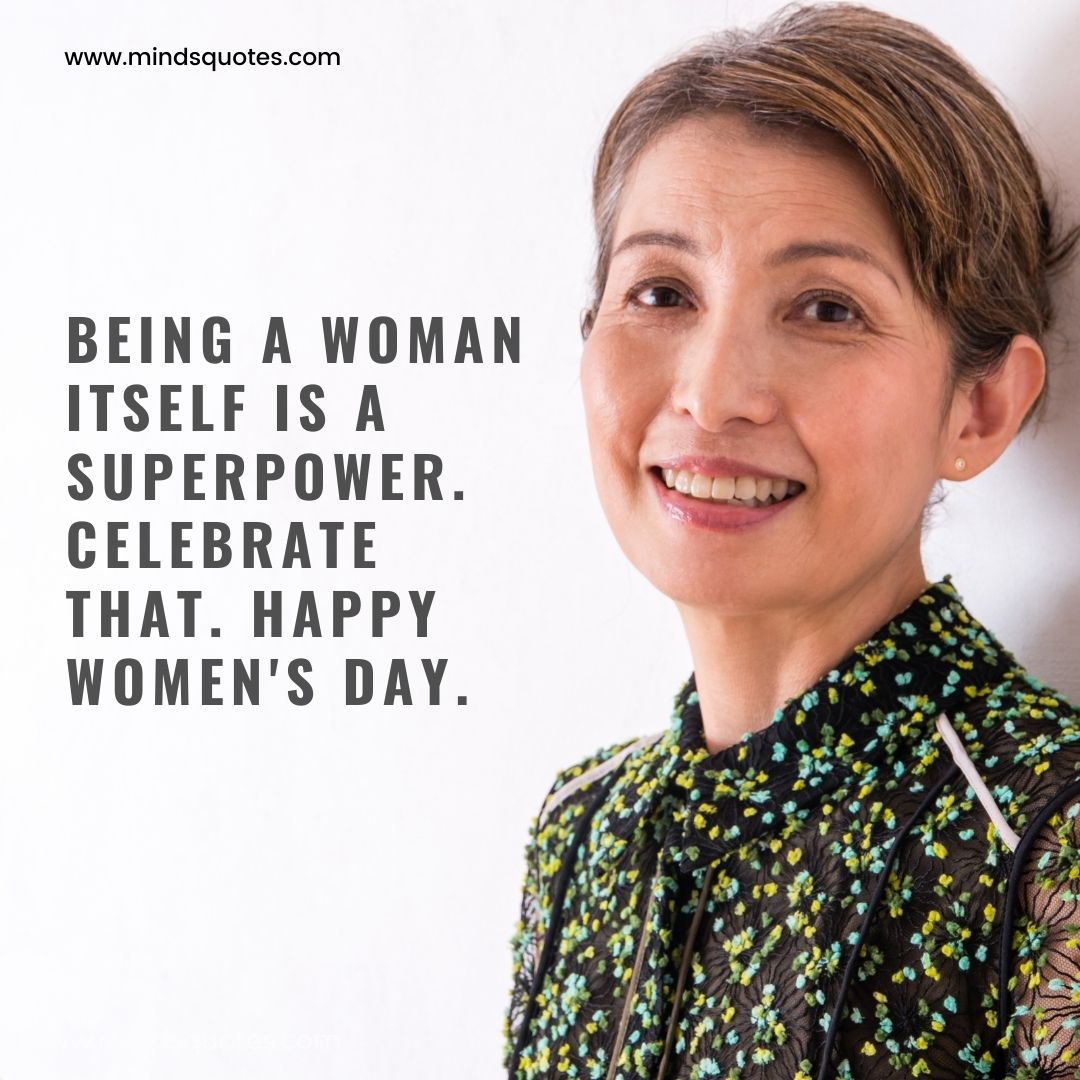 Being a woman itself is a superpower. Celebrate that. Happy Women's Day.
Meaning – Women are something that a man can't be. They are the creators of us. Without them, our life will be lost in vain. And being a woman is more than having a superpower.
She is the one who dares to go against the tide. That extraordinary courage makes her special. Happy Women's Day.
Meaning- In our history, we know how much struggle they did to prove themselves, And in the present, they are still doing it. Surely they have the courage more than anyone to do something extraordinary.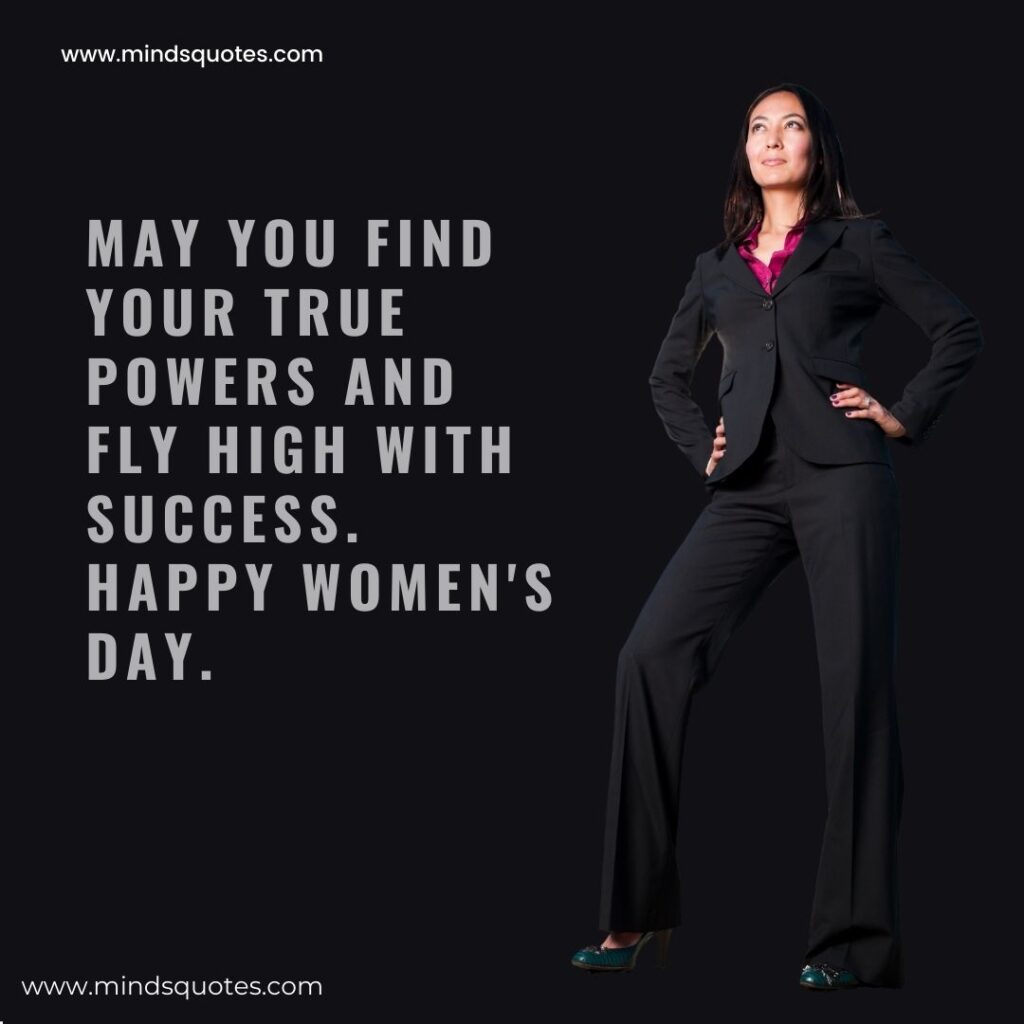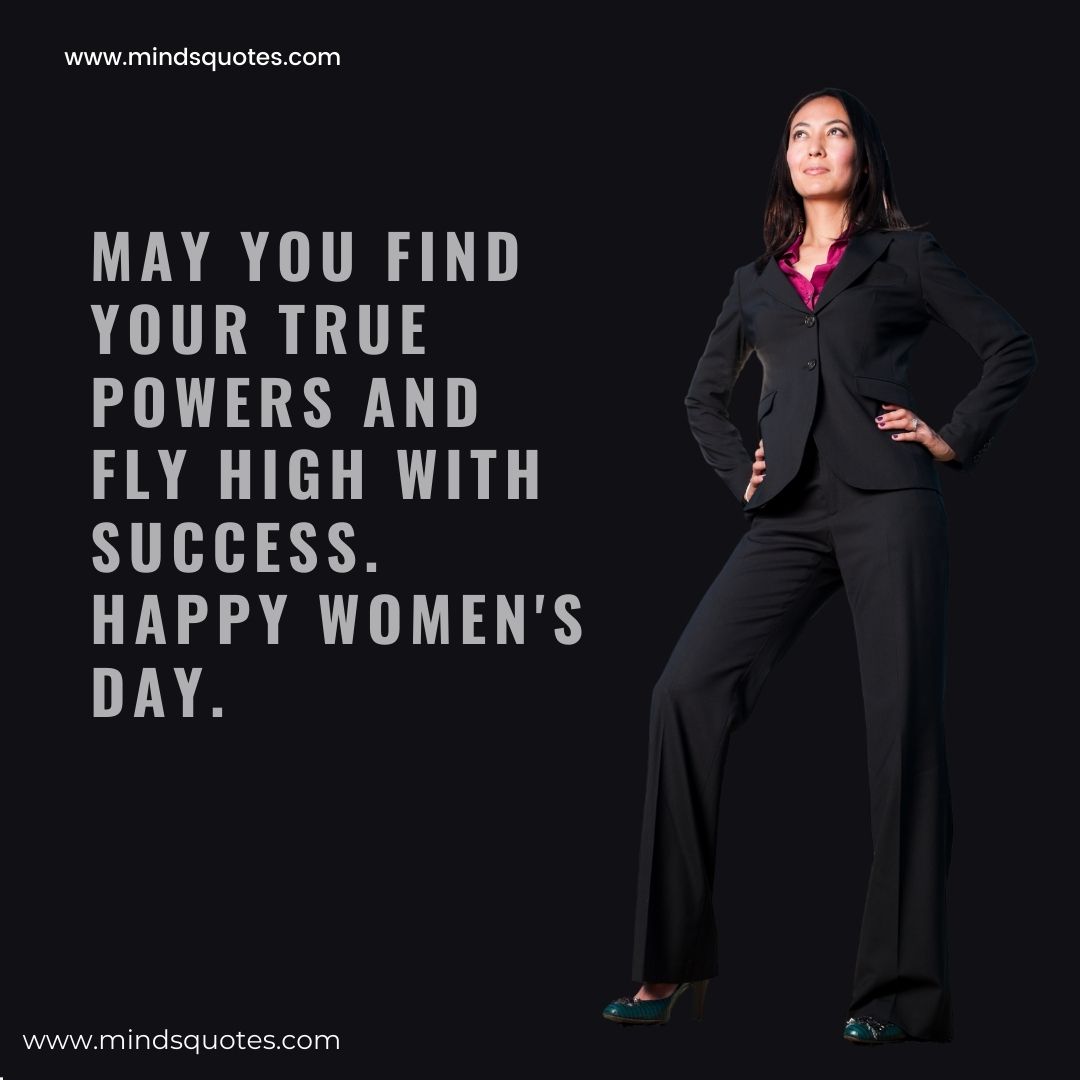 May you find your true powers and fly high with success. Happy Women's Day.
Meaning – Naw women are doing everything that a man does. But in some places in the world where people still treat women like a slave in their houses. Tell them about their true power and what their capability is. 
You are fierce, bold, and daring! Also, the best when it comes to caring. Happy Women's Day!
Meaning – A woman is best at everything, especially caring about someone or something they become fearless, bold, and daring. A mother can do the impossible to save her children. A sister can sacrifice her life to protect her brother and there are much more examples of them.
You are precious because you make me feel precious. Happy Women's Day.
Exp – A woman and her feelings are very precious and sensitive. All those people living with them they'll become like them. They always teach us to love and care for others without any conditions.
You are making a difference in so many lives and I am one of them. Wish you a very Happy Women's Day.
Meaning – The best wishes from a man who is grateful to them. They change so many people's lives by doing many different jobs.
Thank you for being an inspiration and institution. Happy Women's Day.
Meaning – How much we thank them is not enough. All those inspirations and institutions are priceless.
You are unique in your way. There is no one like you. Happy Women's Day.
Meaning – We always watch that when a woman does something incredible they make history. Their work always made some revolution. And there'll be no one like them, no doubt about it.
I don't know how you do it, but you manage everything so easily. I am so lucky to have you in my life. Happy Women's Day.
Meaning – Women are extraordinary and incredible. Working women manage both their homes and workplace. They did everything very nicely that you will never get to complain about their work. Having a woman in your life means you are the luckiest man in the world.
She doesn't follow the crowd rather she makes the crowd follow. Happy Women's Day!
Meaning- A woman has the power to make people follow them. If they want to make you the powerful man and can also make you the weakest man.
It must be difficult being a woman as you play so many roles but you make the ride so easy. Happy Women's Day.
Meaning – It's very difficult being a woman and handling many things without any complaint. If it was a man they just left all those in the middle and made excuses. That's the difference between men and women. Being a woman is not easy.
You will encounter defeats but never let them defeat you. Happy Women's Day.
A woman is the biggest supporter of another woman. Thank you for always having my back. Happy Women's Day.
Salute to a woman who is a symbol of bravery and a sign of excellence. Happy Women's Day.
When you are not by my side my life seems so empty. May we never part. Happy Women's Day!
Cheers to a woman who never stopped trying one more time. You taught me what endurance and hard work are. Happy Women's Day.