Women's Day Wishes are the best way to let the special women in your life know how much you appreciate them. Whether you are wishing a Happy Women's Day to your mother, sister, wife, or daughter, we have the perfect Women's Day quotes and messages for you.
On International Women's Day, we celebrate the social, economic, cultural, and political achievements of women. We also pledge to accelerate gender parity so that all women can achieve their full potential.
Since its establishment in 1911, International Women's Day has been an important day for championing women's rights and calling for gender equality. Today, it is celebrated in more than 100 countries around the world.
Happy Women's Day Wishes
On this International Women's Day, let's celebrate the achievements of women around the world and recommit to creating a more inclusive and gender-equal world. International Women's Day is a time to reflect on how far we have come in the fight for gender equality and to also think about how far we still have to go.
Use this Women's Day to pledge to take action to help create a more gender-equal world. Here is some Women's Day wishes to help you celebrate the occasion.
"Thank you for coming into my life and making all my days shine. Happy women's day, my queen."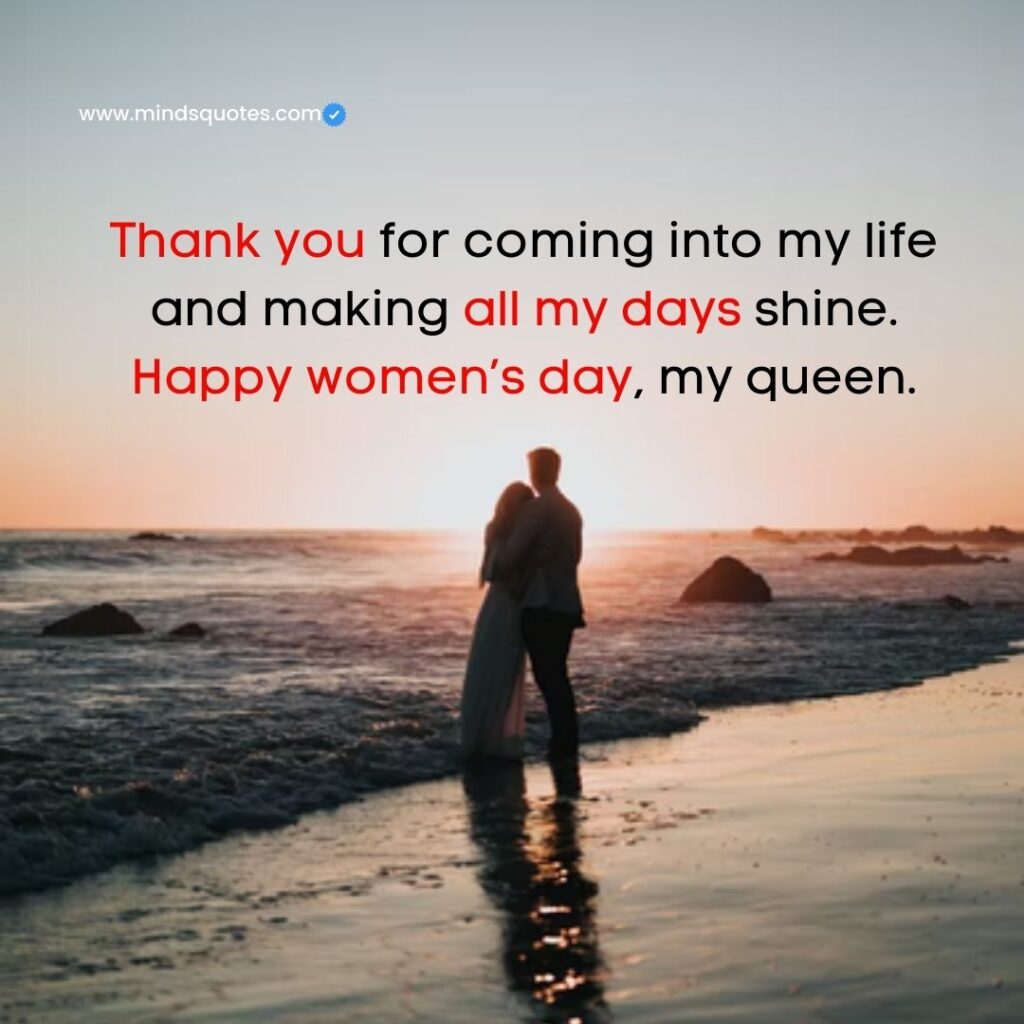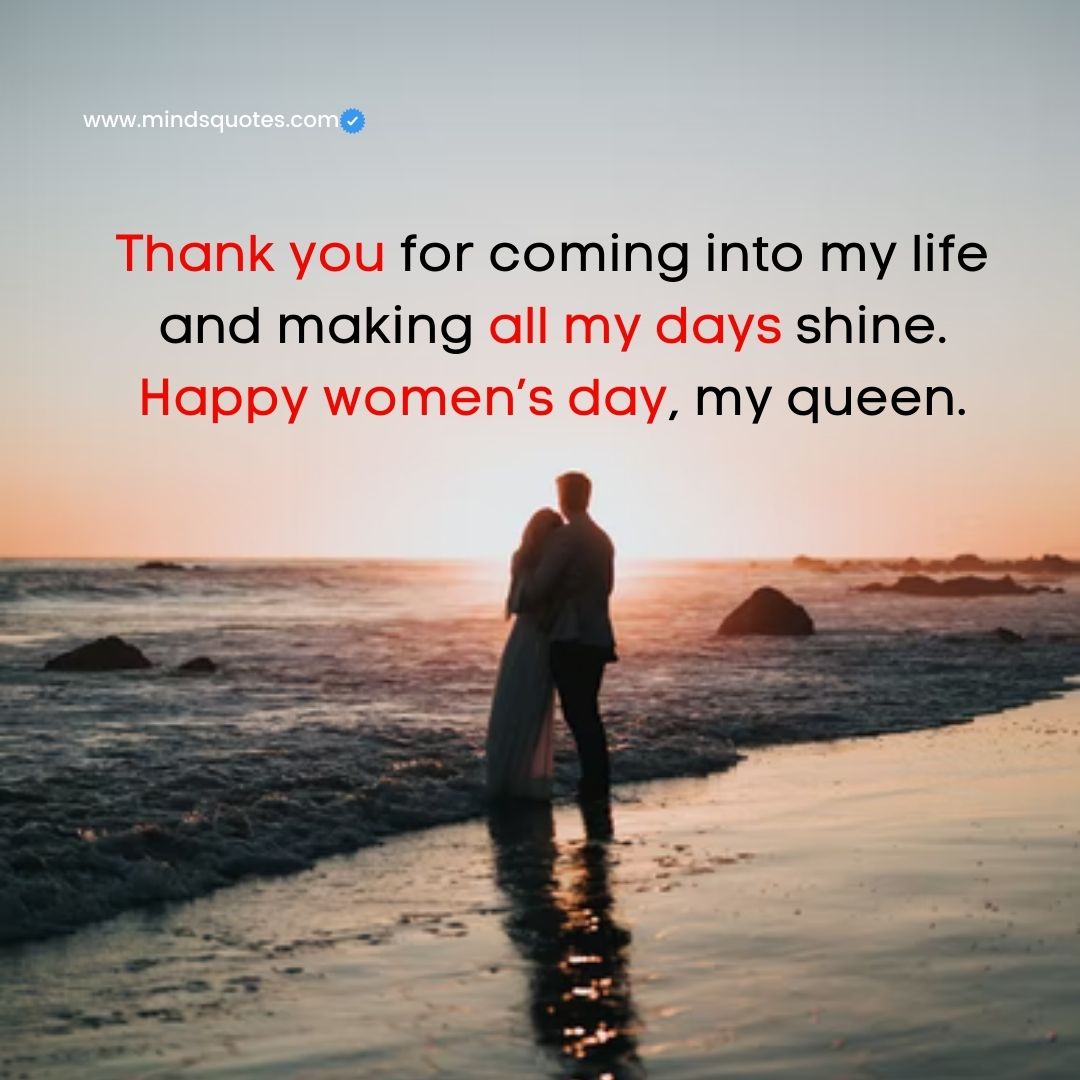 Meaning:- This is a wish massage from a husband or lover to his wife or beloved. He is very happy that she comes into his life. And he considers her his queen.
Also Read: Women's Day Quotes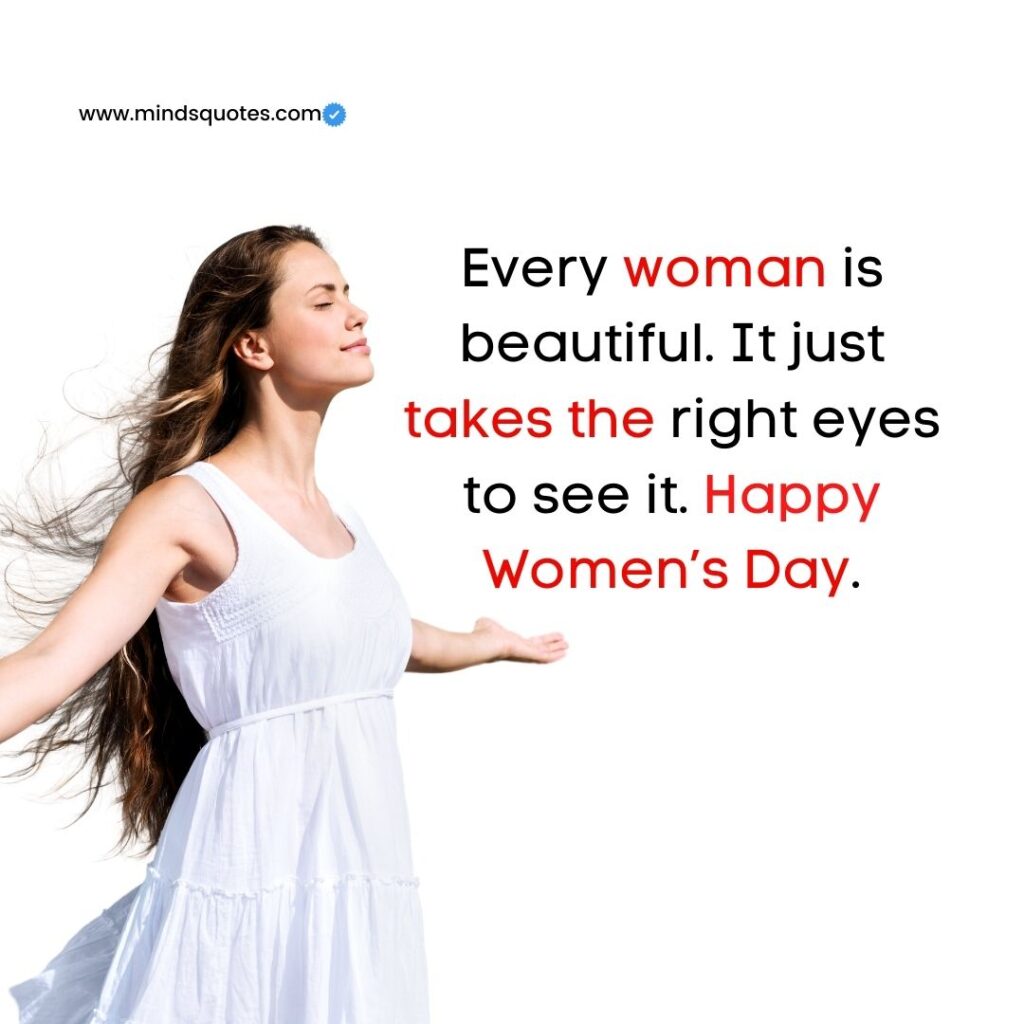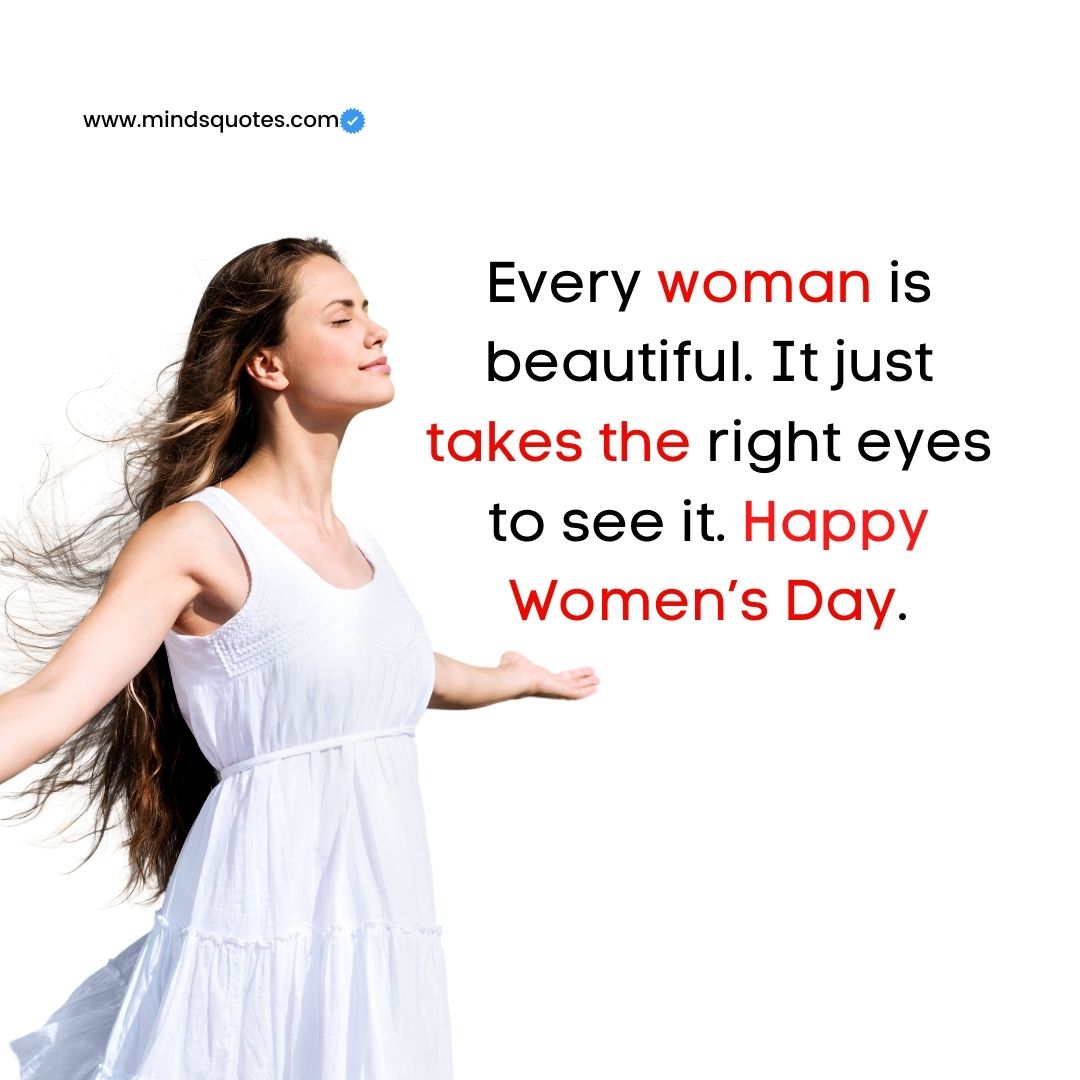 Every woman is beautiful. It just takes the right eyes to see it. Happy Women's Day.
Meaning:- Beauty doesn't mean it looks beautiful. Every woman has something special but everyone can't see that because everyone has their own choice and likes. As a woman, don't feel bad waiting for the right person to understand you.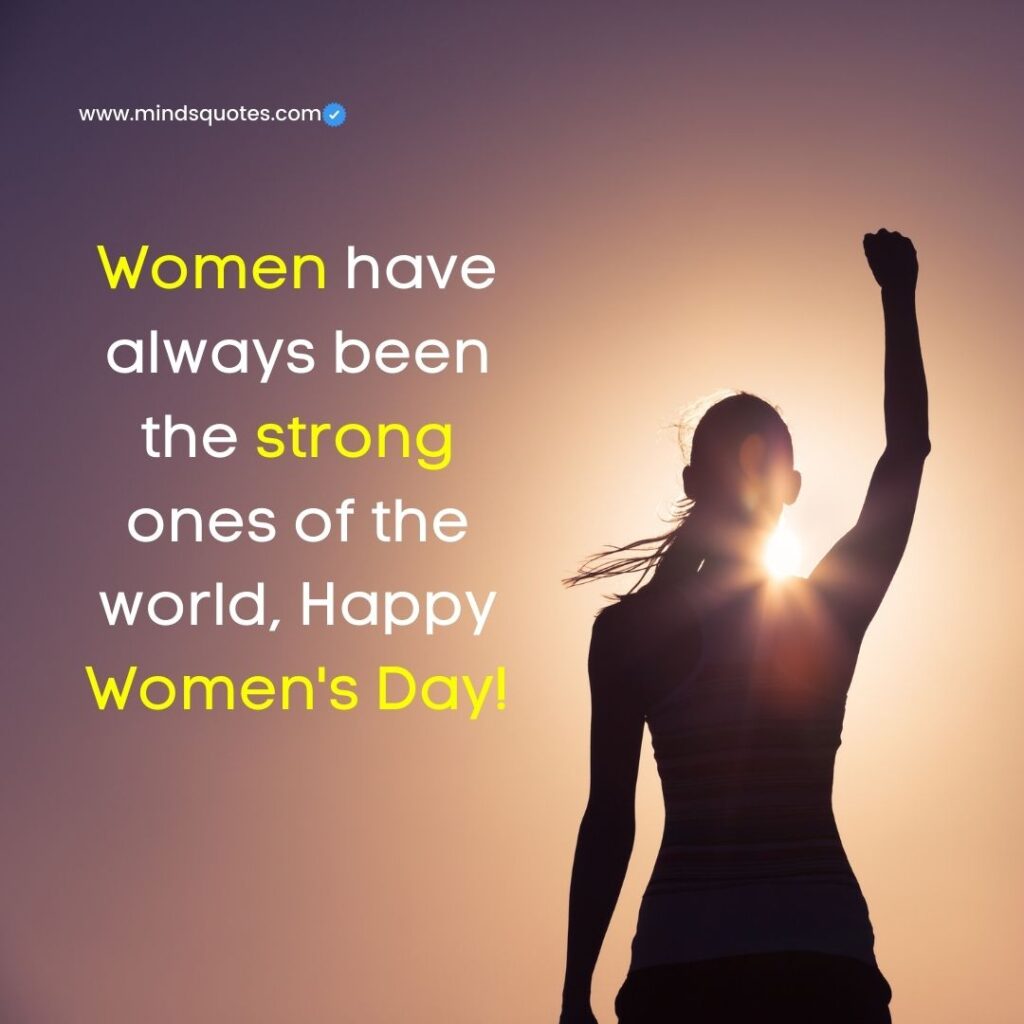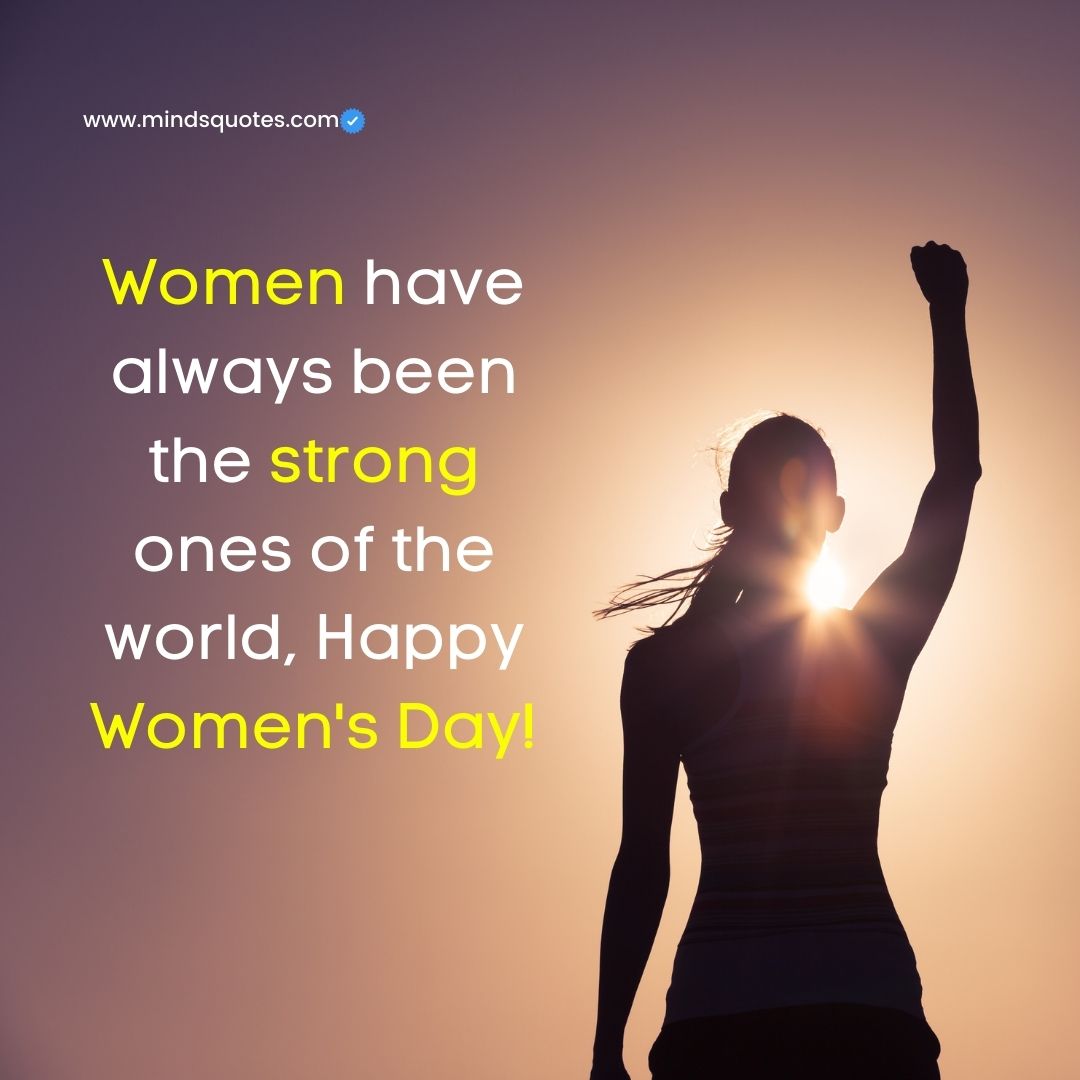 Women have always been the strong ones of the world, Happy Women's Day!
Meaning:- Women are strong compared to others. For example, we don't expect anything extraordinary from children but when they did something incredible we realize we are wrong. Like that woman proves themselves as the strong ones.
Don't be afraid to dream… And once you dream, don't shy away from taking risks.

Women's Day
Meaning:- History says how violent and cruel the world is for all women. That's why they are afraid to dream. Now the situation is much improved and everyone can have dreams. Once you have a dream don't worry just do whatever it takes.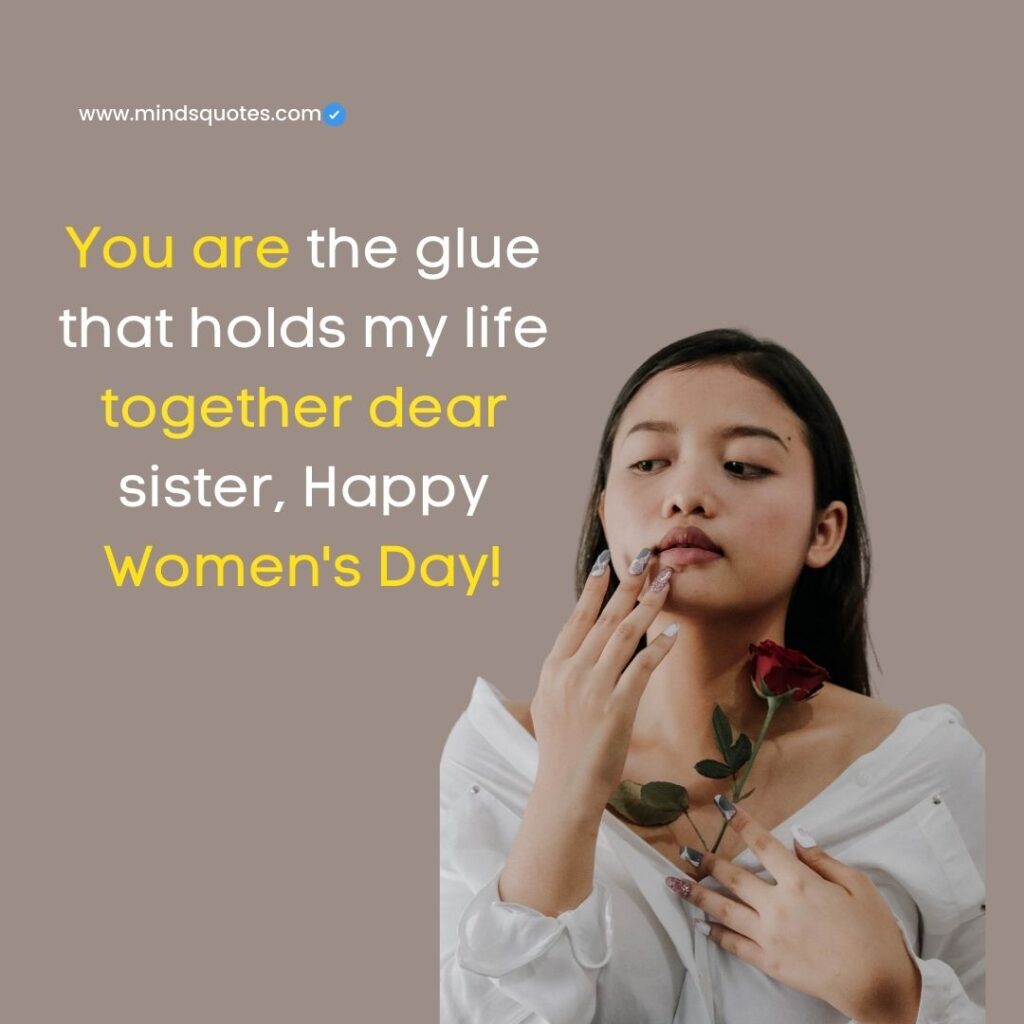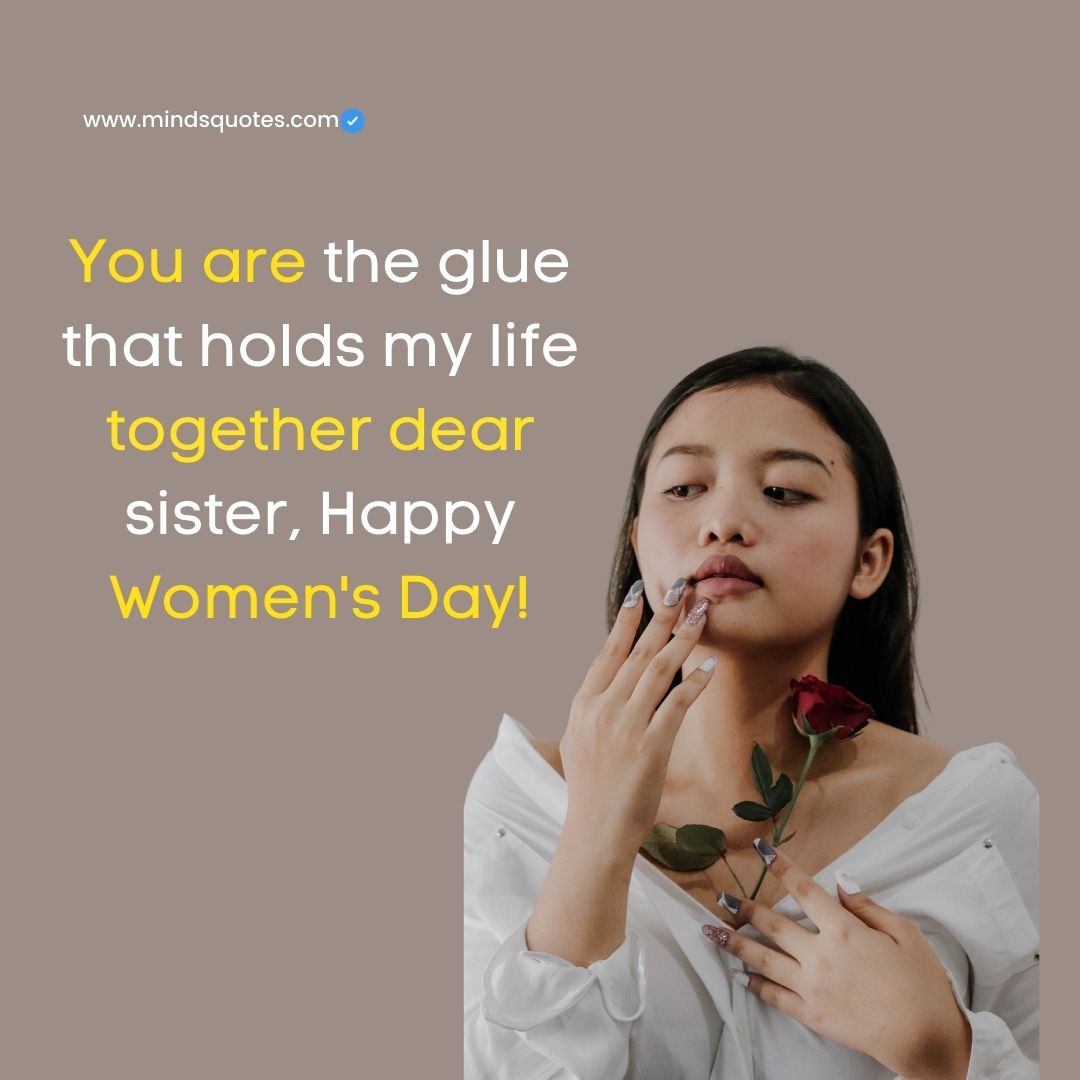 You are the glue that holds my life together dear sister, Happy Women's Day!
Meaning:- A woman is like glue. The glue helps things join with each other like that woman holds our life together. And a sister is the most beautiful gift ever.
Happy Women's day. You are a blessing sent from above to make this world wonderful!
Meaning:- Women are the blessing gift of our life sent from heaven. Because of them, the world becomes heaven without them it will be hell.  
"Here's to strong women: May we know them. May we be them. May we raise them."
Meaning:- Wishing every strong and independent woman a happy Women's Day. Maybe you know some strong women or you wanted to be like them or maybe you raised a strong woman. Wish everyone well and celebrate the day with them.
Go out, fulfill your dreams, and be the girl who can buy her diamonds. Happy Women's Day.
Meaning:- Go out and live your life as you want, don't listen to what people say about you. Fulfill your dreams and fly real high like the eagle. Be an independent woman.
You have always got my back, you put me before you. Happy Women's Day!
Meaning:- If you have a woman in your life like your mother, sister, wife, or someone else then you know what they can do for you. To make you happy they sacrifice their happiness. Respect them for your whole life.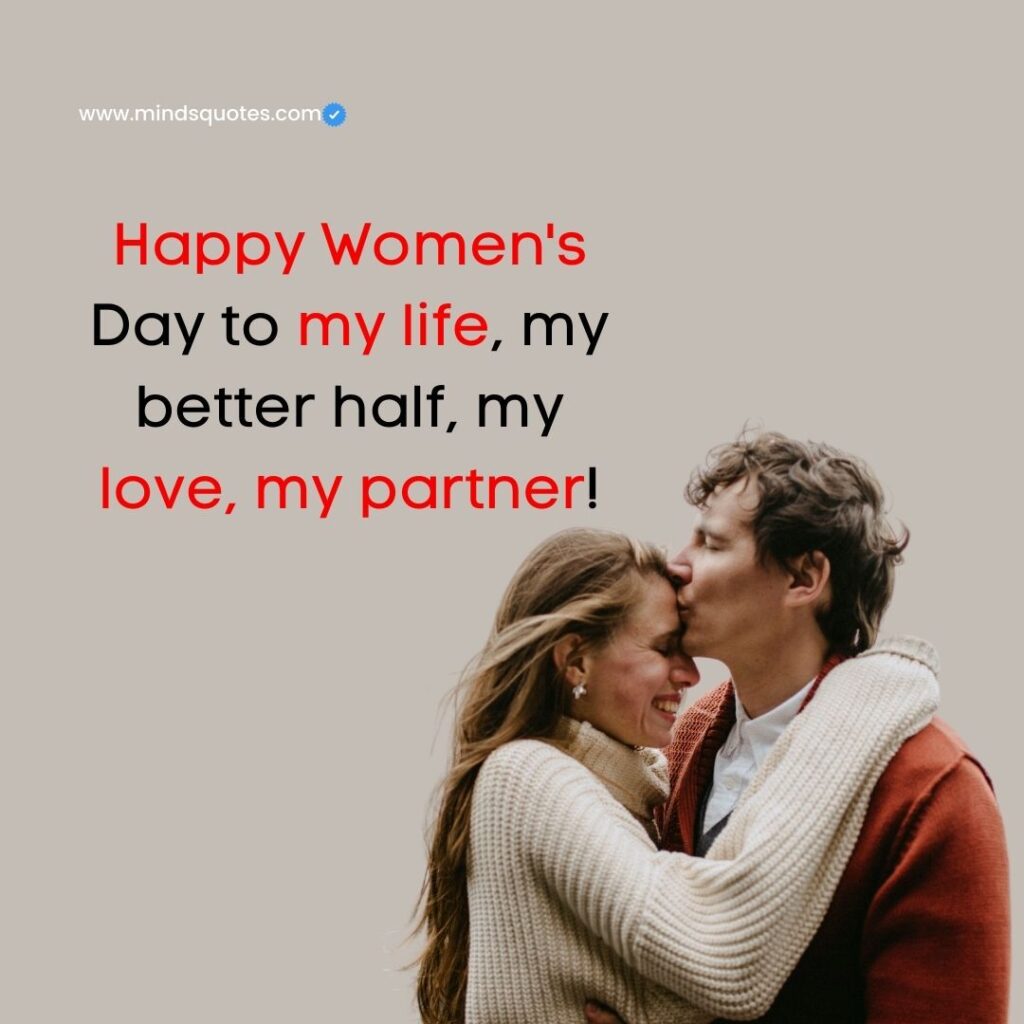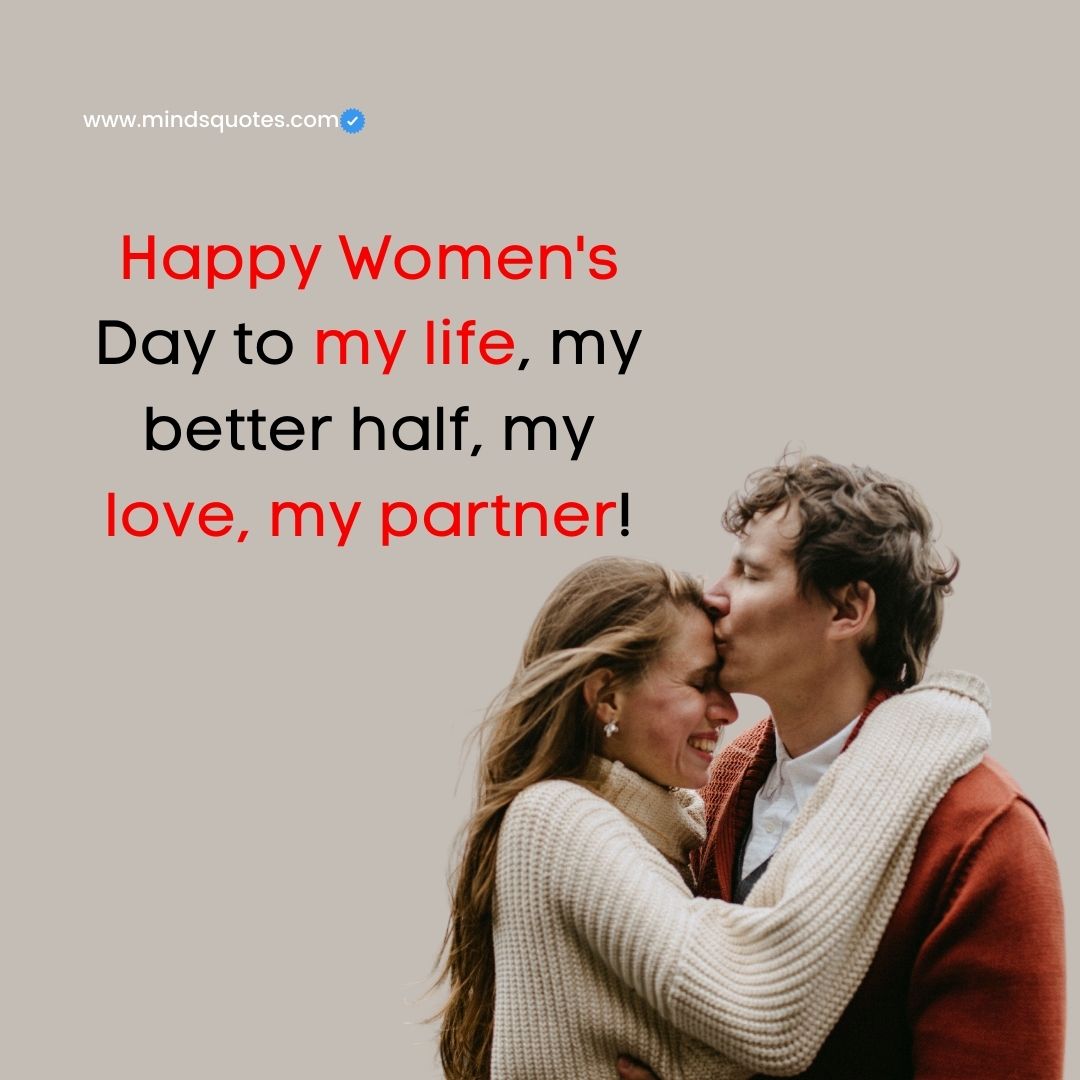 Happy Women's Day to my life, my better half, my love, my partner!
Meaning:- Best wishes from a husband to his wife. And he considers her as his love, better half, and perfect partner. Everyone should love their wife, it makes life easier and better.
You surprise me with love and kindness every day, Happy Women's Day!
Meaning:- Having a woman in life is the biggest surprise ever. And they'll surprise you every time with their unconditional love and kindness. 
We might fight like cats and dogs, but I always know, you are the real winner, Happy Women's Day!
Meaning:- The never-ending meaningful fight between a brother and sister is the most beautiful memory of your childhood. And even though you guys are big now but the fight is still going on. We all know who the real winner is. On this special day, make her repay.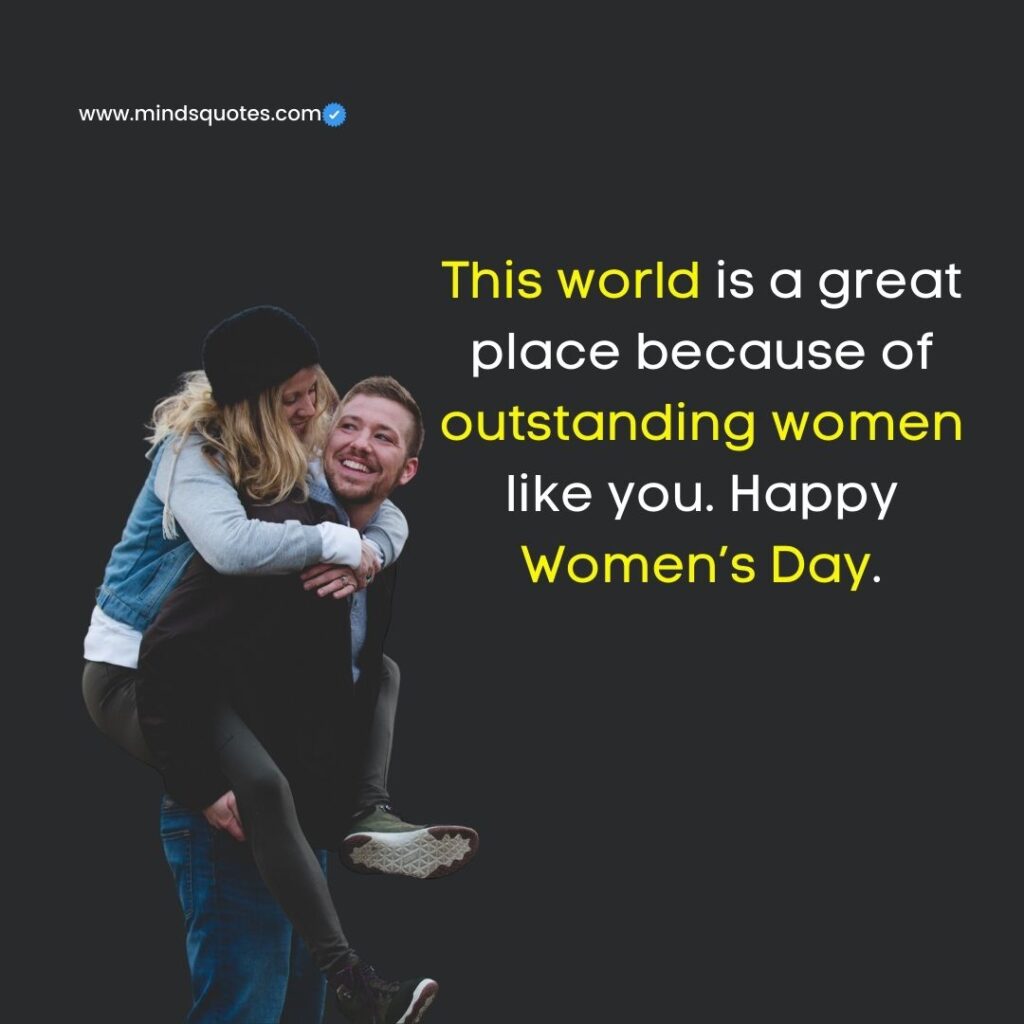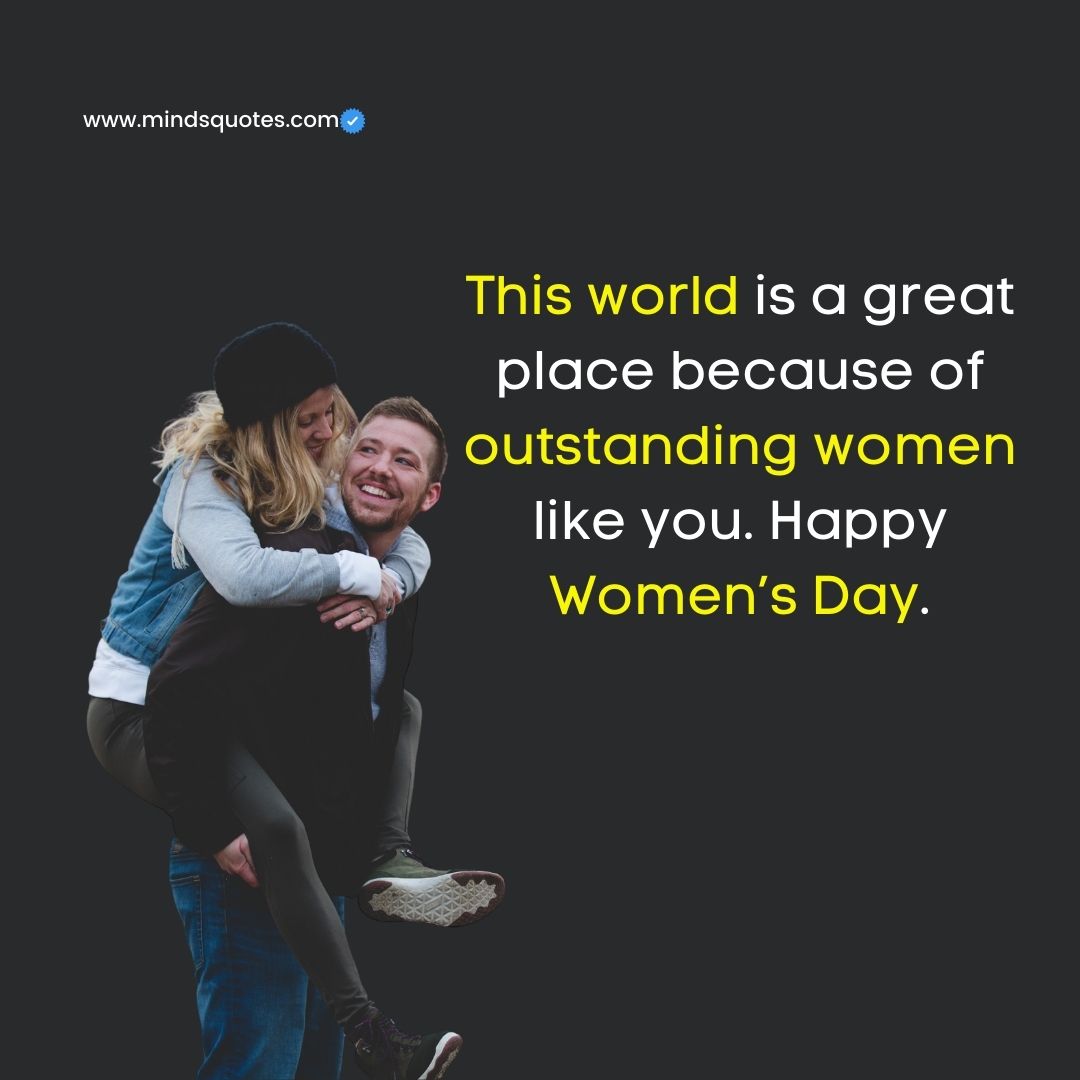 This world is a great place because of outstanding women like you. Happy Women's Day.
Meaning:- You can make your world as you like. But you don't know how much better it can be until you get someone who can make it special. An outstanding woman can make your world a dreamland. Everyone had a woman like them, the world would be a wonderland.
Right from the start, you have been the real queen, Happy Women's Day!
Meaning:- When a woman comes into your life, your life will change forever. They will make you feel like a king. It's because every woman is a princess and when they come into your life they become queen and make you the king.
There is no limit to what we, as women, can accomplish. Wishing you a Happy Women's Day!
Meaning:- A motivational line from a woman to another woman to celebrate Women's Day. Saying that as a woman we can do impossible things that no one can't think about. 
Women's day is not just 1 day to celebrate, it is just a reminder to treat them right every day!
Meaning:- Women's Day is a day to celebrate their bravery and remember their participation in hard work, Sacrifices for others. That means this is the day you will find out what their role is in our life. Remember all that and treat them the whole year like you did on women's day.
Having you in my life makes me grateful and inspired every day! Happy Women's Day.
Meaning:- Having a woman in life makes your life full of wandering. They will make you happy, and sad and you will realize the meaning of life. They motivate you when you get demotivated.
The best protection any woman can have is courage. Happy Women's Day!
Meaning:- The best thing about a woman is their courage. They have the strongest and most intense mindsets. Once they consider doing something then they'll do it no matter how difficult that is.
You add that extra to my ordinary life. Thank you for that. Happy Women's Day.
Girls with ambition become women with vision. Happy Women's Day.
Meaning:- Grils have more strongest ambition than boys. They even think further and are much more wonderful than boys. One day all those girls become independent and vision-full women. 
She is a Dreamer, she is a believer, she is a doer, she is an achiever, and she is "You". Happy Women's Day.
Meaning:- Women is dreamers, believer achiever. They believe in themselves and don't rest until they achieve what they are dreaming about. That woman could be you. You have to believe in yourself and have faith in yourself, you can do it.
Conclusion
Balance is not a women's issue, it's a business issue. The gender imbalance in business and society has a wide range of impacts – from economies and ecosystems to the health and wealth of nations.
So let's build a gender-balanced world. Everyone has a part to play – all the time, everywhere. From boardrooms to classrooms, policymakers to business owners, we all need to do better. Use your voice to call for change, and together, let's make this International Women's Day. Like and Share this post on your social media to encourage every woman.