World Humanist Day Quotes will inspire you to help people and also help you to grow your own humanity. The day is celebrated annually on 21 June to promote humanism and humanist philosophy. This year the day is fall on Wednesday and it's a perfect day to show humanism in your home to the workplace.
In this blog post, we share some of our favorite World Humanist Day Quotes, wishes, and Messages to help you understand the day and its importance. The day is observed by many international organizations and institutes to help us grow. These quotes motivate and inspire people to be kind and humble.
You May Also Enjoy Our Article on:
World Humanist Day Quotes
"I am a humanist, not a feminist. There's a big difference." – Lydia Lunch
"Humanism is the only – I would go so far as saying the final- resistance we have against the inhuman practices and injustices that disfigure human history." – Edward W. Said
"The true humanist maintains a just balance between sympathy and selection." – Irving Babbitt
"Yet humanitarianism is not a purely Christian movement any more than it is a purely humanist one." – Christopher Dawson
"I'm very much a humanist. I'm very much pro-choice. I'm very much politically correct." – Sandra Bernhard
"As a Humanist, I love science. I hate superstition, which could never have given us A-bombs." – Kurt Vonnegut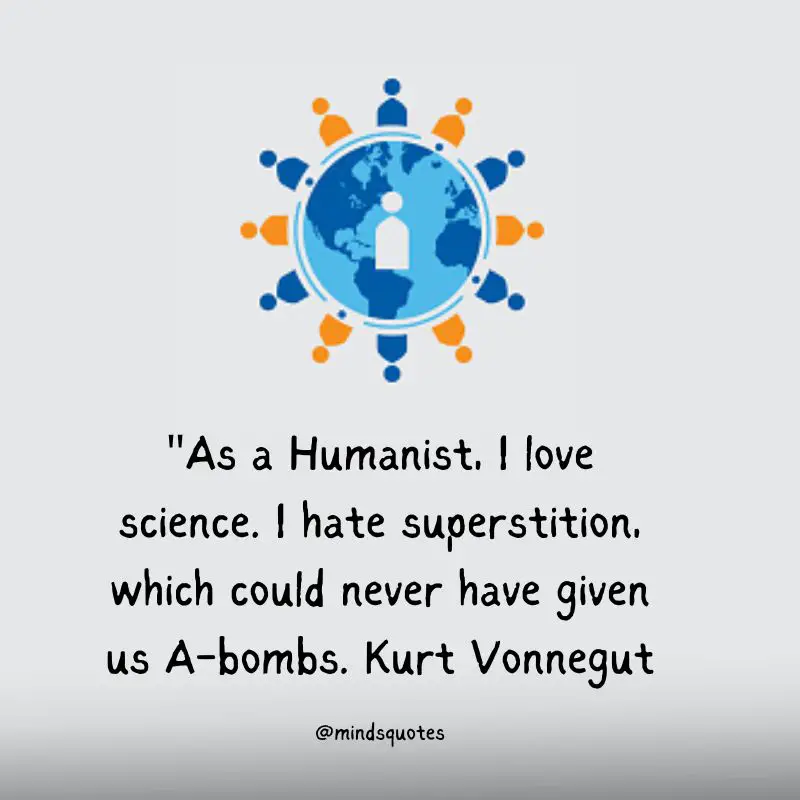 "I find humanism to be the most rational and positive philosophy for life. And it's not a new thing at all – the history of humanist thought is deep and inspiring." – Alice Roberts
"I'm a humanist at heart: at the end of the day, we are all human beings." – Chet Faker
"Wonder Woman is most definitely a feminist, or a humanist, in no uncertain terms. Her prime goal in life is to teach peaceful coexistence and equality." – George Perez
"Humanism is the philosophy that you should be a good guest at the dinner table of life." – Ernest Kurtz
"The present age has seen a great slump in humanist values." – Christopher Dawson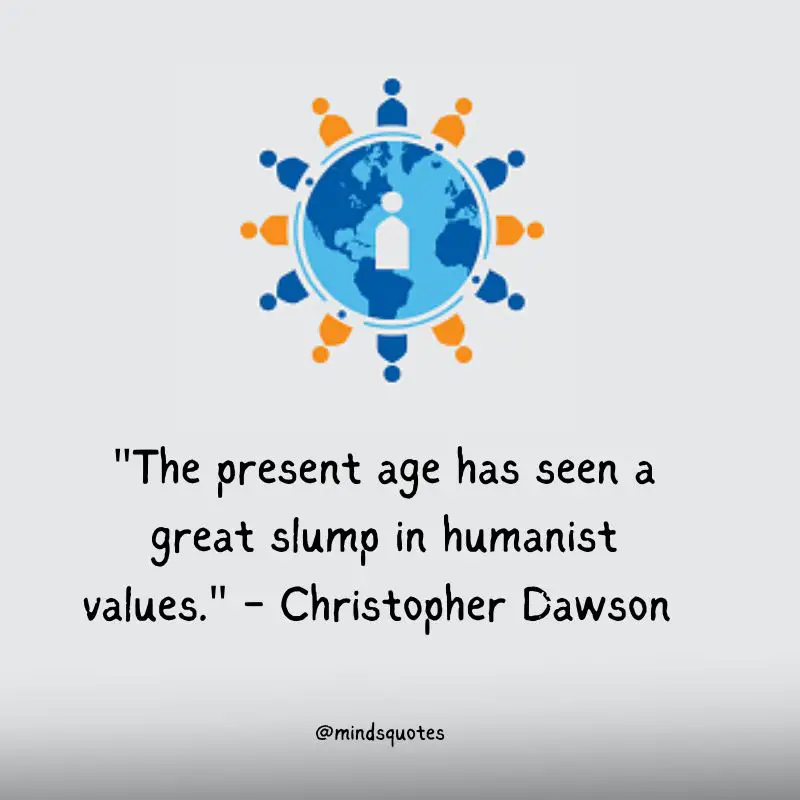 "Humanism is a way of life based on the values of reason, compassion, and the belief in the power of human beings to make the world a better place." – American Humanist Association
"Humanism is not a religion. It is a way of life that emphasizes the importance of human reason, ethics, and social justice." – Humanists International
"I remain a humanist. We are a very curious race." – Michael Tippett
"Humanism is about building a better world for everyone, regardless of their race, religion, gender, or sexual orientation." – The Human Rights Campaign
World Humanist Day Wishes
"Have faith in yourself and others as we humans together are our only solution. Wish you a very Happy World Humanist Day."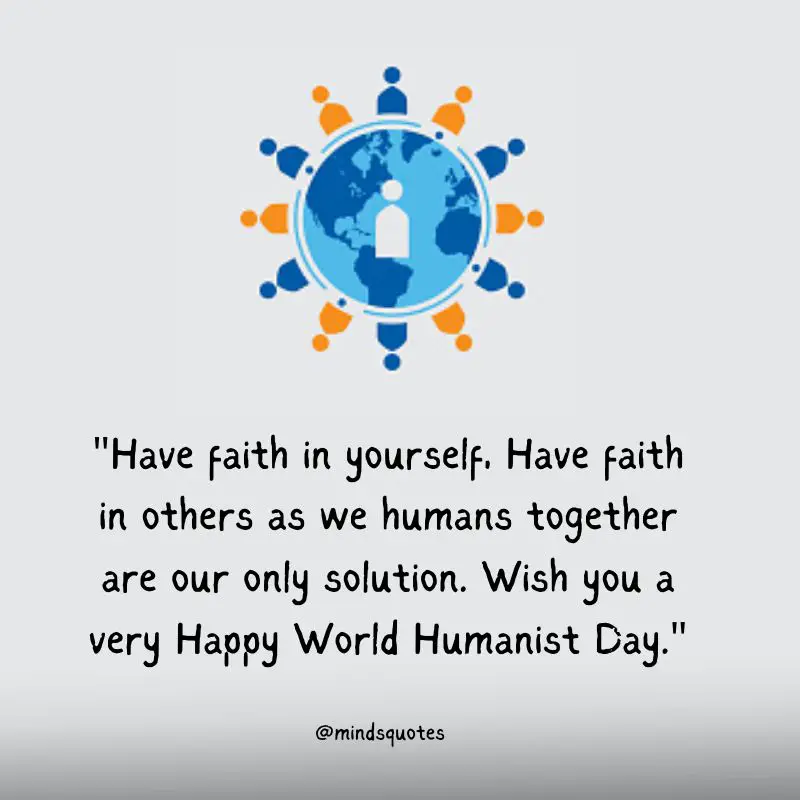 "Only if we stand together we can save what binds us all together, humanity. Spread love and respect on this day. Best wishes on this World Humanist Day."
"Happy World Humanist Day 2023! I'm grateful to be a part of a community that values reason, compassion, and human progress."
"I'm proud to be a humanist because I believe that we have the power to make the world a better place through our actions."
World Humanist Day Messages
"Pledge to make kindness the natural way of your life and not just an exception on this day. Wish you a delighted World Humanist Day."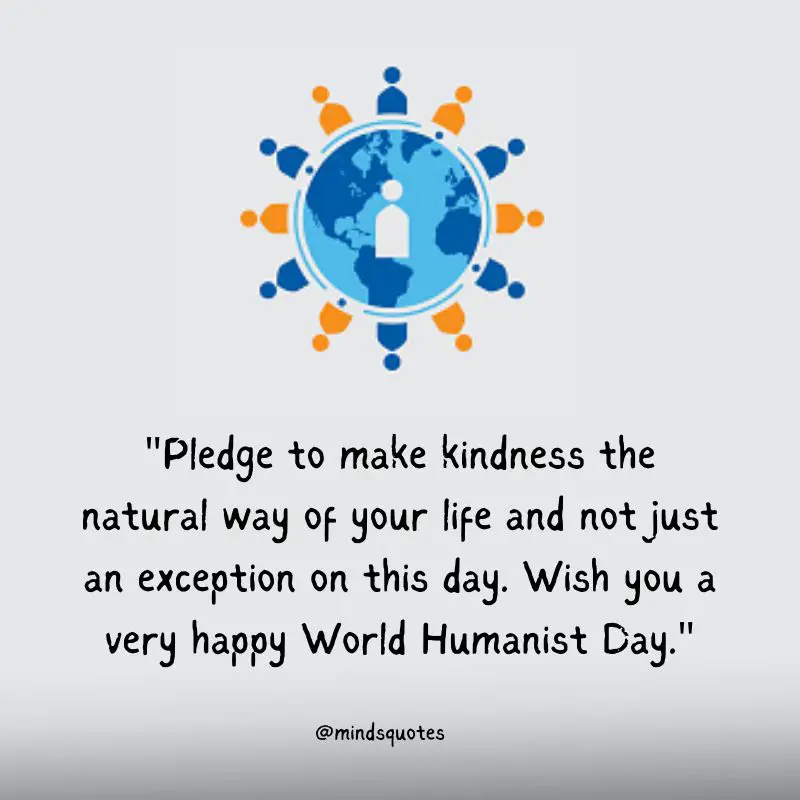 "Don't just be religious, be a humanist because human beings are more important than dogma and traditions. Best wishes on this World Humanist Day."
"On World Humanist Day 2023, let's celebrate our shared humanity and strive for a more compassionate and inclusive world."
"Reason and compassion guide our path towards a better future. Happy World Humanist Day to all!"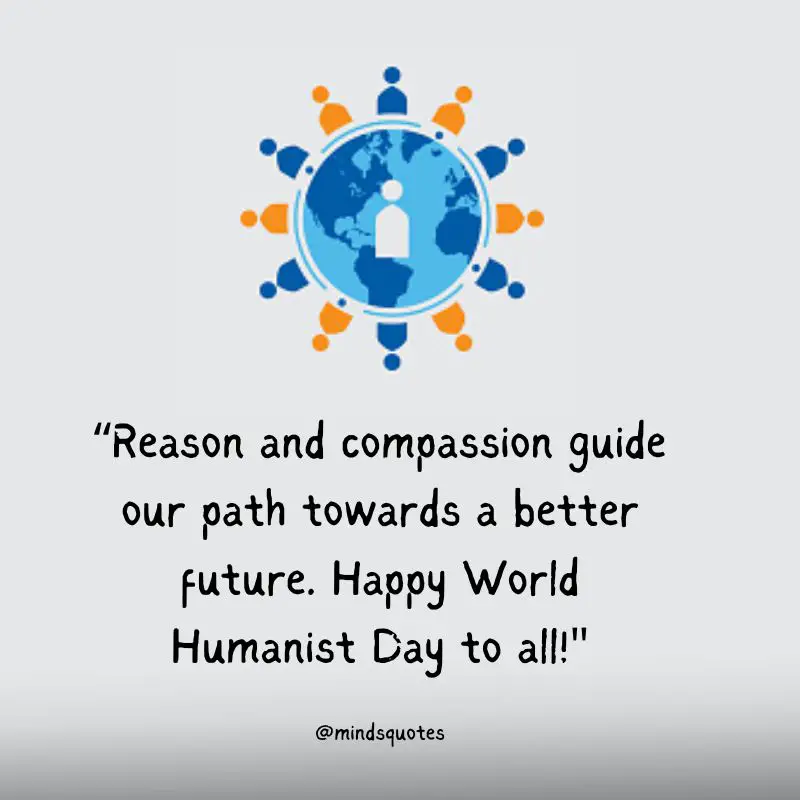 "We must all remember to be polite on this World Humanist Day as politeness is the flower of humanity. Happy World Humanist Day."
"Thank you to all the humanists who have made the world a better place. I'm inspired by your work and I'm committed to carrying on the humanist tradition."
World Humanist Day Theme
World Humanist Day Theme for 2023 is "Embracing Humanity and Compassion."
Humanist Quotes
"I think I'm more of an absurdist than a satirist. I think I'm more of a – humanist. I hate to say it!" – Mike White
"Ramadan is, in its essence, a month of humanist spirituality." – Tariq Ramadan
"If you're living with a scientist, you see the world differently than you do with a humanist. It's in some ways very subtle, the differences in perceiving reality." – Joyce Carol Oates
"I don't consider myself as a feminist but more a humanist." – Marjane Satrapi
"Anything that brings people to see Shakespeare is fine by me. He's the great humanist." – Ray Fearon
"We have a great history; we have a great humanist face to put forward to the world." – Emmanuel Macron
"Maybe I just look at things as a humanist: I like looking at people in a realistic way more than looking at them in a positive way." – Stromae
Conclusion
This blog post is about World Humanist Day Quotes, Wishes, and messages to celebrate the day. The day celebrates the value and principles of humanism. On the day people around the world gather together to celebrate and promote the day. Like and share this article on your social media by clicking the share button. Comment us what you think about the day in the comment section below.