Food Quotes are a fantastic way to give your menu or food blog more charm. These might be fantastic methods to encourage others to cook or consume healthier foods. Nothing is more necessary than food. The whole basis of our survival depends on it. We wouldn't be here without it.
Our lives are incomplete without food since it gives us all the energy we require to get through the day and nourishes our bodies. But it also includes a lot more than that. Food creates connection, comfort, and enjoyment. It is a means of demonstrating our compassion for others and our appreciation for the environment.
You will find several food quotes in this blog which perfectly express the beauty and power of this straightforward deed. These sayings are intended to encourage you to view food in a new light—as something to be consumed, enjoyed, and appreciated.
Food Quotes
Quotes about food are a wonderful way to include some humor in a potentially trying or frustrating circumstance. They can also be used to shed more light on how we view food and the function it serves in our lives.
There are many kinds of food quotes. Some of them are humorous, some of them are motivating, and others are simply straightforward.  Whatever your state of mind, there is a food quote out there for you.
Food quotes can be used in a variety of ways. They can be used to spice up a meal, offer a fresh take on an old favorite, or even inspire someone to make healthier decisions. Food quotes are a fantastic way to spice up your life no matter how you utilize them.
"Let food be thy medicine and medicine be thy food." – Hippocrates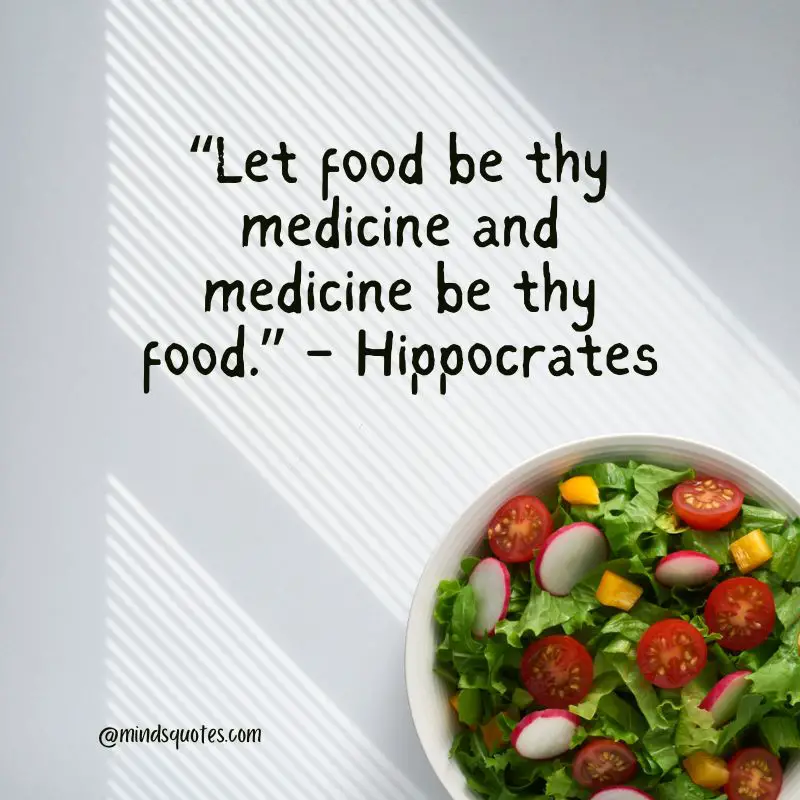 "Ice cream is exquisite. What a pity it isn't illegal." – Voltaire
"If you can't feed a hundred people, then just feed one." – Mother Teresa
"Food is symbolic of love when words are inadequate." – Alan D. Wolfet
"One cannot think well, love well, sleep well if one has not dined well." – Virgina Woolfe
"There is no love sincerer than the love of food." – George Bernard Shaw
"Food for the body is not enough. There must be food for the soul." – Dorothy Day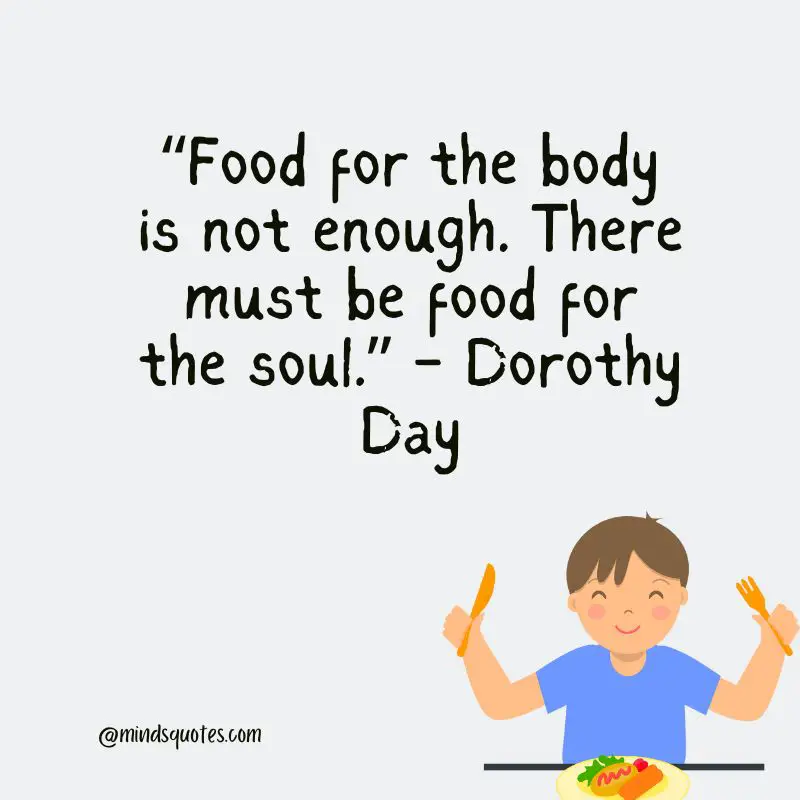 "Only the pure in heart can make a good soup." – Ludwig van Beethoven
"If your mother cooks Italian food, why should you go to a restaurant?" – Martin Scorcese
"Food is the moral right of all who are born into this world." – Norman Borlaug
"Food is not rational. Food is culture, habit, craving, and identity." – Jonathan Safran Foer
"Food is our common ground, a universal experience." – James Beard
"There has never been a sadness that can't be cured by breakfast food." – Ron Swanson
"Eating good food is my favorite thing in the world. Nothing is more blissful." – Justine Larbalestier
"The gift of food to the hungry is the noblest of all gifts." – Sathya Salbaba
Funny Food Quotes
Who doesn't like to eat? One of the greatest joys in life is this! And what enhances the pleasure of enjoying delicious food? Humor is related to eating!
Many funny food quotes can put a smile on your face. Everyone, from famous chefs to regular people, seems to have a funny food-related experience to share.
So instead of cooking and cleaning, why not take a break and laugh out loud while reading these humorous food quotes? Whether you're a foodie or not, you'll discover something that speaks to you.
These humorous food quotes are perfect if you want to laugh. These will undoubtedly make you hungry, make you laugh, and make you think. so enjoy, and Bon Appetit!
"Unless you are a pizza, the answer is yes, I can live without you." – Bill Murray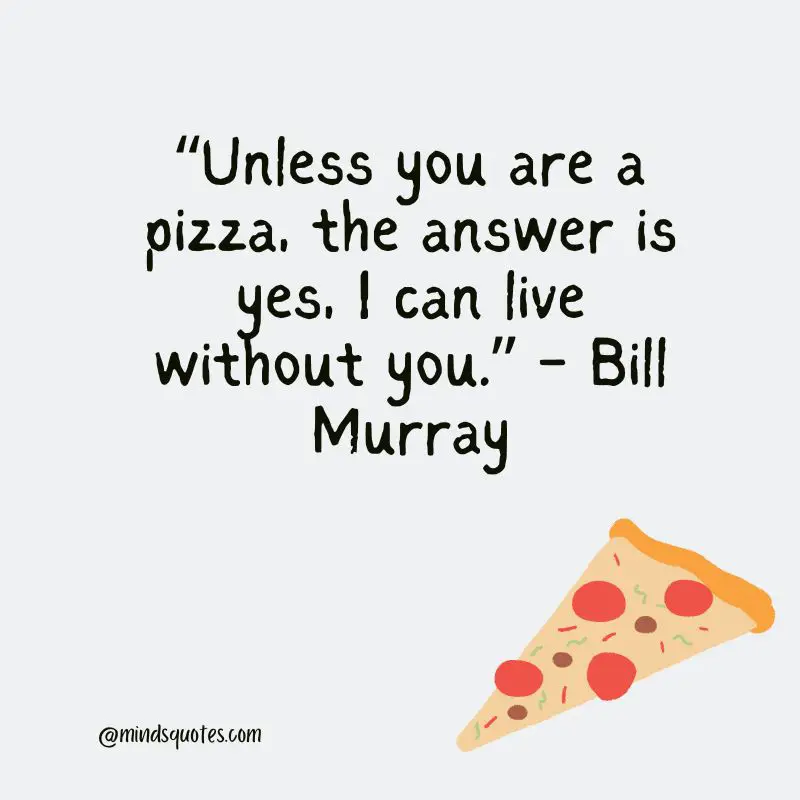 "Food is symbolic of love when words are inadequate." – Aland D. Wolfelt
"The only thing I like better than talking about food is eating." – John Walters
"The people who give you their food give you their heart." – Caesar Chavez
"My weaknesses have always been food & men- in that order." – Dolly Parton
"Cooking is like love: it should be entered into with abandon or not at all." – Harriet Van Horne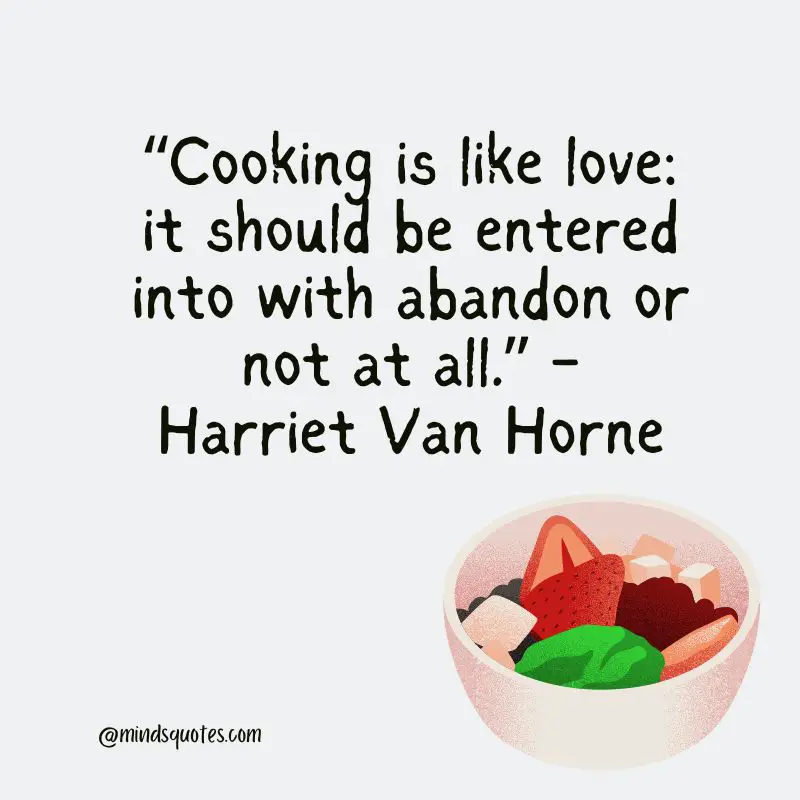 "One cannot think well, love well, sleep well if one has not dined well." – Virginia Woolf
"There's no better feeling in the world than a warm pizza box in your lap." – Kevin James
"Those pizzas I ate were for medicinal purposes." – Amy Neftzger
"If we shake out all of the crumbs from all of the keyboards in the world, we can end world hunger." – Matthew Dolkart
Healthy Food Quotes
Healthy food quotes are seen as an inspiration and motivational resource as well as a way to live a healthy lifestyle. Making wise eating decisions is the first step in maintaining a healthy lifestyle. How you feel both physically and mentally is strongly influenced by what you consume. You're more likely to have more energy, be healthier, and maintain a healthy weight when you feed your body nourishing foods.
It can be difficult to choose healthy foods, specifically if you're used to consuming foods that are unhealthy. But still, anyone can start eating healthy without feeling as if they're denying yourselves with a little planning and effort. Reading Healthy food quotes is one way for doing this.
Quotes about healthy eating can motivate and inspire you to make better food choices. They can also help you stick to your healthy eating goals when you're feeling tempted to give in to unhealthy cravings.
"If you keep good food in your fridge, you will eat good food." – Errick McAdams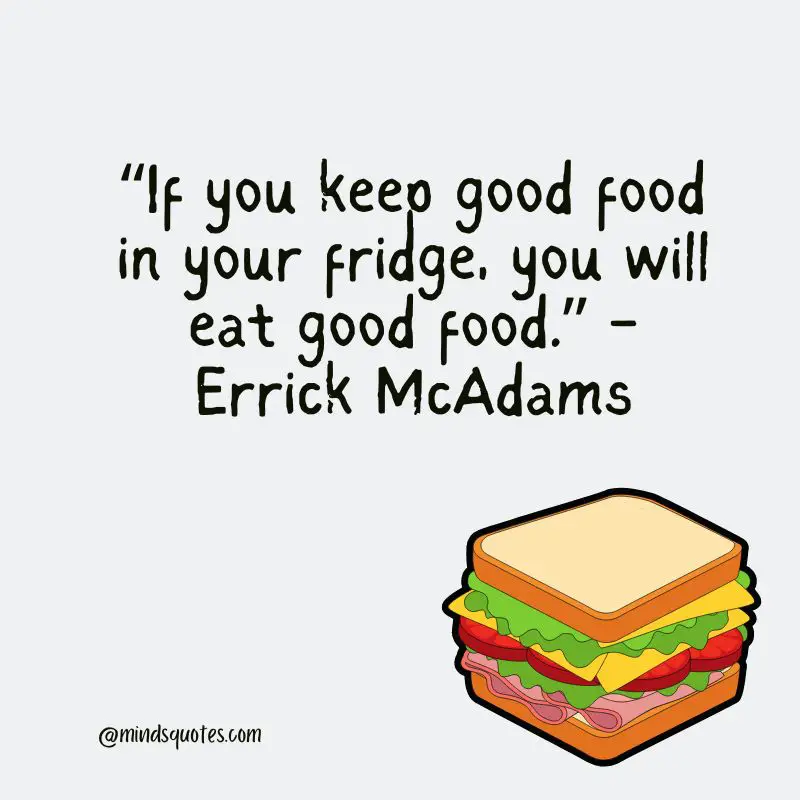 "A journey of a thousand miles begins with a single step." – Lao Tzu
"Health is a relationship between you and your body." – Terri Guillemets
"Eat breakfast like a king, lunch like a prince, and dinner like a pauper." – Adelle Davis
"If you can't pronounce it, don't eat it." – Common Sense
"By choosing healthy over skinny you are choosing self-love over self-judgment." – Steve Maraboli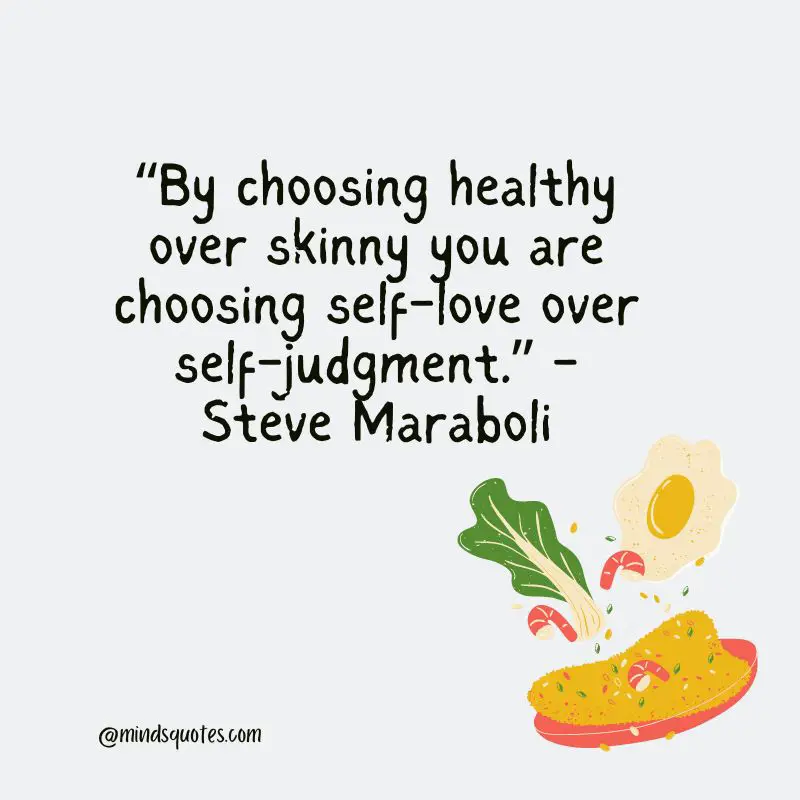 "A healthy outside starts from the inside." – Robert Urich
"Take care of your body. It's the only place you have to live." – Jim Rohn
"Your diet is a bank account. Good food choices are good investments." – Bethenny Frankel
Good Food Quotes
There are many various approaches one can take to eating healthily. Some people like to adhere to a certain diet, while others simply make an effort to consume a variety of fruits and vegetables every day. Whatever method you choose, there are a few things you should bear in mind.
Firstly, eating healthy doesn't have to be monotonous. You can still enjoy your food even if you're following a healthy diet. Several delicious and healthful recipes are available.
The second crucial thing to keep in mind is that you are what you consume. Be sure you are obtaining the nutrients your body needs because what you eat has a direct impact on your health.
Last but not least, keep in mind that moderation is vital. You can still indulge in the occasional junk meal, but it's crucial to maintain a balanced diet generally.
Some Good Food Quotes might inspire you to eat a healthy diet, regardless of the strategy you use. Here are some of the best quotations about eating to inspire you to make better decisions!
"Your diet is a bank account. Good food choices are good investments." – Bethenny Frankel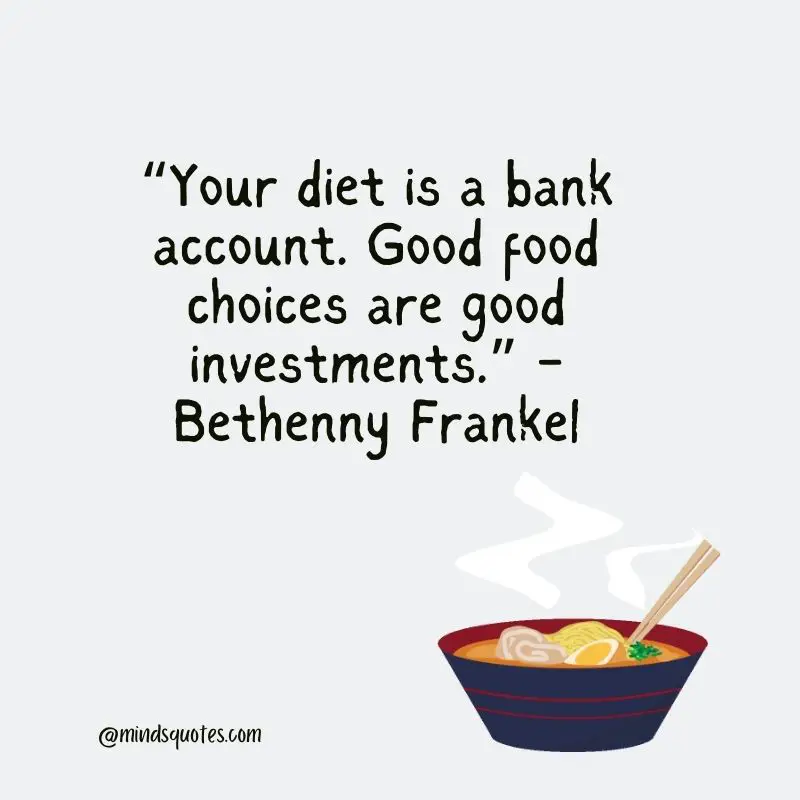 "Eating good food is, to me, one of life's greatest joys, and I will never punish myself for it." – Miriam Shor
"Nothing is better than going home to family and eating good food and relaxing." – Irina Shayk
"I like food. I like eating. And I don't want to deprive myself of good food." – Sarah Michelle Gellar
"Good food is good food. It doesn't have to come with pretense." – Christina Tosi
"Eating good food is my favorite thing in the whole world. Nothing is more blissful." – Justine Larbalestier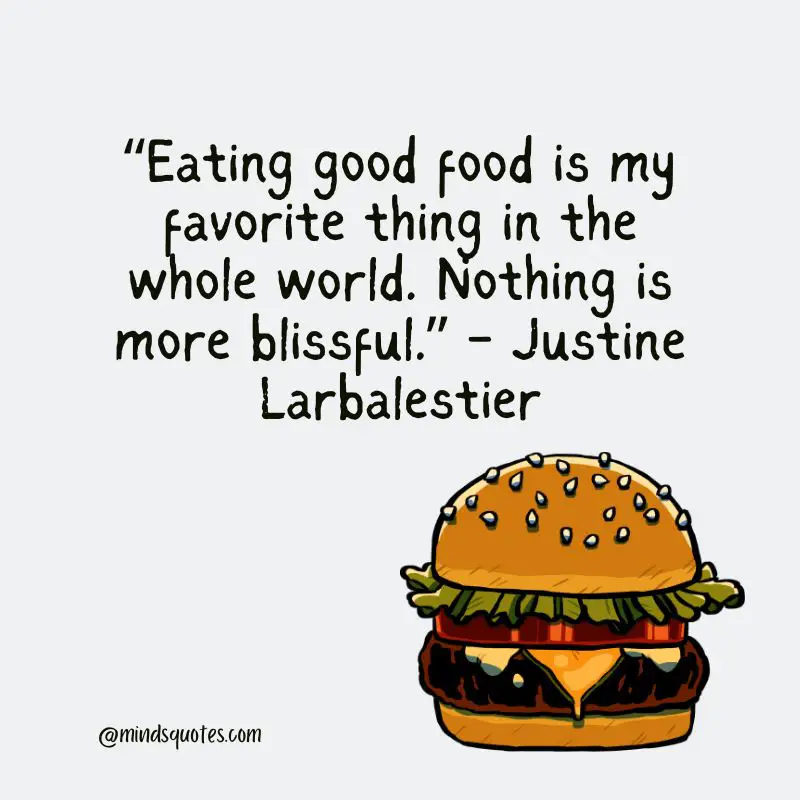 "I love Spanish food. My diet is the Mediterranean diet, which is good food. I eat well." – Penelope Cruz
"If I can, I love staying in pajamas all day and watching movies and eating good food." – Becky G
"My best hostess tip is to have good food and really good music! " -Jennifer Aniston
Inspirational Food Quotes
A healthy diet is an important part of a healthy lifestyle. Eating healthy food can help reduce the risk of developing certain diseases and help to maintain a healthy weight.
There are many different ways to eat a healthy diet. Some people advocate following a specific diet, such as the Paleo diet or the Mediterranean diet. Others argue that it's more important to focus on eating whole, unprocessed foods. We hope these Inspirational Food Quotes will encourage you to follow a regular diet.
"Part of the secret of success in life is to eat what you like and let the food fight it out inside." – Mark Twain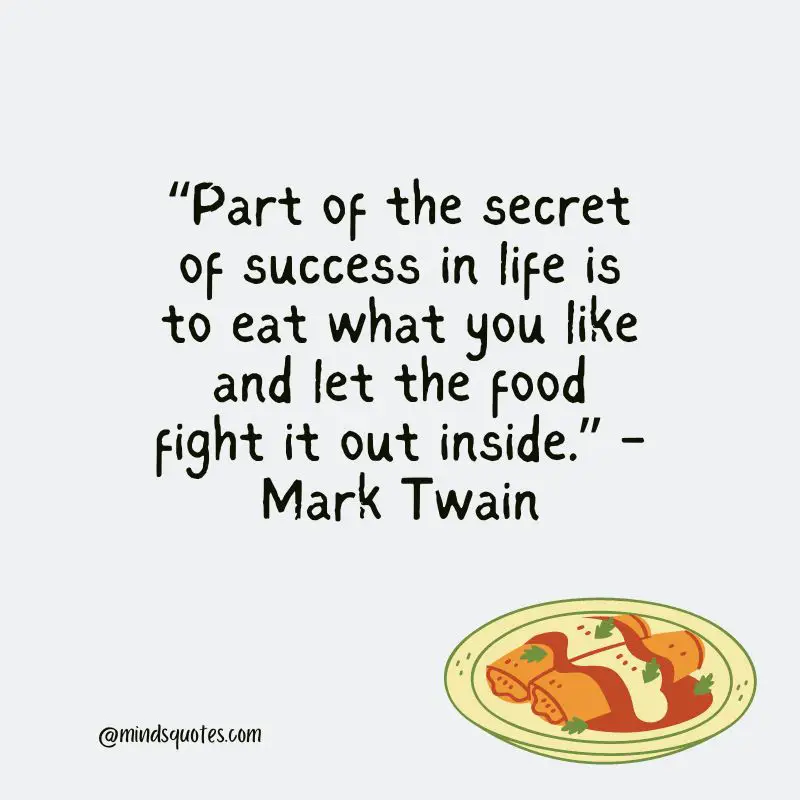 "Sharing food with another human being is an intimate act that should not be indulged in lightly." – M. F. K. Fisher
"Life expectancy would grow by leaps and bounds if green vegetables smelled as good as bacon." – Doug Larson
"So long as you have food in your mouth, you have solved all questions for the time being." – Franz Kafka
"Get people back into the kitchen and combat the trend toward processed food and fast food." – Andrew Weil
Food Quotes for Instagram
"Vegetables are a must on a diet. I suggest carrot cake, zucchini bread, and pumpkin pie." – Jim Davis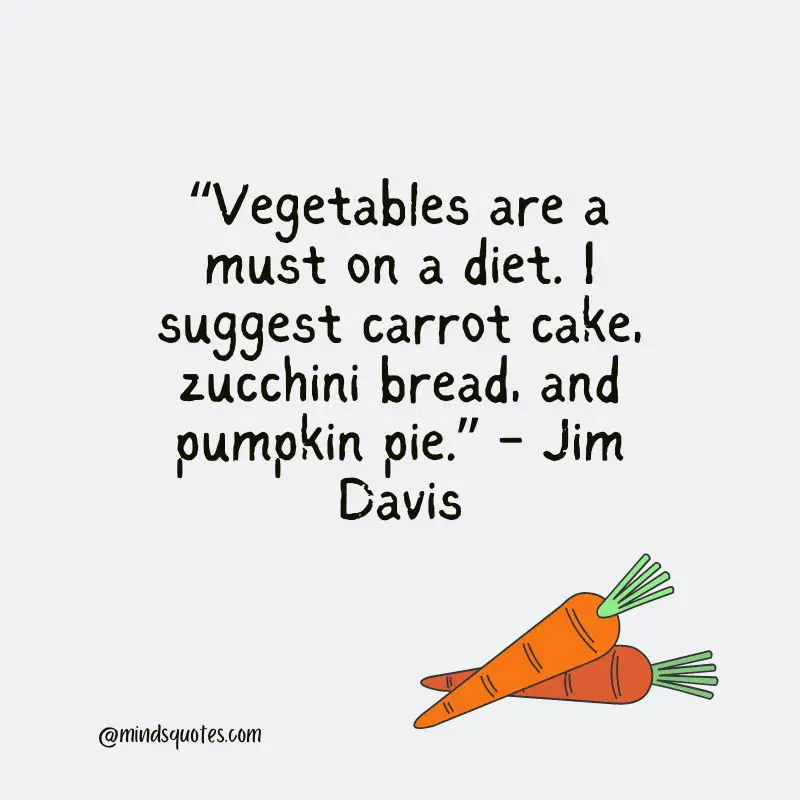 "I love good food but I follow strict rules the days I perform." – Jose Carreras
"I can pick good food, but I can't pick a good man." – Debbie Reynolds
"Ask not what you can do for your country. Ask what's for lunch." – Orson Welles
"Once, during Prohibition, I was forced to live for days on nothing but food and water." – W.C. Fields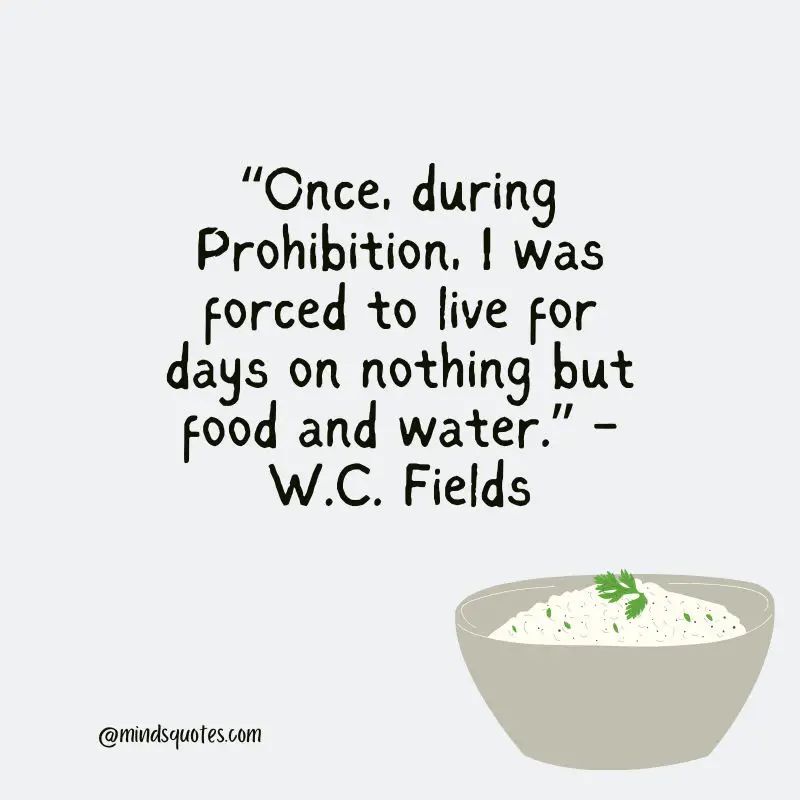 "You better cut the pizza in four pieces because I'm not hungry enough to eat six." – Yogi Berra
"The only time to eat diet food is while you're waiting for the steak to cook." – Julia Child
"Seize the moment. Remember all those women on the Titanic who waved off the dessert cart." – Erma Bombeck
"All you need is love. But a little chocolate now and then doesn't hurt." – Charles Schulz
Conclusion
Food quotes are a wonderful way to express your love for some mouthwatering cuisine. These can be employed to begin complimenting someone, make a point, or even bring a grin to someone's face. Use a food quote on your social media if you're searching for a fun method to liven it up. If you found this content useful, please LIKE, COMMENT, and SHARE.