World Health Day quotes will encourage you to live a healthy lifestyle and will assist you in understanding the value of excellent health. Every year on April 7th, a special day is observed to increase public awareness of global health challenges. It's an opportunity to support those who are making a difference in people's health on the front lines.
The day was first celebrated in 1950. It is now an official holiday in some. Several events and activities are organized on the day to draw attention to important health issues.
Under the sponsorship of the World Health Organization, world health day is observed each year. The occasion is seen as a chance to raise awareness of a specific health issue and is observed to commemorate the creation of WHO.
In this blog post, we will be looking at some of the most inspiring World Health Day Quotes about health from some of the most influential people in the world.
World Health Day Quotes
The day is an opportunity to encourage healthy living and increase public awareness of challenges with global health. No matter who they are or where they reside, everyone should have access to the necessary medical treatment.
There are numerous ways for you to support World Health Day and get involved. One way is to use the hashtag #WorldHealthDay to post World Health Day quotes and messages on social media. To get you going, here are a few of our favorites World Health Day Quotes for you:
"A fit body, a calm mind, a house full of love. These things cannot be bought – they must be earned." – Naval Ravikant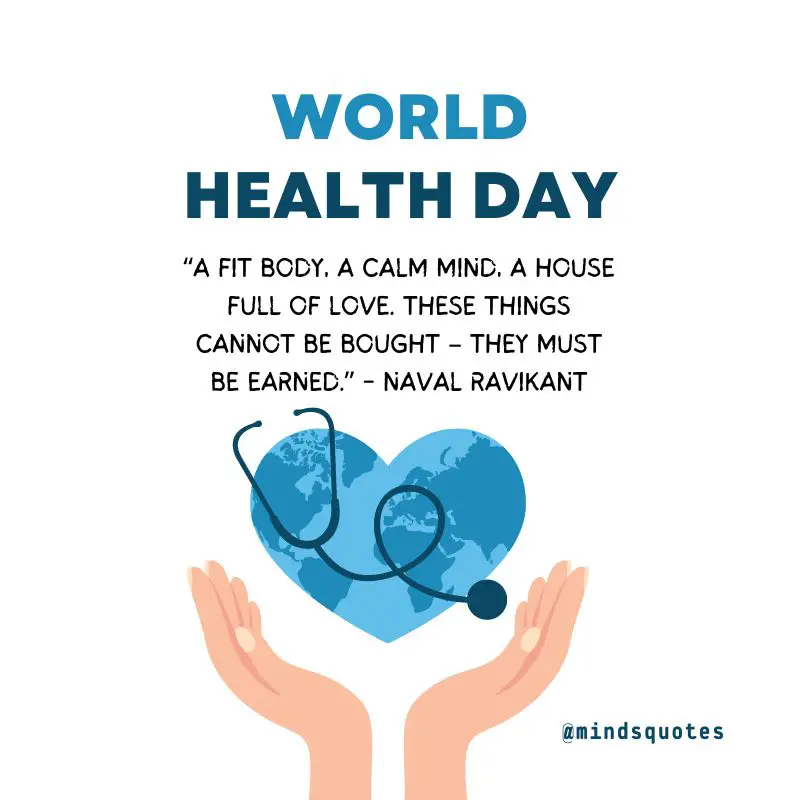 "The wish for healing has always been half of health." – Lucius Annaeus Seneca
"Physical fitness is the first requisite of happiness." – Joseph Pilates
"I have chosen to be happy because it is good for my health." – Voltaire
"A sad soul can be just as lethal as a germ." – John Steinbeck
"Healthy citizens are the greatest asset any country can have." – Winston Churchill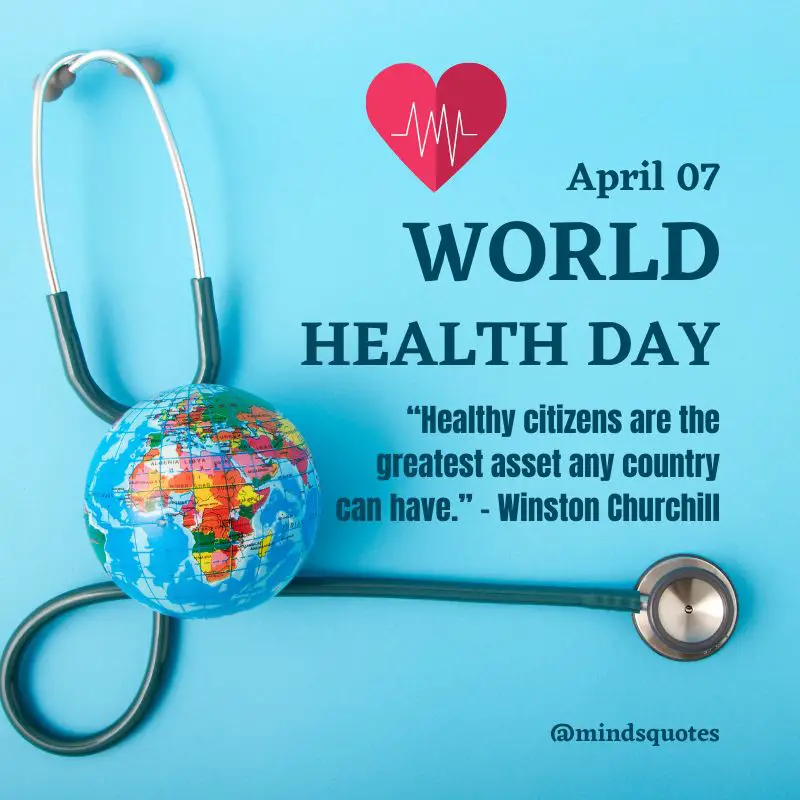 "A good laugh and a long sleep are the best cures in the doctor's book." – Irish proverb
"The more you understand yourself, the more silence there is, the healthier you are." – Maxime Lagacé
"Let food be thy medicine and medicine be thy food." – Hippocrates
"To ensure good health: eat lightly, breathe deeply, live moderately, cultivate cheerfulness, and maintain an interest in life." – William Londen
World Health Day Wishes
You can express your support in a variety of ways on this day. Educating people on the value of maintaining good health and bolstering healthcare systems is one approach to this. This can be accomplished by wishing your loved one's health.
We've put together a list of the top World Health Day wishes below. We hope that these desires will motivate you and others to act and change the world!
"Better you will feel on the off chance that you eat a healthy meal. Wishing you a healthy day and future."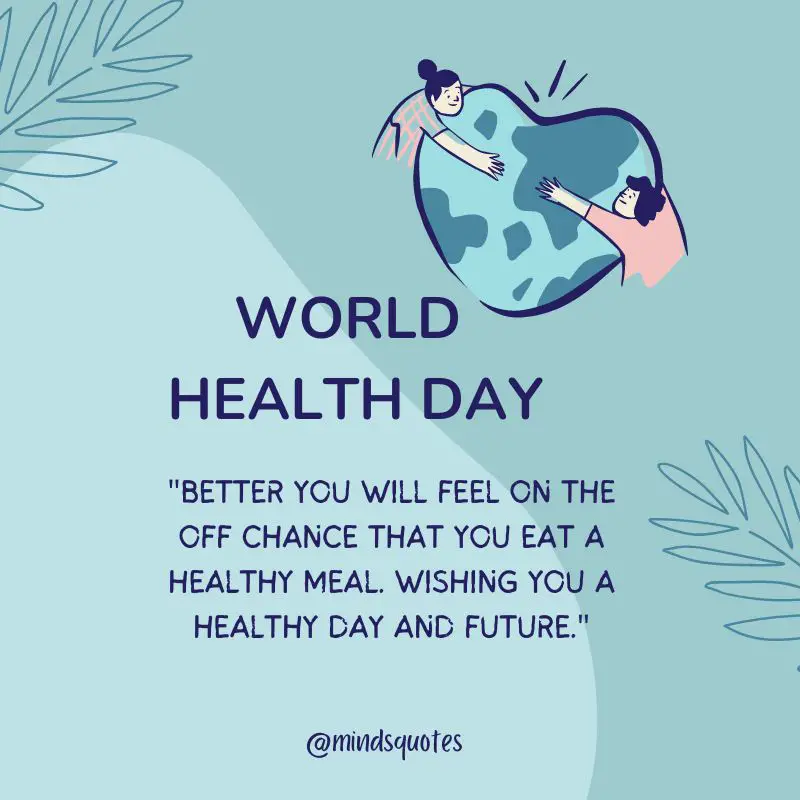 "Beware what you eat, it turns out to be a piece of you. Don't make garbage a piece of you. Happy child wellbeing Day 2023."
"On this occasion of Child Health Day 2023, I wish every parent has a healthy child so they can have a happy family together."
"Make sure your child eats healthy, drinks adequate water, and prevents obesity…that's how he/she will stay fit and fine.-Happy Child Health Day."
World Health Day Messages
An annual day of international health awareness is known as World Health Day. The World Health Organization and other organisations involved in global health observe this day. It provides an opportunity to raise awareness of crucial health issues and encourage appropriate action.
The day has recently been used to increase awareness of the value of good mental health, the need for more robust healthcare systems, and the dangers of antibiotic resistance. Let's all promise to contribute to creating a just and healthy world on this World Health Day.
You've found the best location to look for World Health Day messages. The best World Health Day messages from around the world are included in this post.
"There is freedom in health. It frees you from illness. Happy World Health Day to All."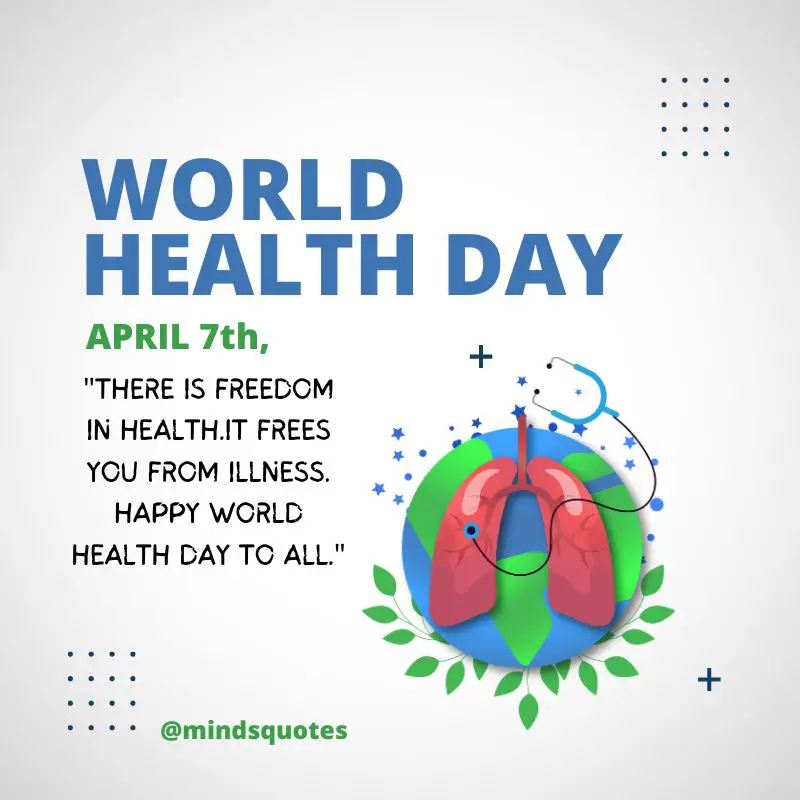 "Beyond Nutrition. Your well-being is passed simply by eating well. Think healthy and do a decent everyday practice."
"You can look and feel good if you have good health. Happy World Health Day 2023."
"Staying healthy is physical, emotional, and social. Stay healthy. Happy World Health Day 2023."
"Climb the Healthy Food stepping stool to happiness. I wish all of you well-being and nourishment."
What is the World Health Day Theme for 2023?
World Health Day is celebrated every year with a different theme. This year the World Health Day theme for 2023 is "Health For All".
Conclusion
This blog post is about World Health Day quotes, wishes, and messages. We commemorate the value of health and wellbeing on World Health Day. We are reminded that having access to healthy living is a fundamental human right and that it is everyone's duty to safeguard their own and others' health.
We also reaffirm our commitment to acting to safeguard our health and advance everyone's wellbeing. SHARE and LIKE this article on social media. Let us know how you're commemorating World Health Day in the comments section below.